[OFFER HAS NOW EXPIRED] Great news for United Airlines flyers as today, they're offering a one-day only award sale with roundtrip trips to Hawaii starting at 35K miles (plus taxes and fees) for flights between August 15 and November 15.
They're doing it in honor of United's 75th anniversary of flying to Hawaii. United's first flight to Hawaii took off on May 1, 1947 from San Francisco to Honolulu on a DC-6 Mainliner 300. Today, United operates 21 routes and 31 daily flights from the continental US to the islands.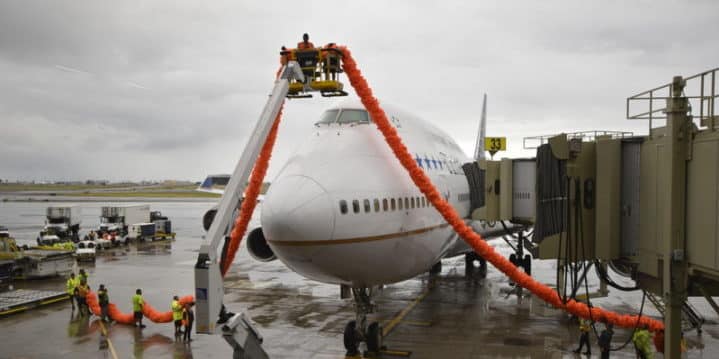 I was fortunate to be a guest of United on their farewell 747 flight and the route they chose was San Francisco to Honolulu since the airline has so much history with the 50th State.
The low mileage rates are for the island's (and airline's) slow period so it's only natural they would be offering a deal. However, to find the low rates, especially out of Newark, you're going to need to be flexible with your days of the week and you most likely won't get on the nonstop. See screenshot below:
Although my family and I were just there in March (here's my LAX-HNL trip report, where I splurged for Polaris) I'm tempted to snag some seats but from Los Angeles, fares are cheap during this period (like $159 each way) so it would make more sense to pay cash. But one thing is for sure: For me and my family, Hawaii is our happy place and I'm sure we're not alone.
Full details on the award sale can be found here.
Terms and Conditions:
-Tickets: Tickets must be purchased on May 2, 2022. Roundtrip purchase is required.
-Travel Period: Travel beginning on or after August 15, 2022 and travel complete by November 15, 2022.
-Award Validity: Awards shown are valid for travel Sunday through Friday to and from Hawaii only.  Awards are valid in the Economy (Coach) cabin on United/United Express carriers. Some flights may be operated by the following airlines, doing business as United Express: Air Wisconsin, CommutAir, ExpressJet Airlines, GoJet Airlines, Mesa Air, Republic Airlines, or SkyWest Airlines; or may be operated pursuant to a codeshare agreement, such as Silver Airways.
-Miscellaneous: Fares, fees, rules and offers are subject to change without notice. Seats are capacity-controlled and may not be available on all flights or days. Fares are nonrefundable except during the first 24 hours after purchase. Other restrictions may apply
-Miles, awards and benefits are subject to the rules of the United MileagePlus program. For details, see www.united.com.