EDITOR'S NOTE: Maker's Mark Distillery will be offering candlelight tours on December 6 & 13 of 2014 (both Saturdays) from 5 pm – 8 pm.
Back in March, I hopped on a plane bound for Louisville, Kentucky. The next day, in Louisville, I boarded another plane—it may well have been the same one (operated by Chautauqua, via Delta)—and flew directly back to New York, where I live. I did it for whiskey.
Specifically, I did it for Maker's Mark Kentucky Straight Bourbon Whisky, which on that day was unveiling a new installation from world-renowned glass artist Dale Chihuly at its distillery. "The Spirit of the Maker," seen below, now lives on permanent exhibition in the Maker's Barrel Room, day after day adding accent to what was already a place deserving of alcohol-based pilgrimage. The glass art is impressive, and I imagine particularly so if you like glass art, but I offer here my appreciation for the greater Maker's Mark experience in Loretto, KY. It's absolutely worth a visit. Here's why:
1. The colors
Given the floor, Dale spoke of the ways in which the Maker's tradition informed his color palette: light browns to represent a finished bourbon, blues channeling the water of Kentucky streams, reds—distinctly the reds of the iconic Maker's wax—to add the Maker's Mark signature.
In a different way, the colors present at the distillery informed and maybe even defined my experience there as well. They are the colors of a simpler time: buildings of charcoal black accented with strong, signature reds stretched out across sprawling greens beneath a wide-open Kentucky blue heaven. Colors like these make memories pop—and the whole place invokes a sense of time-hardened trust in one whiskey-making family's commitment to good, community-serving bourbon. It'll make you fall, and fall hard, for the stuff.
Whisky or whiskey?
Whisky — spelling preferred in Scotland, Canada and Japan
Whiskey — spelling preferred in the United States and Ireland

Despite being distilled in the Untied States, Maker's Mark calls itself a "whisky" as a tribute to the founding Samuels family's Scottish roots.
2. The handmade touch
Maker's Mark prides itself on being handmade—on being born, for better or for worse, of human dynamism and idiosyncrasy. In fact, this pride is evident in the very name of the bourbon (Maker's Mark refers to the "mark of the maker" on every bottle), and is perhaps the thread around which the distillery's entire story is woven. As this story goes, founder Bill Samuels Sr., tired of churning out the family's run-of-the-mill bourbon (which had brought them huge successes), lit fire to the old family recipe and set out to distill a new, better, more complex bourbon that he could be proud of. His delicate touch, along with those of his family and neighbors, helped him find it.
By laws of economic scale, things tend to change when your product meets international demand (check out who makes what bourbon here), but the pride is still there, and it's visible all over the property. Barrels, for example, are still rolled and rotated around the storehouse by human hands (other distilleries have turned this responsibility over to mechanics).
The labels on Maker's Mark bottles, designed in 1957 by Maggie Samuels, wife of the founder, are printed in fours and individually handcut and applied on-site. For most of the distillery's existence, a single 1935 Chandler and Price printing press was relied on for this printing. When the machine finally needed replacing, an exact replacement was sought out—and located. Today, the tradition continues, and you can watch the labels being printed in the Label Room.
Etymology lesson
Both spellings of whiskey are rooted in uisge beatha, meaning "water of life." That term is translated from the Latin aqua vitae, which means the same thing and was the running term for distilled alcohol for much of history.
3. The history
Though this point is partly an extension of the last, it's worth noting that the history here is not simply a family-spun yarn on its own historical importance. The distillery's tradition planted its roots in Loretto in 1804 as a grist mill and distillery—and 170 years later, in 1974, it was added to the National Registry of Historic Places. Six more years later in 1980, it was declared a National Historic Landmark. Among the government-recognized history on view here is the aforementioned Chandler and Price printing press, as well as The Quart House—purported to be America's oldest remaining "retail package liquor store"—and an antique fire station with engine. All of it is cool to see.
What makes it bourbon?
To be classified as bourbon, a whiskey must:
      1 Include at least 51% corn in its grain mixture
      2 Be aged in new, charred, white oak barrels
      3 Be distilled to no more than 160 proof (80% alcohol)
      4 Be no more than 125 barrel entry proof (62.5% alcohol upon being put into the barrels)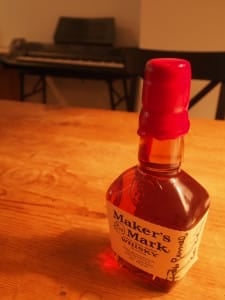 4. You can wax your own bottle
In a bar, in a liquor store, in a friend's apartment—no matter where you find it, Maker's Mark draws the eyes of the thirsty for one standout reason: the signature bright red wax that seals each bottle with the "mark of its maker." This, too, was the idea of wife Maggie Samuels, and this, too—the actual waxing, one bottle by one bottle—carves out a memorable part of any distillery visit.
On a tour ($9), you can watch the process unfold: bottles dipped in wax for four seconds, removed and then twirled around a few times as strings of thick red whip free-form in all directions. It's cool, and uniquely a Maker's Mark experience—but not either to the extent of the opportunity that awaits you at the end: the opportunity to wax your own bottle of Maker's Mark!
The "angels' share"
Climate is a huge factor in distilling, particularly during the aging process. Barrels expand and open up in the summer heat, lending to the spirit inside more of their flavors and notes than they do in the winter months. As the barrels "breathe" over the years, some of the whiskey inside evaporates. In distilling, the portion lost to evaporation is known as the "angels' share."
5. The bourbon
No doubt, there are shelves above Maker's Mark bourbon in any bar. But as an industry leader both in aura and in sales, the Samuels family blend offers a telling window into the time-honored process that yields America's only native spirit.
Learn about "Samuels' Yeast," the distilling family's reliable strain of yeast for eight generations. Learn about on-property "Bourbon Lake," Maker's singular water source, and why the Kentucky limestone shelf primes its water for bourbon (it removes the iron). Learn why in Loretto, the team employs a roller mill rather than a hammer mill to break down grains. It may not all be new insight, but spread across these aesthetically magnificent grounds, it's insight from makers who've left a mark. If you're a bourbon drinker, or even simply a curious mind, what's not to like about a legendary whiskey education in a legendary classroom that close with legendary bourbon samples?
Bourbon County, KY
Though it doesn't legally have to be, an inordinate amount of bourbon has historically been distilled in or around Bourbon County, KY for a number of reasons: limestone-filtered water, mild and seasonal climate, access to corn, etc. And so over time the county came to be associated with, and to lend its name to, the spirit. But by whom was Bourbon County bestowed its name? It was Thomas Jefferson, in fact, who made the call to honor the French contribution to the Revolutionary War by way of its long-powerful House of Bourbon.
How to get to the Maker's Mark Distillery
If you're driving:

If you're not driving:
I was shuttled to Maker's from Louisville via Mint Julep Tours, which offers not only friendly and fact-laden transportation but also full-on tours of the Kentucky Bourbon Trail (includes stops at Maker's plus six other distilleries) as well. Our driver was a good, informed guy, and he undoubtedly added to the experience. Not having to drive is a huge plus, too, when you're exploring the countryside trying whiskeys.
If you're spending the night
21c Museum Hotel is a beautiful, fascinating place to stay the night. It really is a functioning modern art museum, complete with dynamic and interactive exhibits in the lobby, hallways and more. Some of it is genuinely challenging art—and then there are such artistic accents as the rubber duckies in every bathroom. It was Condé Nast Traveler's #1 "Hotel in the South" in the 2013 Readers' Choice Awards, and it's right downtown on West Main St.