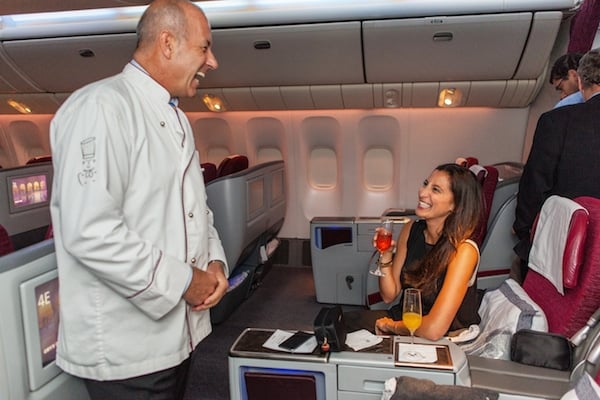 The Skytrax World Airline Awards, announced for 2015 last month at the Paris Airshow Awards, are a big deal in aviation, with millions of travelers from 160 different countries participating in passenger satisfaction surveys to decide the winners each year. Qatar Airways was honored with three of the top aviation accolades, including the coveted "Airline of the Year" for a third time. The award is a major accomplishment and a testament to the commitment and dedication to service excellence and the high-quality travel experience awaiting all passengers that fly with Qatar Airways. It's a reflection of the five-star caliber service that Qatar Airways is renowned for.
The airline also came home with the honor for "World's Best Business Class"—and in New York, on the tarmac at JFK airport, it recently offered JohnnyJet.com (and others) a taste of its business class experience "without ever leaving the ground." Qatar Airways' cuisine is a big part of its award-winning premium experience, and so the food (and wine) was the star of the night.
Here's my experience—elevated by the food of world-famous chefs Nobu Matsuhisa and Vineet Bhati—with Qatar Airways, onboard a 777, on June 18: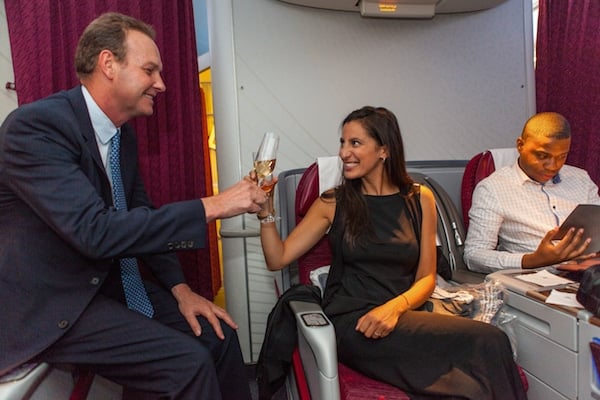 Settling in (with wine)
I was greeted by the friendliest flight attendants and Qatar Airways' own Master of Wine, James Cluer, who introduced himself and devoted all his attention to each attending guest. He discussed the unique challenge of selecting the best vintages for high-altitude consumption.
The wine list consisted of White Champagne Billecart-Salmon, Rosé Champagne Pol Roger, Chardonnay Bouchard Père & Fils, Sauvignon Blanc Esk Valley, RieslingFritz Haag, Assemblage Merlot & Cabernet Château Monbousquet, Shiraz Fox Creek, Tempranillo Taurus, Sweet Gewürztraminer Pfaffenheim, and Tawny Port Kopke.
As I was getting comfortable in my seat, which felt as comfortable as my own bed, the flight attendant offered me pajamas and a beautiful Armani lady's toiletry kit.
A "five-star dining experience"
Food started blowing a sweet aroma through the cabin as I awaited my pea and mint soup—which turned out to be excellent: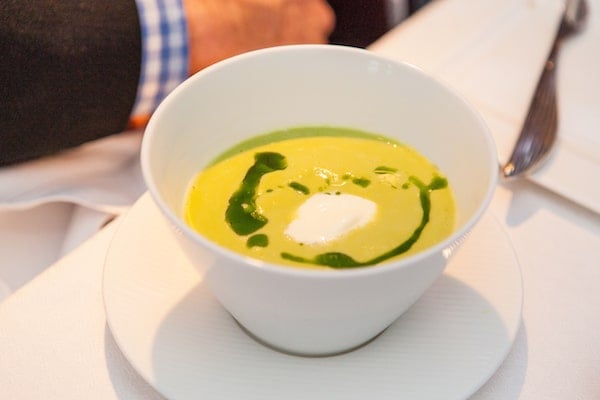 Sourdough crostini and crème fraîche were next, followed by classic Arabic mezze hummus, tabouleh and moutabel served with Arabic bread: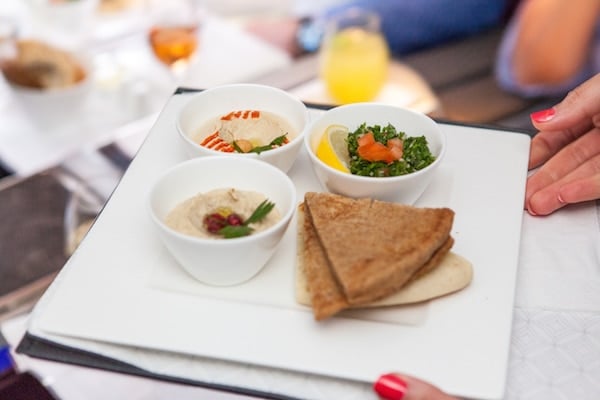 I asked Ibtisam, the Moroccan air hostess (whose name means "smiles") to advise me what to have as a main course, and she said I had to try the braised lamb shank with chickpea and saffron sauce, parsley mashed potato, and roasted root vegetables. Her choice was perfect: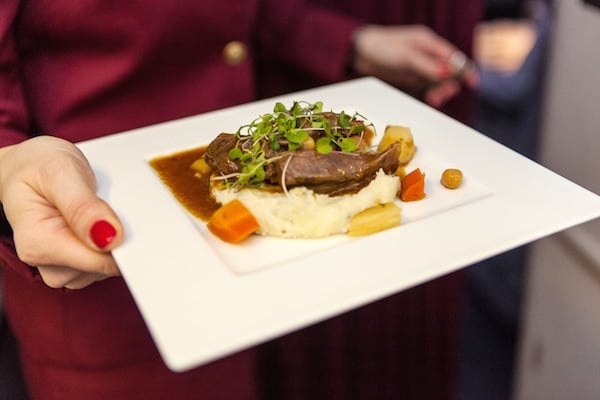 Dessert time was last but not least. I dove into my cardamom panna cotta with rhubarb and apple compote mascarpone: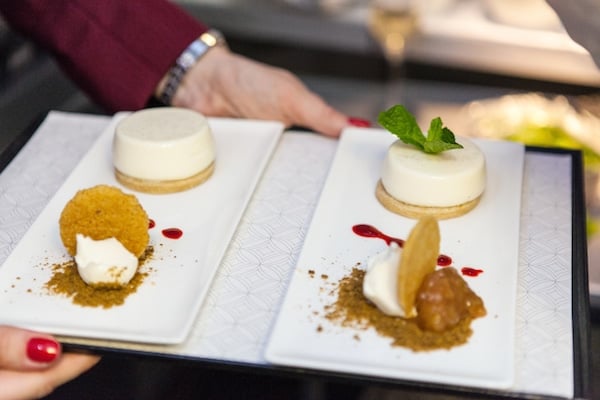 Back down to Earth
After the meal, we all guests exchanged smiles and spoke highly of Qatar Airways, which had given us real wings on this special journey. Without leaving the New York ground, we were served an in-flight experience of comfort, cleanliness, efficiency, and most of all culinary quality—an experience that lived up to the Skytrax billing.
Qatar Airways has excelled in the world of flying and it's true once you fly with them you're certainly a traveler not a passenger. Leaving the plane, I was thanked for my presence and given a little present from Qatar Airways: a set of Bose headphones that I will definitely use on my next flight. Thanks, Qatar Airways!
All photos credited to Russ Kuhner.