This is part 1 of Caitlin Martin's three-part look at three Radisson hotels. Check out the intro here, part 2 here and part 3 here.
The Radisson Admiral Hotel Toronto-Harbourfront, in Toronto, Canada, just finished a 3.5 million-dollar renovation in April 2014. As I mentioned earlier, Radisson hotels across North America are undergoing a massive brand refresh in which all hotels will be complete by 2015.
From the hardwood floors in room at the Radisson Admiral Hotel Toronto-Harbourfront to its rooftop terrace, there's a lot to like about this newly renovated hotel:
1. Hardwood floors
There's something fabulous about hardwood floors that opens up the room and allows for easy gazing out onto Lake Ontario. Don't forget to ask for a harborview room when booking.
2. Oversized showers
The whole bathroom was sleek and modern with that nice oversized shower. I also enjoyed the Radisson RITUALS bath amenities (used at all Radisson hotels). It's worth noting that I have a small obsession with the RITUALS conditioner Cherry Blossom & Rice Milk. Ahh the smell of cherry blossom!
3. Cocktail & view
From the pool and terrace you can enjoy views of Lake Ontario, the Toronto Islands and the CN Tower, all while you sip on delicious cocktails). And don't worry: When it gets cold you can still sit inside the Watermark Lounge and enjoy a great view.
4. Yummy food
The hotel's signature restaurant, the Watermark Restaurant, uses fresh local ingredients like Canadian maple syrup (clearly) and smoked meat from Montreal. I had the roasted honey nut rack of lamb with mint/lamb infusion, basil-mashed potatoes and honey-glazed baby carrots. Chef Romel Griate has some unique combinations on the menu.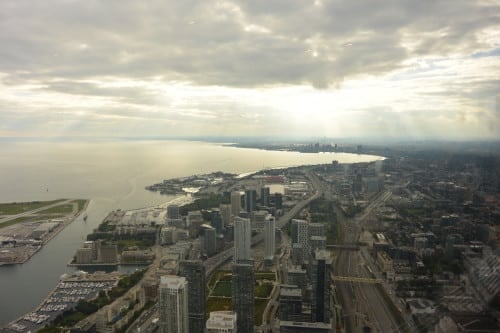 5. Location, location!
The hotel is in a good location to easily get to the CN Tower (which I recommend visiting for stunning views of the entire city) and a microbrewery called Steam Whistle. Their signature pilsner has won awards across Canada. When I realized their one and only beer couldn't be shipped to the US, I thought about making a large purchase but then I got real and thought about my already overstuffed little suitcase.
Tip: If you are into graffiti art, here's a walking tour for you. Tour guys/Toronto Urban Adventures takes you to the lesser-known spots in Kensington and Chinatown neighborhoods. Jason Kucherawy was a fabulous guide (Jason@tourguys.ca/1.800.691.9320)
Rates at Radisson Admiral Hotel Toronto-Harbourfront begin at $169 for low season and $249 for peak season. 249 Queens Quay W, Toronto, Ontario; Tel: 416.203.3333. 
All photos courtesy of Caitlin Martin.