This is part 2 of Caitlin Martin's three-part look at three Radisson hotels. Check out the intro here, part 1 here and part 3 here.
Radisson at Cross Keys, Baltimore (5100 Falls Road, Baltimore, MD; 410-532-6900) is nestled in a gated community in 72-acre Roland Park. It feels like a remote getaway surrounded by the beautiful park but it's close to Loyola University (5-minute drive), Johns Hopkins Medical Center (15-minute drive) and even to the action of downtown Baltimore (20-minute drive). The newly renovated hotel was just completed in early 2014, as Radissons across North America have all been going through a similar refresh. Here are five things to love about Radisson at Cross Keys: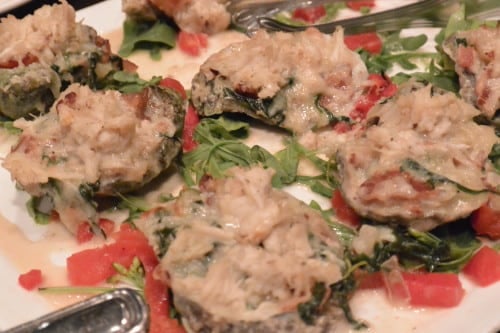 1. Chesapeake Bay seafood at Scoozi Ristorante
The hotel's restaurant uses fresh, locally grown, sustainable ingredients. It serves up a mean Maryland crab cake dusted with Old Bay, Oysters Rock and Chianti-braised short ribs (yes I had that all in one sitting). The Oysters Rock is one of the best I've tasted—baked oysters, lump crab meat, arugula, bacon, onions and cream.
Tip: It was brought to my attention that not everyone knows what Old Bay is! I couldn't believe it! If you don't know what Old Bay is, read this and pretend you knew.
2. Spacious rooms
The rooms are large and have cathedral ceilings, which makes this hotel a great option for the extended stay traveler.
3. Homey feel
Because it's situated in a gated community in Roland Park, you really feel like you're coming back to your apartment after a long day.
4. Cucumber water
How many hotels around Baltimore offer you fabulous cucumber water in their lobby? It was a nice refreshing treat to walk into after a day of being on-the-go. Sometimes it's the little things that really count the most.
5. Easy access to Loyola University and Johns Hopkins Medical Center
Whether you're chilling with your college students for the weekend or going to Johns Hopkins, proximity is key.
This hotel is a great option for travelers spending a long weekend in Baltimore as long as you have enough time and don't mind the 20-minute drive to downtown.
5 can't-miss Baltimore experiences
I confess, I'm an east coaster that grew up about an hour and a half from Baltimore and before this trip I hadn't really experienced all that Baltimore has to offer. The good news is that I really enjoyed my time and I will be back. I must share just a couple unique experiences that I uncovered:
1. Miss Shirley's brunch
This is not just any ordinary brunch. Read the menu and then let's talk. Your mouth will be watering after simply reading the names of some of the items—like Jalapeño Smoked Bacon Cinnamon Rolls, Crab Cake & Fried Green Tomato Benedict, Coconut Cream Stuffed French Toast, Peachy Pie Steel Cut Oatmeal. YUM! The place is well known for these southern-style recipes with fresh ingredients from the Chesapeake Bay region of Maryland. You can't get more local and yummy than this place.
I wanted to eat everything on the menu but I had the yummy Crab Happy Chesapeake Chicken Sammy with jumbo lump crab cake, Chesapeake chicken sausage, fried egg, cheddar cheese, tomato and fried pickles on an English muffin with potatoes, dusted with Old Bay.
2. Raising the flag at Fort McHenry
We were the first people to get to Fort McHenry at 9 am. It was beautiful as we walked out to the fort, standing on the very spot that inspired Francis Scott Key to pen the National Anthem during the War of 1812. A ranger let us help change the flag before we walked the grounds and stood on the ramparts. The flag is heavier than it looks! And it was even heavy with 10 people helping to hold it up before raising it!
3. Day strolling at Fell's Point
This waterfront neighborhood was pretty laid back as we walked around during the day. (I hear it can get hopping at night with the college bar scene, if that's your thing.) There are no brand name stores here, only quaint, locally owned boutiques, bars, restaurants and night clubs.
The local watering holes are quite a treat during the day, filled with local beer and good people. Try my top three favorites for a day drink: The Admiral's Cup, Max's Taphouse and America's oldest saloon (established in 1775) The Horse You Came In On Saloon.
4. Seeing unique art by self-taught artists
American Visionary Art Museum in the Bromo Arts District has some of the most unique, original works of art I have ever seen. I just couldn't believe these pieces were created by self-taught artists. We even got to meet the lovely and amazing founder and director of AVAM, Rebecca Alban Hoffberger.
5. More art & lunch overlooking the sculpture garden
Check out Baltimore Museum of Art for the Cone Collection of Modern Art (the museum has a dresser that you can open up to see the Cone sisters' purses; I like their style). The museum has the largest holding of works by Henri Matisse. Gertrude's, the museum's restaurant, had a pretty patio with fountains and a view of the sculpture garden. The food was as fabulous as the view!
All photos courtesy of Caitlin Martin.