A stroll along the city plazas or a swim in the river Aare leaves you wandering why more capital cities aren't like this one.
By: Ben Brown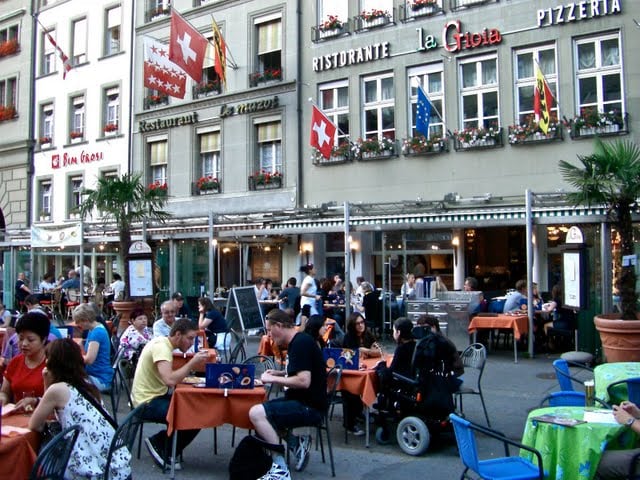 BERN IN A NUTSHELL
I landed in the cold water with a loud splash. I looked up at the bridge I had just jumped from. People are swimming all around me in the fast current, some playing with beach balls, others riding on floaties shaped like giant bratwurst. We are all going back to the 'beach' where we can lie on the grass by the pool, or just walk back and jump off again. Old Town is just over the hill, its German buildings lined wall-to-wall down wide streets. Bells sound and I know the famous clock tower is performing for spectators once again. Floating there in the river, I don't know how I'm going to be able to see everything in this city.
FAST FACTS
Location: Western Switzerland
Season: Summer
Avg. Temperature: ~62? F, humidity: mid
Free/low-cost attractions: walks through the city and along the river, Marzili Beach, various museums, famous architeture/bridges/clocktowers, Bear park, botanical gardens, Gurten park, and viewpoint
More attractions: Show cheese excursion, Cailler chocolate factory tour, various festivals/concerts throughout the year
Transportation: tram, bus
Cheap eats: bakeries and delis along the plazas in the afternoon, restaurants and markets in the train station open until 9pm
Misc: The Bern pass gets you free public transport and admission to most museums
LODGING – PENSION MARTHAHAUS
Two bus stops away from the train station and just across the Lorrainebrucke Bridge is the Marthahaus. Like most buildings in Bern, it is connected to the buildings next to it, but a sign down the street makes the place easy to find. And while the reception lobby is very small, the rooms have a lot of breathing space with a full bathroom and a television. And yes, they do serve you breakfast in the morning.
Pension Marthahaus. ~$69/night.
THE CITY PLAZAS
It started out as a walk to get a feel for the city. Most of the shops were closed on a Sunday evening, but it gave a very clear view of Bern's layout. Famous fountains divide the road, and elaborate clock towers divide large plazas. Tall bridges separate the town into sections, and the beautiful River Aare flows underneath with long paths and parks alongside. If New York could take a relaxing vacation in Europe, it would model itself after Bern.
THE SEARCH FOR BERN'S CHEAPEST RESTAURANT
The menus at a lot of the outdoor restaurants are quite fair, but I was looking to spend no more than 12 dollars on food. I found a café right outside the train station called Tibits, where you serve yourself from a display of hot and cold vegetarian dishes and pay according to the weight of the food. At 4 Francs/100 grams, the final price for a filling meal was ~$11.70.
I met two American travelers here who were in Bern for a day because their friend wanted to catch the end of the Gurtenfestival, a four-day concert outing in the city. So while she was seeing Kings of Leon play, we enjoyed our meal at the picnic-style tables outside.
Tibits (website not available in English).
Brunnen, Lauben, and Front Plazas:
The long stretch of streets themselves. Each building has a cellar that gives this place an even more old-style touch. Buses run through the streets along cable tracks. Flowers in small planters line the shops, with bakeries and cafes open during the day to make these streets a place to spend as much time as you want.
The Zytglogge clock: This clock tower dates back to the 15th century and is now the town's landmark. This dual clock is enormous and its sun and moon hands give it a very artsy touch. A metal rooster crows four times at every hour—5-til, 2-til, the top, and 5-past, with a show of dancing bears, jesters, and saints alongside. You can book tours that go inside this intricate clock tower, which I did the next day. The setup behind the scenes is wondrous, with the clicking of gears and pulleys turning the scene into something out of a Harry Potter book. The Zytglogge Clock. Tours ~$12/person.
Barenplatz Fountain: Right outside the parliament building, this 40×40-foot square plaza shoots up water and makes a great sight, or swimming area, depending on the mood. The girls and I passed a group of people splashing in the water, their laughter echoing through the plaza. People just sit and relax there for hours.
The Spitting Roof: If you see coins on a wet stone ground in the street, don't try to pick them up. The spitting roof is a spout atop an artistic building that 'spits' out water at random intervals.
THE SWISS CHOCOLATE CHRONICLES: BERN EDITION
Bern is the birthplace of Toblerone, the famous triangle chocolate bar with honey and nougat. I'm actually eating one as I write this. I was talking to a couple of Bern natives and told me the myth of how Toblerone got its name. Legend has it this bar was pronounced 'tobler-won' when it came out, as there would be a 'Toblertwo' and 'Toblerthree' in the future. But the bar was so successful that they stuck with it and changed the pronunciation. Fact or fiction—you decide.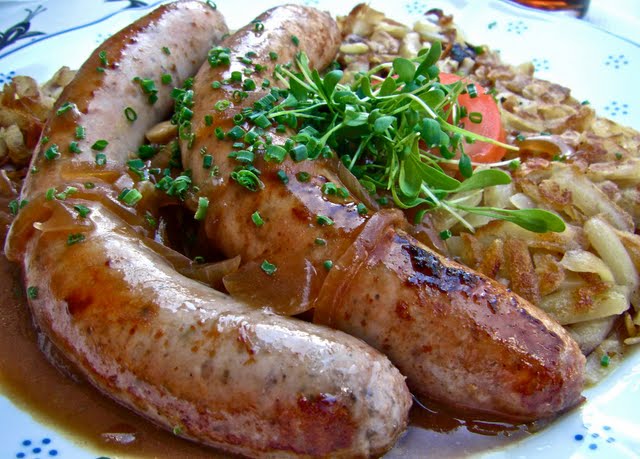 BERN AND BRATWURST
Sausage and Bratwurst is a specialty in many of Bern's restaurants, which I found out going to lunch at Bim Grosi on Front Plaza. The display kitchen upstairs lets you know this place serves 'home cooking.' My emmentalle, a classic beef bratwurst, with roesti and Zwiebelsauce, or onion sauce, is a classic Bern dish. Whether here or at a nearby deli, give Bern's Brats a try.
Bim Grosi
FREE BIKE RENTAL
The Velostation is right inside the train station. Just give them a 20-Franc deposit and an ID and a bike and lock is yours for a 4-hour period. They charge you one Franc for each additional hour you have the bike, but there's more than one velostation, so alternate-check bikes at each station to have one for a full day. Velostation (website not available in English).
THE ROSENGARTEN
Across the bridge from Old Town and up a short hill is the Rose Garden. This grassy lookout point is small compared to most rose gardens, but the scenery is beautiful and the atmosphere is very relaxing. There is a restaurant that overlooks the city, as well as a playground for the kids to enjoy. Couples were cuddling on the fields while families were playing with their kids on the teeter-totter. Benches line up along a path that overlooks the river running around the town.
This place is not to be confused with the botanical gardens, which I did not make it to but would recommend visiting. Walk down the stairs of the Kornhaus bridge and along the river sidewalk, and the garden is right there bordering the water.
WEST SIDE MALL
In addition to being a huge shopping mall with a movie theater and a water park, this place has very notable architecture. Slanted ceilings with randomly placed rafters blend in with escalators at every angle. The mall is a ten-minute train ride outside Old Town. But unless you're actually looking to shop, this mall may not be as appealing of an attraction.
West Side Mall
THE GURTEN HILL, POST-GURTENFEST
Take the bus about ten minutes from the train station and you're at the bottom of the Gurten, the tallest point in the central Bern area. A cogwheel train takes you to the top. There is a large park, a restaurant, and several hiking and mountain biking trails that take you through the hills. There's also a lookout tower that gives you the best view of Bern.
They were cleaning up after the Gurtenfestival as I walked around, and I saw just how big this event had been. Four concert stages and huge tents covered the park, with various stands and attractions set up all around. To think 30,000 people were standing here just a day ago. If you're looking for a concert abroad, this one should make the list.
I parked myself on a grassy knoll and read while the sun set behind the hills. The walk down was so peaceful.
Gurten Hill. Tram ~$3 with Swiss Pass.
BERN DOES ITALIAN FOOD
Various sources told me Bern is a place of noteworthy Italian food. Well, they're right. I went to La Gioia, in the heart of Front Plaza. Whether it be cozy indoor seating, out on the patio, or on a table in the middle of the plaza, the atmosphere is great. I joined a group of friendly Swiss/German/Australians who were kind enough to translate the menu for me.
My beef and mushroom gnocchi was incredible. I have not had Italian food like this since going to Italy. Hazelnut-pistachio-caramel gelato was great as well. If you're going out for a meal in Bern, I would go Italian.
La Gioia (website not available in English).
MONDAY NIGHT ROLLERBLADING
Police sirens sounded in the middle of the road, followed by hundreds of rollerbladers. Bern is one of several towns that organize mass rollerblading tours through the town every Monday night. Police escorts and ambulances cleared the roads for the hordes of people skating in the streets. Anyone is welcome to join, and wearing costumes is perfectly acceptable.
ZENTRUM PAUL KLEE
This architectural monument is a little ways past old town, up the road opposite the rose garden. Take the tram to get here; the place is hard to miss with its curvy walls flowing right into the surrounding sunflower fields. Inside are several cultural art and movie exhibits. I wasn't too impressed with anything aside the architecture, but this would be a place to go for history buffs.
Zentrum Paul Klee. Admission free with Swiss Pass.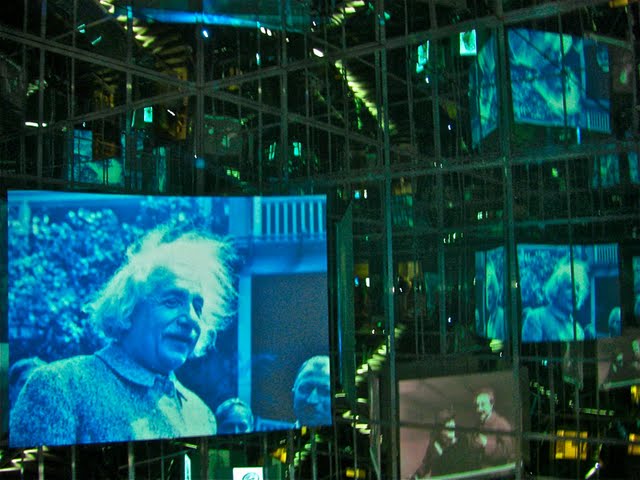 EINSTEIN MUSEUM
After polling dozens of Swiss locals, Albert Einstein comes in as the third-most prominent figure in Swiss history—William Tell and his apple-shooting skills takes second, and of course the unanimous winner is tennis Star Roger Federer. That being said, Einstein lived right here in Bern. His old apartment is even open for you to see, right down the street from the clock tower.
Walk up a mirrored stairway where projections of Einstein lectures reflect at all angles off the walls. Then enter the exhibit and gain a much better understanding of the theory of relativity in action. This man has done a lot: school delinquent, offered the position of president in Israel, married his cousin…throw in being labeled Times' 'Man of the Century' and you've got a great reason to come here.
Einstein Museum (set website to English). Admission free with Swiss Pass.
MARZILI BEACH – RELAX BY THE POOL OR JUMP OFF A BRIDGE
On a hot summer day, this is the place to be. Crowds of all ages lay out on Marzili Beach's large grass fields. There are three swimming pools, and two smaller ones are dedicated to kids. There is also a diving pool with both low and high-dives. Beach volleyball courts as well.
But the cultural highlight is the river Aare, with its strong current flowing right along the beach. Entrance and exit poles are set up at various points. So what better to do on a hot day than take a dip in the river and float a half-mile downstream?
The best part is entering the river. There is a ground entrance, but many prefer to jump off the nearby bridge right into the water. Remember that classic peer-pressure saying your mother always told you, "If everyone jumps off a bridge would you do it too?" Well, in Bern…yes, you would.
Admission free.
BEN'S VIDEOS
http://www.youtube.com/watch?v=6t1aPhTvouY&feature=player_embedded
http://www.youtube.com/watch?v=-ITNGwIPR4Q&feature=player_embedded
ABOUT THE AUTHOR
Benjamin Samuel Brown is a senior broadcast journalism student at the University of Southern California. Born and raised in San Diego, California, Ben's travel experience spans across more than a dozen countries over four continents and both hemispheres. His preferences tend to stray away from the typical excursion, however—from hiking for backcountry ski slopes in New Zealand to volunteering on an army base for the Israeli Defense Force.
In college, Ben is currently pursuing the honors curriculum in the Annenberg School of Journalism while obtaining a minor degree in sculpture.
All information presented here is accurate at the time of publication but prices, dates and other details are all subject to change. Please confirm all information before making any travel arrangements.
All images are the property of Johnny Jet Inc. and cannot be reproduced, in whole or in part, without our express permission. If you would like to reprint an image, please contact us at info@johnnyjet.com for image re-use rates.
Note: This trip was sponsored in part by Switzerland Tourism.
WEB RESOURCES
Switzerland Tourism

Pension Marthahaus

The Zytglogge Clock

Bim Grosi

Velostation

West Side Mall

Gurten Hill

La Gioia

Zentrum Paul Klee

Einstein Museum

JohnnyJet.com