Maker's Mark Cocktail Party 2012
With all the petty political squabbling in America today, Maker's Mark decided to mix things up. This year, they chose to support the one party we could all feel good about – The Cocktail Party! The campaign trail stopped in San Francisco, Austin, New York City and culminated on November 3rd at the Maker's Mark distillery in Loretto, Kentucky about an hour from Louisville. Famous political duo Democrat James Carville and Republican Mary Matalan were featured in ads as the spokespeople for a unified America no matter political affiliation.
On a frigid and cloudy day, with hundreds of Maker's Mark Ambassadors from around the country in attendance sporting blue Derby-styled hats, the historic distillery hosted a rockin' party featuring a live band, local food trucks, a cooking demo by chef Lee Anne Wong of the Cooking Channel, and cocktails by New York City's mixologist Lynnette Marrero.
The bourbon belle of the party was a layered red, white and blue cocktail called the American Swizzler. Guests danced, mingled with the Samuels' family (who still have a hands-on approach in their family operation), and boozed throughout the distillery's gorgeous landscape. Attendees were also invited to take tours of the distillery, dip their own bottle in the infamous red wax, and take home a special Cocktail Party commemorative bottle of bourbon.
On the Bourbon Belt of Kentucky
Three days later it was Election Day. Still in Louisville, Kentucky, we head out on the Bourbon Trail. I had sent in my absentee ballot and was ready for a day of distraction while tasting the caramelly deliciousness at the very distilleries that make 98 percent of the world's bourbon.
Only…
Election Day is a DRY day in the state of Kentucky, which meant that not only could you not taste the bourbon at the various distilleries, you couldn't buy it for later either, and at one, you couldn't even LOOK at it. The bourbon belt transformed into the bible belt for us until 6:01 pm when the state's polls closed.
However…
We planned ahead. My friend and I discovered the day before that in fact Election Day would be dry. So we stocked up with little samples from the distilleries we'd be visiting so we could do the tour, learn about the bourbon making process, and then host our own "private" tasting in the van. It was most definitely a unique way to experience the bourbon trail!
Here's a little video recap:
If you go…
Hire Mint Julep Tours
There are three reasons to use Mint Julep for your bourbon bonanza.
1)   This is not like wine tasting with neighboring vineyard after vineyard. The distilleries are spread out across the state and take some time to get to, so unless you want to spend a great deal of time with a GPS and maps, a guide will save you the headache of planning your bourbon trail itinerary.
2)   If you want to taste the bourbon, you're going to need a driver. Several tasting rooms feature three or more kinds of bourbon, so let's just say, you have no business getting behind the wheel while on the trail.
3)   The guides, like Gary Lewis, are extremely knowledgeable, not just about bourbon, but about the state of Kentucky. They're also more than willing to make stops along the way to break up the bourbon bubble you might be in. For example, we stopped at Keeneland Racetrack to see a Kentucky legend in addition to a yearling horse auction. We also stopped at a tiny barbecue joint for delicious sustenance to soak up all the bourbon.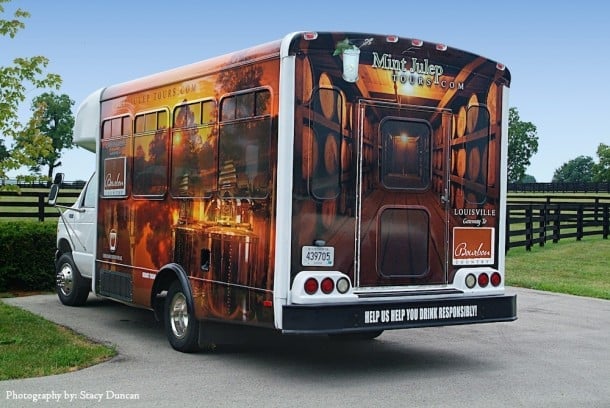 The Best of Bourbon
While I didn't get to sample all of the hundreds of distilleries around the state, these three are can't miss stops while there to see and learn about the whiskey-making process:
1)   Maker's Mark – With seven generations of bourbon-making history Maker's Mark made the ascent from a struggling family distillery to a brand recognized worldwide for its unique flavor and premium appeal. Through the years they've maintained the family tradition of making every drop of Maker's by hand. Along the distillery tour in Loretto, you can "dip your own" bottle with Maker's signature red wax so you can bring home a special souvenir; that is if you can hold off from opening it before you get home. My personal favorite was the Maker's 46, which is aged inside barrels containing seared French oak staves creating bolder, more complex flavors — while eliminating the bitterness that usually comes with whiskies that are aged longer. In this video, Maker's Mark Chairman Emeritus Bill Samuels, Jr. explains the process:
2)   Four Roses — Nestled in the quiet Kentucky countryside near Lawrenceburg, and on the banks of the scenic Salt River, the Four Roses Distillery was built in 1910 and features a unique Spanish Mission-Style architecture rarely seen in Kentucky and is listed on the National Register of Historic Places. Their reputation is making "mellow" bourbons, and after tasting it, I have to agree – it's one of the smoothest I tried.
The other reason to love Four Roses? They're one of the very small number still using non-GMO corn. The name "Four Roses" comes from founder Paul Jones, who waited for his Southern belle's answer to his marriage proposal, and when she arrived to the grand ball in a beautiful gown, she wore a corsage of four red roses. He later named his Bourbon as a symbol of his devout passion for her, and later expanded that passion to include making his beloved bourbon.
3)   Buffalo Trace — a family-owned and award-winning distillery in Frankfort, Kentucky producing bourbon, rye, and vodka on site and is listed on the National Register of Historic Places. The distillery's rich tradition dates back to 1787 and includes such legends as E.H. Taylor, Jr., George T. Stagg, Albert B. Blanton, Orville Schupp, and Elmer T. Lee. Located near the banks of the Kentucky River, they've been making bourbon whiskey here the same way for over 200 years, dedicated to the independent spirit of America. Even the labels are still hand-made and assembled on the property.
Where to stay in Louisville:
Right in the center of historic downtown Louisville, 21c Museum Hotel is a 90-room boutique hotel and a contemporary art museum, with an award-winning restaurant, Proof. Beware of their iconic red penguins! You may just step outside your hotel room and find one there to greet you. They may be on the roof, in the lobby, or in the elevator — they'll keep you guessing as the penguins migrate around the hotel at random times and no one ever seems to see their "mystery mover!"
Holiday note: If hosting a holiday gathering this season, here are a few cocktail recipes from Maker's Mark that are bound to impress and delight your guests. One of these and you can be sure there are no grinches or scrooges in your home for the holidays! I served the Kentucky Mulled Cider at my Thanksgiving feast this year and it was so popular we had to make three batches!
Eggnog 46
Recipe by Lee Ann Wong, Chef and Maker's Mark Cookbook Editor
Serves 4-8
2 cups whole milk
½ vanilla bean, split and scraped or ½ teaspoon vanilla extract
¼ teaspoon ground cinnamon
1 teaspoon freshly grated nutmeg
¼ teaspoon salt
4 egg yolks
½ cup sugar, divided
1 cup cold heavy cream
4 parts Maker's 46 Bourbon
4 egg whites, optional
Combine the whole milk, scraped vanilla bean seeds, and the bean pod in a small pot. Bring to a simmer over medium-high heat and then stir in the cinnamon, nutmeg, and salt. Turn the heat off and allow the milk to infuse for 20 minutes.
Reheat the milk to a simmer. Have a large metal or glass bowl sitting in a large bowl of ice water and a fine mesh strainer ready.
In a separate bowl, whisk the egg yolks and 7 tablespoons of sugar together briskly until the egg yolks become pale and fluffy. Add a ½ cup of the hot milk to the egg yolks while whisking quickly to temper the egg yolks. Once evenly combined, pour the mixture back into the pot and cook the mixture over low heat until it thickens, stirring the bottom of the pot constantly using a wooden spoon, being careful not to overcook/scramble the eggs. The eggnog is ready when the mixture coats the back of a spoon and you can draw a distinct line through it.
Pour the eggnog through a fine mesh strainer into the bowl on ice. Whisk in the heavy cream and Maker's 46 Bourbon. Stir the egg nog until it begins to cool down, then place the mixture in the refrigerator to chill overnight. You can serve as is (adjust texture with cold milk or cream), or whip the 4 egg whites with the remaining tablespoon of sugar to soft peaks, then fold into the chilled egg nog. Serve immediately.
Bourbon Cider Cocktail
Recipe by Anthony Caporale, Host of Art of The Drink and Mixology Consultant
1 teaspoon to 1 tablespoon sugar
2 dashes Angostura Bitters
1 part Maker's Mark
3 parts dry hard cider
Maraschino cherry and orange slice, for garnish
In a champagne glass, stir together the sugar and the bitters until the sugar dissolves. Add Maker's Mark. Top with cold cider. Garnish with a cherry and slice of orange.
Kentucky Mulled Cider
Recipe:
1-1/4 parts Maker's Mark Bourbon
Hot apple cider
1 thinly-sliced lemon with rind
1 dash of allspice
1 tall cinnamon stick
Directions:
Add Maker's Mark Bourbon to a footed mug. Fill mug with hot apple cider and the dash of allspice. Garnish with a tall cinnamon stick and lemon slice. *Note: I made a large batch ahead of time and kept it warm in a slow cooker and it worked brilliantly!