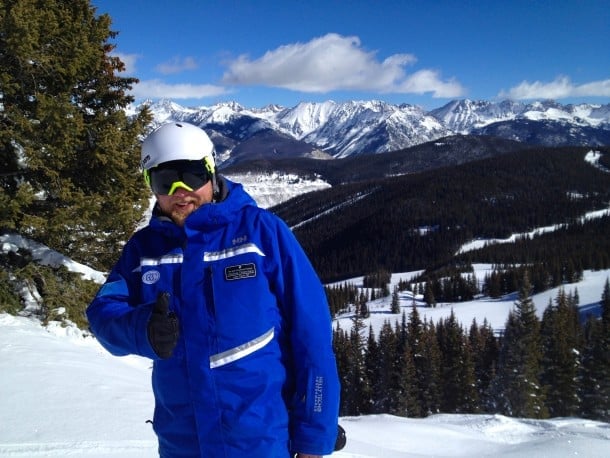 Deep in the throes of an aggressive winter, the best skiers in the world have converged on Colorado. The 2015 FIS Alpine World Championships, quietly one of Earth's premier sporting events, have just wrapped atop the epic, immaculate terrain of Vail and Beaver Creek. Records were broken, careers were made, the aprés-ski was off-the-charts.
Among the record-breakers and biggest winners was Vail itself, all 5,289 skiable acres of it, which set a new bar among North American properties as the first third-time host. The previous mark was two times hosting, held alone by the same Vail, Colorado. This is not by chance. As the debate over America's best ski resort rages on into the ether, the Vail experience remains as iconic as any in the world of winter sports this side of the Atlantic. In 2015, that world's elite is seeing why, again. Last February, I saw it for myself for the first time.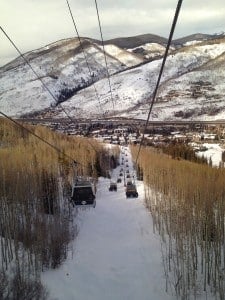 To be clear, I am not, nor was I then, in the running for any style of snowboarding championship. I've strapped a rental to my feet at least ten times in my 26 years, but mastery has never been close on any mountain—and certainly not on the icy slopes of the American east coast. Maintained speed is all I strive for on a snowboard. Speed—and a few Rocky Mountain views and good beers—was all I wanted as I set off from LaGuardia for this winter sports mecca.
And yet, in Vail, at Vail Mountain Resort, staying at The Arrabelle, I genuinely found the best snowboarding experience of my life. Not cheapest, necessarily, but the best. If you're in the market for a ski or snowboard holiday, seek some runs in Vail next week, next month or next year—and start here:
1. The Vail backstory
It's an absolutely world-class winter experience, in every way—and it all starts with
the bowls
, which many who know consider the best in the world. In the days of World War II, it was the bowls, primarily, that hosted backcountry survival training for the Army's Tenth Mountain Division. After the war, a few division members gravitated back to the valley's vast, unbounded potential with grander visions, and foremost among them was Pete Seibert.
From the mouth of Pete Seibert, to Earl Eaton, on Vail:
"My God, Earl, we've climbed all the way to heaven."
Seibert and local uranium prospector Earl Eaton drew up plans for a resort, and in 1962, the dream was realized. Vail the town was incorporated in 1966, and word of this secret ski paradise began to spread. And it spread, and spread. In 1974, Vail homeowner Gerald Ford took the presidency, and the Vail trajectory accelerated toward unparalleled skiing heights, from which the resort continues to grow to this day.
Tip: The Colorado Ski & Snowboard Museum, fittingly, sits in the heart of Vail. Inside is a brief but impressive look into the parallel stories of skiing and snowboarding in Vail, the state of Colorado and beyond. Olympic uniforms, early snowboard models and more await. Suggested donation is $2.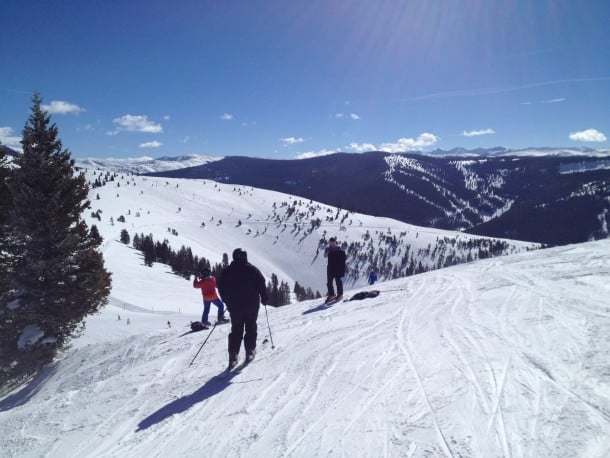 2. The terrain
Vail's is apparently some of the best groomed snow in the world (snow report here), and it sits, in generous, fluffy whites, beneath a sky that's sunny more than 300 days of the year. The snow was forgiving when I fell on my board, and though piercingly bright beneath that sunny sky, it rounded out a skiing scene as rich in color and contrast as Pete Seibert could have ever dreamed up.
The skiable acres—totaling 5,289—are two, three, four, five times more than what's offered at major resorts outside the Rockies. Killington (Vermont) and Sugarloaf (Maine), for example, tops in the east, can unroll only about 1,000 acres on their best days.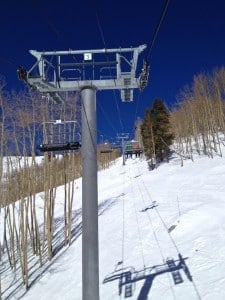 A fairer fight pits Vail against the other great ski experiences of the American west, in Colorado, Utah and Montana, in California and Idaho—in Alaska, even. Here, Vail again rises to the top as the self-proclaimed largest single mountain resort in the nation, even discounting its off-the-record run available to the more adventurous, rule-averse guests. There's more snow to crunch at Montana's Big Sky and Moonlight Basin together, but given those two peaks are 13 miles apart, I'm not sure what good their cumulative figure does a skier prioritizing size.
To that skier, and any other, Vail is as rich in skiable terrain as anywhere. Under "conventional trails," the resort lists 195, the longest of which is a full four-miles long (Riva Ridge). There are three terrain parks, a superpipe and a mini halfpipe.
Thirty-one incongruous lifts wrap the mountain like the work of some mad genius, dropping people off at more than one "peak" and in positions suited for attacks on both faces. I found it so indomitably, acceleratingly vast that my private instructor half-jokingly made a goal of me having any semblance of bearings by the end of the day. Hard to say if I achieved it.
Trail maps
For better scale, and finer detail:
With great reverence for the mountain, instructor Josh also shared that years of 100-day ski seasons wouldn't be enough to color in the whole trail map. More important, he said, was carving my way, any way, through some of the best conditions I'd ever experience on a snowboard—first on the front, and then in the legendary back bowls.
Trails suited to every shade of ability level are noteworthy, but there was nothing like the back bowls for me. There has never been anything like them in my admittedly limited life as a snowboarder. Run after unreal run on China Bowl, and then in Blue Sky Basin (across the valley from the seven main bowls), gifted me wide-open spaces to carve my own paths and embrace the beautiful world in front of me, to snowboard down and around and through a mountain of the true Wild West. It was freeing, invigorating, better.
3. EpicMix
The enormity of Vail is always new, day after day, a function not only of its legendary terrain but also of the resort's ability to consistently innovate. More and better are always on the horizon at Vail, and beneath it, that ambition trickles down into every element of an ever-improving guest experience, every day.
Past the half-century mark, there's no better example than the award-winning EpicMix platform. For no money at all—for simply registering your lift ticket (it's free)—EpicMix keeps track of the vertical feet you ski each day. It maps your moves across the resort by lift/gondola. It offers additional challenges on the slopes that you can seek out for points and pins (like Afternoon Delight and Aprés Ski), which you can then share on social media or within the EpicMix network.
Planted up and down the great white mountain are EpicMix photographers, whose high-res photos of you, should you opt for them, are available to share or for download ($20) at the end of each day. You can check-in Foursquare-style to map your runs later, or to help your friends pinpoint you right away. Via the EpicMix Academy, ski instruction at Vail, too, is completely reimagined. Students and their invested parties (parents, etc.) can map progress across sessions, seasons and even resorts.
Yes, resorts. Because Vail Resorts now stretches far beyond its founding property, experiences at nine other, very wonderful ski resorts in five states are integrated into the EpicMix system, meaning you can pick up your ski instruction—and/or your seasonal altitude, run history, etc.—at the next mountain, next time, so long as you keep it in the Vail family (see below).
4. Epic Pass
A half-century after Pete Seibert's beloved virgin bowls started it all, Vail is now the heart of a veritable ski empire spun out of the class of American winter resorts. Trading with Vail as one entity on the NYSE in 2015 are Beaver Creek, Breckenridge and Keystone in Colorado; Park City and Canyons in Utah; Heavenly, Kirkwood and Northstar in Lake Tahoe, California; Afton Alps in Minnesota; and Mount Brighton in Michigan. All are varying degrees of excellent, challenging and convenient—and if you have plans for a big year of skiing, you can actually secure unlimited access to all eleven, all season long, for less than $800.
It's called the Epic Pass, and it's been called America's best ski pass deal, for good reason. For the cost of roughly five single-day Vail lift tickets ($159 each at peak), the Epic Pass opens to you a literal world of free skiing for five solid months. Drape it around your neck, or affix it to a zipper, or whatever, and all the resorts above (plus Arapahoe Basin in Keystone) become infinitely skiable until summer forces them closed.
If that's not enough, the Epic Pass also throws in up to five consecutive international days at Niseko United in Japan, Verbier in Switzerland and 3 Vallees in France. Epic.
5. Ski instruction
Start to finish, the Vail experience is phenomenal. On the starting side, guests inexperienced on the slopes could do no better than the Vail Ski and Snowboard School, which is staffed by some talented, good-natured people. As a world-famous mountain town, Vail has the luxury of drawing from a pool almost inconceivably deep with low-key, smiley people who can shred, but that's not where it stops.
Rigorous educational standards many times refined filter out all but the best candidates, who are assisted in their efforts to teach by EpicMix Academy. Again, the few I met were all amazing people in love with their lives and their setting, and that came through. Group lessons (~$160/day) are available in four ability levels. If you have the money ($835/day at peak; $610/half-day at peak), a private lesson for up to six people doubles as a personalized and personable Vail experience—unlike any lesson I'd had before.
I can't emphasize enough how much my private lesson with Josh defined my time at Vail. Keeping my pace very naturally, Josh took me amiably up and around his mountain, into the bowls, gently coaching me in the rhythms set by our running conversation.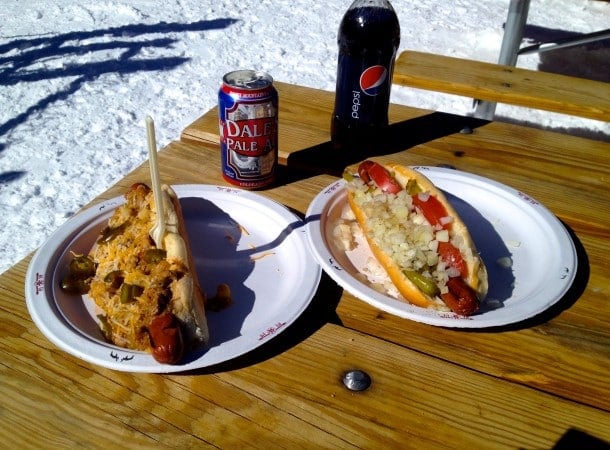 Blonde and bearded, he talked about life on and off the mountain, and his many travels to see Phish. His robust interest in the outdoors, which he posited was a Vail universal, included a knack for identifying the trees we carved by, or were shuttled up past, and he shared keen observations and helpful tutorial over the Dale's Pale Ale he lent me money for. All of this, he wrapped around a fluid but calculated five-hour itinerary that is still the best and most helpful day of snowboarding I've ever had. Josh, I owe you a Dale's.
6. The Dawg Haus
"Ski in, eat out." The Dawg Haus is a small, wooden food shack propped up near the bottom of Blue Sky Basin, near lift #39 (Pete's Express). It doesn't have a website, and it's way out on the periphery of Vail, and I spent no more than 30 minutes there in more than three full days—and to this day it's probably my most treasured Vail memory.
Stopping there with Josh, I picked up a jalapeño cheddar bratwurst and a Dale's Pale Ale—literally on the slopes of possibly my favorite ski run ever. I love the style here, to start: cheap (for Vail), hot, clever American comfort food, paired with crisp, easy-drinking canned IPA. It's amazing, and I took it in precisely as the warm glow of Vail, Colorado was starting to pull me in tight. Under that deep blue sky, it was perfect.
7. The town
Vail the resort and Vail the town have grown symbiotically in their many good years together. Vail town is a ski town in the ways I will forever associate with ski towns: quaint, lively, warming, car-free, dense in choice, European-styled. And in fact it was modeled after ski god Switzerland's Zermatt, which sits right in the shadow of the Matterhorn.
Fact: Vail—the mountain, the town, the resort—is named after Charlie Vail, the engineer who connected the area to Denver via Highway 6.
Walking the streets by day recalled times long past in places I've never been. And that's just the way Pete Seibert would have wanted it. As the story goes, Seibert's early inspirations came from pictures of an Austrian ski resort he saw when he was ten, and his later vision of Vail leaned heavily on the classic European model, wherein every amenity is made available. The standards of comfort have evolved over time, but European comfort—luxurious, amenity-driven comfort—still defines the experience at Vail. The aesthetics, too—wood-accented white buildings with sloping roofs, sparkling holiday lights, ice skating rinks, fire pits for aprés-ski—fit the image.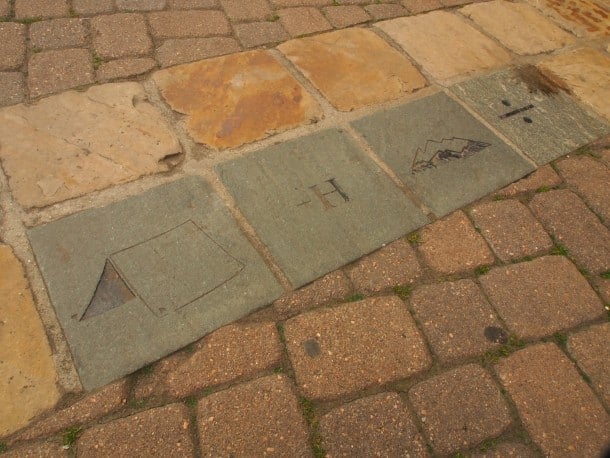 Vail.com filters a search for lodging into nine possible neighborhoods, but two stand out above the rest: Vail Village, anchored by its Clock Tower, and Lionshead. At the very foot of the mountain (beside Golden Peak), both areas offer a staggeringly deep catalog of restaurants, bars, music venues, and shops, all of which feel pressed together as if huddling around a fire. By night, it's Colorado, so the beer is great, but so too is the experience that comes with bar-hopping between gnarly dive bars and fire pits and underground bowling alleys.
Town maps:
It's a wintery, classically beautiful incubator of diversely informed culture, and art is embraced with the same warmth extended to every guest. Public art is everywhere. During my stay, ice installations were scattered all about the streets down to the banks of the water, though the current offering looks to have infused more lighting and colorful lanterns. Rebuses (riddles made up of pictures and symbols), even dot Vail Village's Wall Street, the work of Denver-based artist Carolyn Braaksma and a favorite of mine.
Tip: Free guided art walks through Vail are available every Wednesday at 3:30 pm from the Vail Village Welcome Center.
Given such breadth of opportunity, and the scale of the whole, collective town, it's a good thing Vail's free bus system is so great. In fact, it's been called, more than once, one of the best in the country. Here's an interactive schedule.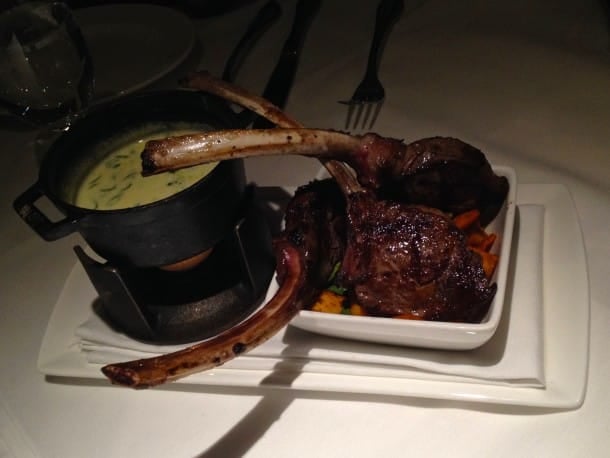 8. What to eat
It's hard to make sense of the culinary hierarchy on your own, so I was fortunate to have some guidance. Here's some direction I can flip from that guidance, filtered through my own palate:
Tavern on the Square, Lionshead — How many restaurants/establishments must share this name? I can't even imagine. The Vail version is the signature restaurant at The Arrabelle (below), and it's pretty excellent. Serving what I'd call inspired, cold-weather American fare, Tavern on the Square delivers a deep menu stacked with game, six kinds of macaroni and cheese and what I'd probably get next time, the "Chicken and Waffles" (chicken schnitzel, blue corn, waffle, bourbon-pecan gravy).

The 10th, here on the face of Vail

The 10th, on the mountain — It's ski-in, sit-down, fine dining. High up on the face of the mountain, The 10th—a recent Vail addition—serves "a reflection of the history of French, Swiss, Italian and Rocky Mountain alpine cooking, infused with today's culinary vision." Vail is especially proud of The 10th, and it should be. The menu Executive Chef Vishwatej Nath is putting out includes entrées like "Molasses-Spice Rubbed Elk Loin, Sweet Potato Puree, Corn Succotash, Cranberry-Bourbon Jus"—and again, you can have this on the mountain, seamlessly spliced into a day of unforgettable skiing or snowboarding.
Tip: Rather than map your downhill skiing all the way to The 10th, just catch Gondola One straight there.
Elway's, Vail Village — Yes, that Elway. Big John the quarterback has parlayed an affection for big country eating into a restaurant series that's carved out a real niche in the heart of Vail Village. "Aged, USDA Prime Beef is the star," and great care goes into personalizing every cut of some truly great game. The "Lamb Chop Fondue" (lamb chops, green chile cheese fondue, Chimayo tortillas, roasted sweet potatoes) here is simply one of the best things I've ever eaten. The "7 for $7" winter menu is also a steal if you have the numbers (or the appetite).

Snowcat: required to get to Game Creek

Game Creek Restaurant, Game Creek Bowl (atop the mountain) — Truly an unforgettable dining experience. Just getting there in winter is an adventure, one that has you shuttling up the mountain on the Game Creek chair lift and then through the wilderness, near sunset (it serves dinner only), by beastly snowcat. It's a whole lot of thrills and starlit mountain vistas—and then you eat. Dinner is finally taken off a five-star menu at a gorgeous chalet in the furthest reaches of your Rocky Mountain imagination, complemented by the graces of an award-winning wine list. Go all out, and do the Prix Fixe.

"Shishito Peppers" at Matsuhisa

Matsuhisa, Vail Village — After new heights in snowboarding and restorative winter travel, I was beginning to settle into my Vail experience with some understanding, some context, some real tools of evaluation. And then I walked through the doors of the Solaris Residences and into Matsuhisa, a truly grand space, and I had to reevaluate. It just felt like the top, in a way that eschewed geographical restraints. "The patrons are famous or look as if they should be," says Vail.com, and that was for at least one night literally true, as Michael J. Fox was floating about when I was there. Taste-wise, Matsuhisa is predictably a Nobu Matsuhisa endeavor, and loyal to its namesake serves a phenomenal selection of art-grade sushi and Japanese-Latin American fusion. We really went nuts with the "Shishito Peppers" in particular, but everything that touched the table was worthy of a callout. The "King Crab Tempura 'Amazu' Sweet Ponzu" and the yellowtail jalapeño plate I no longer see on the menu get the nods here.
9. Getting there
Vail is no closer than three hours from Denver International Airport, and yet the link between the two points is about as smooth as any I've ever traveled. The Colorado Mountain Express is singularly to credit. The CME is a shuttle service, by van, connecting travelers up to ten or twelve at a time from the airport to their hotels—literally smack in front of their hotels—at ski resorts across central Colorado. Rides start around $69, a considerable value considering the stress saved and the fact that the van supplies free Wi-Fi as it winds romantically through the Rockies toward your Vail escape.
Tip: The CME is popular, so make sure to lock in reservations before your trip and to arrive (at the departure point, after the check-in desk) at least 15 minutes before your scheduled departure—particularly on the airport side.
10. Where to stay
Onboard the Colorado Mountain Express, on the cusp of my first-ever Vail experience, I found myself packed tightly inside a van with Vail-goers of varying stripes. A few hours in, the wisest among them emerged as a shaggy haired snowboarder who claimed to make Vail pilgrimage at least ten times a year. When he asked where I would be staying, I told him The Arrabelle at Vail Square. "That's the spot," he told me confidently. Not long after I understood.
I was the last in the van to be unfurled at my Vail paradise, because The Arrabelle is the furthest you can drive into Vail without crashing into a gondola. And truly, save from ski-in lodging up the slopes, I'm not sure you can hole up any closer to any skiing hill, anywhere.
The leisurely walk from the hotel to my ski valet—where my boots and snowboard could be picked up and dropped off each day—was no more than three minutes, past Vail Square and its lovely ice rink. Again, I walked to my days on the Vail slopes, fully cleansing the skiing experience of the need to fashion your days around morning and afternoon shuttles for your gear and hats and sisters to and from the mountain.
TripAdvisor…
…seems to agree. The GM, a really amazing guy, also responds to every review himself.
A warped perspective should be expected with any stay at the Arrabelle, of which I could not have asked anymore as an inquisitive guest. So close to the mountain, so well cared for, so warmed by the hearth and home of this grand, chalet-style lodge, I did not see the Vail of crowds and commercial ambition. My days felt my own, part of my own mountain retreat that the rest of Vail was merely a privileged part of. At the risk of sounding delusional, I'll surmise that the 81 rooms at the Arrabelle, from the inside, feel like the total occupancy at Vail.
There's also its Tavern on the Square restaurant (above), where breakfast is taken just steps from the mountain; an aprés-ski deck that nearly scrapes the Rockies; a 10,000-square-foot spa once voted the 19th-best in the world; plush, spacious rooms; a really amazing check-in experience for kids, as their parents check-in for real; and enough else to fill out a post on The Arrabelle alone. I opted against that, though, because The Arrabelle was seamlessly part of my Vail stay—my first, unforgettable visit to one of the wonders of the skiing world.
Tip: Spring Break savings are available on stays between March 9 and April 20 of 2015, important news considering this is not a cheap hotel. Click here for more on the offer, which includes weekend rates starting at $627/night (plus a $35 resort fee, which is just—come one, guys).
Here's a quick video with more on The Arrabelle: