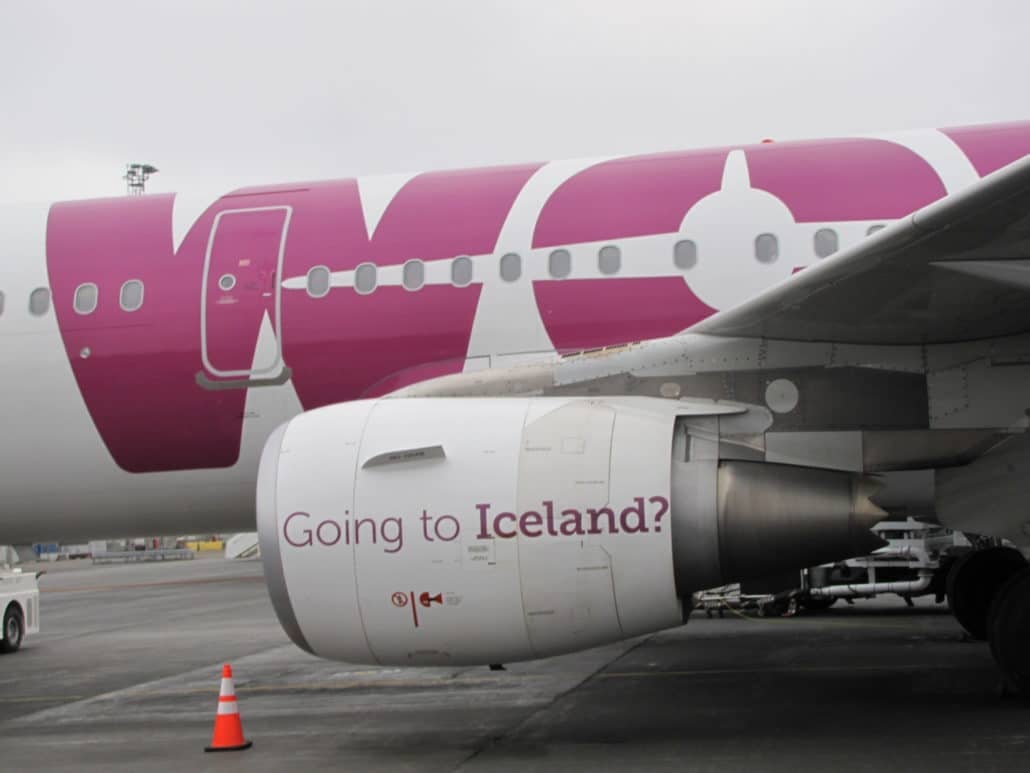 "We promise you that WOW feeling!" boasts WOW air, Iceland's small but rapidly expanding budget airline.
But does that mean "wow" as in "Wow, that's great!" or "wow" as in "Wow, what a bummer!"?
I was about to find out. The airline, which advertises jaw-droppingly low fares starting at $99 one-way, including taxes(!), from Boston, San Francisco, Los Angeles, Baltimore-Washington, Toronto, and Montreal (and now Newark; see note below) to Iceland (with onward connections to 23 European destinations), recently took off on its inaugural run to Bristol, England. So I climbed aboard to experience first-hand the ups and downs of taking a trans-Atlantic flight aboard a no-frills carrier.
Editor's note: WOW is launching service out of Newark Liberty International Airport (EWR) starting in November. Story here.
On ultra-low-fare airlines, you get what you pay for. Literally. A seat assignment, carry-ons, checked bags, food, water, blanket, pillow, etc. etc. cost extra. But that's not necessarily a bad thing. If you're truly price-conscious, you'll pack light and forego the extras. If not, be ready to fork out more money.
Extras can add up fast
I arrived at the WOW air counter at Baltimore-Washington airport 1.5 hours before my 7 pm departure and was delighted to see it blessedly free of long lines. Then I noticed the arriving WOW flight from Iceland was two-hours late. Which meant we Reykjavik-bound passengers would not be departing on time. The airline's website noted multiple delayed flights due to, I'd later learn, an air traffic controller slow-down in Iceland that had shut down Keflavik International Airport (KEF) that morning.
Not to worry. All connecting flights would be held for our arrival, the gate agents assured. It was 8:30 pm when we began boarding. A flight attendant who was a dead ringer for Charlize Theron greeted passengers at the door, jaunty purple flight cap perched just so. (Do all Icelandic women have such flawless skin and impossibly blonde hair?)
Premium, front-of-the-plane seats have 32 and 35 inches of legroom (compared to 30 to 31 inches in the standard seats). But like other extras on WOW, they aren't free. Greg from Washington, D.C., seated next to me in 4B, had paid the extra $48.99 for his 35-inch XXL seat, and $68 to check his bag. Total of his roundtrip ticket to London's Gatwick airport: $780.
My other row mate, Tony from Steubenville, Ohio, bound for a long weekend in Reykjavik, had not paid extra for his perch in 4C and figured he just got lucky in being assigned a premium seat.
Tony ordered coffee ($2.80) and Bjork ($7.20), the Icelandic birch sap liquor, not the Icelandic pop star. Greg had a bottle of water (about $2). Besides the birch sap libation, WOW offers other Iceland-centric foods for sale, like flat bread with a smoked lamb spread ($5.60) and the thick and delicious Skyr yogurt ($2.40). More typical American fare includes pizza ($8) and Oreos ($4). Beer costs $5.60.  
Food and beverage prices are comparable to what you'll find other airlines' a la carte menus. But other items, like the $16 blanket and the $20 pillow/mask combo, might be tempting to buy when your sleep aid of choice kicks in. Same goes for the Blue Lagoon lip balm ($26.50). I love the brand, but if you're watching your wallet, pack a ChapStick.   
But to really keep costs down on WOW air, pack light. A small carry-on (11 pounds, max) flies free. For heftier carry-on bags (up to 26 pounds) you'll pay $39 online and $48 at check-in. Checked bags (44 pounds, max) cost $49 in advance and $67 at check-in for each flight leg.
Big smiles, low prices
The biggest takeaway from my WOW flight to Bristol: The airline is not like some other ultra-low-fare carriers that seem to revel in your misery from the moment you fold yourself into a wretched little seat to when you hand over your credit card for a sip of water. (No need to name names; they know who they are.) Yes, you'll pay for extras, but not for WOW's cheerful, cheeky vibe. After all, they have to live up to their "airline with the biggest smile and lowest prices" slogan.
Even that usual bastion of misery—the rear seats by the toilets—exude positivity. A jaunty scrawl on the rear wall reassures cheap-seat passengers: "Only cool kids sit at the back!"
Messages like "Honk if you're hungry" and "Ring my bell" adorn the call buttons. Purple reigns, from the fuselage paint job to the cabin carpet to the flight attendants' uniforms. And each aircraft in its fleet of Airbus A320s and Airbus A321s has a name. There's "Dad." "Mom." "Bro." And the latest member of the family, "Gay."
The airline has drawn some positive buzz in its relatively brief existence. Kudos include a No. 7 ranking among low-cost European airlines in the Skytrax World Airline Awards for 2013, 2014 and 2015!
Happy landings
Upon touchdown in Reykjavik, we Bristol-bound passengers hustled to our connecting gate. Among us was a British-born Washington, D.C., resident who travels often to Bristol to visit her grown children. She seemed perky even after the all-night-but-not-long-enough-to-get-real-sleep flight from Baltimore. She'd paid about $800 for her roundtrip ticket, including a checked-bag fee. She usually pays $1,200 to $1,500 for this route this time of year.
Not only was she happy about the low ticket price, but the space in her back-of-the-bus seat in Row 29 was also decent, she said.
"Anyway, I breathed and my neighbor didn't get upset," she quipped.
Unlike the sold-out flight from Baltimore-Washington, this inaugural WOW air flight to Bristol was about half full. So once the doors were shut, I ventured back to an empty row. Maybe it was the euphoria of having three seats to myself—and in an exit row, at that (when does that ever happen anymore?)—but I'd swear the legroom seemed leggier than in the legacy carriers I'm used to.  
We landed in Bristol at 11:20 am, an hour and 20 minutes behind schedule—but not bad considering the delay in Baltimore.
Next: 5 Not-to-Miss Sites in Bristol, England.
---
For more on WOW air, visit wowair.us.