A veteran travel writer—not fixed in foodie mode—reviews restaurants with a focus on what the venues communicate.
1. Trademark Taste, 38 W 36th Street; 646-858-2320
As I long-time Manhattanite, I typically loathe Midtown's near-constant chaos. But, behind-that-scene, Trademark Taste (fronted by Trademark Grind boutique coffee bar) initiated my ceasefire with this part of NYC. This is not a window-shopping decision; you have to break on through to the other side to experience this revived speakeasy cum delicious dining hideaway. Vintage black-and-white photos and other bygone-era memorabilia cover the walls and archetypal craft cocktails abound (try "The Crooner," made with Don Q Gold rum, Frangelico, cherry jam, lime, tiki bitters, and egg whites). But, this American comfort food is anything but olden—enter the octopus appetizer (celery, 'nduja, citrus aioli) and caramelized onion soup (topped with gruyere…I'm a soup aficionado, and this rocks).
Seating options include the square bar, the surrounding well-spaced tables and comfy semi-private booths. The "Wild King Salmon" (orange, red walnuts, spring peas) and the "Wild Mushroom & Quinoa Roasted Squash" (goat cheese, smoked tomato, crispy maitake) were, you got it, wildly good. Located on the ground floor of the Executive Hotel Le Soleil New York, whose upper floors have amazing north-looking skyline views.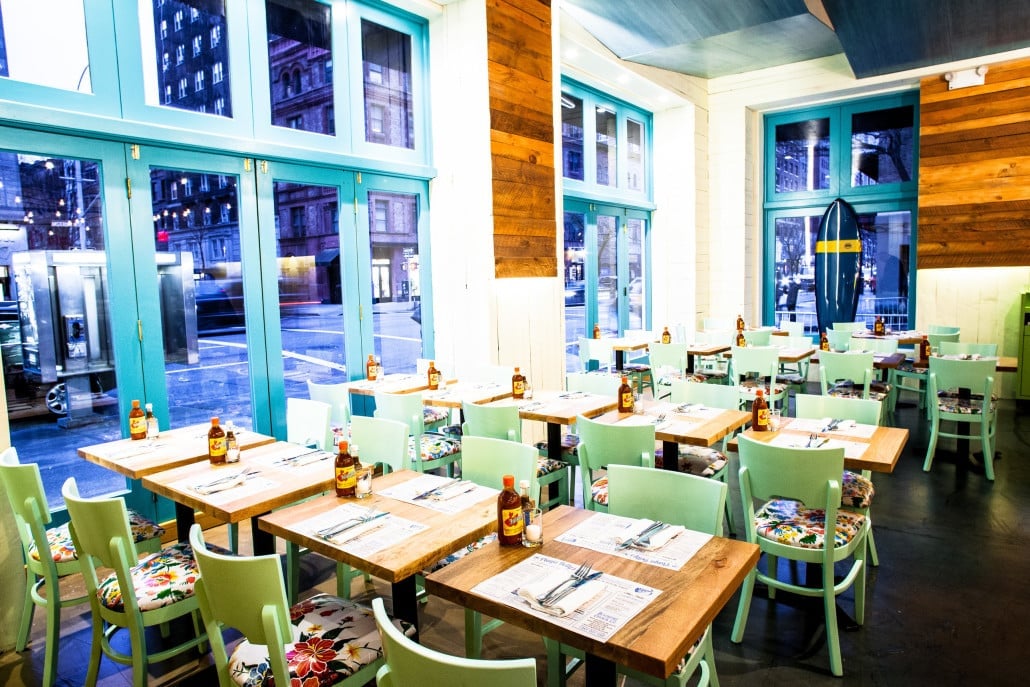 2. Playa Betty's, 320 Amsterdam Avenue; 212-712-0777
The first indication that the Upper West Side's Playa Betty's doesn't take itself too seriously is its "Holla Pain Yo" margarita. Here, a California beach breeze is swapped for a humane wind of change—both the human variety (staff and customers) and tacos including red snapper, fried oyster and several organic options. They take chips and guac to the next level, as they're served with seven exotic mixing bowls (will name three) that you can infuse into the green as you please. The 25-person, three-sided centerpiece bar with a few regulars is surrounded by a campus of tables where you might spot a mother clutching a content baby across from a promising first date. Huge windows offer either inbound sunlight or the crinkled faces of pedestrians peering in at the festivities. They do take tequila-afficionado food-pairing seriously, and I'd rave on about the menu if I hadn't gotten sidetracked in the sea of exotic margaritas, namely the Smoky Playa," "Southern Girl" and "Skinny Dip."
Tip: If you're solo or with lithe cohorts, chill at the bar. Nobody comes here to brood.
3. Chazz Palminteri Ristorante Italiano, 890 Second Avenue (47th-48th); 212-355-5540
Chazz Palminteri Ristorante Italiano is a tribute to both the preservation of old-school Italian charm—with snappy NYC service—and the actor's culinary mission. As the Manhattan restaurant scene continues its out-of-control niche-ification, it's nice to dine amid a humanity cross-section of young, well-behaved families, first dates, and hand-holding couples in their 90s. Throw in an army of enchanting, charismatic waiters, and you've got an instant Rat Pack ambiance—with a twist. Palminteri spent years collecting his favorite recipes from across Italy and Sicily, and the extensive menu is a fitting prelude to the gargantuan gourmet portions.
Two antique, white-linen-table dining rooms and looming wine racks are separated by a cozy seven-seat wood bar and a few high-top tables. While the music sets the mood, heavy-framed mirrors, decorative structural pillars, custom murals, and dimly lit wall sconces certainly add to it. After being transported to a bygone era of Italian hospitality, the dishes arrive with flare. Enter appetizers: Avocado and crab atop mango slices (special) and Ostriche Blue Point oysters. I sidestepped the pasta options for "The Bronx Tail," a cooked-to-perfection lobster tail vividly presented on a bed of mussels, clams, jumbo shrimp, and mashed potatoes. It was no problem to substitute some pappardelle into the Ossobuco special. The bar program includes 250 global wine selections, but the "Empire Martini" (Tito's Handmade Vodka, Malibu rum, pineapple juice, and a splash of cranberry juice) stole the show. Extra fine service, divine food and good times flowing freely—you will not be rushed.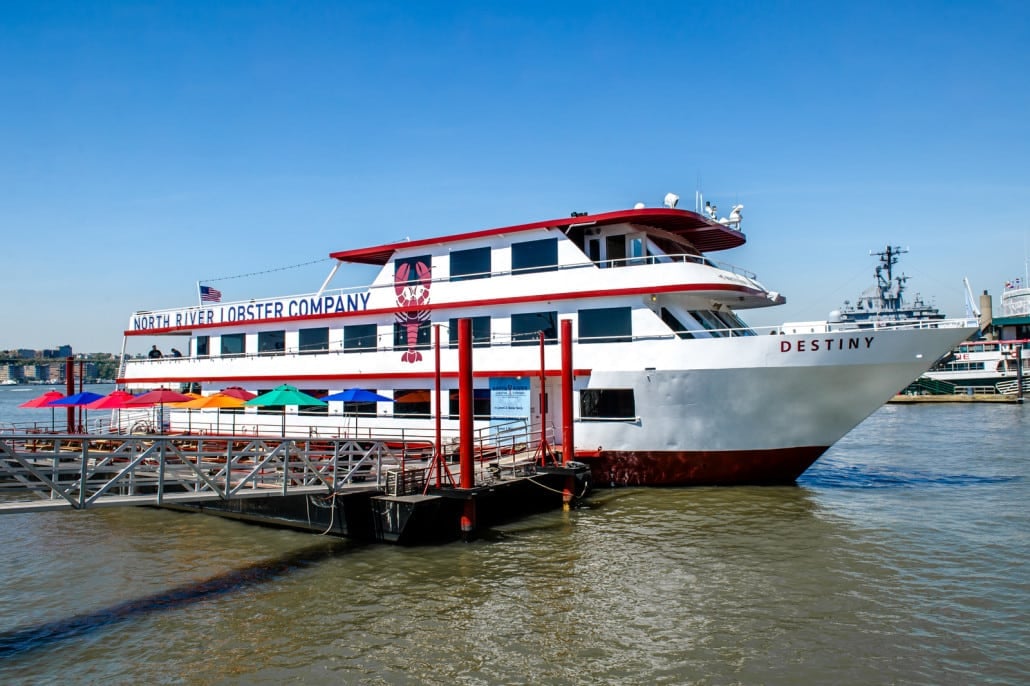 4. North River Lobster Company, Pier 81 W 41st Street; 212-630-8831 
North River Lobster Company is a three-level floating lobster shack that gives the Hudson River some New England edge. Every deck has indoor and outdoor seating and a beverage bar. The raw bar, on level two, offers an ample variety of lightning-strike-fresh seafood staples. The sunniest deck is on top, where lobster and four versions of lobster rolls, fruity or tart mason-jar cocktails, and buckets of beer create a jolly atmosphere. Order via any bartender, grab your number and post it on the table you choose.
Although you can dine while the ship is moored, it also takes scheduled 45-minute sails all day and night that showcase the epic Manhattan skyline (no fee for sailing; holds up to 450 passengers). The we-are-one, festival-style seating encourages chatting with your temporary neighbors. After the sun sets, it doubles as a party cruise for some. Also inquire about New York Cruise Line's newest three-story seafood lounge and restaurant, the Fish Bar, which will entertain a more exclusive seafood aficionado clientele. Embark where 41st Street hits the Hudson River, beside the Circle Line.
5. Ootoya Greenwich Village, 41 East 11th Street; 212-473-4300
Ootoya Greenwich Village is a traditional clean-lines-design Japanese restaurant with a complex menu, which doesn't mean only sushi. The Japanese cook their food too! This is where upscale Japanese NYU students and the expat adults they eventually become get a dose of mom-style cooking. The Japanese are at home here while sampling Nippon versions of stew, including the in-bowl "Basil Chicken Nabe (incredibly tasty health food)." The tangy apple-mushroom dressing brought the tofu salad to life, and the grilled mackerel does not disappoint. The "Bara Chirashi Don" sashimi option showcases the many raw options. Seasonal cranberry and peach poochi poochi (sparkling sake), organic wines, the best miso soup I've ever tasted, an up-front bar area, and a back-of-the-room grill bar add variety and make this even more of a treat. Speaking of treats, dive into the "Rare Cheese Cake" and "Green Tea Ice Cream." Ootoya has two other Manhattan locations. They all became non-tipping restaurants in March 2016.
6. Empire Steakhouse, 151 East 50th Street (sister location on W 54th Street); 212-582-6900
Empire Steakhouse's layered, measured, multi-server service melts into an easygoing experience where you hope your stomach never satiates. The Sinatra soundtracks blend with the trusty Slavic waiter's accent making you still feel at home in this vast space—one that roused memories I couldn't immediately pinpoint. Twenty years ago, when this was a restaurant linked to the neighboring Kimberly Hotel, I gave a best man speech for what was ultimately a brief marriage. But this noble chamber, once an opera house, remains an awesome celebration space, so I got right to it with baked clams that induced sighs. With more than two decades experience working at Brooklyn's Peter Luger Steakhouse, the Sinanaj Brothers' new Empire location comes across as no rookie with the finest cuts of steaks—USDA Prime dry-aged porterhouse for two, three, or four—and the freshest seafood, poultry and pasta. Add a list of more than 400 premium wine selections and 100 single-malt Scotches and you can accommodate each and every dish—including the melt-in-your mouth pan-seared scallops.
PS: That Slavic waiter helped me through a mini relationship crisis. Thanks, pal.
7. Theo's Restaurant & Oyster Bar, 1048 3rd Avenue (and 62nd Street); 917-475-1721
Reinvented Theo's Restaurant & Oyster Bar has changed its stripes with a new staff, including chef Nicholas Poulmentis, and a menu focused on the best of modern Mediterranean seafood cuisine. The "Scallops Truffled Risotto" (black squid ink, salmon caviar) appetizer is not only a perfect example of how the menu is raising the bar, but also a hearty entrée. You have the option to sit at the open kitchen overlooking the chef's bar. The former on-stage chef and cooks were chatty, but this overhauled kitchen crew is all business.
Both the staff and clientele represent a multicultural merry-go-round. Spanish-Venezuelan sommelier/fixer/socialite Julio will grace your table, steer your cravings and make you smile. His bravado is part of the clean-swept transformation of this spacious restaurant with huge windows that allow you to also quietly take in the Upper East Side's bustling streets. The "Cast Iron Seafood Pot Souffle" (chopped lobster tail, tiger shrimp, sautéed julienne, veggies with yogurt béchamel) takes the food-fueled orgasm to the next level. Consider trusting the option for the chef's tasting menu, which will most certainly include tuna tartare and oysters. The lone survivor of the staff overhaul is young owner Theo, a proud Greek with a family history of keeping foodies happy.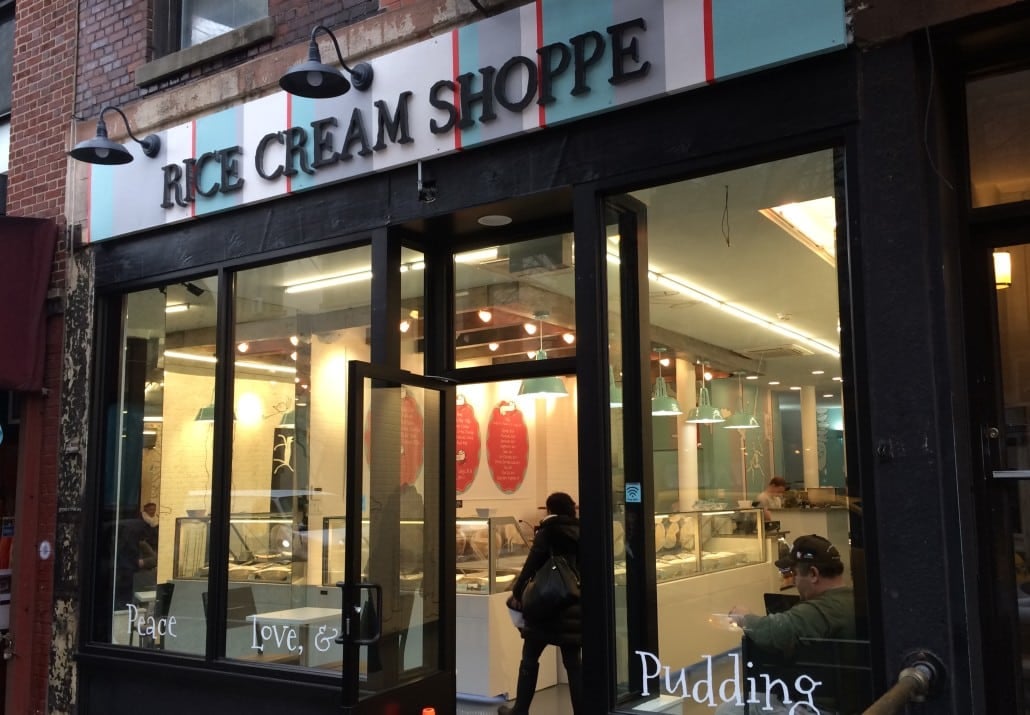 8. Rice Cream Shoppe, 195 Bleecker Street; 212-253-7423
Bleecker Street's clean and well-lit Rice Cream Shoppe is all about rice pudding like you've never experienced. Year-round flavors include "Zabaglione" (egg nog) and "Choconut" (Mounds bar-style coconut with chocolate), and the seasonal flavors include "Gingerbread" and Asian-Indian-nuanced "Kheer." It also has vegan options and most of the 25-plus selections are gluten-free. Toppings include granola, cookie crumble and mixed roasted nuts. This gathering place, which has ample, comfortable seating, redefines the power of pudding. PS: Two fifth-grade girls were also wowed during my time there. Leif Parson's clever drawings adorn the walls.