Breathtaking views, twisty roads, hole-in-the-wall restaurants with awesome food and unexpected wonders along the way. There's nothing that says spontaneous exploration quite like taking on the open road. There's a sense of freedom a road trip delivers that just isn't possible with any other type of trip. Check out our list of what we think are the 8 best road trips in the United States for your next road trip inspiration!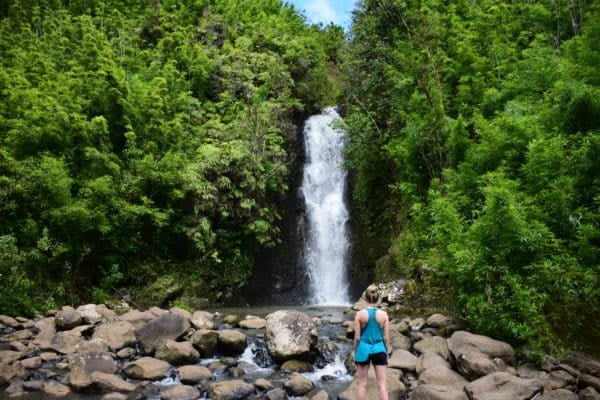 1.The Road to Hana – Hawaii
If you are visiting Maui, make sure the Road to Hana is high on the list of must-dos. You'll be in awe of Maui's eastern coastline, as you'll spiral through dense rainforests, sea cliffs and massively beautiful ocean vistas. (If you have a queasy stomach, don't forget the Dramamine!) They say it takes 2.5-3 hours to traverse the 51 miles (and 54 one-lane bridges!) from Kahului to Hana but that's only if you don't stop. Remember: You have to turn around and drive back, too! Allow at least a day, if possible, so you have time to soak in the beauty and make spontaneous stops to admire the scenery, whether hiking or sitting and relaxing. Aim to get to Hana for sunset and spend the night there. If you are pressed for time and only have a few hours to spare, do half the road trip and turn around. A key stop not to miss regardless: The Bamboo Falls hike (between mile markers 6 and 7 – part of the Na'ili'ili Haele Stream & Waterfalls). For more on our trek to Hana, click here.
2. Overseas Highway – Florida
The Overseas Highway — the southernmost leg of U.S. 1 — connects travelers from Florida's mainland to beautiful islets in the Florida Keys. The "Highway that Goes to the Sea" was first completed in 1938 and at that time, it marked the beginning of easily getting visitors to Key West by car. Key Largo through Islamorada to the terminus of Route 1 in Key West is just stunning. The journey includes the famous 7-Mile Bridge and is only for the most responsible of drivers because it's hard not to just admire the beauty you are driving over! Be prepared to "float" across the highway of bridges while admiring colorful seascapes and swaying palm trees literally driving to paradise islands. Stop in Islamorada for the food scene and if you enjoy fishing, it's consistently top notch year-round.
3. Skyline Drive and Blue Ridge Parkway – Virginia and North Carolina
This Appalachian Mountain road trip is just two hours from Washington DC. You are in for a treat especially if you time your visit to see the fall foliage and spring bloom. The Skyline Drive curves around ridge lines and passes historic towns. Take in the scenery at Shenandoah National Park. Inhabited by Native Americans, the wild backcountry became Shenandoah National Park in the 1930s. Then, connect to the Blue Ridge Parkway where you will eventually hit the Great Smoky Mountains National Park. A highlight for many is the Linn Cove Viaduct, which is a marvel of great engineering through treetops.
4.Bourbon Trail – Kentucky
Remember to take along a designated driver for this unique trip full of, yep, Bourbon. Drive the Bourbon Trail in Kentucky, which connects Louisville, Bardstown and Frankfort in a large triangle to access many distilleries. In fact, eight of the most famous distilleries are right there including Jim Beam, Maker's Mark, Knob Creek and Buffalo Trace. You'll get to learn what goes into making expertly crafted bourbon. Overnight stops in this area can also allow some time for other activities the area is known for including ATV rides, horse trekking, riverboat cruises, hiking, ziplining and caving.
5. Columbia River Scenic Highway – Oregon
At approximately 75 miles, the Columbia River Highway allows road trippers to tour the state of Oregon between Troutdale and the Dalles. Modeled after the great scenic roads of Europe, the engineer's goal was to create a road that was drivable by the then popular Model T and to showcase the natural beauty of the Columbia Gorge. The road was built through the Columbia River Gorge between 1913 and 1922. It curves past a series of beautiful waterfalls while allowing sightseers to take in the best sights of the Columbia Gorge, east of Portland. Check out historic rest stop, Vista House, on the route (also a memorial to the Oregon Trail) and the beautiful Multnomah Falls.
6. Route 12 through Bryce Canyon National Park – Utah
Carving an asphalt trail through Utah's stunning desert vistas and evergreen forests, Utah Route 12 doesn't cease to amaze. Called "Highway 12- A Journey Through Time Scenic Byway," the road cuts a 122-mile path through the desert beginning near Bryce Canyon National Park and ending in Capitol Reef National Park. Along the journey, visitors have the opportunity to stop at numerous hiking and biking trails. Pull off Route 12 near Red Canyon to experience the area's rugged beauty up close. Pay special attention to the numerous Hoodoos in the area. These unique, spire-like geological formations are the result of rain erosion of the plateau, coupled with the region's frequent freeze/thaw temperature cycles. Other do-not-miss spots include the 1.9-million-acre Grand Staircase Escalante National Monument and the myriad of activities in the Dixie National Forest. Plan your trip accordingly, as the average speed limit along the road is 40mph and due to it's remoteness, cell phone service is spotty.
7. Finger Lakes — New York
Road trip to New York's Finger Lakes for the scenery along the way (especially to see the fall foliage!) and the wine. Like much of central New York, the Finger Lakes region is filled with rolling hills, rich farmland and small towns. You'll see lake shores, pretty 19th-century homes and red-brick downtowns that will instantly make you fall in love with this area. These glacier-gouged lakes, like the fingers of a splayed hand, extend southward from a 75-mile-long line reaching roughly from Syracuse in the east to Rochester in the west! Don't forget the wine – we hear the finest of the area's 100 wineries can be found along the shores of Cayuga, Seneca and Keuka Lakes.
8. Pacific Coast Highway – California
We couldn't write a roundup on the greatest road trips in the U.S. without including California's Pacific Coast Highway. PCH/CA Route 1 runs from Orange County near Dana Point up the coast of California to Mendocino County north of San Francisco. Choose parts of it or all of it depending on the time you have. Just don't skip out on the stretch of highway between Monterey and Big Sur. It not only leads you to some great beach towns but getting up toward Monterey (stop to visit the Hearst Castle, it's worth it), your jaw will drop all along the 100-mile stretch of dramatic ocean vistas and high cliffs. Stop in Big Sur to take in the views by hiking, have some wine in Paso Robles and stop for brunch in the quaint little town of Carmel. Heading South to North is best if you (as the driver) want to see the best ocean views. For more detail, check out my account of one of my Pacific Coast Highway road trips here.
Save