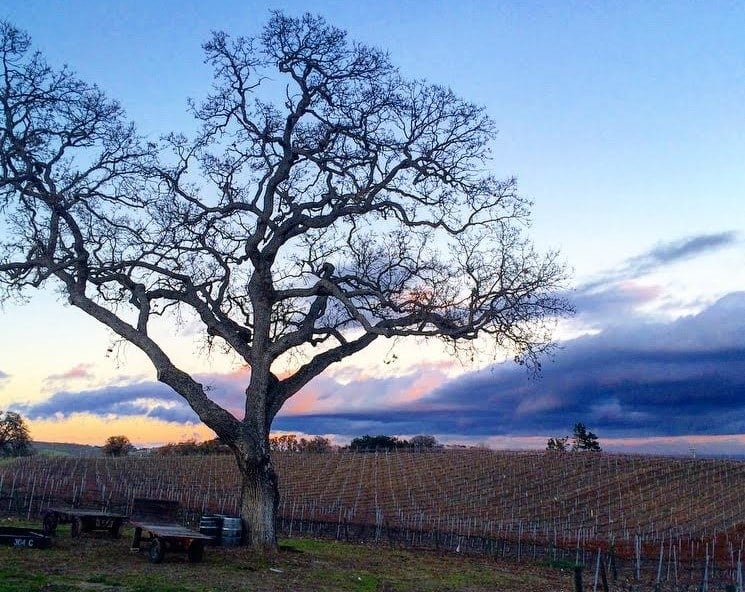 There's something eerily romantic when the seasons change that has always made me want to pack up my things and take a roadtrip. This time, I wandered three-hours north of Los Angeles to California's beautiful Central Coast and stayed the weekend in San Luis Obispo County.
San Luis Obispo, known for its rolling surf and notable vineyards, is especially lovely in the summer. It's truly a gem tucked in away in California's heartland and an amazing blend of small-town charm and exceptional culture and taste. Whether you're a couple looking for an active, adventurous getaway or simply in the mood for wine-tasting and relaxing, I highly encourage a visit to SLO.
Lucky for you and your special someone, I've chosen a few places for you to start. For more, just contact the very helpful Visit San Luis Obispo County for help planning your itinerary. And of course, tell 'em Trish sent you!
Here are my top seven picks for wining, dining and reclining in San Luis Obispo:
1. Chanticleer Vineyard Bed & Bed Breakfast, 1250 Paint Horse Place, Paso Robles, CA 93446; info@chanticleervineyardbb.com
I've been to my fair share of B&Bs but so far, nothing has quite compared to the idyllic Chanticleer Vineyard Bed & Breakfast in Paso Robles. As you drive up to the quaint property tucked just off Highway 46 West, between Paso Robles and the Pacific Coast, an indescribable sense of serenity comes over you.
You're immediately taken by the warmth and hospitality of owners Carolyn and Roland. The former nurse and retired fire chief have owned and operated the Chanticleer for 20+ years, an honest-to-goodness labor of love.
The inn has only three guest rooms, which is a big part of its appeal. Each cozy space boasts a king bed, a private bath, a fireplace, and a private deck and patio with a breathtaking views of the surrounding vineyards.
Settle in with a glass (or two) of their local red wine, a cheese plate or hot cocoa. If you choose to venture out from your personal haven, there's an array of fun activities close by: wine-tasting, golf and of course the beach. It may be hard to leave the room, but don't say I didn't warn you.
In the morning, awaken to a freshly prepared, delicious breakfast made by the lovely Carolyn (call ahead for special dietary limitations or allergies) and interesting conversation with other guests, followed by a stroll around the property's 20-acre vineyard. Make sure to stop by the barn (aka man cave) to catch a sporting event or a play a game of pool. If you're in the mood for a BBQ, there's a grill as well. Couple that with the adjacent river, and you've got yourself a memorable summer day.
2. Fish Gaucho, 1244 Park Street, Pas Robles, 93446; 805-239-3333
Inspired by California's Baja Peninsula, Fish Gaucho is a refreshing, healthy twist on traditional Mexican food. Its innovative menu of tasty ceviche, original salsas and fish tacos is an unconventional take on food that's typically drowned in cheese and heavy sauces. But for the lactose-lovers (like me), I strongly suggest the "Queso Fundito," creamy cheese sauce with roasted veggies and flour tortillas. The drinks are also stellar and taste as delicious as they look.
Fish Gaucho's vibe is welcoming, vibrant and fun. Five minutes inside and you'll know why it's one of more sought-out places to dine in the area.
Tip: We were told by many locals that reservations are hard to come by, so call in advance. But if you're up for it, it may be worth stopping by just to see if there's a spot at the bar. Cheers!
3. Taste of the Valleys, 911 Price Street, Pismo Beach, CA 93449; 805-773-8466
In my experience, wine bars—especially ones that are worth writing home about—can be a be a bit high-brow. Thankfully, Taste of the Valleys wine bar and shop, which was recently named to the list of "Top 20 Wine Bars in America" by Wine Enthusiast, is not.
Located in downtown Pismo, Taste of the Valley's warm, unpretentious atmosphere makes it feel more like a neighborhood hangout than one of the most notable wine bars in the country. And that's a great thing.
Nearly every wine bottle in the house (1000+) is available by the glass, competitively priced and able to be shipped anywhere in the US.
Tip: Ask to try their affordably-priced wine flight, which includes six one-ounce pours working from the available open bottles.
The crowd is a mix of tourists, regulars and renowned local winemakers who've popped in to say hello or taste some vino themselves. There's also a good chance that the owners—Ash Mehta and his wife Lissa Hallberg—may come by for a chat. Both are very friendly and knowledgeable, so ask away! Not a wine connoisseur? Don't worry: No question is off-limits.
4. Giuseppe's Cucina Italiana, 891 Price Street, Pismo Beach, CA 93449; 805-773-2870
Just a few feet from Taste of the Valley is the busting Giuseppe's Cucina Italiana, the ideal romantic meal after a few glasses of wine. The dimly-lit, 25-year-old Italian bistro, which specializes in the Pugliese cuisine of southern Italy, is known for their simple, straightforward, locally-sourced dishes.
Guiseppe's is a family operation, a feeling you get as soon as you step inside. Everything is hands-on, from the produce grown on the DiFronzo family farm to their mother's homemade sauces to even their artisan gelato program, which is overseen by Giuseppe's daughter.
Tips: Book in advance, especially if it's the weekend. Share a couple of entrees for as the serving sizes are large. And again, Giuseppe's is known for its well-done Italian staples, so don't shy away from their basics like the Cesar salad, Margherita pizza or "Ravioli de Zucca."
5. The Cliffs Resort, 2757 Shell Beach Road, Pismo Beach, CA 93449; 805-773-5000; info@clifferesort.com
Views, views and more views. Did I mention the views? A full-service oceanfront resort, The Cliffs is conveniently located just off the CA Highway 101. (The exact midpoint between Los Angeles and San Fransisco, it's the perfect pitstop for lovebirds roadtripping up and down the coast.)
The resorts sits on its own bluff overlooking its very own beach, so its private, on-site access keeps the crowds away and the sand looking pristine. The amenities—which include an oceanfront heated pool, spa services, and champagne brunch at the award-winning Marisol restaurant—are great but in my opinion, The Cliffs' most distinctive feature is the overall quality and comfort of its rooms, particularly the suites.
The suites provide guests with sweeping, panoramic views of both the ocean and mountains. The open layout allows natural light to penetrate and bounce off the walls, and the decor can best be described as "retro, Cali beach-chic." My only suggestion is to take some time from your personal oasis to walk down to the bluff with a blanket and watch a sunrise or sunset.
6. Arroyo Grande historic district
Before you head back home, make a pitstop in Arroyo Grande's historic district, just a couple miles inland. The unique "turn-of-the-century" town is an idyllic one-mile stretch of charming lil' coffee shops, vintage furniture stores and restaurants. It's worth perusing the shops and businesses and talking to the local vendors and artists.
7. Honorable mentions
The city of San Luis Obispo is an effortless stretch of boutique bakeries and historic government buildings lined with RVs and their surfboards. So if you have a few hours to spare between wine tastings and dinner reservations, check out these honorable mentions in the heart of SLO: Mission San Luis Obispo de Tolosa (downtown) and Pismo Beach Monarch Butterfly Grove. Both pitstops are relaxing and free of charge and can be enjoyed by simply walking through once.
---
For more on San Luis Obispo County, visit visitsanluisobispocounty.com. All photos credited to Trishna Patel (trishlistla).