Southern California's Carlsbad is a draw—for the couple looking to enjoy a laid-back beach vacation with an excellent dining experience, the craft beer drinker, the golfer looking to explore the north-coastal San Diego golf courses, or the family headed to LEGOLAND California! I recently found the West Inn & Suites—a gem of a hotel—to be a refreshing choice for a vacation or weekend getaway in Carlsbad or the surrounding San Diego area.
The hotel has 86 rooms, and 36 of them are big, spacious suites. It has a coastal California flair with a fitness center, a heated pool, a hot tub, meeting space, a library, and two fantastic restaurant options that meet both casual and fine dining needs. All of this seemed like the perfect spot to spend a long weekend away from the hustle and bustle of LA with my boyfriend.
Here are the top 7 reasons I enjoyed my stay and why you should check out the West Inn & Suites when you're in the area:
1. The hospitality of an independent boutique hotel
When you walk into the West Inn, you'll feel the warm hospitality immediately. It's hard to believe that this hotel isn't part of a large hotel company because operationally, it's run exceptionally well and has a lot of the perks that the big hotel chains boast about, like free breakfast, pet-friendly rooms, free parking, shuttle service, wine hours, and milk and cookies in the evenings.
This independent hotel is owned by entrepreneurs that retired to southern California, where they are philanthropists that have made an impact on seniors locally and around the country. It's also interesting that they even own the gas station nextdoor to the West Inn! It's probably the nicest-looking gas station I've ever seen, as the building seems to match the hotel!
The employees speak highly of the family. And I enjoyed my stay knowing the staff seemed to really respect who they work for and value their jobs.
2. Nearby Carlsbad activities
The West Inn is in a great location for families going to LEGOLAND California because it's literally right next to the hotel. There's also a pool to keep the kids occupied and suites to accommodate everyone! The hotel is just a five-minute walk to the beach (you can even rent complimentary boogie boards, kids toys, beach umbrellas, and chairs at the hotel). It's also close to some of the best golf courses, shopping, and restaurants in Carlsbad.
We got to check out the calm waters of the Agua Hedionda Lagoon with the Carlsbad Lagoon's California Watersports. We took a two-hour journey with our stand-up paddleboards to the other end of the lagoon and back. (Okay, it probably took a little longer than two hours since the wind started to pick up, making our return trip across the lagoon a bit longer!) In addition to SUP, you can also rent waverunners, kayaks, canoes, aqua cycles, and boats for wakeboarding, waterskiing, and tubing.
3. Affordability close to San Diego
Beyond the Carlsbad area, travelers looking to see the sights in San Diego are only about a 30-minute drive away. By picking the West Inn over a hotel in San Diego, you'll see increased value in room prices and experience, with the great amenities you get with a stay there. For less, travelers can experience San Diego attractions like the San Diego Zoo, Coronado, La Jolla, Sea World, Balboa Park, and the hip Gaslamp District.
4. West Steak & Seafood
When staying at the West Inn, the Zagat-rated West Steak & Seafood is the place to go for memorable fine dining and excellent food. And it's just a few steps across from the hotel. The vast majority of their customers are locals, which speaks volumes for the food under the direction of Executive Chef David Abella.
The restaurant vibe is upscale and intimate but not pretentious at all. Everyone was so friendly, including Chef Abella. He started his career alongside Roy Yamaguchi and worked in the Roy's family for 20 years. Hailing from Honolulu, Chef Abella incorporates Hawaiian seafood, Asian herbs, and a variety of vegetarian options into his dishes. Chef even gets his fresh ingredients from the restaurant's own three-acre farm. While the restaurant is certainly known for its high quality of steak, cooked to perfection, Chef Abella has raised the seafood to another level at the steakhouse.
I was pleasantly surprised to find myself loving the seafood (ahi, oysters, shrimp, and seared scallops) even more than my perfectly done steak! (Chef was the first to share with me how exactly to keep oysters chilled to perfection: Put them in the freezer for five minutes. Brilliant.) In addition, their international wine selection was top-notch. GM and Sommelier Bobby Daitch is to thank for the excellent wine pairings. All in all, I was extremely impressed by the service, food (surf AND turf!) and wine. And hey, who knows: Maybe you'll leave preferring seafood at a steakhouse.
5. "Hops Highway" beer-tasting tour
As if this trip couldn't get any better after a stunning meal, the following day my boyfriend and I went on a four-hour tour of some of Carlsbad's best breweries. The 60-mile stretch that connects Carlsbad and Oceanside to the small mountain town of Julian is nicknamed California's "Hops Highway." You can actually book this package with the hotel (rates starting at $499). Therefore, the hotel does all of the planning in partnership with Sterling Rose Transportation.
The "Hops Highway Retreat" package includes a roundtrip tour (with tastings included) of three breweries, snacks and water, and transportation in a luxury vehicle. From 11 am to 3 pm, we covered Stone Brewing Co., The Lost Abbey, and Mother Earth Brew Co.
We loved Stone Brewing Co. for their Stone Smoked Porter and Stone Tangerine IPA. We also got a chance to take the tour for a behind-the-scenes look at where the magic happens. We even helped them choose their next beer for production, by voting on Beer A or Beer B, which we were able to sample after the tour. (I'd still like to know which beer I tasted and if the one I chose made it!)
Lost Abbey was unique as it was the only one during the day with its own food truck, Devilicious. We did a tasting here and enjoyed most the Lost Abbey Board Meeting (coffee!!) and the Lost Abbey Shark Attack (red ale).
Tip: Get the lobster grilled cheese at Devilicious with bacon. It's not on the menu but they can make it. Thanks to the Lost Abbey bartender for that tip!
Finally, our beer tour ended with my favorite brewery of the tour, Mother Earth Brew Co. It was my favorite because it introduced me to Cali Creamin'—a vanilla cream ale. I'm not a huge sweets person but this beer had just the right hint of vanilla to make me want to drink it every time I sit on the beach from now on!
Our driver from Sterling Rose was the man. He was very familiar with the area, gave us great beer recommendations, and kept us stocked with snacks and water. He was the key to getting us through the day safe and hydrated after a day of beer!
5. The "Date Your Mate" package
I must mention one more hotel package that I loved because this one is so creative! The "Date Your Mate" package (starting at $189) lets you and your significant other be kids again!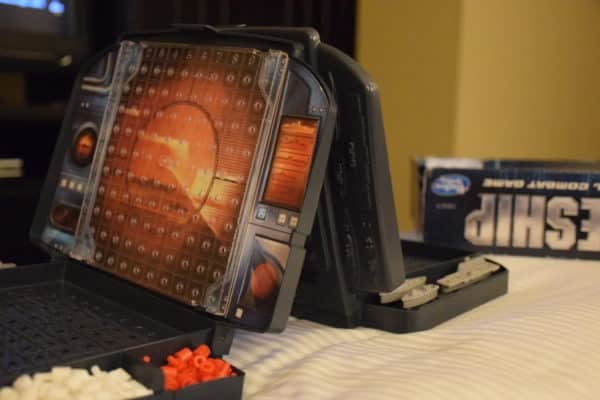 Who wouldn't want this?! You throw it back to the 80s by choosing your favorite movies from the selection at the front desk. You even get your choice of a classic board game to play. (We monopolized Battleship the whole time!) And, get this, when you walk into your room, on your bed you'll be greeted with Nerf guns and extra pillows for a real showdown. And the room is also stocked with candy and popcorn for your movie and bubbles for a bubble bath. What a fun idea. Such a good time!
7. Bistro West
West Inn's second restaurant is known for its yummy comfort food, fresh salads, and sides from the three-acre farm/garden. Bistro West, under the direction of Chef John Miller (from my home state of PA!), will satisfy your craving for comfort food. Chef has also worked with Roy's Hawaiian-fusion cuisine and Ritz-Carlton. Bistro West also serves pizzas, pastas, burgers, and salads.
I could not get over their chicken (it's not always on the menu but ask for it)! I know, it's just chicken, but the savory sauce was just too good to be real. We also enjoyed the "Bistro beef stroganoff" and the "Shanghai-style braised short rib." The portion sizes were very healthy and I know I sound like a broken record, but everyone was just too kind.
The dining room was beautiful and the wines were excellent. (I noticed a few from West Steak & Seafood and some different options, as well.) In the evening, I noticed many couples coming here for a night out so Bistro West can definitely work as a date night spot…maybe before the pillow fight and Battleship!?
---
For more on the West Inn & Suites, visit westinnandsuites.com. All photos credited to Caitlin Martin.