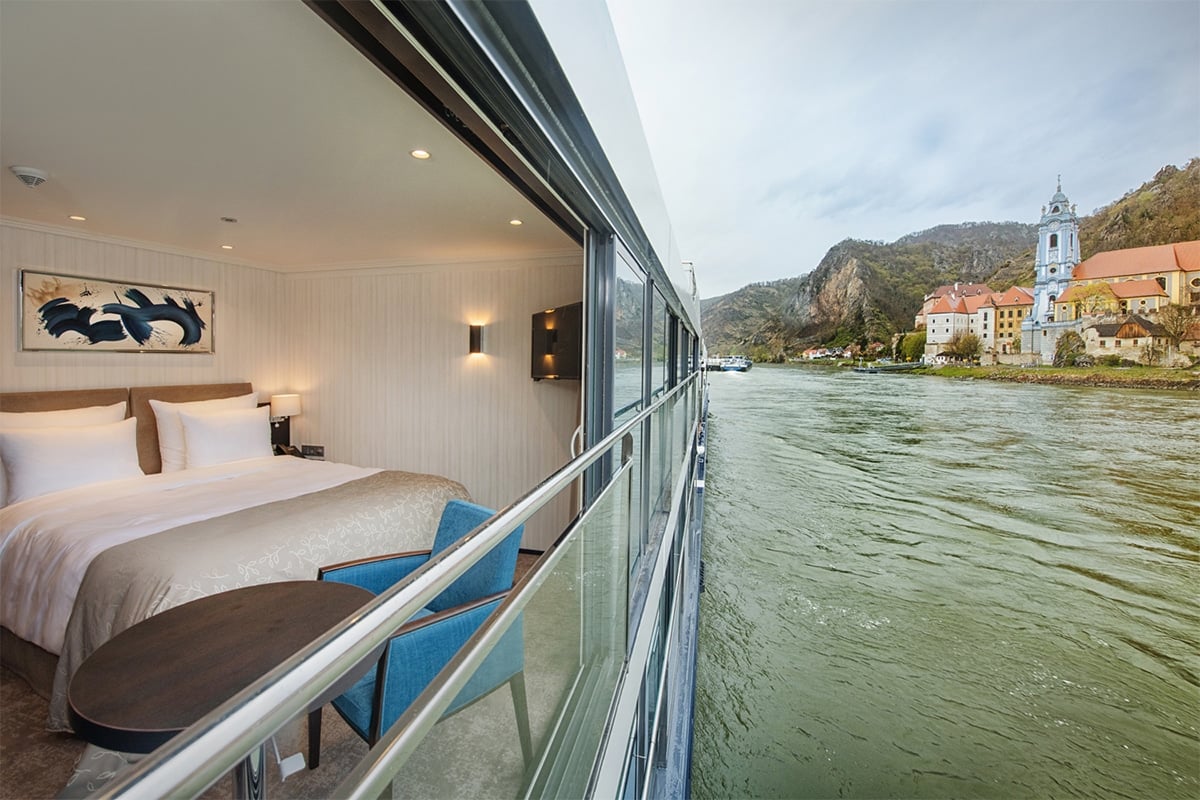 In an era when a plethora of river cruises are plying European waters, it's getting harder and harder for them to stand out from the crowd. But the 443-foot, 166-passenger Avalon View, the newest vessel in Avalon Waterways' fleet of 14 Suite Ships in Europe, is making serious waves. Launched last month on the Danube River, the sleek four-deck ship boasts five features that will turn heads.
Rooms With a View
With its revolutionary cabin design, the Avalon View is perfectly named. Indeed, the view is the star attraction. The ship's 200-square-foot Panorama Suites boast an industry first: floor-to-ceiling, wall-to-wall windows that open 11 feet wide — the widest in river cruising — turning the entire suite into an open-air balcony. Talk about the view! The windows cleverly blur the line between outside and in while also saving the space dedicated to exterior step-out balconies on other ships. That allows for a roomier interior, 30 percent larger than the industry standard. In another innovation, the View is Avalon's first vessel to feature all-glass railings, replacing the stainless steel of older ships for a completely unobstructed view. Like the other ships in the Avalon fleet, the View features two full decks of these accommodations, which represent 80 percent of the 83 cabins.
But wait, there's more. Avalon has positioned the beds to face those glorious 11-foot windows, creating cruising's only beds with a view. And lest you fail to notice, on the second day of every Avalon sailing, you return to your room to find the bed has been moved. Instead of facing that gorgeous watery scene, the bed now faces, inexplicably, a wall. It creates a disconcerting — but effective — sensation. (The beds are moved back later in the day.) And in a supreme attention to detail, the height of the small coffee table can be lowered so it doesn't obstruct the vista while you're lying in bed. Imagine waking up to face the lovely scenery along Europe's waterways.
The beds themselves are super comfy with pillow tops and four mattress choices, another differentiator. Add a selection of four pillow types and you get a sleeping experience that is Goldilocks right.
Designed in soothing brown and blue tones, cabins feature a cozy sitting area, generous storage (including under the bed), and best of all, plenty of USB ports. Stocked mini-fridges, safes, plush bath robes and TVs with premium movies, games, music and several cable channels round out the amenities.
Lovely Loos
I'll admit it; I'm a bathroom snob. So my standards are top-of-the-mast high. But the View delivers in surprising ways. Start with the innovative layout with an angled wall that carves out extra space for the bathroom — always at a premium on ships. That creates room for a full-size shower with glass door. Ahh!
The bathroom is both elegant and practical. Marble floor, walls and countertops, and high-end wall-mounted L'Occitane products add a touch of class, while a glass aromatherapy container infuses the room with a spa-like scent. Lighting — a perennial pet peeve of mine — is next-level great with runway-bright overheads and a well-lit makeup mirror. Plus, recessed foot lights stay on 24/7 for those middle-of-the-night forays. Storage and display space is generous with a full-length glass shelf above the sink (enough room to lay out toiletries — what a concept!), as well as under-sink closed shelves, which conceal the hair dryer. Thoughtfully, the toilet has a soft-close lid.
But the norm-busting pièce de résistance is dual-colored towels: half in white and half in brown so that couples can separate theirs from each other. It's a small detail, to be sure, but it offers a big benefit.
Excursions Galore
Hike to a lookout point in the Visegrád Mountains of Hungary. Enjoy wine tasting in the Moselle Valley in Germany. Walk in the footsteps of Vincent van Gogh in Auvers-sur-Oise in France. These are just some of Avalon Waterways' daily excursions — as many as the proverbial box of chocolates.
Boasting one of the largest number of options in river cruising, Avalon's Active & Discovery itineraries offer up to 28 shore activities. Organized thematically by three categories, they're highly immersive and culturally authentic. "Active" excursions are physically engaging like hiking, biking and paddling; "Discovery" ones are culturally participatory like cooking classes and painting workshops; and "Classic" are guided tours to iconic and historic sites. What's more, they're all included in the price of each sailing.
On my Avalon View cruise, I donned an apron and sharpened my culinary skills during a fun cooking class at the Wrenkh Vienna Culinary School (dumplings and stroganoff, anyone?), followed by eating the fruits of our labor, of course. I took a scenic drive to Bratislava Castle in the capital city of Slovakia followed by a walking tour of downtown, a Slovakian liquor tasting at St. Nicolaus Distillery, and a multi-course lunch in the stunning Zoya Museum Art Gallery just outside of town. And I joined in traditional Hungarian folk dancing in the town of Esztergom, accompanied by a tasting of pálinka, Hungary's famous — and potent — fruit brandy.
A Cozy Cocoon
In addition to its big public spaces, the Avalon View boasts a delightful hideaway tucked away in the ship's stern called the Club Lounge. This casual nook, which feels like an intimate home den, is wrapped in floor-to-ceiling windows on three sides to make the view — what else — center stage. Eight small tables surrounded by comfy chairs in serene hues of taupe and brown provide inviting spots to read or play games from those displayed on a book shelf — or just gaze endlessly at the dreamy European vistas.
A long self-serve buffet offers another point of differentiation. Well stocked with premium coffees, teas and snacks, it makes the lounge a favorite for a late-morning coffee fix or a late-afternoon nosh. There are flaky apple turnovers and three types of fresh-baked cookies: triple chocolate, butter vanilla and dark chocolate hazelnut (yum!). Wash them down with enough drink options for even the pickiest palate. A specialty coffee machine dispenses hot water, hot chocolate and nine kinds of coffee, from café crème to espresso decaf to latte macchiato. You can also choose from 14 — count 'em — teas including verbena, rooibos, earl grey, assam Irish, classic green, jasmine, lemon sky, sweet ginger, peppermint and chamomile. Want a cold drink? Help yourself to a pitcher of orange juice or unsweetened ice tea or one of five flavored sparkling and still waters from a fancy dispenser.
Water, Water Everywhere
It wouldn't seem that water could make such a difference on a cruise but does it ever on the View. Start with the beautiful, glistening carafes of fruit-flavored waters displayed on the bar in the main Panorama Lounge. Among the rotating flavors are kiwi, raspberry and lemon; apple, peach and lime; cucumber, mint and peach; and orange, blueberry and raspberry. With their 24-hour fresh fruit infusions, they taste as heavenly as they look.
Meanwhile, in the Club Lounge you can savor five unique mineral and still waters with healthful and soothing properties from a self-serve dispenser: Pink Positive, which has grapefruit and vitamin- and mineral-rich moringa; Green Hope, which has cucumber and mint; Body Guard, which has lime and ginger; Herb Happinez, which has green tea, ginseng and moringa; and Magnesium Mineralized Water. Who said water had to be boring?