A big thanks to Villa Saletta for hosting our stay so we could provide this detailed review of our experience.
"Bravo Giotto, Bravo!" exclaimed Andrea, the Italian quarryman carrying a digging tool called a vanghetto (like a small pickaxe) and dressed in a camouflage windbreaker, boots, tweed cap, and pouch around his waist for "cookie" treats. We raced closely behind the trifolau's dog to see if the adorable white and grey curly-haired Italian breed had discovered the elusive white truffle. RELATED: 12 Things You Never Knew About Italy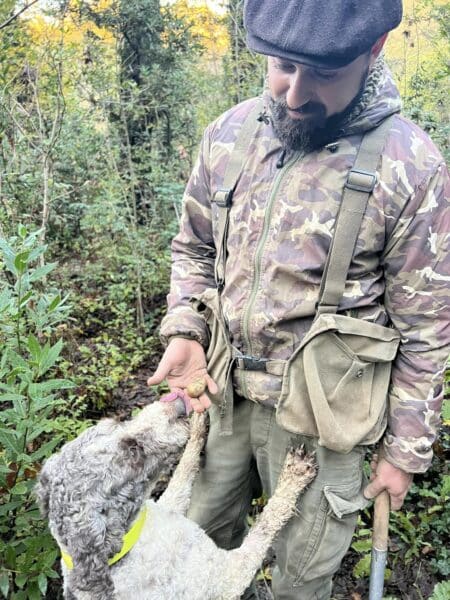 Thanks to our stay in Tuscany, Italy we became immersed in the truffle world with Savini Tartufi. The Savini Family has been finding the diamonds of the forest for four generations and produces over 80 truffle products in Tuscany. Wine and food lovers will adore this culinary experience, just an hour's drive from Tuscany and a 45-minute drive from Pisa.
Experience the truffle hunt with a dog in the woods
Not far from our 8-bedroom residence at Villa Saletta, near the Tuscan rolling green hills, our group eagerly bounded out of the Savini Tartufi branded Land Rover to observe the "truffle machine" since we were on the hunt for the rare white truffle, the most expensive truffle sought out in this Tuscan area, typically found from September to December. While pigs and wild boar may be the competitors, our guide was six-year-old Giotto, a Lagotto Romagnolo – used for centuries for their love of sniffing and digging. Known as the "water dog," this breed thrived in what was once Italy's moist marshland as they excelled at swimming and hunting ducks. Trained at 4 months old with truffles used on the mother's nipples and the dog's teeth, Giotto is one of eight dogs used at Savini Tartufi.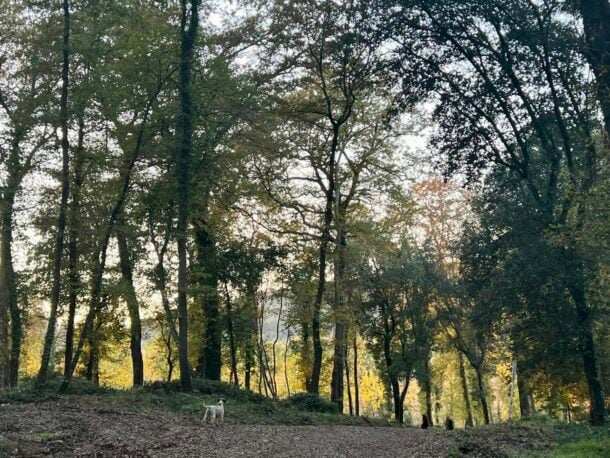 Andrea, our truffle hunter guide reminded us that we must speak to Giotta in Italian and that "thanks to our grandfathers and their grandfathers, we know the spots so we have a big chance to find them." After giving Giotto endless pets and hugs, we raced after man's best friend with his tail erect like a flag pole while Andrea shared, "You must trust the truffle machine. You need to have patience and love like children. He's the truffle machine but sometimes he's lazy."
After about 10 minutes, we watched in amazement as the dog sniffed the damp ground and began to frantically dig. The truffle hunter watched carefully and gently shoved the dog's face away; the worst thing to happen is to break the truffle as it is then no longer valuable.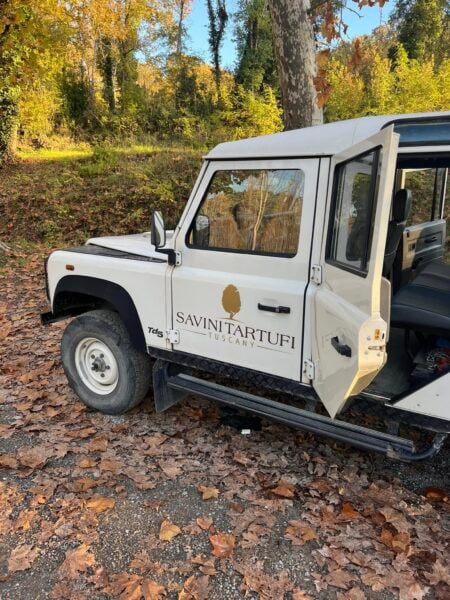 After using his digging tool, Andrea switched to digging the dirt with his own hands to carefully unfurl and uncover what looked like a small potato – and even smelled like one but with a pungent garlic aroma. Immediately I thought about the many dishes I'd seen prepared in LA shaved with this edible gold. Andrea enlightened us with more knowledge, such as, "The taste of the truffle comes from the tree."
"Giotto wants to make me happy. He wants the cookie so bad, not the truffle," Andrea exclaimed as he rewarded the dog. "Pigs here were the original truffle hunter but since they liked them so much, it was not a good match as in these Italian parts the wild boar is the major competitor as they eat acorns and truffles which is said helps produce their sweet meat."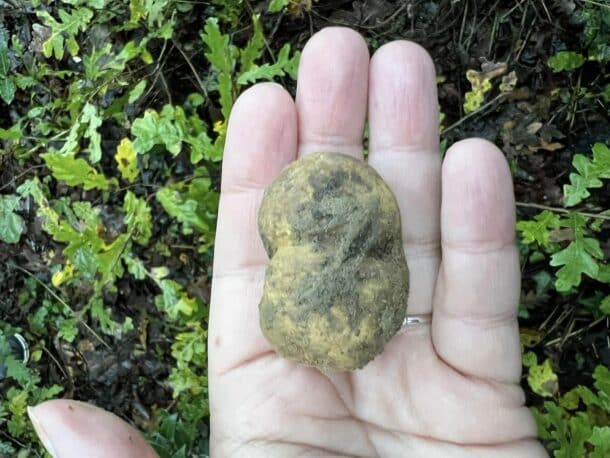 In the quiet forest, Andrea gave us a brief lesson in truffle history as he divulged that the biggest truffle found in Alba, Italy was given to former President Eisenhower in 1951, "because we did not know how to use it. Only nobles knew how to use it. We were hunting boars but truffles just for fun. People from the north of Italy came here to buy truffles from the farmers who were feeding them to the pigs. Tuscany was like a virgin company then and now there are more than 100 truffle companies in this region. Today over 600 freelance truffle hunters have applied for licenses to use this Villa Saletta land."
As we returned back to our jeep, another car pulled up to scout the forest while Giotto bounded away weaving in and out of the trees like a happy pup, probably in search of all the smells as Andrea, in his Italian accent proclaimed, "He's a troublemaker. He can be naughty." When I asked Andrea if he ever grew tired of eating truffles, he replied, "I still like truffles like it's the first time."
Dine on a multi-course truffle menu
Before or after the hunt, Villa Saletta can arrange a multi-course truffle meal in the Savini Tartufi tasting room adjacent to Savini's Truffle Museum and shop. Our guided educational meal included a selection of truffle cheeses with truffle honey, truffle shaved bruschettas, tagliolini pasta with seasonal truffle, fried egg with truffle, and truffle ice cream.

Prepare truffle dishes properly with a cooking class
Add a cooking class to your truffle day and learn how to clean and properly use the different varieties of fresh truffles in dishes at Savini Tartufi. We learned that the prized white truffle is normally served raw and sliced over risotto, pasta, and meats and is excellent over raw meats and fried eggs. The black truffle can be served either raw or cooked, sliced or grated, raw, on pasta, risotto, or on all those dishes that call for white truffle. It enhances the flavor of frittata, crostinis, canapes, pasta sauces, stuffings, and roasted meats.
Take truffle products home from the Savini store
Adjacent to the Truffle Museum is Savini Tartufi's truffle shop filled with endless truffle products to buy like truffle oil, truffle salt, crème de truffle, truffle mushrooms, bruschetta con tartufo, truffle pates, truffle pasta sauces, and more. Some products and recipes can be found online for egg dishes, truffle appetizers, pasta, and risotto.

Learn fascinating truffle facts at the Savini Truffle Museum
In a small space attached to the store is a room filled with fascinating information including the Savini's 70-year history with truffle hunting and interesting tidbits about truffles like a framed Guinness World Records certificate for the most expensive truffle sold at auction in 2007. Cristiano and Luciano Savini unearthed a three-pound truffle in Pisa and sold it to a Chinese couple for around $330,000, which was donated to charity.
Did you know that seven different varieties of truffles grow in only three main regions in Italy? We discovered that truffle hunting is mostly luck because one must be there at the right time as truffles grow five to eight weeks with no smell and it is not until they get ripe at the end of their life cycle that they emit a scent. "One day we find none, the next day we find three," Andrea divulged. "Last year was a bad year for truffles due to climate change. You must come every day. Since they are made by 80% water, a truffle that sits in the ground too long can become mushy or spongey and will rot if no one finds it within 4 days. Sometimes it can take 5 minutes to find a truffle or 3 hours." I'm already daydreaming of moving to Italy to become a truffle huntress as I think about the truffle aroma atop pasta.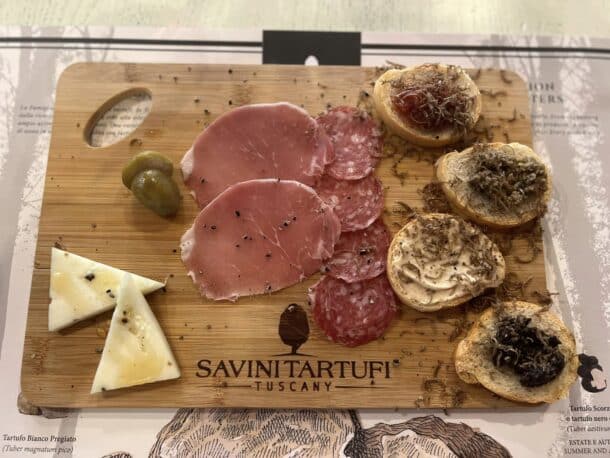 Since truffles must be used within five to seven days of being found, they are often express shipped around the world as we saw at the Savini Museum and store. A small cigar-like box of fresh white truffles was on its way to Dubai for around $12,000. South Korea is Savini Tartufi's biggest market.
Forest conditions are part of the magic as white truffles are wild mushrooms that need the right altitude, cool temperatures, proper moisture and rain, and an alkaline soil of 6-8 pH to grow properly. The symbiosis of the trees plays a role too, as the fungus is the result of the union of the spores in the ground with the tree's roots. No more than 15 different types of trees are part of this symbiosis, such as oak, hazelnut, willow, and poplar. A special oak tree exists in Tuscany and the best round-shaped truffle comes from this 90% Tuscan oak forest with the right soil and clay in the ground. However, only one truffle grows per hole.
Pro Tip: Stay at the nearby Villa Saletta estate on Savini truffle land. The Villa Saletta estate is one of the largest, most fertile, and most beautiful pieces of land where, for centuries, a medieval borgo and ancient farmhouses anchored the property bearing witness to transformations since 980 AD.
Situated on 1700 acres, guests can unwind on this countryside property by staying at one of three villas with pools and participating in cooking classes (cookingclassestuscany.net), wine tasting, olive harvesting, and truffle hunting. Villa Saletta's modern boutique winery produces top-quality Tuscan wines and is a perfect continuation for your culinary journey as the estate's winemaker David Landini invites guests to wine taste, visit the cellar to discover the winemaking process, and take back signed bottles of Villa Saletta Chianti DOCG, Sangiovese, and Rose Spumante. Keeping traditional values and methods alive, grapes are handpicked and David creates various wines depending on the location, soil, and angle of the land.
When to Visit: While summer may be the best time to visit for sunny weather, Tuscany celebrates the expensive delicacy with several festival events in October and November. Black truffles are more abundant, last longer, and can be found almost the whole year therefore black truffles are not as expensive as white truffles. In summer the smaller black truffles are left behind because they are not big enough to sell.
 KEEP READING: 
–12 Things to Know Before You Travel to Europe
–12 Things You Never Knew About Italy
–7 Things to Do in Naples, Italy
–12 Things to Know Before Going to Paris
–19 of the Best Off-the-Beaten Path Things to See and Do in Paris
Love to save money when you travel? Sign up to Johnny Jet's free newsletter and check out these popular posts: 10 ways to find cheap flights and 12 ways to save money on baggage fees. Follow Johnny Jet on MSN, Facebook, Instagram, Pinterest, and YouTube for all of my travel posts.