When you're traveling, the best way to save money and, more importantly, time, is to travel with carry-on bags only. The less you carry and the lighter your bags are, the more you will save. RELATED: 12 Ways to Save Money on Baggage Fees
This post contains references to products from one or more of our advertisers. We may receive compensation when you click on links to those products. For an explanation of our Advertising Disclosure, visit this page.
However, I realize that not everyone can travel light, including myself. Before kids, I traveled exclusively with carry-on only. But nowadays, when I travel with my family, it's almost impossible to travel with carry-on or 'cabin baggage' like my European friends like to call it … especially, if you have two little kids like me, who go through clothes faster than you can imagine. 
But even if my kids were older and strong enough to travel with their own carry-on bags, we would still use these four not-so-common travel products I'm about to list since they save us on baggage fees, time and embarrassment.
For starters, U.S. airlines made almost $7 billion (yes, that's a B as in boy) last year in baggage fees alone according to the Bureau of Transportation Statistics, per CNBC. Here are four savvy ways to keep that money in your bank account where it belongs.
Digital luggage scale
The first of these four things I pack is a compact, handheld, digital luggage scale, just to make sure our luggage isn't over the weight limit. In fact, I used it twice this past week, first on an American Airlines flight between Toronto's Pearson International Airport (YYZ) and New York's LaGuardia (LGA), and then again a few days later on an Alaska Airlines flight from Newark (EWR) to Los Angeles (LAX).
Those were the last two flights of our epic five-week, seven-country, four-state and seven-plane (on six different airlines) trip to Europe, Canada and the East Coast. RELATED: 12 Things I Learned From Traveling to Europe This Summer
As you can imagine, our bags got a little bit heavier with each stop. Most of the added weight came from hand-me-downs my sister-in-law gave my daughter but the six President's Choice Sweet Heat mustards I bought at Loblaws didn't help. It's so good. RELATED: The 30 Best Souvenirs I Brought Home From Europe – and They Took Up Absolutely No Room in My Bag
I credit the mustard as the inspiration for this story because it's what put our bags over the weight limit and was almost the cause of serious embarrassment. That's because until a couple of months ago, I didn't need to worry about overweight baggage if I was flying American Airlines.
My top tier elite status allowed us to check three bags at 70 pounds each free of charge (per person on my reservation). But I lost my Executive Platinum status and now I'm just Platinum so I only get two free checked bags at 50 pounds each.
You would think 50 pounds is more than enough weight but between the mustard, the kids books, the hand-me-downs and their bath products, it put us over the limit last Friday when we checked in at YYZ. The check-in agent said that since one of our bags was 11 pounds over, I could either take some stuff out or pay $105. You guessed it … I took some stuff out.
Fortunately, I planned for this to happen because before we left my mother-in-laws house, I used the digital luggage scale to check the weight as it felt heavy. I was actually relieved the bag was heavier than usual and not me getting weaker.
Because I knew the weight, I had already figured out how I could quickly pull stuff out without holding up the line and looking like a total embarrassment. I mean opening a suitcase and pulling stuff out at the counter to save money is the airport version of the walk of shame.

Packing cubes
Pack your belongings in packing cubes. All travelers should use packing cubes to stay organized but they also help frugal travelers to pull stuff out at the last minute without clothes flying everywhere. RELATED: Why Packing Cubes Are a Travel Essential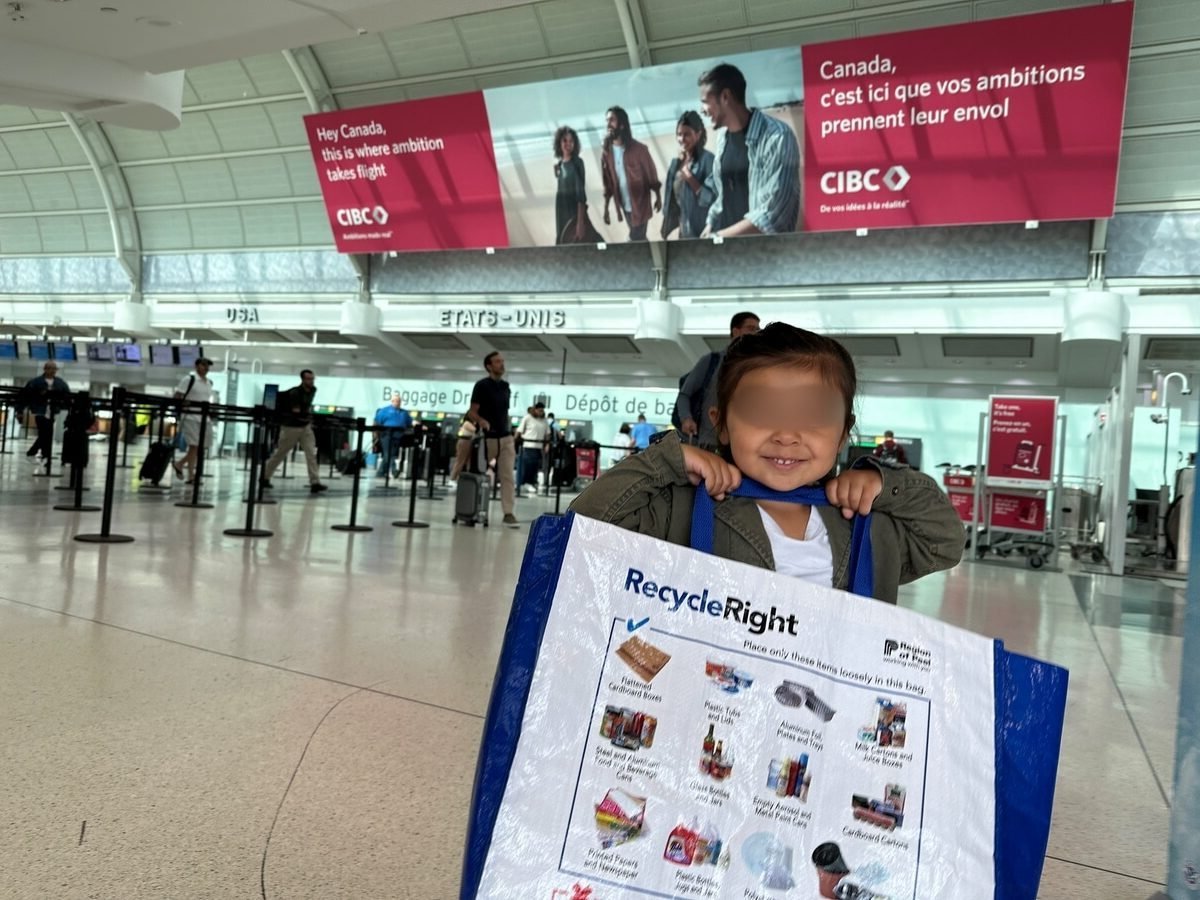 Extra foldable bag
Have an extra compact, foldable bag. I've carried one of these bags in my carry-on for years and have rarely used it but at times like this, it's well-worth having because it doesn't take up much space and you don't walk to be walking through the airport with a packing cube. It's much better for your self-esteem to have a bag to conceal your goods.
This wouldn't have happened without having this inexpensive digital luggage scale, which is surprisingly accurate. I crossed-checked the weight of the bag using my handheld scale and the airport's scale. What's also nice, besides it being just $12, is that it can hold up to 110 pounds, which is way more than anybody needs and can probably lift.

And for those who travel with carry-on only, just know that the airlines are starting to crack down on heavy cabin bags. That's because the more weight, the more jet fuel, and the more jet fuel, the more money it costs to fly a plane.
If you ran an airline you would probably weigh cabin bags too and charge passengers for heavy ones. This has been happening for over a decade in a lot of foreign countries, especially low-fare carriers. So be sure to know your airline's baggage weight limits and sizes before arriving to the airport.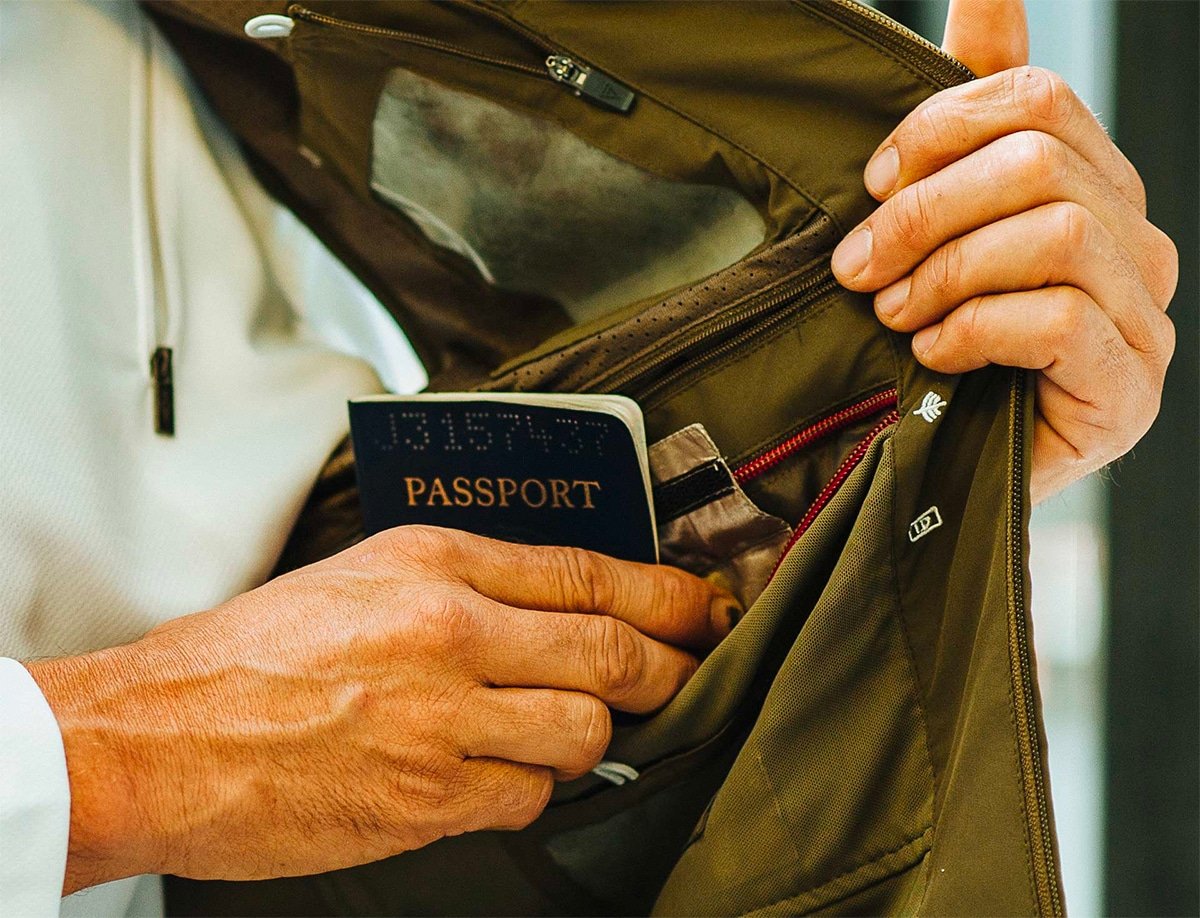 Scottevest
This is another reason why I also often travel with a Scottevest jacket as it has 19 pockets and acts like a secret third carry-on. It saved me twice, once in Germany and once in Australia when the agent weighed my rolling briefcase and said I was five pounds over the limit. TIP: Scottevest also makes pants, shorts, shirts and vests, all with hidden pockets that are great for travelers, not just to help with baggage fees but to conceal your valuables from pickpockets.
I stepped away from the counter, put my camera around my neck, my laptop in the jacket's side pocket (yes, there's a pocket that large) and some other gadgets in the other pockets and went back to the counter. I was good to go and didn't have to check my carry-on, which has all of my valuable and fragile stuff. RELATED: How to Save Money With a Secret Third Carry-On
Have you ever been hit with overweight baggage fees? If yes, share your experience in the comments.

KEEP READING:
–8 Ways To Make Sure An Airline Doesn't Lose Your Bag … And That You Don't Get Robbed or Stalked
–The Trick For Getting Airport Luggage Carts for Free
–Airline Lost Your Luggage? Do This If You Want to Get Compensated
–Why Frequent Fliers Use Apple AirTags or Samsung SmartTags When They Travel
–An Airline Executive's Number One Tip for Avoiding Lost Luggage When You Fly
Want more travel news, tips and deals? Sign up to Johnny Jet's free newsletter and check out these popular posts: The Travel Gadget Flight Attendants Never Leave Home Without and 12 Ways to Save Money on Baggage Fees. Follow Johnny Jet on MSN, Facebook, Instagram, Pinterest, and YouTube for all of my travel posts.