I left Boston in 2010 under duress, returning to my Rust Belt hometown for family reasons. Since then, I have longed for the Hub's small-town-big-city feel, its sophisticated dining, its quirky and august museums; its diverse shopping scene, extreme walkability and human-scale buildings. I've missed the Public Garden, sailboats on the Charles, Harvard Square, and most of all, proximity to the ocean, the mountains, and New England and all its charms.
A recent return trip left me with a conundrum: I had work to do on the house I still own across the harbor, but for the first time since my move, I couldn't stay there. The place was filled with tenants, and the cramped basement room I'd used in the past would hardly do since I'd be traveling with my boyfriend. None of my friends were in the market for a housesitter at the moment, and the temporary roommates that seemed inevitable with airbnb were not our idea of romance.
To make matters worse, it was September, one of the busiest times of year in the place known as America's College Town, with 360,000 students descending annually according to the Bureau of Labor Statistics. The closest hotel we could find with a four-day block available was a Motel 6 in Braintree, a good half-hour from the city with no traffic—not that there's such a thing as an unclogged highway in Boston.
Enter boutique hotels. We were able to book one-night stays at four comparatively small properties, each of which had its own character and amenities. It was a bit of a splurge, but the convenience, luxury and personalized service these places offer were hard to pass up. For me it was like staying at my own house, but with unparalleled service and, usually, a professional chef right downstairs; for my beau, moving nightly provided shuffled snapshots of a town he'd never spent much time in but now can't wait to revisit. Here, by neighborhood, were our choices: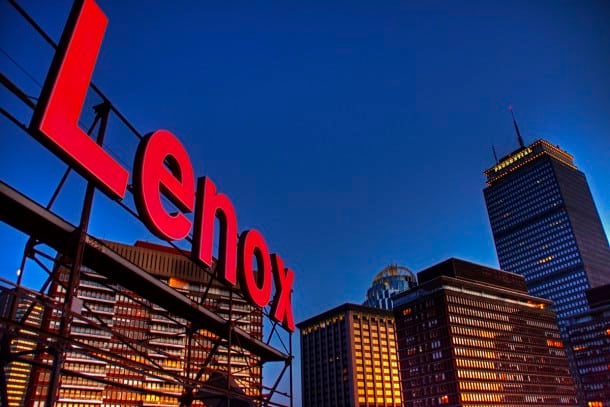 1. The Lenox Hotel — Copley Square
You can't get more centrally located than The Lenox Hotel, Boston's grande dame of hospitality. Opened in 1900 by the owner of the Waldorf-Astoria in New York, the Lenox has been run by the same family for three generations and has hosted celebrities as diverse as Babe Ruth, Judy Garland and Duke Ellington. But just because it's historic doesn't make the Lenox old.
With the place beginning to look a little tired at the dawn of the new millennium, the hotel's owners started pouring money into upgrades about eight years ago, and today every inch of the Lenox has been renovated to the industry's greenest standards; there's even an electric-car charging station for both guests and locals. The rooms all have new—though still traditionally styled—furnishings and softgoods, and 54 of them offer wood-burning fireplaces for those chilly New England nights.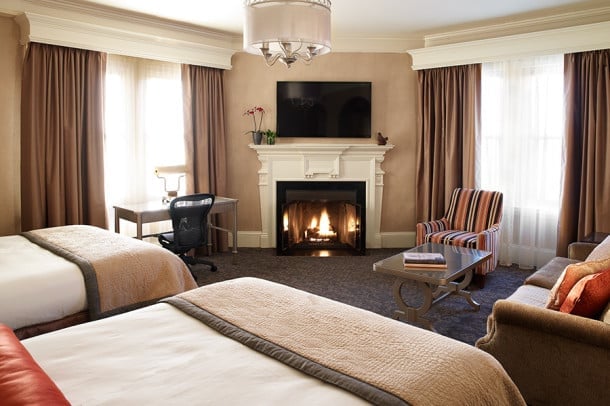 You won't be spending much time indoors at the Lenox, though, since it's smack in the middle of Boston's biggest attractions, from shopping on Newbury Street to gallery-hopping at the Museum of Fine Arts and the Isabella Stewart Gardner Museum to the eclectic dining scene of the South End. Prices can start as low as $166 some nights in the off-season (with AAA or AARP discount) but range to quadruple-digits for suites in the summer months.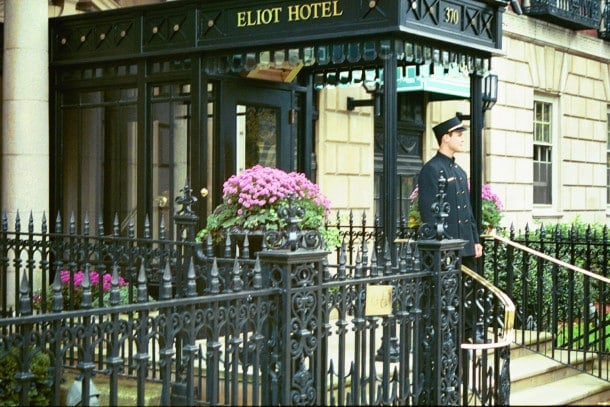 2. The Eliot Hotel — Back Bay near Kenmore Square
The Eliot Hotel, too, is a classic, built in 1925 amid the stately row houses of Boston's most beautiful street, Commonwealth Avenue.
Tip: You'll brand yourself a tourist if you call it Commonwealth Ave; locals know it as simply "Comm Ave."
At the corner of Massachusetts Avenue ("Mass Ave"), nextdoor to the venerable Harvard Club, the Eliot was originally constructed as lodging for Harvard professors by the family of the university's president, Charles Eliot.
Today its 16 rooms, each with a separate living area, and 79 suites, while modern, make you feel like you're stepping back in time, with brass keychains instead of plastic cards to enter, a liveried doorman in the wrought-iron portico, and an intimate marble lobby with a cubbyholed dark-wood reception desk straight out of the movies. Its modern-French restaurant Clio has been a favorite of Boston foodies for going on two decades now, and the 21-seat Uni Sashimi Bar has also gained quite a following, with its "Late Night Ramen" service on weekends starting at 11 pm.
The Eliot is less than a mile from Fenway Park, the Hynes Convention Center, Symphony Hall, Newbury Street, and the Prudential Center. Prices start around $205 in the low season.
3. enVision Hotel Boston — Jamaica Plain
Less high-end (read: expensive) than the other three hotels here, the enVision, in the still-evolving Jamaica Plain neighborhood, has the young, hip, DIY vibe of a European hostel. Housed in a clean-lined but nondescript four-story brick building, the 39-room enVision's lower floors feature a living-room-like lobby, a small fitness center and an in-house deli with juices, sodas, pastries, yogurt, and other snacks.
The decor is sleek and contemporary, the staff are casually affable and many of the rooms look out over Leverett Pond and the Emerald Necklace, Frederick Law Olmsted's system of parks that loop around the city. Jamaica Plain ("JP" to locals) is a little gritty, but there are several comfy neighborhood restaurants nearby, including friendly Canary Square, with its fun seasonal cocktail menu, and Ten Tables, a tiny (it's not called Ten Tables for nothing) place with dishes like coffee-lacquered duck and chickpea and spinach stew.
enVision is very convenient to the Longwood Medical area, a little more than a mile to the art museums and Fenway Park, and just a few blocks from a Green Line subway stop. Best of all, rooms start at just $109 in the low season and max out at $299 in the high.
4. The XV Beacon — Beacon Hill
Staying at The XV Beacon can make you feel like a Boston Brahmin for a day. Constructed in the Beaux Arts style in 1903, the five-story former office building is on the site of the 1722 Bromfield Mansion, and its exquisite details—from the brass banisters to the glass-paneled elevator cages—feel like they belong in a grand old Beacon Hill house.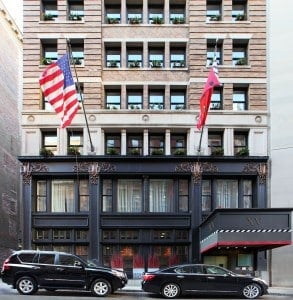 XV Beacon opened in 1999 as the first boutique hotel in Boston, and it has kept up the standard of quality it set then, with luxe, au courant decor, Frette linens, and gas fireplaces in every room. Its rooftop terrace overlooks the golden dome of the Massachusetts State House, and Mooo, its first-floor steakhouse, offers classic dishes like beef Wellington and stuffed Maine lobster. Don't be surprised if someone at the bar whispers the place is a favorite of "Tom and Gisele."
The hotel is directly across the street from Boston Common, so it's a short and pleasant walk to the theater district and shopping on Newbury and Charles Streets; on the other side of Beacon Hill are Faneuil Hall, the North End and the Red Line T station over to Cambridge. Rates start at $288 (with promotions and discounts) but go as high as $1,950 for a suite in the summer months.