Grapes glistening on the vine catch your eye. The sweet scents of lavender, rosemary, and wine waft toward you. The only sounds are bees buzzing and the horn of the passing Wine Train. This is Napa Valley Wine Country.  I only had 36 hours to experience the best Napa Valley has to offer. Here are my tips on what you should see and do to make the most of your Napa getaway:
Balloon above Napa. I arrived in Napa in the pitch darkness, so my first glimpse of this beautiful countryside was literally a birds-eye view from a hot air balloon. And what a way to start my trip! I must admit I groaned when the alarm clock started buzzing at 4:30 am but I was soon to find out that my very early start would be well worth it. I was ballooning with Balloons Above the Valley and enjoyed pastries and hot coffee while our guides checked in everyone patiently waiting in the lobby of the Napa Valley Marriott. We all piled into vans promptly at 6am for a short drive to our launch spot.
As we arrived, the coffee started to kick in and everyone was chattering excitedly at the sight of our four balloons being inflated. With the help of fans, the balloons inflate quite fast and before long we were all ready to climb aboard. Let it be said that there is absolutely no way to gracefully climb into a balloon basket. The basket is about four feet tall and there are two footholds to climb up with. You will need to swing yourself over and in, all while trying not to kick other passengers already inside the basket. And forget the concept of personal space, so leave any unnecessary items like large bags at the hotel.
That's just about all you need to know for ballooning. Up, up and away we went! For the next hour, I took in the sunrise and scenery around me. I spotted 11 other balloons in the sky during our flight. And what fun to have our very knowledgeable pilot point out the various vineyards I would be seeing in just a few short hours. It was actually such a clear morning we could easily see all the way to the Bay. After landing, we enjoyed a champagne brunch in the gardens back at the Napa Valley Marriott.
Balloons Above the Valley, flights daily (weather permitting), $240 per person.
Ride the Wine Train. Were you watching that recent episode of The Big Bang Theory in which Raj wanted to host Howard's bachelor party on the Wine Train? Wondering if it's real? Well, I assure you it is! The Wine Train runs for 36 miles from McKinstry Street Station in Napa all the way to St. Helena.
"All aboard!" I boarded the 1915-1917 Pullman Le Petite Gourmet dining car and took my seat at the picture window. The lunch includes choice of soup or salad, a selection of entrees including a daily chef special, and choice of dessert. The meals are prepared under the director of Executive Chef Kelly MacDonald right on board in a specially crafted kitchen car. You can even watch the meal preparation through a glass wall!
After finishing my salad and entree, I had a bit of time to relax before arriving at Grgich Hills Winery, where I would disembark for a private tour and tasting. Grgich Hills founder and winemaker Miljenko "Mike" Grgich became famous after he crafted the 1973 Chateau Montelena Chardonnay that won the historic 1976 Paris Tasting. I was quite excited to visit this particular vineyard since I had recently watched the movie Bottle Shocked, which is about Chateau Montelena and the 1976 Paris Tasting!
Once back on board, I enjoyed a chocolate tart and coffee while passing by bright orange bursts of California poppies and vintage style homes set amongst sprawling vineyards. Don't miss stepping out onto the caboose and giving a wave to passersby!
Wine Train Grgich Hills Winery Tour, daily, $134 per person.
Eat Local at Oxbow Public Market. Located in downtown Napa, Oxbow Public Market is the answer to the age old question "What's for dinner?" You'll find everything from wood-fired Italian pizza to grilled oysters to even the famed California fish tacos. Everyone in your party can't agree on just one cuisine? No problem! The cafeteria style seating makes it easy for everyone to satisfy their craving!
I was craving tacos and tried C Casa at the recommendation of Tom at Uncorked. He told me I must try the roasted fingerling and new potatoes taco. Potatoes on a taco? Well, when in California! I ordered three tacos: the potato taco, a grilled garlic citrus prawns taco, and a spiced lamb taco. All were delicious but the potato taco did end up being my favorite!
Be sure to check out the specialty artisan shops selling everything from local cheese to olive oil. Anette's Chocolates has a shop here; don't leave without some of her homemade Chardonnay filled truffles and chocolate Cabernet wine sauce!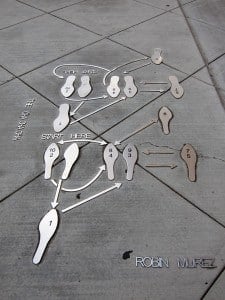 Get Cultural on the Napa ARTwalk. Now in its 2nd year, the Napa ARTwalk is a rotating temporary outdoor exhibit which winds through the streets of downtown Napa. The current exhibit has 14 three dimensional sculptures. It became a fun challenge for me to find them all! Download a QR reader to your mobile phone before starting your ARTwalk. Each sculpture has a QR code on its plaque to listen to the free audio about each sculpture and its artist.
Visit Tasting Rooms. There is no shortage of tasting rooms in downtown Napa. So how do you know which ones to visit? My method was pretty simple: I absolutely loved the sign outside of Uncorked, "Wine a bit – you'll feel better!" and so off I went! The tasting rooms typically offer five different wines to taste for $10. Tom explained each wine and pointed out his favorites. I particularly like Uncorked's 2010 Provocative Chardonnay.
How to get there: Unless you own or know someone with a private plane, you'll need to fly to San Francisco International Airport (SFO), Oakland International Airport (OAK), or Sacramento International Airport (SMF) and then make the 1.5 hour drive. You can  either rent a car at the airport or take Evans Airporter service to Napa. Once in Napa, taxis are readily available.
Where to stay:  The Napa Valley Marriott Hotel & Spa is Napa Valley's premier hotel. It's located a few miles outside of downtown Napa, but has a free shuttle to downtown on Fridays and Saturdays. Guests can also take part in a daily complimentary wine tasting in the lounge. After a busy day, wind down relaxing in the over-sized comfy chairs surrounding the outdoor fire pits.
Standard room rates start at $249 per night. Packages are available.