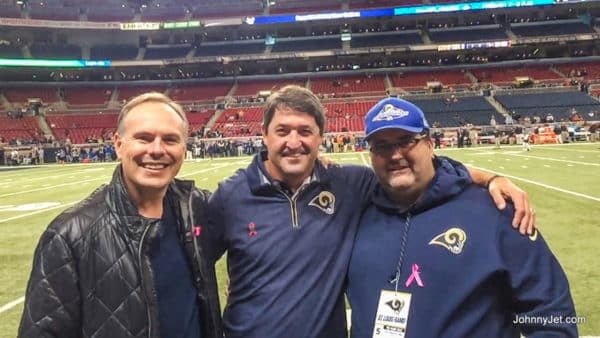 When my American Airlines flight landed in St. Louis, I was dumbfounded when not one person in first class or the first three rows of coach got out of their seats. I was in the middle of the plane and kept wondering if I'd missed an announcement. I hadn't and it was the first time I'd ever seen a flight attendant have to actually encourage passengers to exit the plane.
My cousin Nick
I was in St. Louis so I could attend a Rams game with my cousin Nick, a lifelong fan, on his birthday. Nick was coming in from Connecticut (LGA airport) so I looked up Nick's flight and saw that it was a few minutes late, which meant I had some time to kill. I decided to do it in the American Airlines Admirals Club, which was surprisingly really nice and had a really cool agent named Harlan.
Uber Rip
Thirty minutes and a few brownie bites later, I met my cousin Nick at arrivals and ordered an Uber. I've had pleasant experiences with Uber but this one wasn't one of them. Usually, I order Uber X since they are so much cheaper but at STL airport, you can only get Uber Black. The driver talked way too much and took us the long way because the ride cost $89, which was way more than the app quoted. FYI: When I saw the receipt I replied to Uber and complained. Their customer service was great, replied right away and refunded $23, confirming that the driver had indeed gone the long way.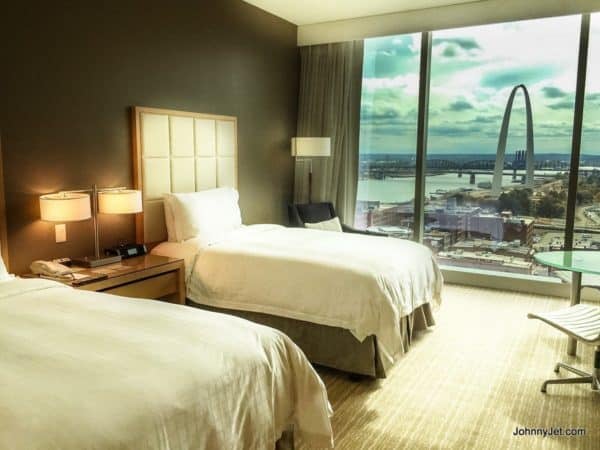 Four Seasons St. Louis
Since it was my cousin's birthday and he doesn't get to travel as much as I do, I wanted to do something special for him. So we went to the Four Seasons St. Louis, which is arguably the best hotel in town, and since I work with them, they hooked us up with a rate of $175 (rates normally begin at $239).
The hotel is beautiful and in a perfect location if you're going to the Edward Jones Arena, where the Rams play, or the St. Louis Arch. Both are just a few blocks away.
The hotel's front desk is on the ground floor but the lobby is on the 8th floor and that's where you'll find picture glass windows, fireplaces, the Celio Restaurant and popular bar, which I saw filled with coaches and players of opposing St. Louis sports teams.
To get to your room, you need to switch elevators to another bank. Our room had a jaw-dropping view of the St. Louis Arch and the Mississippi River. Looking straight down, you could also see the Four Seasons' beautiful pool and lounge area on the seventh floor but it was too cold to go for a swim. The spa is also located on the 7th floor and their facilities are free to all guests.
Just like all Four Seasons, the beds are super comfortable, the bathrooms are immaculately clean and stocked with L'Occitane bath products. This hotel had a deep-soaking tub like nothing I've ever seen anywhere. It seriously would be like a pool to children. My cousin is a big guy and he looked small in it. (Yes, I accidentally walked in on him taking a bath and it's an image I still can't get out of my head.)
The only thing I didn't like about the hotel is that it's next door to a casino. I didn't even know St. Louis had a casino – that's how long it's been since I've been to this town.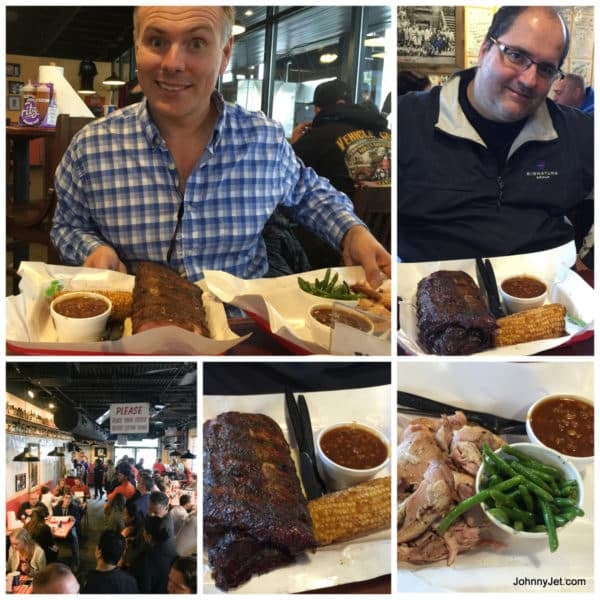 Pappy's Smokehouse
We were starving and after asking numerous people where we should go for a taste of St. Louis, we went with the unanimous decision of Pappy's Smokehouse. When we showed up at 3:30pm, we were shocked to see that there was a line out the door. If we'd known there was going to be an hour-long line, we wouldn't have gone but we were a good 10 minutes by taxi from downtown St. Louis so we decided to wait it out.
I'm glad we did because it was an experience and you get to meet people in line so it goes by fast. By the time you get to the window to order, you practically know the life stories of the people waiting with you. We met a couple who had driven five hours down from Iowa so they could see the Browns play.
Once you place your order, you are seated and the food comes out within a few minutes. Every sports stars and celebrity that has visited St. Louis has their autographed photo on the wall, including Adam Richman, who made this place famous after his feature on the Travel Channel show Man vs. Food. They even named a dish after him called The Adam Bomb ($47.99).
What I really liked is that they don't let anyone cut the line, including all the celebs and if you want to order takeout, you've got to call in 48 hours in advance.
FYI: It's important to know the store hours:
Monday-Sat 11 – 8ish (or until we sell out) and Sunday 11am – 4ish. They sell out of food fast and someone who worked there told me that you need to get there by 6pm during the week. The place is a gold mine!
Pappy's serves Memphis-style BBQ and they slow smoke their meats up to 14 long hours over sweet apple or cherry wood. Every table has a selection of their four BBQ sauces:
PAPPY'S ORIGINAL – The classic BBQ sauce, tangy with a kick
JANE'S SWEET SAUCE – In honor of Mike's granddaughter and as sweet as Jane herself
HOLLY'S HOT SAUCE – Texas style hot sauce, muy caliente
HOODOO SAUCE – A thinner sauce with a peppery kick
My cousin Nick ordered a full slab of their house specialty ribs ($23.99), which came with two sides. The choices are baked beans, slaw, potato salad, fried corn on the cob, sweet potato fries, green beans, and applesauce. Extra sides cost $2.25. A half slab is $15.99. I had the pulled chicken, which was good but not the best. But I had some of Nick's ribs and they were insane.
Our taxi driver on the way home said he likes their ribs and turkey the best so next time I will order the turkey.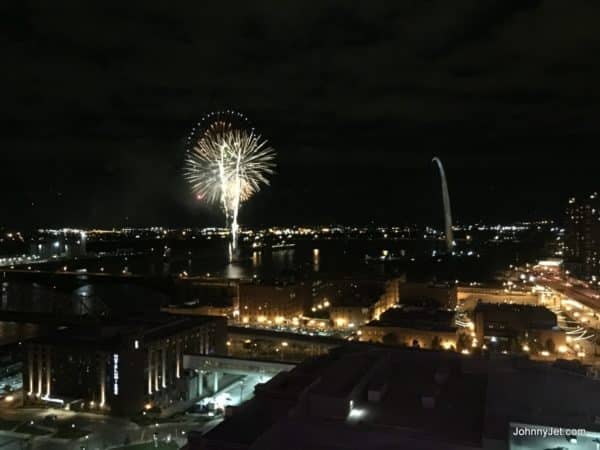 50th Anniversary of the Arch
I was still jet lagged from my RTW trip and after eating that huge meal, I passed out at 7pm. I woke up briefly at 8pm when I heard fireworks from the 50th anniversary celebration of the arch. Nick was a good sport and went out on his own to watch the N.Y. Islanders take on the St. Louis Blues.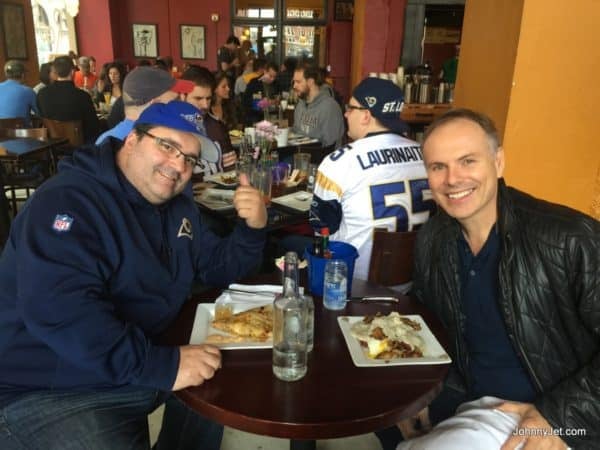 Roosters
For breakfast, we went to Roosters, which is a European-style cafe that specializes in crepes in downtown St. Louis. Again, this place was highly recommended by locals and my followers on Twitter. It was Sunday morning so there was a line out the door. Luckily, they turn over tables quickly so we only had to wait 20 minutes. I had the Rooster Slinger ($10), which was andouille sausage, breakfast potatoes, fried egg & sausage gravy over thick-cut toast. Cousin Nick went with their Mo.made German style sausage #2 ($9) that had spiced apples & cheddar cheese. Both were good, the service was friendly and the food came out quickly. Here's a copy of their weekend menu.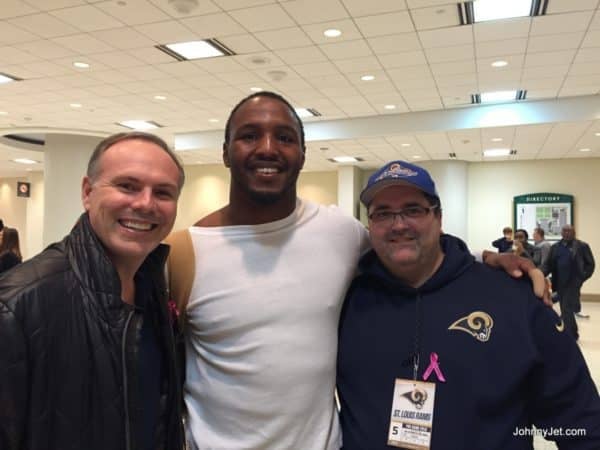 St. Louis Rams Game
The real reason we were in St. Louis was so we could go to the Rams game in style! I'm friends with Chuck Cecil (and his lovely wife Carrie), one of the Rams' coaches, and they invited us to go watch the team play the Cleveland Browns. It was an amazing experience as we were able to go on the field before kickoff and hang out with the players afterward! It was so cool to stand on the field and later meet some of the players.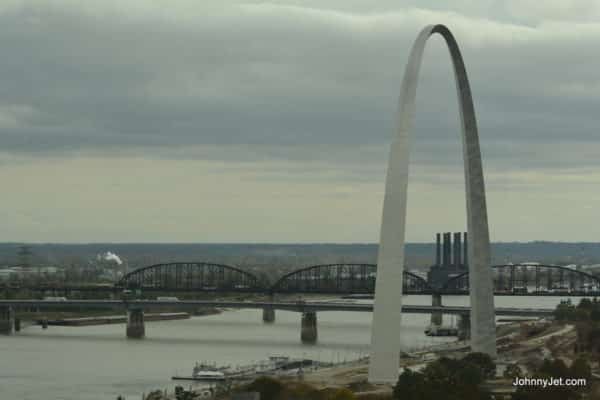 Downtown St. Louis to STL Airport
I woke up super early so I decided to jump on an early flight and attend a conference in New York City. There were no Ubers available at 4:30 am so I took a taxi from the Four Seasons to the airport, which cost $32 without the tip.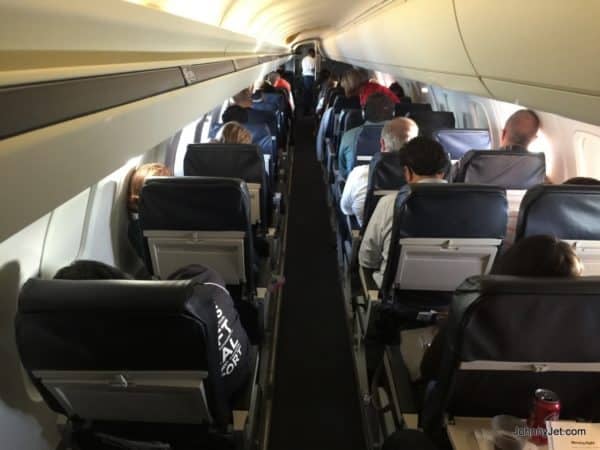 STL-LGA on Trans States Airlines
The TSA line was so long I went in American's priority line instead and I made it through much quicker. I then visited the Admirals lounge and flew standby on the 6am flight on one of American Airlines' awful, cramped regional jets, operated by Trans States Airlines.
You know you're on a regional jet when your knees are in your chest and the pilot accidently says "Welcome to United A…" before correcting himself with "ahem, American Airlines." To top it off, upon landing, the flight attendant said, "Thank you for flying United and United Express!" Only a few passengers caught it but those of us who did were looking around like the theme song from The Twilight Zone was playing in our heads.
Then when the flight attendant opened the door, no one got up! It was then that I realized that the folks from St. Louis are not only super nice but are super relaxed as well.