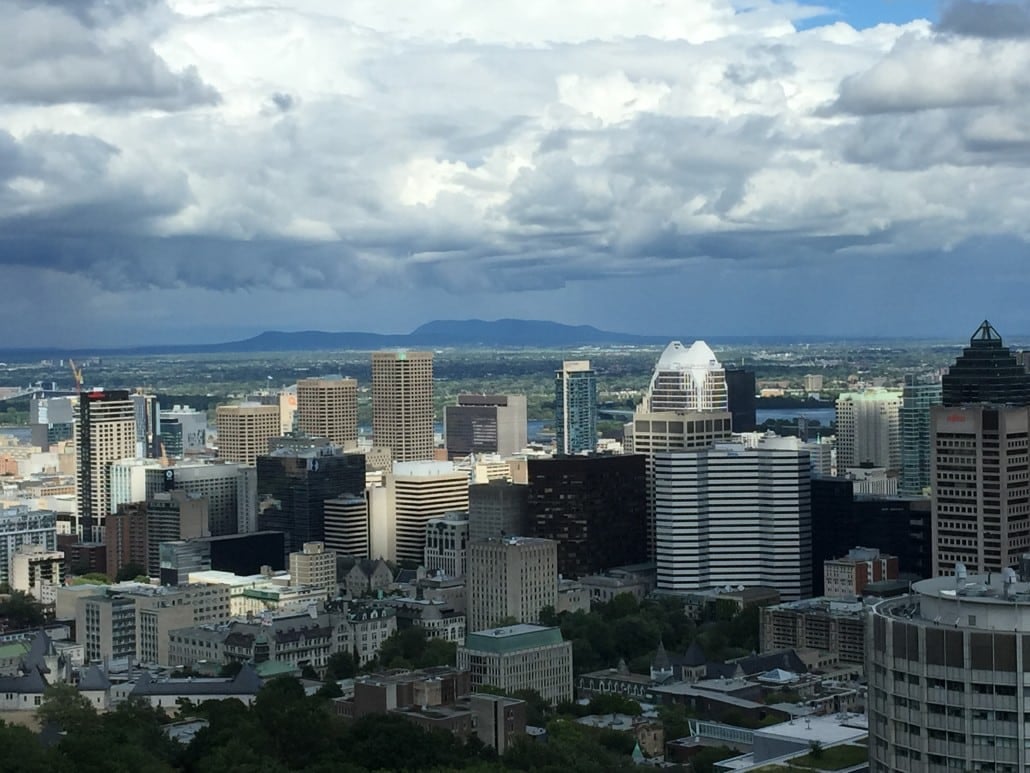 Staying in old Montreal, with its 18th-century architecture and ancient graveyards and shipyards, reminded me of a French Renaissance movie set. Horse-drawn carriages, people dressed in period costumes (because of the many actual movies taking advantage of the atmosphere), musicians playing in the park in front of the Notre Dame Cathedral, and artists selling paintings all enhance the romantic setting. Although a very modern city, Montreal has retained much of its past.
Meeting a beekeeper—and good citizen
A day out and about with Melissa Simard of 'Round Table Tours took me to new heights—literally! First, to the rooftop of Accueil Bonneau, a shelter for the city's many homeless that serves 1000 meals a day (thanks to the many volunteers).
On the roof of Accueil Bonneau I met Alex McLean, a student of the alternative Face school that specializes in arts and music. Together with some friends, Alex learned about beekeeping and formed Alvéole. Their purpose is two-fold: to spread bees around urban Montreal and to get kids interested in bees.
Bees, of course, are going through a massive decline: down 40% from 2006 in the US alone. Last year Alvéole produced 15 tons of honey, which pays for the hives. The beekeeping experience is also used for teambuilding for companies (the CBC of Montreal just participated). The bees have no interest in attacking humans (they're Italian bees, only interested in love and honey!). Alvéole has 12 employees and gives tours. As of 2015 they have 350 beehives around the city!
Montreal's oldest chapel
Next, Melissa and I headed to Rue Saint-Paul to visit Notre-Dame-de-Bon Secours Chapel—previously known as the sailor's chapel. The interior is decorated with replicas of boats hanging from the ceiling that pay homage to the sailors that came to pray for safe passage. It's also Montreal's oldest chapel, dating back to 1678 and reconstructed in 1771 after a fire. An archeological dig revealed artifacts that date back 2400 years. The chapel now also houses the Marguerite Bourgeoys Museum.
Touring the Montreal food scene
Melissa also runs a tour called "Vitality Montreal: The Living Table." She loves to share her Montreal food experience with tourists and since I was the only one on the tour, she catered it to me. We visited the Plateau region of Montreal to see Librairie Espagnole, a Spanish grocery store/deli that will transport you straight to Spain. They even have hard-to-find cooking accessories like paella and tortilla pans. We then went to Crudessence on Rue Rachel in the Plateau. Crudessence is a very trendy raw foods restaurant and shop.
Melissa doesn't have a typical tour, but rather five different tours. Prices range from $65 to $160. Tours last four hours on average and include copious amounts of eating and the stories of chefs, entrepreneurs and restaurant owners. Her oldest tour is the "Circuit of Tapas: Iberian Montreal," which is full of tapas and wine. There's also the "Eat and Ride: Montreal Food Truck Cycle Tour" on bicycles, the "Iconic Dishes: Jewish Montreal, The Original Tour!" and the "Vitality Montreal: The Living Table" of healthy and sustainable food.
And just for fun, on my tour, we went to the top of Montreal to Mount Royal Park for a great view of the city and to see the work of Frederick Law Olmsted, the dude that also did NY'S Central Park.
Barroco for dinner…
That night, Cam and I stayed in old Montreal and had dinner at Barroco on Rue Saint-Paul. We tried their squid ink pasta with shrimp with large glasses of rosé and a local beer. Their strawberry glacé was served on an old-fashioned china plate and reminded me of a summer day's picnic with strawberry shortcake. The service was wonderful and the place had a feeling of an old friend's house.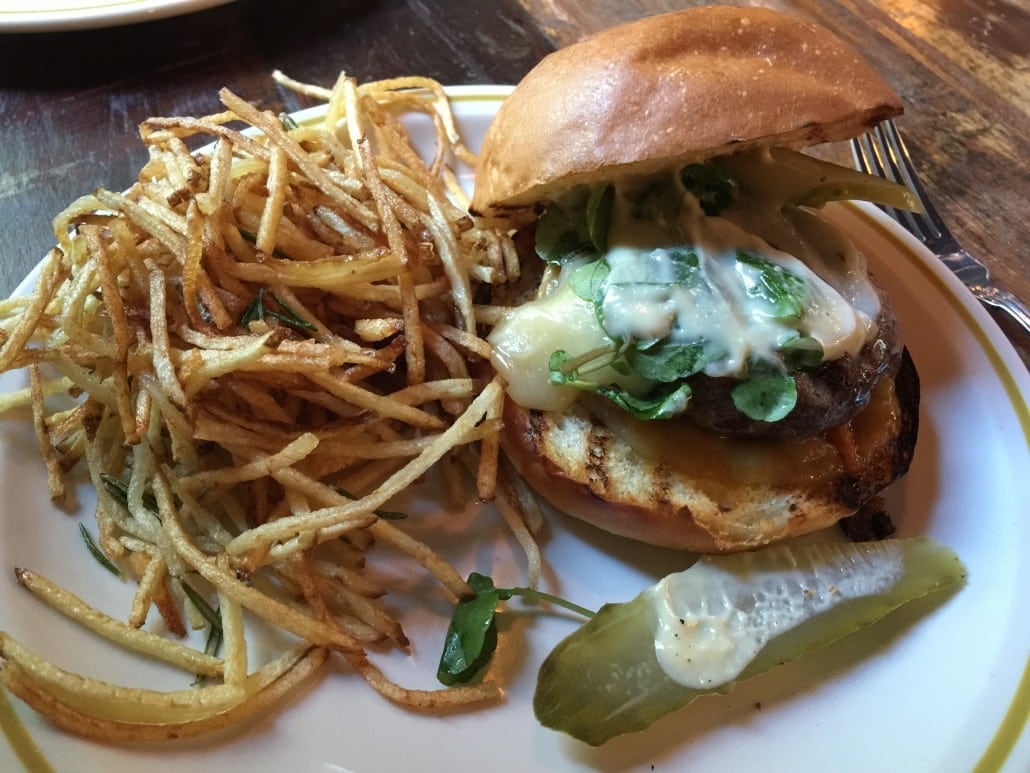 …and Albert Bistro for lunch
The next day I said goodbye to Montreal with a lunch at Albert Bistro in front of Square Victoria. Albert Bistro serves seasonal market food in the French and Québec style. Maybe that's because they have a French sous chef and a Québécois chef. It's a chic new place with a busy lunch crowd, so make a reservation. We shared a local beef burger with thin French fries and scallops done ceviche-style. We also enjoyed rosé wine and cappuccinos for dessert. The most important food critic from Montreal was there!
Around the corner from the hotel, Cam, Baci and I discovered a very popular French patisserie named Maison Christian Faure at a place full of history at 355 Place Royale. I was literally in Montreal for 24 hours but it felt like a real vacation. Driving from the northeast US from near NYC was just over six hours. I left the cosmopolitan city with the European flair to camp in northern Québec—but more about that later!
Tip: Passports and a rabies certificate for the dog were all we needed to cross over the US-Canada border!
Where to stay: Le Saint-Sulpice Hotel
Staying at Le Saint-Sulpice Hotel made everything so accessible, and with their valet parking, a breeze. With stone floors and quaint old-world feeling, the lobby of Le Saint-Sulpice (even though it's new) was buzzing with friendly staff from the receptionists to the valet to the bellhops. A petite French-speaking bartender served us cappuccinos at the small elegant bar, where my husband Cam and I could hang out with our beloved chocolate lab Baci (everywhere actually, except in the restaurant).
Our modern room was long and narrow with a great view of the street, and windows that actually opened. The super-comfortable bed was adorned with soft, white, cotton sheets and a duvet. The spacious, rustic, tiled bathroom had plush towels and our room even had a Nespresso machine. It was truly a home away from home.
There was no problem leaving our well-traveled and non-barking dog in the room as we perused the galleries and restaurants of old Montreal. And when we walked around with Baci, there were parks close by. Since we always have more fun with her, we normally walk around and take turns going into shops while the other person meets the throngs of people saying hello to Baci!
For more on Montreal, visit tourisme-montreal.org.