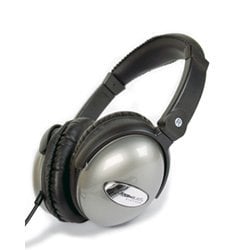 It seems this time of year every travel blogger is compiling a top 10 travel gift guide. After several emails from readers asking where my list was, I finally caved in. Here are 16 products/tips that I almost never leave home without. They range from clothing to electronic gadgets, and cost from $3 to $1,500.
JACKET WITH HIDDEN POCKETS
After one of our writers wrote about getting mugged in Barcelona, I looked into travel gear that conceals valuables. There's nothing better or more fashionable to keep your valuables hidden than the Scottevest clothing line. Their clothes are designed for both men and women and their state-of-the-art website makes it easy to peruse and choose which products fit you best. No wonder so many celebrities wear them. Most jackets have removable sleeves so they turn into vests and all of them, including the pants, have multiple pockets. And I'm talking multiple… as in between 13 and 52 pockets! That's right—imagine going through airport security without a bag? With Scottevest, you'll basically be wearing your carry-on. Prices begin at $25 (for a hat with pockets) and if you use coupon code "Johnny" before January 1st you'll save 20% off anything in their store.
WIRELESS CARD
This is perfect for Internet junkies like me who don't want to pay outrageous broadband fees in hotels or $9.99 for just an hour's worth of Wi-Fi in an airport. RovAir will alleviate all those aggravations and then some. RovAir targets the occasional business traveler, and their service is good for any high-speed lover looking for Internet access wherever cell service is available. Renters get a wireless card from either Sprint or Verizon, but without having to pay the $60 monthly fee or sign the two-year contract. Depending on the length of the rental and the number of cards ordered (they actually get a lot of companies needing multiple cards), their prices vary from $5.95 (30–60 days) per day to $14.95 (3–6 days) per day.
NOISE-CANCELING HEADSETS
The most seasoned travelers carry noise-canceling headsets. Why? Because they block out the annoying airplane hum and, most important, muffle the sound of crying babies. Bose is the industry leader but they're also the most expensive at $300 a pop. There are less expensive ones, like PlaneQuiet Platinum available at Amazon.com for $85.
LUG BUDDY
The simplest invention of them all, the Lug Buddy is essentially a bungee cord that makes toting a duffle bag on top of your roller a cinch. I don't check bags so this is perfect for cruising through airports without having to juggle or balance bags. With the $15 Lug Buddy I never have to let my duffle bag touch the wet and filthy men's room floor. Available at ProTravelGear.
TRAVEL JOURNAL
The moment I take my seat, I open up my black leather Travel Journal and write down my destination, the date, the airline, the type of plane, seat number, the listed departure time, the actual departure time, flight time, and miles. I know it's kind of Rainman-esque of me, but I used to do it back when I was afraid to fly, to focus my mind on something else. And now it helps me with my story details. I also jot down what I did, where I ate, how much I spent, transportation modes, weather and so on. And on the last page, I put stamps of all the countries I visit. You can get it online at Graphic Image or Barney's New York ($55).
MINI SURGE PROTECTOR
I bring Belkin's Mini Surge Protector whenever I travel overseas or go on a cruise since most of those rooms don't have multiple outlets and this way I don't have to bring a pocket of electrical adapters, just one universal (see next item). With Belkin's three-outlet surge protector and a built-in two-port USB charger it allows me to power up and/or charge my laptop, camera, cell phone, iPod… all at one time. It weighs under seven ounces and is about five inches long. Not only is this much smaller than the power strips you normally find in stores, but it doesn't come with a clumsy cord. It's available for $24.99 at Belkin.com.
INTERNATIONAL ELECTRICAL ADAPTER
With the International Electrical Adapter you won't need to keep a bag full of multiple adaptors for every different country. The International Electrical Adapter has four different electrical adapters built into the surge protector and it works almost everywhere. It's also small and lightweight. I bought mine at Radio Shack for around $24 but I see on Amazon.com they are going for under $4.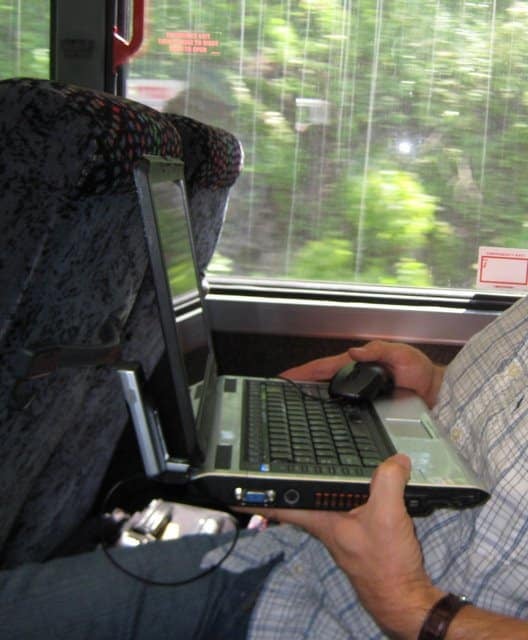 TOSHIBA LAPTOP
People are always surprised to learn that I only have one computer, but I've always operated that way. It used to be an oversized laptop that was a huge pain to lug around in my carry-on and most of the time there wasn't enough room to work in coach. Instead of buying into the latest craze with a tiny netbook I pulled the trigger on Toshiba's Portégé A600. It's the same size as a single sheet of legal size paper and weighs just three pounds so it's perfect for travel. On top of that I can still get XP instead of Vista and it has all the old amenities my other laptop had, including a DVD player.
3M PRIVACY SHIELD
I've written about 3M's Privacy Shields numerous times, as I can't believe more business travelers don't have one. These Privacy Shields ($55) allow me to work on my laptop on planes, trains, and buses, and in airports and cafés, without me having to worry about seatmate(s) or passersby peeking over my shoulder to read my emails or see my bank statements. 3M just came out with a new version that is clearer, and now instead of those wandering eyes seeing a black screen, they see gold.
EXTERNAL HARD DRIVE
I have a ton of external hard drives all around the country since most of my life is documented digitally. I always carry a lightweight one in my bag so I can download the photos and videos from my trip while I'm still away and keep it in a separate location, so if—God forbid—my computer gets stolen I still have my pics, emails, and banking backed up. Seagate's 250 GB costs $79.
EARPLUGS/EYE MASK
I never, ever leave home without earplugs and an eye mask. I can't sleep on planes without either and sometimes they come in handy if my hotel room is loud or if it doesn't have blackout curtains. I don't like the cheap scratchy eye masks that the airlines tend to pass out; I'd recommend spending $10 or less to buy a fluffy Lewis N. Clark one that will make you look silly but feel fresh. They're available on Amazon.com and in most travel stores.
ANTIBACTERIAL WIPES
I have a bag full of individual packets of antibacterial wipes ($3) that I get from Target or CVS. They are the best way to prevent getting sick besides washing your hands often and keeping your fingers away from your face. It takes less than a minute to use antibacterial wipes to disinfect your airline seat, hotel room, rental car, etc. Just wipe down everything you're going to touch: seatbelt, tray table, remote controls, steering wheel, handles, light switches….
NIKON D90
This might've been the best and most expensive ($1,400) travel purchase I've ever made. If you are going on a special trip, get a good camera so you can document it. The Nikon D90 takes much better pictures then my old Nikon D50 and the best part is it takes HD video, which no one suspects, so I can get some fantastic material for my videos.
FLIP VIDEO
Since my Nikon D90 has HD video I don't use my Flip Video very much but I still carry it in my bag as a backup. The Flip is perfect for those who don't want to fork over a huge chunk of change and/or want the simplest video camera ever. It's a little device that shoots nothing but video and is so easy to use, even my father can figure it out. (Sorry Dad, but you're not the most technologically inclined person I know.) If you want to shoot an hour's worth of video and be able to play it back immediately or download it straight to your computer using the camera's built-in flip USB port (hence the name Flip Video), then check it out. Oh yeah, the best parts: It's inexpensive, and the battery charges when you plug it in to your laptop, so no cords to deal with. Prices range $149.99–229.99.
UNDERWATER CAMERA
I love to go to tropical islands, and whenever I go snorkeling or swimming I carry my Olympus Stylus 850 SW underwater shockproof camera. I like it, but don't love it, so shop around before you go out and buy one—there might be something better. Don't get me wrong, the Olympus Stylus 850 SW provides great underwater pictures and video clips, but it's kind of a pain since it requires an XD card (not SD) and the battery charger comes with a long cord—and to download pictures requires a USB cable. Oh, and the battery doesn't last long and it takes multiple hours to charge. Come to think of it, what underwater camera do you recommend?
BOX OF CHOCOLATES
It doesn't matter which brand of chocolates you buy—Godiva's always better than Hershey, but the latter will do. Remember it's the thought that counts, and giving a treat to the gate agent(s) and/or the flight attendants goes a long way. They can make or break your trip. *PLEASE tell us what you think of this week's newsletter!