At the close of last year, I arrived at Cairo International (CAI) for the second time in my life. Into the dusty sunshine I walked, a six-foot American male on his third passport, to feel again the gentle tug of history toward the main stage. Again I found great treasures of humanity sparkling bare across the Sahara's shoulders, stretching for the starry heavens—and on a few occasions, in corners I'd not previously known to look for them.
To those that feared for my safety in December, I suggest giving Egypt a second look. There are flights leaving tomorrow. Here, in the form of twelve items to note before you go, is a place to start:
1. You need a visa, and you can buy it upon arrival
An Egyptian visa is $25 in American dollars, which are requested in cash over fragile Egyptian pounds. If you don't have cash, your respite will be the ATM. You buy your visa from your choice among the bank windows cut into the walls of the airport, around the lines building behind immigration agents. Make sure you stick it (one side is adhesive) in your passport before you get to the front of the line (to avoid reprimand and a kick to the back of the line). And to make things easy on yourself, have at least $25 per person in cash with you when you touch down.
More on that:
2. The dollar goes far in Egypt
The Egyptian pound is what you'll trade in Egypt. As of April 2018, the U.S. dollar trades at about 18 Egyptian pounds. Here's the up-to-date rate via XE.com.
$1 USD = 17.60 Egyptian pounds (as of April 13, 2018)
Egypt is objectively a tremendous value for Americans, Europeans and most westerners right now. A subway ride (pre-hike; see below) will run you about 11 U.S. cents. A room at the Nile Ritz-Carlton, an institution, can be secured for $186/night. Near the Pyramids, I got lunch at a Giza falafel shop called Felfela, where a very good falafel sandwich cost me three Egyptian pounds (17 U.S. cents). That may literally be the cheapest meal I've ever paid for.
Egyptians, of course, are on the other side of this exchange rate. The bottoming out of the tourism industry is by some coefficient related to their economic woes. On this same coefficient hangs the hope that the return of visitors in numbers to Egypt will accelerate the economy's return.
3. The traffic in Cairo/Giza is outrageous, but taxis (and Ubers) are cheap
Outside of Southeast Asia, Cairo's roads are the wildest I've come across. Transportation around the sprawling capital (population: 28 million) is typically by car for visitors and locals alike, and traffic can pile up in a hurry and stick your tires to the hot asphalt. A thirty-minute trip could take two hours without warning. Just as jarring are the streets when cars are moving, which to my visiting eye recalled the functional lawlessness of boats in a small harbor: near-misses, unexpected reversing, no discernible regard for lanes… Traffic lights were added to the mix just a few years ago. Car horns, when you consider how thoroughly they are laid on, may as well be generating electricity.
The city has a metro that is set to expand over the coming year or so, a single ride on which costs just two Egyptian pounds (that's set to rise this year), but Americans do not use it in numbers. Arrange transfers (the nicer hotels, before and during a stay, are good sources of transfer arrangement) and leave time to get around—and fly between, for example, Cairo and Alexandria. Better yet (sort of): Uber is available in Cairo and Alexandria.
More on that:
Astra Travel can arrange airport transfers and, if you like, expedited check-in and security on your journey home.
The Egyptian Museum is on historic Tahrir Square (famed now as well as the epicenter of the 2011 revolution). The iconic Nile Ritz-Carlton (from just $186/night) is walking distance from both.
4. You should not skip the Pyramids and Sphinx
Nearly eight years ago to the day, I arrived in Egypt for the first time. I sprinted barefoot over Saharan sand dunes hundreds of feet high. I washed down chicken charred over fire with whiskey beneath surrealist limestone monoliths, and I slept beneath more stars than I have ever seen (still). On the same trip, I came face to face for the first time with the Pyramids of Giza, the giants of antiquity, heroes of my youth and of stage and screen.
That I was seeing them in front of me was a full-body realization, a swelling of focus, memory and adrenaline. Again on my last trip, they floored me. There are more than two million stone blocks of two-plus tons in just the Great Pyramid of Giza (the largest of the group), and that is somehow no more bizarre than its interruption of a modern landscape (Giza city's overpopulation-driven encroachment on the plateau has temporarily been curbed; still, there is a KFC-Pizza Hut from which you can marvel at the whole complex). KFC-Pizza Hut or not, the scene commands awe. The Pyramids of Giza do not disappoint.
More on that:
Giza, home of the Pyramids, is a short drive from downtown Cairo.
Entrance to the area is 120 Egyptian pounds. A ticket inside the belly of the Great Pyramid of Giza (cramped, hot; think twice) is another 300.
The Giza Plateau complex includes one sphinx and six pyramids: the Great Pyramid of Giza (pharaoh Khufu) at 455 feet, the pyramid of Khufu's son Khafre (448 feet), the pyramid of Khafre's son Menkaure (213 feet), and three smaller pyramids built for Khufu's queens. All are included in the Memphis and its Necropolis – the Pyramid Fields from Giza to Dahshur UNESCO World Heritage Site.
Friday, a day to go to mosque in the Islamic faith, is a good day to visit. Traffic will be better than usual (see above).
The Mena House Hotel (operated by Marriott) offers some of the best views of the Pyramids anywhere. Stop in for a lunch of mezze and fire-roasted chicken.
You can see the Pyramids light up at night at a Sound & Light show.
There is still so such unknown about the Pyramids, including what's inside this hidden 100-foot chamber!
5. The Pyramids and Sphinx are just the beginning of the ancient treasures
It was said to me that one third of the world's treasures lie in Luxor—a one-hour Egyptair flight south from Cairo—alone. That third does not include the Pyramids, Sphinx, the contents of King Tut's tomb (displayed in the Egyptian Museum and soon the Grand Egyptian Museum; see below), and more. Here are a few of the non-Pyramid wonders that will shake you (listed north to south):
6. Islamic Cairo is amazing
Cairo isn't just old. Its most ancient footpaths map "one of the very few places in the world, really, where you have had constant, nonstop activities, 24 hours a day, for the past thousand years." These are the words of a technical director at the American Research Center in Egypt who in 1998 helped restore the 900-year-old stone gate known as Bab Zuweila. In 2018, stepping through Bab Zuweila is like stepping into a time machine.
It is a labyrinthine mile between Bab Zuweila and the way out of Cairo's fortified center—known as Islamic or Fatimid Cairo—via Bab al-Futuh gate. In between is a world of sharp corners and compact commerce, where at night on Muizz Street (the main artery), beneath the glow of dazzling minarets and terraces of colored glass, you might hear the laughter of young people reverberating off the walls. It is not a place for alcohol, really, but as a living, open-air museum the area has been reflecting life in Egypt without break since the 10th century. Naguib Mahfouz, winner of the 1988 Nobel Prize for Literature, spent long days riding the area's tides into writing inspiration until his death. Somewhere inside, there is a coffee shop that has been in operation 24 hours a day, every day, for 300 years.
More on that:
7. The Grand Egyptian Museum will open this year
The Egyptian Museum opened in 1901 on Tahrir Square with a push from the French. As the archaeological riches of the Egyptian state have mounted over a century-plus of digs and discovery, the belly of the building has been stretched to a capacity not imagined in those early years. Behind the museum's iconic amaranth face sit 120,000 treasures almost hurriedly arranged, as if the curators were urgently needed back at some dig site spewing 3,000-year-old treasures like an oil well. Another 300,000 pharaonic statues and gold-lined sarcophagi lie safely and unseen in storage. The combined significance of what's inside is almost unfathomable. The high ceilings, the echo-ready corridors—the feeling that the world's greatest treasures have spilled out of the earth into this temporary shelter—are part of what makes the museum such a place of pilgrimage.
In December of 2018, that will change. The Grand Egyptian Museum—a billion-dollar project at least 18 years in the making (the 2011 revolution set things back)—will open its glassy doors on a sandy ridge overlooking the Giza Plateau. Under the direction of director-general Dr. Tarek Tawfik, "phase one" will debut 23,000 square meters of interior (double the size of the Tahrir Square museum) and 5,000 pieces, some relocated from the current Egyptian Museum (like a giant statue of Ramses II) and some new to the public sphere. A second phase (target is 2020) will see 27,000 more sparkling square meters unveiled. The end goal is 50,000 pieces on display and 50,000 in storage—plus a huge courtyard ("a new green lung" for the city), an adjacent shopping center and cinema, and, if all goes well, a new face of Egyptian tourism. The icon on Tahrir Square will remain open but with less to display. That is okay. As Dr. Tawfik put it, it "will at last start to breathe again."
More on that:
Heneghan Peng Architects provided the design for the Grand Egyptian Museum. Here is a detailed vision of the finished project ahead.
At the current Egyptian Museum, there is a 50 Egyptian pound fee for bringing a camera in (which doesn't apply to phones). It is 150 more to see the mummy exhibit.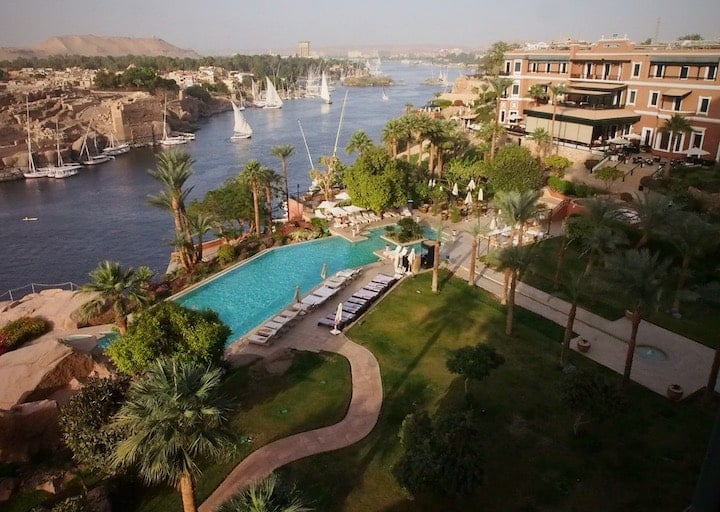 8. Aswan should not be missed
For a number of good reasons, Cairo/Giza is the foundation upon which most Egyptian itineraries are built. But follow the water lines and you'll come upon a handful of Egyptian cities incubating historical warmth, bustling spice markets and disorienting snapshots of life in modern Egypt. Alexandria, Egypt's glitzy second city, is all about proximity to its grand esplanade. Port Said, a node on the global sea network for more than a century, plumes in that Arabic way of pluming with energy, spice and dry earth. And then there is Aswan.
Aswan (~300,000 people) knots around a particularly slow bend in the Nile, which is wider down south than it is in Cairo. It is a waterside retreat for the soul, a place of escape and holiday for today's Egyptians and in earlier years Winston Churchill—again and again—and Agatha Christie, who wrote "Death on the Nile" under its spell. The promised slow-down makes sense given the city's smaller size and proximity to the water, but cultural forces are also at work: Aswan is Nubian Egypt, manifestation of the geographical and cultural transition between Egypt and Sudan. Life here is characterized by bigger smiles, darker skin and indeed gentler encounters with modernity.
From a sixth-floor balcony at the Victorian (and newly renovated) Sofitel Legend Old Cataract Aswan—arguably the premier luxury hotel in Egypt—the Nilescape below is so still as to appear painted.
More on that:
Aswan is a short drive from the Unfinished Obelisk, the jetty from which to sail to Philae Temple, and several inviting Nubian villages, as well as a rough hour from Abu Simbel, home to the unmissable Temple of Ramses II & Temple of Temple of Hathor/Nefertari (and allegedly not much else, but that is okay).
9. The Sahara is more than sand
The sun-drenched Sahara blankets more than 90% of Egyptian jurisdiction. Nineteen out of 20 Egyptians live in the gardens sprung up around the Nile's banks and along the Mediterranean and Red Seas (a full third lives in and just outside Cairo). The rest is vast, unkempt, extreme.
The Sahara is among the world's true wilds, but it is also not simply sand dunes to the horizon. The Egyptian Sahara is broken into four major quarters—plus two further informal divisions—and each attacks the brain's senses of life and scale in its own way. Broken down, the Sahara is: the Western Desert (and inside it, the White and Black Deserts), the Eastern Desert, the Great Sand Sea, and the Sinai Desert.
In the White Desert, which I visited in 2009 with White Desert Tours, the landscape is defined by three-story chunks of chalk-white limestone that bend and tease the imagination. The powder-soft sand in this alien world practically begs you to walk around barefoot. It is among the most incredible places I've ever been.
More on that:
As noted below any step into the Sahara should be a mindful one, especially far from the Nile. If you'd like to veer into it, probably go with a guide like those employed by White Desert Tours.
10. Bread (aish) is life…
In various close-ups, Egyptian cuisine looks a lot like neighboring cuisines—like Lebanese, Syrian, Turkish, even Italian at times (kushari has macaroni as a base). But as a whole it is all its own, and bread—aish in Egyptian Arabic, which translates in English to "life"—is its beating heart. It is so essential to a functioning Egyptian state that the federal government subsidizes its production, and when subsidies were momentarily cut in 1977, the people rioted. As The New York Times writes, "Egyptians are generally not known as explosive people, but tell them you are raising the price of bread – of life – and beware."
Made right, aish baladi (or simply baladi, round "peasant bread" with a pita-like pocket) is about as good as bread gets. Its natural context is a mezze spread, with which many sit-down Egyptian meals begin. A feast at Andrea Mariouteya, for example, begins with discs of oven-hot baladi, blackened flour kicking off them, alongside palm-sized bowls of hummus, baba ghanoush, tahini with lemon, stuffed olives, figs, tomatoes, and whatever else the proprietor has deemed freshest that day. Eat all you can, but save room.
More on that:
For some of the best bread and fire-roasted chicken in Cairo/Giza, make your way up to the hilltop New Giza location of Andrea Mariouteya.
Chicken roasting at Andrea Mariouteya
11. …but there is plenty more to eat
Heartier portions in Egypt draw often from the vegetables/fruits (tomatoes, onions, garlic, lemon), legumes (lentils, beans) and spices (cumin, coriander, mint, thyme, pepper, so many…) grown in the region. Meat (chicken, lamb) and fish were historically more expensive, which explains the impressive quality of the vegetarian dishes. The food scene today, however, particularly in Cairo, is able to transcend these historical limitations (see The Lemon Tree & Co. below). Staple Egyptian foods to look out for include:
Aish baladi — Peasant bread, often served with mezze
Ful medames — Fava beans with vegetable oil, cumin, chopped parsley, garlic, onion, lemon juice, chili pepper, and other spices
Kushari — Rice, macaroni and lentils topped with a spiced tomato sauce and garlic vinegar and garnished with chickpeas and crispy fried onions
Kabab wa kofta — Meats (usually lamb or beef) grilled over charcoal in a beautiful spice blend (parsley, garlic, ginger, cumin, mint)
Hawawshi — Spiced meat pie with onion packed inside oven-roasted bread
Baklava — You probably know it
More on that:
12. It is safer than you think
Like most places, right? In Egypt in 2018 you will find a rewiring of traffic law and social norms, as you should expect to in North Africa. You should keep your wits about you, as anywhere, and you should not stray into northern Sinai, west toward Libya or any further beyond the cities than you need to. Women will want more than need to cover up and may, based on one account, find hassle and headache on solo wanders. But let there be no doubt: Egypt in 2018 is again warmly welcoming and rewarding travelers. And for the first time in the years since the 2011 revolution, tourism is trickling back—and American travelers are helping drive the comeback. Europeans have traditionally visited in larger numbers than Americans, but in 2017—in which international visitation doubled 2016's numbers—U.S. travelers returned at a rate greater than any other group's.
Terrorism—the great enemy of the west—bears down as a cloud over north Sinai but over no place mentioned in this post. I understand that the qualifying tallies and motivations that define terrorism vary from brain to brain, but Cairo (which has seen two major attacks since 2013), Alexandria (one), Luxor (one), and Aswan (zero) are objectively not besieged by terrorist activity. In addition, very few visitors, under reelected president Sisi's regime and even prior, have had their visits muddied by crime. As Lonely Planet puts it, "The incidence of crime, violent or otherwise, in Egypt is negligible compared with many Western countries, and you're generally safe walking around day or night." The visuals of armed military or police officers, tourism police and objects behind which to shoot bad guys tempt doubt, but it must be remembered that this is a tourist destination tragically familiar with the damage negative media attention—from a mugging of a tourist, for example—can leave in its wake. With visitation down, a priority has been placed on visitor safety.
Furthermore, and because it is common in Egypt, traveling with a tour group or an experienced operator adds an additional ring of security. Leave it at that, if you must. The smallest injection of structure in 2018 opens roads in Egypt for all to the bucket-list-worthy adventures the country has made its calling. You can flout the tourist beat and build a trip on the fly like The New York Times's Lucas Peterson just did, but you don't need to. In Egypt, the tourist beat of pyramids and temples should not be skipped anyway.
Through its share of political troubles, Egypt and its all-time treasures remain a beacon for all who itch to know the world. As quoted in The Telegraph, an award-wining Egypt guide views it like this: "[Egypt] never comes off your to-do list…When circumstances are not great, people may delay it – but they never take it off their list. It's because of the history. It's like nowhere else in the world."
2018 might just be the year to knock it off…
---
For more on travel to Egypt, visit egypt.travel.