Sometimes, you just need to unwind. So you pluck a few days from your calendar, drain them of appointments, and assign them to a holiday in the restorative southern sun. My wife and I, in recent need of restorative sun, spent November's first four days in the healing clutches of sun-washed Saint Lucia, an island of diamond-cut peaks and lush cacao trees in the eastern Caribbean.
As guests of Serenity at Coconut Bay, a huddling of 36 "luxury all-inclusive" villas in the south, we did most of our healing within 10 minutes of the airport, floating in the hammock and plunge pool private to villa 810. We were assigned a butler (Arshan), a man we now speak of like an ancient hero, and a tiny cell phone with which to deliver him queries. Food and beverages, free without exception, came to us. Massages and drinks mixed with Saint Lucian rum came to us. One day we went to the water near Soufrière to sail to the incredible Pitons, but we gave limited time to the country beyond the property—not an hour to capital Castries (where a third of Saint Lucians live), to Anse La Raye (which hosts a booming fish fry every Friday), to Gros Islet for Piton pilsners and honest discovery.
There is much to experience and learn of life in Saint Lucia, but on this visit we deferred our chance to crawl the full reaches of the map, so accessible from NYC, and simply unwound as we have rarely unwound before. Lifted from these four days in country, here's one way to a perfect day in Saint Lucia:
7am
Breakfast under the sun
Power yourself out of bed and through your villa's sliding doors to meet the sun, which by early morning in November is already blasting 80ºF heat. Kick out the creaks in your plunge pool until breakfast arrives on the arm of your butler, piled high in sun-spraying metalware, and eat up.
A good breakfast order: When filling out your breakfast card the night before, skip the poor eggs Benedict, which need work. I liked the French toast with a side of bacon and a banana smoothie.
8am
Catamaran sail to the Pitons
The two dagger-sharp Pitons (Gros Piton and Petit Piton) are together the symbol of Saint Lucia. On one of your days, at least, you must take a rum drink for the road and go see them.
On a pre-booked "Piton Sail & Swim" ($70/person), arranged by Serenity through an operation known as Nerv's, you charge toward them on a catamaran catered with banana fritters and spicy fish cakes, curl around the swollen southwestern coast, and finally swing with the wind into a coved upspring of beach and reef at their feet. Here, beneath two of the world's prettiest mountains, you get 30 minutes to snorkel an undersea world supporting 168 species of fin fish. Or, if you like, to hit the picturesque beach. You might also talk medicinal island fruits (like soursop) with the locals that install themselves near this popular tie-up spot. Blaze, who we spoke with, made some convincing arguments.
Ask for Shabee: A Saint Lucian man named Shabee leads the land-based portion of many of Nerv's catamaran tours. He knows and loves the island, and he plays and loves basketball. On most tours, he told us, he carries raw cacao fruit for his guests to taste.
From the dark-turquoise water on a clear day, the Pitons inspire awe. Make sure you leave Saint Lucia understanding why they're protected by UNESCO.
Hiking the Pitons: The path up Petit Piton (above) is far too technical for amateur hikers, but Gros Piton, while tough, is climbable in four or five hours (including the return). Plenty of operators run guided hikes up Gros Piton that include the park entrance fee. You can also show up at the visitor center, pay the fee yourself, and be assigned a guide. This JetBlue blog post has more.
1pm
Read a book in your hammock
After the morning at sea, Nerv's will deposit you back at Serenity. Take the opportunity to disappear again into your villa before lunch. The path home swings past the poolside bar at the heart of the Serenity property, where a bartender can mix you a drink to walk with through the dense jungle green that fills the land between buildings in Saint Lucia. Unlock your swinging front gate, grab a book and settle into your hammock.
Saint Lucia as a filming location: If instead of reading books you like to think about movies, know that the first Pirates of the Caribbean shot in Saint Lucia's Marigot Bay.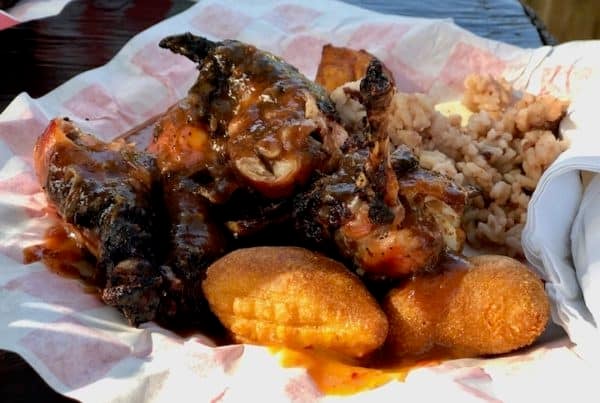 2pm
Lunch at Jerk Treehouse
Proper jerk chicken, which is Jamaican, is 1,000+ miles from home at Jerk Treehouse, one of eight restaurants at which food is free and unlimited at the larger Coconut Bay property next door to Serenity. That's something to consider as you whiz by golf cart (5-10 minutes) to the place for lunch.
The operation is casual. Terraces of seating area, dotted with tables and chairs with skinny legs, wrap around the arms of a great, spindly island tree. Grab a plate and climb the steps to fill it beside the grills, from which the on-hand cooks rip delicious, juicy, charred, spice-rubbed chicken for you until you tell them to stop. Three tangy sauces in squeeze-bottles, plus a few sides that I found to be merely okay (like a cornmeal-based bread), are also laid out for you to take.
"Fig" = "banana": Saint Lucians refer to bananas as "figs," as in an actual local dish: green fig and salt fish.
3:30pm
In-villa massage
Earlier today, maybe while you were tearing through jerk chicken, a hulking massage table arrived in your villa on the muscle of your butler. Your job at your pre-scheduled treatment time is only to spread your bodily aches and stresses face-down over this table, adding prefatory direction for your therapist as you like. A spa treatment like my 50-minute "Tranquility Massage" ($110) is a rare opportunity to spend money at Serenity. It's money well-spent, I think.
Massages by the sea: The full spa is housed beside the Caribbean Sea at Coconut Bay. You can take treatments in six treatment rooms there if you prefer.
4:30pm
Outdoor shower
After your massage, use the outdoor shower assigned to your villa, because you have it. Then hop back into the hammock until sunset drinks.
For a thermal bath: Saint Lucia is home to the world's only "drive-in volcano," at which you can slop yourself in healing mud and soak in thermal pools.
5:30pm
Sunset drinks at Paradise Beach
Buzz your butler for a lift to on-property Paradise Beach by golf cart and walk the remaining feet to the bar, a propping up of bare lumber that feels as though it grew out of the sand. Order more drinks, still included, and watch the departing sun stretch the night sky west over the Caribbean Sea. Call your butler for a ride back to your villa when you're ready.
Or reserve a cabana (below): They're free at Paradise Beach, and they look like little island huts.
7:30pm
Dinner at The Greathouse
On a different day, if you wanted to really go for it, you could arrange for transport north from Serenity to dinner at any of a country's worth of restaurants. Afar has a good list to pull from. But today is a day constructed for simplicity, to minimize transit time, making Serenity's single on-property restaurant the place to eat. Drop in at any hour (no reservation required), or do not drop in and instead order the pork chop off the menu direct to your villa.
Prince Charles at Serenity: The next-in-line to the British crown was at Serenity in March. In this Facebook photo he's seen with Serenity GM Zach Frangos, who I found in our brief time together to be an outstanding guy. Prince Charles no doubt found the same.
9:30pm
Drinks under the stars
The main bar by the Serenity pool stays open past midnight. Riotous fun by all accounts carries on well into the morning in Castries, far from wherever on property you took dinner. Inside the granite walls cradling your private patio, however, there is no last call. Self-serve generously from your provided jug of rum, maybe Chairman's Reserve, in the heat of late evening beneath a twinkling Saint Lucian sky. A perfect day must always include a perfect finish. On at least one version of a perfect day in Saint Lucia, this is it.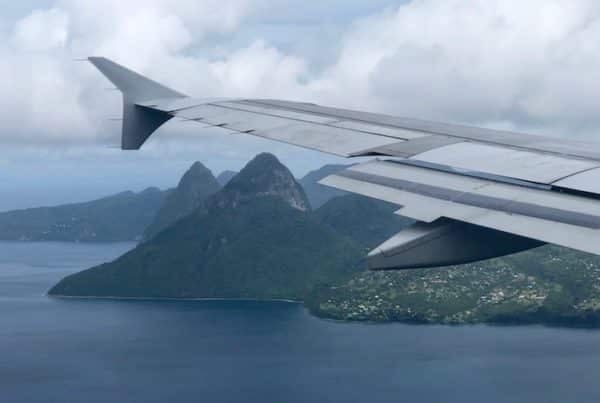 Getting to Saint Lucia
Planes touch down in Saint Lucia at two international airports. The first and larger of the pair is Hewanorra International Airport (UVF) on the island's southern tip, near walking distance from Serenity (and an hour from the bulk of the island's other resorts). It anchors most of Saint Lucia's international air service, including non-stop, daily JetBlue flights to/from New York City (JFK) and Boston (BOS). Hewanorra, by the way, comes from an Amerindian word meaning "land of the iguana." George F. L. Charles Airport (SLU), in the Saint Lucian north near Castries, connects to Caribbean islands only.
$1 US = $2.7 XCD: Most places accept USD, but Saint Lucia's currency is officially the East Caribbean Dollar, trading at $1 US = $2.7 XCD (up-to-date exchange rate here).
More photos are below.
---
For more on Serenity at Coconut Bay (from $744/night), visit serenityatcoconutbay.com. For more on Coconut Bay (from $396/night), Serenity's family-friendly sister property, visit cbayresort.com. For more on travel to Saint Lucia, visit stlucia.org.