Tokyo, the world's largest and maybe best city, is hosting the Olympics next summer. In the heavy heat of July and August 2020, the Japanese capital and its humming subway grid will shoulder the weight of an extra million people, many of whom will confront Japan's carnival of curiosities with virgin eyes. New commercial anchors like Shibuya Stream and Shibuya Bridge are already in place. Predicted tourist footpaths have been mapped and mapped again. With a year still to go, Tokyo is already primed as only Tokyo could be to meet the crush.
But the crush is coming, and with it will come an opportunity for travelers to seek peace in the Japan beyond Tokyo. My first steps onto the Japanese island of Kyushu (the third-largest after Honshu and Hokkaido) last month, with support from the Tokyo Metropolitan Government, introduced Fukuoka Prefecture as a place to do that.
What is Fukuoka Prefecture?



Fukuoka Prefecture (shown in red above) is the ninth-largest of Japan's 47 prefectures. It's a mostly flat place with occasional hills on the northern tip of Kyushu. Its capital, Fukuoka (referenced here forward as Fukuoka City), is the sixth-largest city in all of Japan and the synthesis of two historically separate cities forced into one. The first, Fukuoka, got naming rights (via a vote). The name of the other, Hakata, survives to designate an in-city business district (Hakata), the regional rail station (HAK), and the area's legendary ramen ("Hakata ramen"). The Naka River, which cuts through Fukuoka City, draws a line between these historical halves.
Here are 10 things to do in Fukuoka City and beyond:
1. Eat Hakata/tonkotsu ramen,

everywhere
It was in Fukuoka, on the watch of the Hakata government, that the world was introduced to ramen in the tonkotsu style, which is characterized primarily by broth steeped from pork bone. At first, it was food in service of economics, a cheap vehicle with which to deliver nutrition to dock workers and fishermen. But it tasted good, and word spread. Today it's one of the four categorical pillars of ramen in Japan, with shio (salt) and shoyu (soy) and miso (miso/soybean paste), and a global phenomenon, with chains like Ichiran filling bellies far beyond Fukuoka (Ichiran has three locations in New York City).
A good bowl of tonkotsu prepared in its ancestral home is one of the world's great food experiences. Anywhere it's for sale, you should expect in a bowl:
Pork bone broth, typically cloudy-white
Steamed pork (Japanese: char siu)
Noodles, commonly thin
Green onions
You choose the rest
There are triple-digit Hakata ramen holes in Fukuoka City and around the prefecture. Many of them take orders via vending machine. Try the Ichiran location beside Dazaifu rail station, famed for its five-sided bowls ("very auspicious"), or one of this guy's favorites. For a truer-to-tradition experience, order a bowl from one of the lantern-lit yatai stalls that line the Naka after sundown…
The exchange rate: At the time of writing, $1 U.S. was trading at ¥108 (yen). See the up-to-date rate here.
2. Wander the yatai stalls at night,

Fukuoka City
The night markets of Fukuoka City, "possibly the city's best known symbol," rise to life at 6pm each evening. More than 100 tiny, open-air food stalls known as yatai glow in clusters across the darkened city map, including on the southern end of Nakasu Island (near Canal City), hawking bowls of Hakata ramen, skewers (Japanese: yakitori) of meat and soy-sauced greens, noodles sauced a dozen ways, frosty Asahi Super Dry, and tons more until 2am. Each yatai seats 6-10 guests on skeletally bare stools and wobbly chairs. If no seats are open, you wait. Consideration for the next eater in line is built into yatai etiquette.
When your mouth isn't full of food, the buzzing yatai scene is also a good place to use it to talk with Fukuoka City locals. Expect sprinkles of English and, padded by alcohol, more confident Japanese attempts to clear the language barrier.
How to say "hello" at night: During the day in Japan, you can greet people with konichiwa. At night, konbanwa is more appropriate.
3a & 3b. Visit Nagahama Fish Market and eat sushi beside it,

Fukuoka City
3a. Many hours before first light in Fukuoka City, the first of the day's fishing boats glides in silhouette into the harbor beside Nagahama Fish Market, where it ties up and offloads the morning's catch. Behind it arrive more fishing boats, which offload more catch, and then more boats and more catch, until the market's high-ceilinged west wing is spilling over in tuna, salmon, yellowtail (buri), sea bream, mackerel, grunt fish, and clams. By 3am, the place is drenched in salt water and buzzing with life. This is when, a thousand feet from Hakata Bay, Fukuoka City's daily fish auction begins.
On the second Saturday of every month, the post-auction market floor opens to the public from 9am to noon. People line up as early as 7am ahead of doors opening, ready to see and eat all they can. On other days, the action can be observed from a suspended walkway.
3b. Because the morning auction at Nagahama is Fukuoka City's central food-supply organ, you'll find its yields with little effort, on restaurant menus, or on plates, or best of all at the closest sushi restaurant to the market floor: Ichiba-zushi Uotatsu. It's the size of a large living room, and wedged inside the market hall. Color-coded plates of sushi and sashimi and more (from ¥108/plate) ride a conveyor belt around the space, which also has tables and a la carte ordering. Spend all the yen you have at Ichiba-zushi Uotatsu. Doors open at 9:30am (and 11am on Sundays).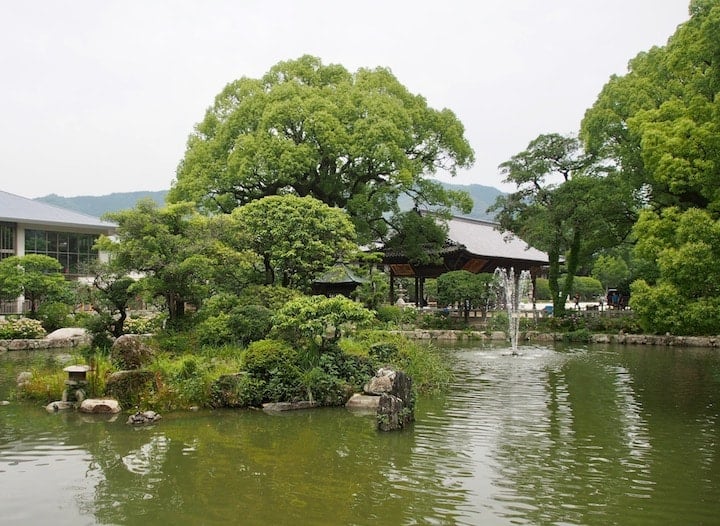 4. Visit Dazaifu Tenmangu Shrine,

Dazaifu
Dazaifu Tenmangu Shrine's centerpiece is the 1,100-year-old burial site of the man eventually deified as Tenjin, the Shinto god of learning. This man's unusual intelligence and devastating poems about plum trees spooked authorities in Kyoto enough to get him banished to Fukuoka in the 9th century. An elegant Shinto shrine now entombs his resting place. Around that are five square miles of explorable mini-world, including:
A "flying plum tree" (Japanese: Tobiume) that autonomously traveled from Kyoto to meet him there because it missed him so much
Nearly 6,000 total plum trees (Japanese: ume) that bloom pink-white in early spring
A forest of walking paths dense with plant life, bold-red bridges of perfect symmetry and tori gates
Water gardens like the one pictured above
A 1,500-year-old camphur tree of dizzying size
A "magnetic street" lined with buzzing snack stalls and even a beautiful Starbucks along which visitors move to enter the shrine
Plum wine made from plums grown inside the grounds, for sale in ¥500 and ¥700 sizes
The man loved plum trees, and education, and so today Dazaifu Tenmangu Shrine is a place of pilgrimage for Japanese students seeking fortune in academics. Simply put, it's one of the most interesting places of worship I've ever set foot in.
More on why: Here's more on the shrine's story from the Japan Times.
5. Ride the Rail Kitchen Chikugo,

Fukuoka City/Dazaifu/Omuta
Dazaifu Tenmangu Shrine is maybe 20 minutes by foot from Dazaifu rail station, at which Japan's famously impressive trains pull in and out each day with exacting punctuality. In 2019, a single train has Japan's densha otaku ("train fanatics") worked up: Rail Kitchen Chikugo.
In addition to normal train stuff—like carrying passengers from Fukuoka City to Dazaifu (45 minutes) and Omuta (two hours and 30 minutes) and back—the three white-and-red-gridded cars of Rail Kitchen Chikugo treat passengers to thoughtful, multi-course meals sourced from the lands they're speeding through. The "Brunch Set" (¥3,000), "Lunch Set" (¥8,000) and "Dinner Set" (¥8,000) are the only booking options, each a seat attached to a meal, a route and a departure time. A schedule is available here.
The Brunch Set's pairing of a hot dog with coffee was unexpected, but both were tasty on my ride to Dazaifu. So long as you're traveling on a Friday, Saturday, Sunday, or holiday, it's the best ticket to adventures in the prefecture beyond Fukuoka City.
6. Eat unagi at Hakata Meidai Yoshizuka Unagi-ya,

Fukuoka City
When freshwater eel, which is unagi in Japanese, is served atop a bowl of steamed rice in an elegant lacquer box, it's called unaju. The una- comes from unagi, while the -ju has been sliced off jubako, the word for lacquer box. The same calculus gives us unadon, the word for an unagi rice bowl: una- + -don, from unagi and donburi (rice bowl).
Unagi as you like it is the specialty of the house at Hakata Meidai Yoshizuka Unagi-ya in Fukuoka City. Before it hits the bowl or lacquer box, the unagi is butterflied and cut into six-inch filets, brushed in unagi sauce (Japanese: unagi tare), and grilled over small charcoals until fluffy and caramelized. This is the unagi way in Japan since at least the Edo period (1603-1868), a specialty of country rather than prefecture. But Hakata Meidai Yoshizuka Unagi-ya's version, eaten in snug tatami-mat rooms beside the Naka River, is truly delicious. An order of unaju (starts at ¥3,100) or unadon (starts at ¥1,900) is supplemented by a strong sake menu, tabletop unagi sauce and a piping hot bowl of eel liver soup (it's just broth).
What's in unagi sauce? Unagi sauce (aka unagi tare) must be one of the world's best sauces. It's a blend of soy sauce, mirin, sugar, and sake. Here's how to make it.
7. Learn a traditional craft at Hakata Machiya Folk Museum, Fukuoka City
In the long history of Japan, artisans of local craft have helped bridge eras and instill regional identity. Hakata Machiya Folk Museum, a block from Kushida Shrine in Fukuoka City, introduces visitors to the cultural constants that have defined Fukuoka, from the annual "Festival of Men" to the "bent wood" craft known as magemono. Admission is ¥200/person and with advanced booking can include a hands-on magemono workshop.
For Kushida Shrine and red bean snacks: The tori-gated entrance to Kushida Shrine, around since 757 A.D., is across the street from the museum. The shrine is a pleasant, quick visit, and if you exit on the non-museum side, you can grab a red-bean-stuffed rice cake hot out of a cart draped in red flags.
8. Eat mentaiko at Ganso Hakata Mentaiju, Fukuoka City
Mentaiko is cod roe cured with chili and salt. As a single serving, it's a rose-red gob encased in a rose-red sack (the actual roe membrane from the cod, or kelp), visually reminiscent of no American food. In Fukuoka Prefecture, people adore it, identify with it, can't get enough.
Mentaiko is commonly stuffed inside onigiri, the pocket-sized rice-in-seaweed snack sold all over Japan. But the place to eat it is the world's first mentaiko-focused restaurant, Ganso Hakata Mentaiju. It's a local sensation and a celebrity draw (Daisuke Matsuzaka's is among the messages of thanks on a first floor wall). For ¥1,680, the house mentaiko and steamed rice are dressed in lacquerware (mentaiju) and served with a cup of "Special Topping Sauce" mixed to one of four degrees of spicy (standard, mild, medium, hot). The "Han Men Sui Set" (¥3,380) includes with a mentaiju a serving of mentai nikomi tsukemen, a rich mentaiko-spiked noodle soup dish that was one of the best things I ate in Fukuoka.
The rest of the menu is a toolbox of supplementals (mentaiko pickles, soft-boiled egg, yams) with which to make Fukuoka's beloved sack of fish eggs your own. The lunch-hour line bends across the street on nice days.
For dessert: After lunch, walk over the Naka River to Tenjin Central Park. Near the foot of ACROS Fukuoka Step Garden is a convenience store stocking another regional favorite: Black Mount Blanc ice cream bars.
9. Climb ACROS Fukuoka Step Garden,

Fukuoka City
Just off the northern foot of Tenjin Central Park, a forest of trees climbs into the sky. This is ACROS Fukuoka Step Garden, a terraced rug of green layered over the glass-and-metal skin of a 12-story commercial building. Since its "planting" in 1995, it's grown to support 40,000 trees, in 76 species, each pumping oxygen into the heart of Fukuoka City.
A pair of footpaths (one going up, one going down) winds its way from the building's base, through the garden as it climbs, to the roof of ACROS Fukuoka, which is one of the better lookout points in the city. It's about ten minutes from the park to the roof.
An incredible piece of history: The second bomb that the U.S. dropped on Japan in August of 1945, on Nagasaki, which killed 100,000 people, was meant for Fukuoka City. Cloud cover on the morning of the bombing changed history. Nicholas Kristof writes more here.
10. Slow down in Ohori Park and Maizuru Park, Fukuoka City
Ohori Park is a land of nature-hewn leisure conceived around a former moat (ohori means "moat"). The waters that once fortified Fukuoka Castle's defenses are now a giant pond, and you can paddle about them and their three islands—Willow Island, Pine Island and Sweet Flag Island—in boats that look like swans. Off the water, the adjacent swatches of grass and castle ruins of Maizuru Park offer settings in which to lay out a blanket, read a book and soak up an afternoon. The Green Magic area includes barbecue pits, cushy seats, a mobile library, and faces drawn with big smiles on sunny days. Everything is free, though the books in the mobile library are all in Japanese. What can you do.
See art nextdoor: Fukuoka Art Museum (¥200/person) sits just off Ohori Park's shoulder.
Where to stay in Fukuoka
In Fukuoka City
If you can tolerate sharing a bathroom, &And Hostel offers two private rooms for ¥9,800/night (queen bed) and ¥10,800/night (king bed). Both are sleek and well-appointed. Windows in each look upon the Naka River. The bar downstairs is a great kick-off point for a night out or a swing through the yatai cluster along the Naka (five minutes walking). The property's sliding-glass entry/exit links the property directly to a tunnel-like shopping plaza in downtown Fukuoka City.
In Asakura
Taisenkaku, in Asakura, is a big property that I kept getting lost in. For ¥10,450/night, it delivers a restful night's sleep atop tatami mat and unlimited access to more than one top-notch onsen (hot spring baths). The highlight is a two-floor, jungle-style onsen dense with tropical plants, leafy vines and even a waterslide, the first my Japanese companions had ever seen. Taisenkaku's onsens, like onsens across Japan, are clothing-prohibited and separated by gender. Color-coded signs point men toward the onsen for men and women in the other direction. The signs are swapped early each morning, cycling access to the jungle-style onsen between the two groups.
How to get to Fukuoka from Tokyo
By air
Fukuoka Airport (FUK) is less than two hours by air from Tokyo. Some 50 daily, non-stop flights arrive from the capital each day, including 17 on Japan Airlines alone (16 from Haneda, one from Narita). From my successes flying in (JL307) and out again (JL326), here are three additional notes on Fukuoka Airport:
The coffee: In addition to a Starbucks, the airport's arrivals hall hosts a great coffee shop, maybe the best in the city, inside Tsutaya Bookstore.
The food: The fried pork sandwich on soft white bread at Yoshimi Bluesky I had was incredibly good. Other food options include the nine ramen shops lining the airport's "ramen runway."
The airport-to-city connection: The trip from Fukuoka Airport to the city center was described to me as the easiest airport connection in all of Asia. By car, it's just ten minutes from the arrivals hall to Nagahama Fish Market.
By train
A shinkansen (train) from Tokyo to Fukuoka City (listed on schedules as HAK) with no connections takes nearly five hours. To my understanding, this train cannot be booked in advance out of country. Showing up at the station on the day of travel is all that's required, at least outside of holiday periods, but there are also services like this one that will book trains for you.
By ferry from South Korea
If you're open to larger adventures, you should also know that a ferry connects seaside Fukuoka City with Busan, South Korea. That trip, in either direction, is between three and four hours and costs about $150 USD.
---
For more on travel to Fukuoka, visit yokanavi.com. For more on flights to and within Japan, visit jal.co.jp.