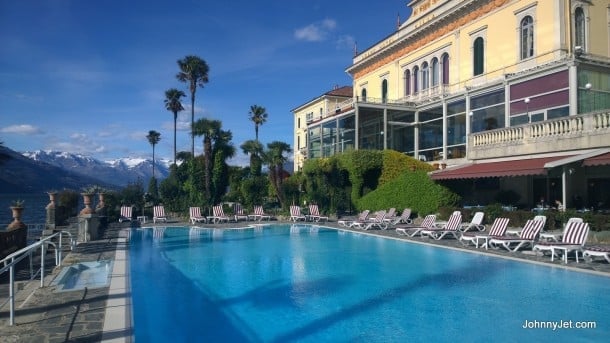 Buongiorno! If you're following me on Facebook, Instagram and/or Twitter then you know that my wife (@NatalieDiScala) and I were recently in Bellagio, Italy checking out the Grand Hotel Villa Serbelloni! It was our first time to Lake Como (or Lago di Como, as the locals call it) and boy is it bellissimo! No wonder George Clooney and Sir Richard Branson both have villas right on the shores of the lake. I could give you 100 reasons why you'd want to stay at the Grand Hotel Villa Serbelloni but one really should be enough…it's Bellagio! But in case you need more, here are 12 reasons, to add the Grand Hotel Villa Serbelloni to your bucket list!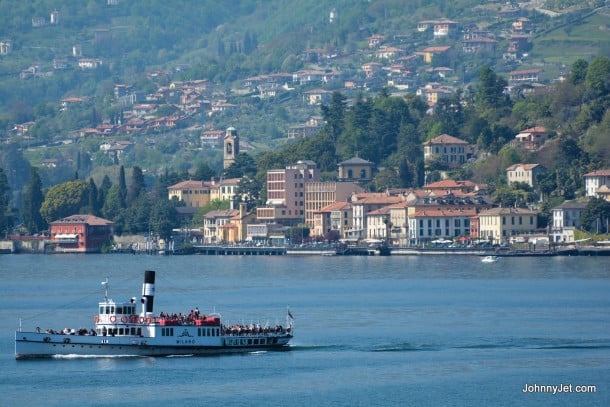 1. Location
Bellagio is located northern Italy in the center of Lake Como, in the region of Lombardy. Lake Como is much larger than I had imagined, with an area of 56 square miles (146 square kilometers). The easiest airports to fly in and out of are either one of Milan's – both Linate and Malpensa are about 43 miles (70 kilometers) away. Lugano Airport in Switzerland is just 24 miles (40 km) away but then you have to take a ferry. Natalie and I flew into Linate. The drive from the airport took about an hour and the last 20 minutes were just beautiful and scenic as we glided along Como's winding roads to our destination.
Bellagio is known as the "pearl of Lake Como" because it's situated at the tip of the peninsula separating the lake's two southern arms, with the Alps visible across the lake to the north. Lake Como is easy to recognize thanks to its upturned 'Y' shape, and it has a surprisingly mild "Mediterranean" climate, considering its proximity to the mountains. They say this is because Lake Como's deep waters (1,300 feet/410 meters) act as a thermal reserve, which gives mild winters and summers to the surrounding area.
2. History and awards
The Grand Hotel Villa Serbelloni is in the town of Bellagio and has been there for more than a century. It was originally built as a private home in 1853 but turned into a luxury hotel in 1873. The hotel is regularly cited by both Condé Nast Traveler and Travel & Leisure as one of the best hotels in the world. It was acknowledged as one of Travel & Leisure's 500 World's Best Hotels 2013 and made Condé Nast Traveller's 2013 Gold List.
3. Family-run and -owned
When a hotel is family-owned and -run you know they've put a lot of love into it. It's their passion and often their livelihood. And the Grand Hotel Villa Serbelloni has been in the Bucher family for four generations—since 1871! The hotel is only open seasonally (April 10 to early November) and during the off-season, they spend time doing repairs and maintenance and touching everything up.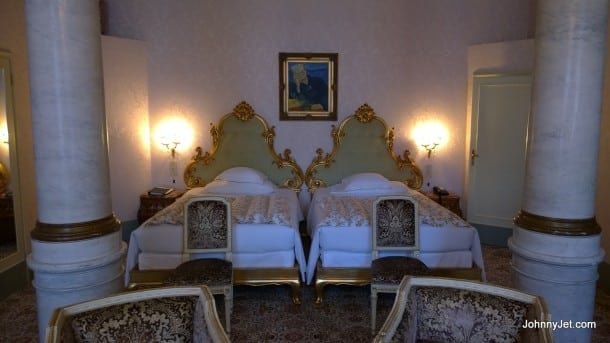 4. Rooms and rates
This 5-star luxury hotel has a total of 95 rooms. There are 73 rooms and 22 suites, none are the same, and all rooms have a view of either the lake or the park. Each room has its own personality and many families reserve a specific room years in advance. In fact, one family from Philadelphia has been coming to the Grand Hotel Villa Serbelloni for the last 30 years! Classic rooms are the lowest category and begin at 370 Euros a night ($513). One of the most unusual designs features is the small half-size duvet seen at the foot of each bed. These lovely pieces are handmade at the hotel and are just for show. That's because the hotel is only open during the warm months so most guests don't want or need a heavy blanket. But Mrs. Bucher, always with an eye to design, felt the beds needed a little flair. It's a small design touch that everyone commented on and loved.
Good to know: The hotel offers free Wi-Fi throughout the property.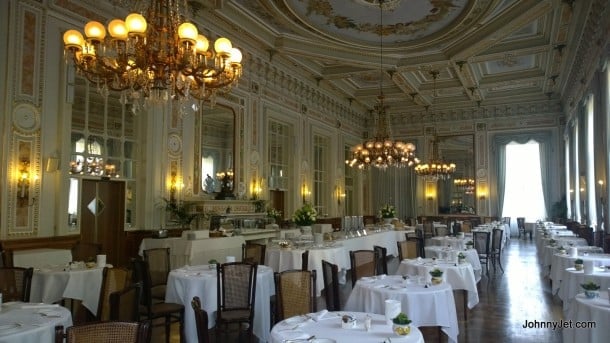 5. Breakfast room
Our favorite room in the hotel was the elaborate and elegant breakfast room, which doubles as the banquet room when there are weddings or conferences on the property. It can seat a total of 240 people using round tables.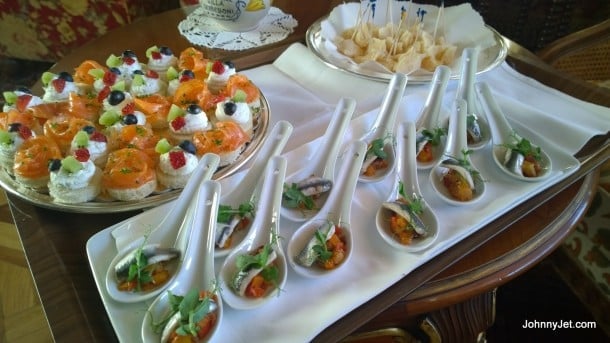 6. Food
The hotel has two restaurants: La Goletta Restaurant is a casual restaurant located next to the swimming pool and is open for lunch and dinner. It has a cozy atmosphere with a nautical theme in honor of the boats on the lake. La Goletta offers dishes of traditional Italian cuisine and Gastro Pizza, which has a thick crust. My favorite dish by far was the spaghetti pomodoro which I could eat morning, breakfast and night if my belly (or wife) would allow it.
The other restaurant is MISTRAL. It's an elegant restaurant that's situated on a beautiful terrace overlooking the lake. Executive Chef Ettore Bocchia has held a one Michelin star since 2005 and serves a full molecular cuisine menu. Molecular cuisine is the product of a new way of cooking that uses scientific observation to understand what happens to the ingredients in the process of cooking, cooling, and matching during food preparation. This new awareness leads to improved traditional dishes as well as the discovery of new cooking methods, new taste experiences, and new opportunities for dietary cooking. Sample dishes are prawns with guacamole ice-cream that's cooled by liquid nitrogen and crispy cuttlefish ink wafer. During the week, MISTRAL is open only for dinner but on weekends it's open for both lunch and dinner. They also have live music every night.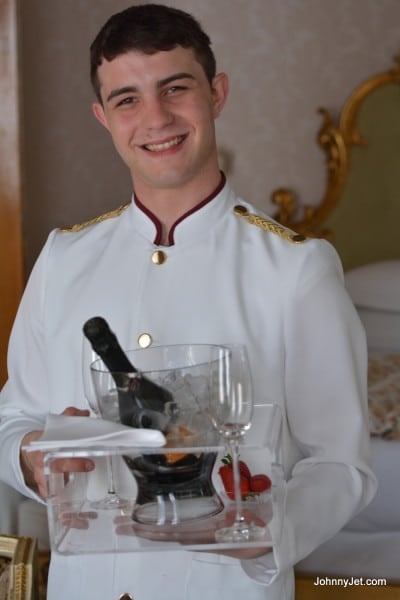 7. Friendly staff
In the high season, the hotel has 160 staff members for 240 guests so you know there's no shortage of service. The staff who interact with the guests speak excellent English so there shouldn't be any language barriers. Our only hiccup was when we asked one of the early morning bellmen for tea in a to-go cup since we had a flight to catch, and he didn't understand the 'to-go' part, resulting in about 10 minutes of mild confusion. And it was so early that I couldn't think of a word for "portable" in Italian or remember to use one of my translation apps. But it was really no big deal.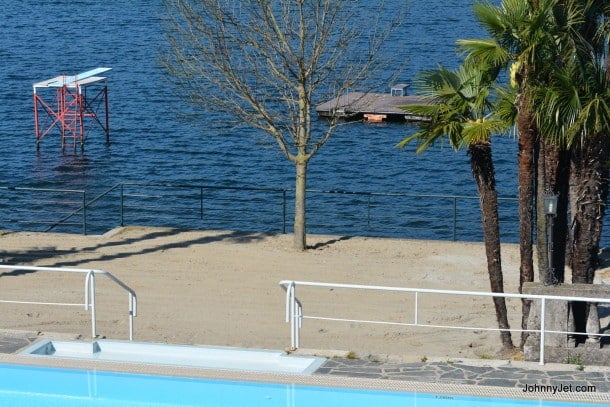 8. Diving boards in the pool and lake
We arrived on the first day the hotel opened. In fact, we were the first guests to check-in for the season! So it was too cold to swim in either the pool or the lake, but I have to admit, I dream about returning in the summer and taking a dip. You don't find many diving boards (if any) in the U.S. due to insurance reasons but the Grand Hotel Villa Serbelloni has two—one in the pool and a higher one out on the lake!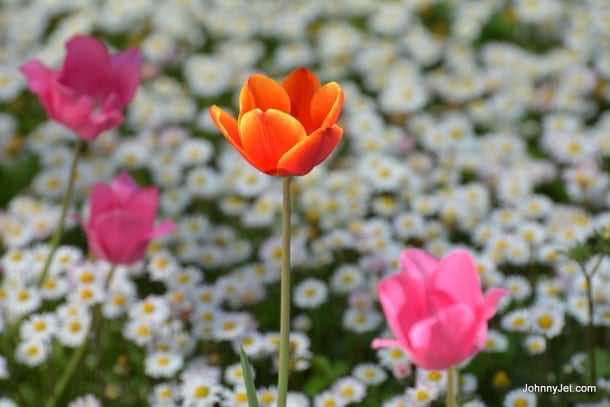 9. The smell of flowers and jasmine
Walking around the property, you can't help to smile, not only because you're in Italy soaking in some incredible views but because of the flowers and their aromas. The most fragrant are the jasmine plants, which I would be happy to smell all day long.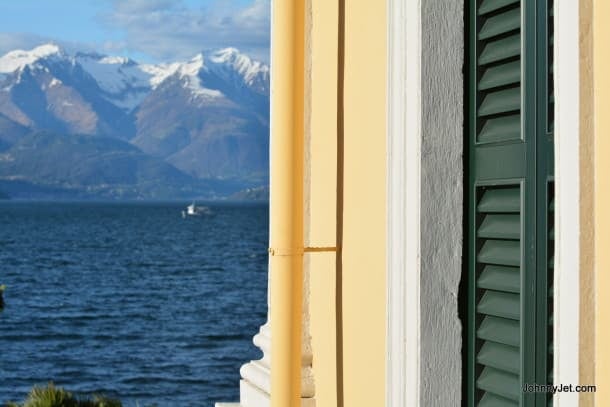 10. Jaw-dropping views
One of the most memorable parts of the trip was waking up, opening the blinds and admiring the views. They are jaw-dropping and since we were there in early April, there was still snow on the Alps, which made the backdrop even more surreal.
11. Spa
On the ground floor you'll find the Villa Serbelloni SPA. They offer a wide range of beauty and wellness treatments and programs lasting one to six days. Natalie and I had the special Candle & Champagne treatment for couples (or friends) and we were both like jelly afterward.
Hotel facilities: The hotel has a gym, squash court, outdoor/indoor pool, sauna, Turkish bath, tennis courts.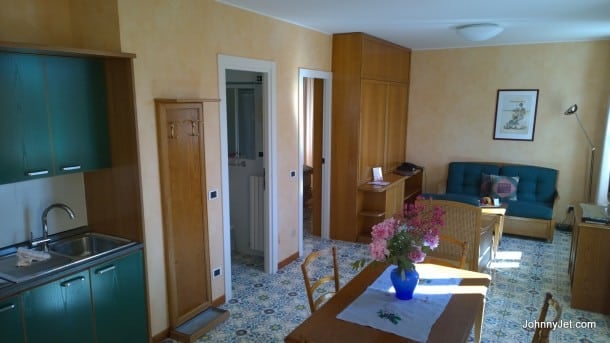 12. Apartments
If you can't afford the rates at the Grand Hotel Villa Serbelloni or if they are sold out and you really want to be in Bellagio and to be able to use their facilities, then enquire about staying in one of their 13 residences at Residence l'Ulivo. They aren't opulent but they are comfortably furnished apartments with two to four beds and come equipped with a kitchenette, air conditioning, central heating, telephone, and TV. Guests there are free to use the hotel's pools (indoor and out) and fitness center.
What to do nearby: Water skiing, sailing, canoeing, trekking, mountain biking, and horse riding. The Menaggio & Cadenabbia 18-hole golf course is just 20 minutes away.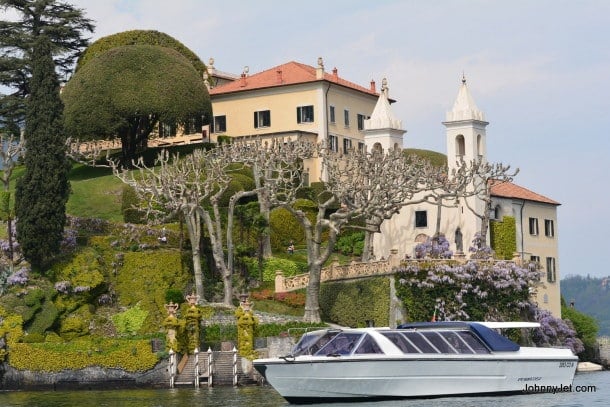 Villa Balbianello
If you go, I highly recommend touring Villa Balbianello, which is about a 15-minute boat ride away. The villa was built in 1787 on the site of an old Franciscan monastery. There's a lot of history but in 1974 it was purchased by the explorer Guido Monzino, who filled it with artwork and artifacts he acquired on his expeditions. After he died in 1988, he left the villa to the Fondo per l'Ambiente Italiano, the National Trust of Italy, so today it's a museum. Most travelers want to tour it because a number of feature films have been filmed there, including Star Wars: Episode II Attack of the Clones (George Lucas stayed at Villa Serbelloni while they filmed it) and Casino Royale (2006).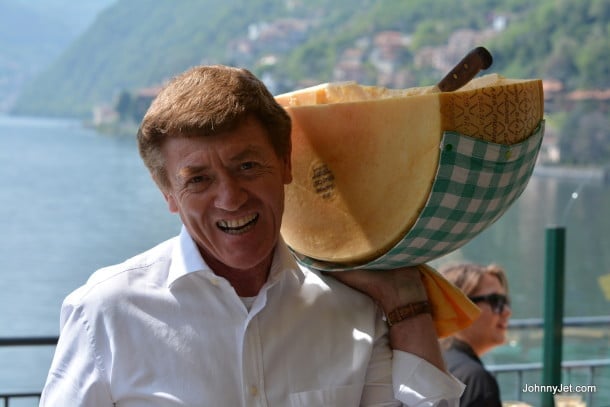 Locanda dell'Isola Comacina
After touring Villa Balbianello, take a cruise by what they will say Sir Richard Branson's villa but it's not and head to lunch on the island of Comacina. There's a lot of history there as well as an amazing restaurant, which pretty much every Hollywood star has been to, including George Clooney, Matt Damon and Jennifer Aniston. There are photos of them all with the owner, who is a real hoot.
Good to know: If you are going to any part of Italy, you might want to read Jennifer Dombrowski's articles on the what is now her second-home: 12 Things You Never Knew About Italy and Venice's Biggest Tourist Traps and How to Avoid Them. I guarantee you, these tips will help make your travels go smoother.