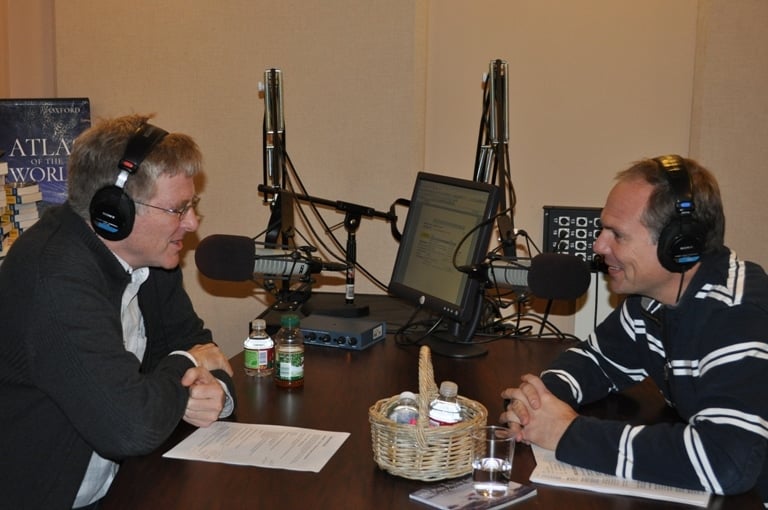 This post contains references to products from one or more of our advertisers. We may receive compensation when you click on links to those products. For an explanation of our Advertising Disclosure, visit this page.
Podcasts have long been a favorite vehicle for information and entertainment for travelers. Some people love to listen to them at the airport, on the plane or on their drive to work. Podcasts are an easy, portable way to stay entertained and to multi-task; you can usually listen to a podcast while you're doing something else. Now that almost all of us are under stay-at-home orders due to coronavirus, here's a chance to check out some podcasts that other travelers love. Listen to them now or bookmark them for later, when you start to travel again. Or, just fire them up while you're hanging out at home or taking a walk.
Before we get started, I recently launched my own travel podcast, where I interview frequent travelers and talk about all things travel as well as what life is like in quarantine in various parts of the world. You can listen to Johnny Jet's Travel Podcast on Apple, Spotify, Google, and more. Check it out here – I hope you like it!
And now, here are 12 travel podcasts and other favorite listens from some of our favorite travelers:
"I love Up First, from NPR. It's not travel-focused, specifically, but I always listen when I travel. At my usual listening speed of 1.5x, I can get all caught up on the day's biggest stories in just about 10 minutes. I try to tune into The Daily from The New York Times, as well, but it's usually quite a bit longer, with a deeper dive on one big story, rather than a summary of the day's news."
—Zach Honig, The Points Guy
RELATED: Sign up for an Audible membership and get your first 30 days free
"When I am looking for a podcast to listen to while traveling I tend to veer towards uplifting and inspirational. My favorites include On Purpose with Jay Shetty, Oprah's SuperSoul Conversations, and sometimes the Goop podcast. Each of these provide health, wealth or spiritual information that is uplifting and easy to listen to. I love that I can play one of these while on the plane or driving on a road trip and kill time while still being inspired to push for our big dreams."
—Tammilee Tillison, TammileeTips.com
"When it comes to travel podcasts, I like the Talking Points podcast with Brian Kelly from The Points Guy. As someone who started globetrotting in college, the points and status game was an essential part of how I would be able to afford to take a trip. Now that I'm a full-time traveler, sometimes the best way to get the info I need to keep me updated on credit card points and airline miles is to download the Talking Points podcast for my flights. Brian also gets some of the most knowledgeable guests in the travel industry to talk about all things travel— not just points."
—Valerie Wilson, Trusted Travel Girl
RELATED: Travel Movies That Inspire Wanderlust
"Seeing as we're all stuck inside right now and watching way more must-see TV than ever, I'd like to humbly suggest the podcast I record with my husband, Get Your Eyes on This. We talk mostly about what's not only trending but also watchable on Netflix, but we cover nostalgic movies too, like the John Hughes oeuvre. Recently, we debated on the surprise reality-show hit from Netflix, Love Is Blind. Opinions were divided over this delightfully garbage show, what can I say."
—Helen Racanelli, JohnnyJet.com contributor
"I am a HUGE podcast listener, I can't drive my car more than a few feet before I fire up a podcast. I listen to podcasts on airplanes while I travel and on the way to the airport. Business Wars is a slickly produced podcast about the great battles in the marquee businesses. It's a six-part series, about 22 minutes long. The episode I recently loved was Starbucks vs. Dunkin, the battle for coffee drinkers. This goes into the very beginnings of both companies, and the producer does the voices for Howard Schultz and the Rosenbergs, original founders of Dunkin' Donuts. I also loved their shows Ford Vs. Chevy, Nintendo vs. Playstation, and Boeing vs. Airbus. My second favorite podcast is The Pitch, where inventors bring their ideas to a panel of VCs who tear their ideas apart as the inventors try to get them to invest. I love the ideas that people come up with as they try to get rich solving the world's problems. Finally, Blackout, the post-apocalyptic thriller with Rami Malek, was quite thrilling with sound effects and great production values. Very engaging." I also highly recommend my own!
—Max Hartshorne, GoNOMAD Travel
"I like The Model Health Show by Shawn Stevenson for the range of interesting topics and expert interviews. The founder and host also has an inspiring story. While primarily a health and fitness podcast, it has a wide variety of topics like relationships, stress management, financial health and personal development. I always learn something useful and actionable. Travel can be a demanding lifestyle that impacts many aspects of life. This podcast helps me find a bit of stability and wellness in an ever-changing world."
—Caz Makepeace, yTravel Blog
"I adore NPR's Rough Translation, which uses human stories to examine how movements and issues that we're familiar with in the U.S. manifest in other countries. It does the work of a good, fair friend that travels intrepidly. Many episodes, like 'The Congo We Listen To,' are unforgettable. I love host Gregory Warner's voice, too."
—Ian Livingston, JohnnyJet.com editor
What are your favorite travel podcasts to listen to?
Share them in the comments below!