Now is the best time in history to visit Cuba! U.S. law still requires that American travel to Cuba fall under one of 12 authorized categories, but recent confusion around these travel rules has led to a reduction in crowds. Meanwhile, Cuban accommodations, infrastructure and services have been steadily improving. In 2019, you can still see Cuba as the hidden gem it has long been—before it changes.
Here are 10 things you must know about travel to Cuba before you go:
1. The most common travel authorizations are "people-to-people" (travel with a company) or "support for the Cuban people" (travel on your own)
As noted above, American travel to Cuba must fall under one of twelve authorized categories. The people-to-people category of travel typically manifests as a group tour run by a U.S. company. However, that "group" could be 200 people, two people or even just a single person. The key is that you travel with a licensed U.S. company, such as a tour operator or cruise line, which will take care of all requirements for travel on your behalf.
Travel under the support for the Cuban people is undertaken on an individual basis. This category requires a "full-time" schedule of activities that "does not include free time or recreation in excess of that consistent with a full-time schedule," a requirement intended to prevent Americans from visiting Cuba as "tourists" and spending time at government-owned beach resorts. Instead, approved activities include staying in a private home such as an Airbnb, eating in private restaurants and shopping at private businesses.
The key for the support for the Cuban people travel license is to document that you have supported more types of private-sector Cuban entrepreneurs than just the three specifically listed in the U.S. Treasury regulations noted above. Examples of other private businesses that you might encounter and support in Cuba include taxi drivers (such as convertible cars) and Airbnb experiences run by local hosts (or similar privately run activities found in Cuba). Travelers utilizing the support for the Cuban people license must retain records of compliance for five years after travel to Cuba. These records are subject to audit by U.S. Treasury.
On getting a travel "license": Travel authorizations are called licenses, provided on a "general" basis, which means that they're self-authorized, with no process to complete or documentation to submit to the U.S. government for approval. That said, do expect that a U.S. Customs officer might ask why you were in Cuba when you return to the United States. Be prepared with a 1-2 sentence response. Do not say you were a "tourist," as "tourism" to Cuba is strictly prohibited, and this self-disclosure could get you in trouble, as could lying to a Customs officer.
2. Getting a Cuban tourist visa is easy
The Cuban tourist visa is a totally separate document from the U.S. travel license discussed in the section above. Obtaining a Cuban tourist visa (also called an entry permit, tourist card or travel card) is very easy. For most travelers, including American citizens born in the United States, there's no process required. You don't need to send in your passport or contact the Cuban embassy.
The visa can be purchased directly from your airline on the day of departure with a credit card. It can also be ordered in advance online. Tour operators and cruise lines can also arrange the visa in advance. Filling in the visa takes less than one minute and can be done on the flight to Cuba.
3. Getting to Cuba is easy
Booking a flight to Cuba is as easy as booking a flight to any other destination. At the time of booking, you'll be asked to provide the authorized category of travel discussed in item #1 above. Major U.S. airlines—including American, United, Delta, and JetBlue—fly direct to Havana. You may also now book a cruise to Cuba. 
4. Cuba is safe to visit
In January 2018, Cuba was awarded the Excelencias Award as the "Safest Country" in the world for travelers to visit at the annual International Tourism Fair in Madrid, Spain. A March 2018 study conducted by Cuba Educational Travel showed that of nearly 500 U.S. travelers who visited Cuba in 2017 and 2018, 99% felt "safe" or "very safe" while in Cuba. Less than 1% felt unsafe and zero respondents felt very unsafe.
5. There's no wrong time to visit Cuba
Consider the following tradeoffs:
December-March: Peak season (amazing weather, more crowds, higher prices)
April/May and November: Shoulder season (great weather, fewer crowds, lower prices)
June-August: Summer season (hot weather, fewer crowds, lower prices, consider hurricane insurance)
September-October: Low season (fewer crowds, lower prices, buy travel insurance)
6. The first cities you should visit are Havana, Viñales and Trinidad, in that order
Havana: Cuba's capital city, since 1592, is the largest city in the Caribbean with spectacular coastlines and grand avenues full of classic cars and salsa music.
Viñales: A small town located in the beautiful tobacco-growing region of Cuba surrounded by limestone mogotes (mountains). A magical place.
Trinidad: A colonial mountain village with pastel-colored homes and charming cobblestoned streets.
7. U.S. cards don't work in Cuba, so you should bring plenty of cash
U.S. credit and debit cards don't work in Cuba. The foreign exchange fee for USD is 13%, while the fee for Euros is 3-5%. If you bring Euros, you can save 4-7% of the amount exchanged.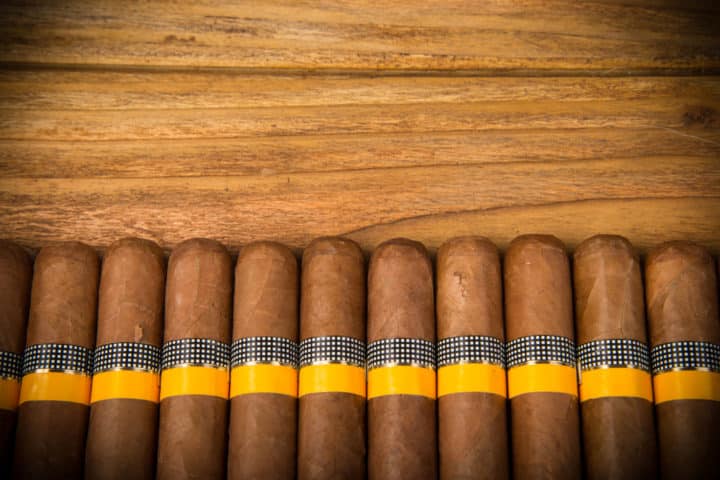 8. You can bring back cigars and rum
There are no Cuba-specific limits on the cigars and rum you can bring back for personal consumption. However, the standard $800 Duty Free exemption and normal tax-free limits on alcohol and tobacco do still apply. 
9. Wi-Fi is still limited, but you can use text roaming to communicate
While Wi-Fi has improved significantly in Cuba over the last three years, you should plan to be offline and embrace the digital detox! If you'd like to use text roaming on your U.S. mobile phone to communicate within Cuba and to friends/family in the U.S., rates are ~$0.50 per message.
Important: Turn off data roaming and be careful with voice roaming as both are (generally) extremely expensive.
10. Cuba is a family-friendly travel destination
Cuba's world-famous hospitality, safe atmosphere, and array of vibrant family-friendly activities make it an incredible destination to explore with your loved ones. In Cuba, you're at last unreachable. Distractions melt away and you're offline, fully present, captivated, and exploring together—all the ingredients for a magical adventure filled with meaningful conversations and family bonding!
---
For more on visiting Cuba with Cuba Candela (Chad's company), visit cubacandela.com.