Recently I went to Las Vegas with my dad, to do a story on Mastercard's priceless moments. They put us up at the Wynn Las Vegas, which is a fantastic hotel right in the heart of the action on the Las Vegas Strip. Here are 10 reasons to stay at the Wynn Las Vegas.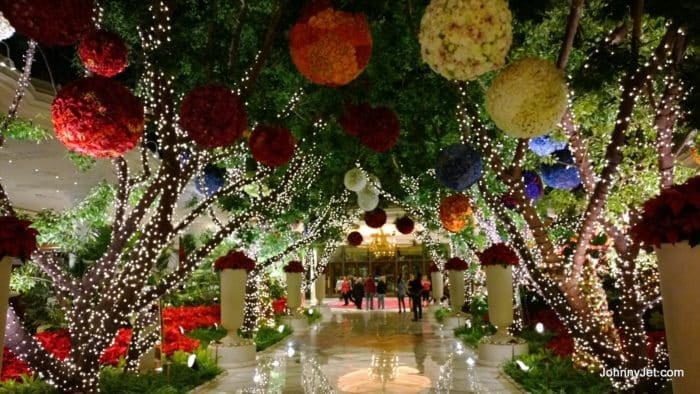 1. Wow factor
The moment you walk through the Wynn Las Vegas' doors, you'll notice that this five-star hotel is over the top. The entryway alone will make your jaw drop. The entry changes each season and is decked out with thousands of fresh flowers. I was visiting around Christmas so it had a holiday theme. I noticed guests would visit the hotel just to see and document the stunning display.
2. Attention to detail
The attention to detail doesn't stop with the entryway – it can be found throughout the hotel. Just take a walk through the 111,000-square-foot casino to see what I'm talking about. One of my favorite details were the lampshades above each gaming table. The same goes for their connected sister property, Encore.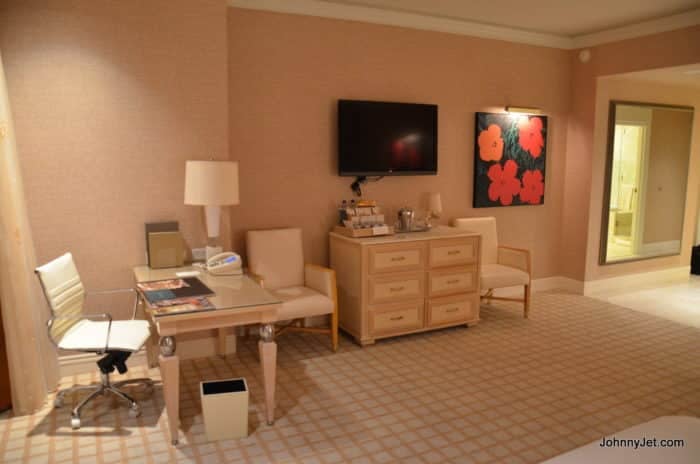 3. Elegant rooms
The rooms at the Wynn Las Vegas are elegantly appointed and feature oversized marble bathrooms with a separate tub and shower. I also loved the fact you could open and close the curtains with just the press of a button.
4. Restaurants
You won't go hungry at Wynn Las Vegas, that's for sure. They have seven fine dining restaurants, eight casual and five bars and lounges. That includes one of the city's best steakhouses, SW Steakhouse, where Chef David Walzog presents his unique interpretation of the classic American steakhouse. When I was there, I walked by U.S. Senate Majority Leader Harry Reid and his security detail so you know it's got to be good. My favorite meal of the trip was the Kung Pao chicken at Red 8. Chef Larry Wong's restaurant serves authentic tastes from Cantonese noodle dishes to Hong Kong-style dim sum.
5. Lake of Dreams
Walking into SW Steakhouse I was mesmerized by an oasis called Lake of Dreams. It has over 1,500 trees and features a 140-foot high waterfall. There are 4,000 color-changing lights, which creates a multimedia sensory experience unlike anything I've ever seen. I can't even explain it so see the photo above to see what I'm somewhat talking about.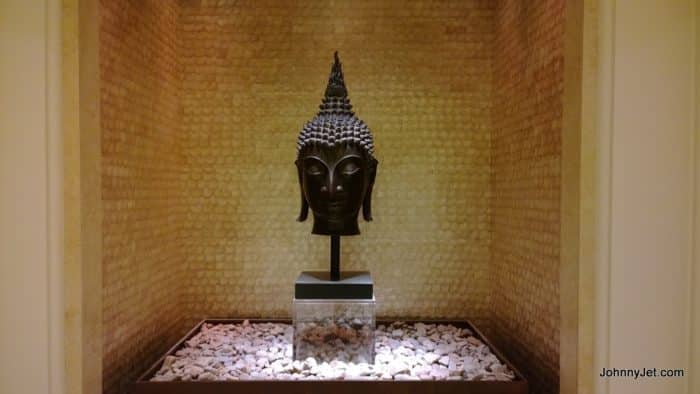 6. Spa
The Wynn Las Vegas spa is huge – they have 45 treatment rooms for massages, body treatments, facials and hydrotherapy. They claim no two treatments are exactly the same since each is customized to their guests' personal needs. My dad and I really enjoyed our therapists, lounging around in our robes and slippers afterwards and using their facilities (showers, steam room and sauna).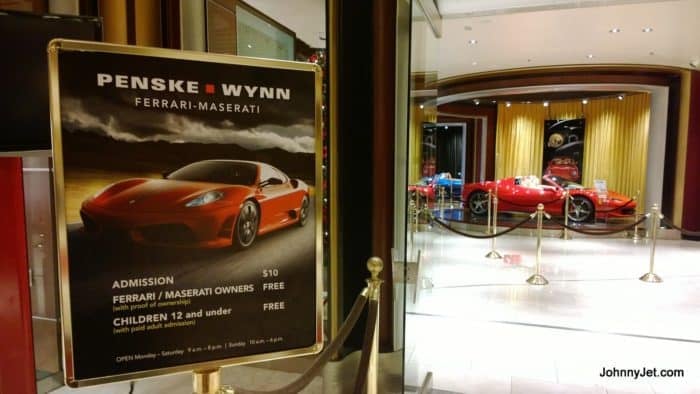 7. Ferrari Maserati dealership
Imagine a hotel so large that it can house a car dealership! Not only that but it's Nevada's only factory-authorized Ferrari Maserati dealership. The 10,000 square-foot showroom allows guests to buy or admire the "world's finest vehicles." Unfortunately, to keep the riffraff out, they charge a $10 admission fee unless you have proof of ownership of a Ferrari or Maserati. But there is a Ferrari Store, which features a unique selection of Ferrari merchandise including activewear, collectibles and memorabilia that anyone can visit for free (shocking, I know).
8. Golf Course
Unfortunately, I didn't get to play on their unique 18-hole, par 70 golf course, which was designed by Tom Fazio and Steve Wynn. But I did get to admire it every time I opened my blinds. The 18th hole has a 37-foot waterfall, which is absolutely gorgeous. Good to know: Roughly 1,200 existing trees were salvaged and relocated from the former Desert Inn Golf Course, some more than 50 years old and over 60 feet tall.
9. Views/location
The Wynn Las Vegas is located on the north end of the Las Vegas strip, next to its sister property, Encore Las Vegas. The Fashion Show Mall and Trump Hotel are across the street. Depending on what side of the hotel your room is on, you will have either an amazing view of the Strip or the golf course. As you can see from the photo, I had a golf course view and each morning, we were greeted by the most amazing sunrises over Sunrise Mountain.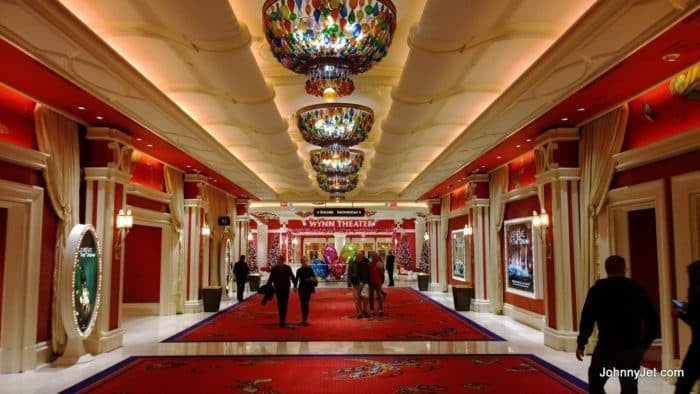 10. Shopping
I'm not into shopping but I know many are so they will appreciate Wynn's array of international, exclusive and unique shopping boutiques housed in approximately 75,000 square feet of retail space. There are 26 shops from Cartier to a drug store. The Shops at the Esplanade are open seven days a week.
What I didn't like
Since I was there in the winter, I didn't get to experience their heated pools or their nightlife but I'm sure they are amazing. But, not everything at the Wynn Las Vegas is all rosy. What I disliked most: They charge guests a $25 resort fee. I despise resort fees. Also the in-room minibar is electronic meaning that if you even just pick up one of the items to see what it's made of, you will be charged. Of course, you can fight the charges but what a hassle. And finally, there are long lines to check in and check out. Why they don't staff more people or have roving agents, I don't understand. It's a disappointment and not the best way to start off what is otherwise a great stay.
The Wynn Las Vegas; 3131 Las Vegas Blvd. South; Las Vegas, NV 89109; (702) 770-7000, (888) 320-7123.