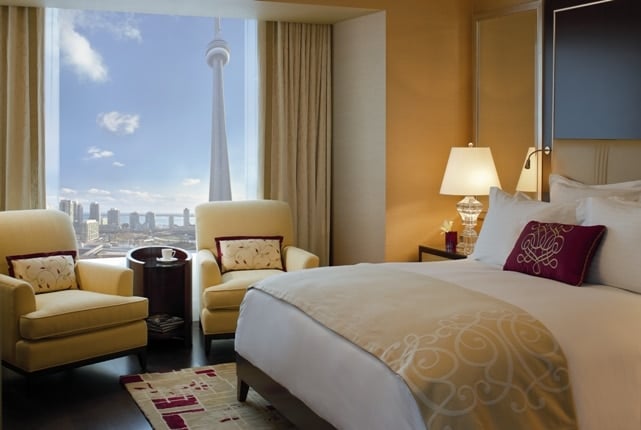 I just checked out of one of Toronto's newest five star hotels, The Ritz-Carlton. The shiny new 50-story building opened a year ago. In fact, the luxury property is celebrating its first year anniversary today, on February 16! The hotel has 267 elegantly appointed guest rooms and suites spread across the first 20 floors of the tower located in the heart of downtown Toronto. The other thirty floors are devoted to the Ritz-Carlton Residences, accessed byseparate elevators and entrances. I was fortunate enough to spend four days there this week and here are my top 10 reasons why you should stay at The Ritz-Carlton, Toronto.
10 Reasons to Stay at the Ritz-Carlton Toronto
1 Service
You'll understand why this is a luxurious hotel before you even open the door to your room. From the moment you arrive, one of the meticulously dressed doormen will open your car door, greet you and assist you with your luggage. After he asks your name and while you're on your way to the front desk, they discreetly radio the front desk with their secret service-like earpieces so that when you approach, the receptionist welcomes you by name instead of asking who you are. They also alert other hotel employees of your arrival so that when you walk by them, they address you by name … and they seem to never forget it!
2 The Rooms
The rooms are all tastefully designed, with plenty of lights, a comfortable working desk, chairs, 42″ LCD flat panel HD televisions and a 19″ HD television, custom designed into the bathroom's mirror. You can't even tell it's there until you turn it and the Bose sound system on with a remote control. The marble bathroom has an inviting deep soaker tub and a separate private shower with rain showerhead (and hand held shower). Both are stocked with Molton Brown toiletries and a loofah pad.
3 The Bed
You have to love a hotel bed that has handcrafted Italian 400 thread count Frette bed linens and different sized and density pillows to ensure you get a great night's sleep. Zzzzzzz!
4 The Club Room
Rooms on the 18th to 20th floors can only be accessed by a special key because that's the club level. On the 20th is a private lobby for check-in, a personal concierge, and five food presentations throughout the day. The breakfast buffet is served from 6:30am to 11am so there's no rush; I usually go twice to eat small meals.  Then they serve lunch from 12pm to 2pm, mid-day snacks from 2pm to 4:30pm, hors d'oeuvres from 5:30pm to 7:45pm and they finish with a dessert table from 8pm to closing at 10pm, complete with chocolate fondue. Throughout the day, they have cookies, free hot and cold drinks (including alcohol) candies and board games. All guests can opt-in to Club Level service for $100 per night, per room.
5 The Spa
The Ritz-Carlton has a 23,000-square foot spa with 16 treatment rooms and nine nail stations. Natalie and I got to try the 120-minute couples massage in the executive Cloud 9 Suite ($590). The treatment begins with a soothing foot bath with a custom-created scrub made from locally grown ground flowers and herbs. This is followed by a deeply relaxing full-body massage with aromatic treasures including Niagara Lavender, Quebec Sage and Canadian organic pumpkin and red raspberry and cranberry oils meant to nourish the skin. Following the treatment, you have 30 minutes to unwind and drink your tea and eat the snacks they bring in … we had strawberries and cream! There's also a state of the art fitness center with Techno-Gym machines, Kinesis and Precor cardio equipment, a yoga studio and a pool to get your body back together after the masseuses turn it into mush.
6  Local Art
The hotel has more than 450 works by Canadian artists displayed in both public areas and the guest rooms. Your first glimpse will probably be of the bronze maple leaves, embossed onto the lobby floor.
7 The View
The view is amazing! Being 20 floors up and overlooking Lake Ontario and the city of Toronto, including the CN Tower (the tallest free-standing structure in the world), is something special.
8 Location
The hotel is located at 181 Wellington Street West, which is in the heart of Toronto's bustling financial and performing arts districts. You can walk pretty much everywhere you need to go … The CN Tower, the Rogers Centre, the Air Canada Centre (where the Maple Leafs and Raptors play), the Metro Toronto Convention Centre, Union Station and a slew of restaurants are just a few blocks away. Be sure to stop by the Hockey Hall of Fame and touch the Stanley Cup! It's just a 10-minute walk from the hotel and the entry fee is $17.50. FYI: If you can't walk and need a taxi, there is never a wait except during rush hour. And just a few blocks away, there is a free shuttle to the Toronto Island Airport (YTZ).
9 TOCA and the Cheese Cave
TOCA by Tom Brodi is the hotel's contemporary restaurant, which sits above the lobby. They feature a classic "Canadian" menu focusing on homegrown, naturally raised and fresh caught ingredients. For dinner, I started with the roasted Cinderella pumpkin soup with toasted seeds and birch beer ($16) and for my main, I had their beef cheek and lobster special ($54). Natalie had the Wellington County petit mignon, 6oz ($32). For our sides we had garlic spinach with chiliflakes, Kennebec frites topped with thunder oak gouda and Yukon pomme puree ($10 each). We passed on dessert and the $25 cheese plate but I popped inside the glass cheese cave to check it out and smell its aroma.
10 The Who's-Who who stay here
I already knew that most sports teams and actors stay at Ritz-Carltons throughout North America so I wasn't exactly shocked when I saw Jeremy Lin and the rest of the New York Knicks prancing through the lobby. And yes, of course I had to ask him for a picture.
Weekend rates begin at $325 but we were invited guests of The Ritz-Carlton, Toronto.