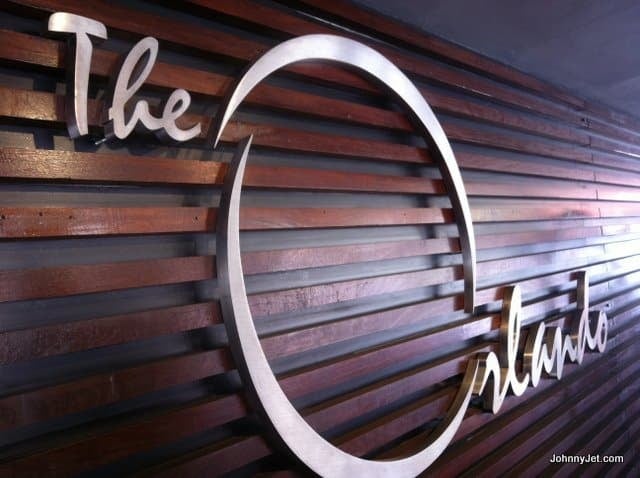 Now that we're engaged, Natalie is thinking about moving out to L.A. And since I want to show her as much of Los Angeles as I can, each time she visits we check out a different area. This trip, we stayed at the The Orlando on Third. It's a boutique, family-owned hotel in West L.A. that's been around for nearly three decades. The hotel has just undergone a multi-million dollar renovation so I figured it was the perfect time to check it out. Here are my top 10 reasons why you should stay at The Orlando on Third:
1. It's a boutique, family owned hotel that has just 94 rooms. One of my friend's parents stay there each year for a month at a time and when I mentioned their name to the hotel's Managing Director, she knew all about them.  GMs at huge hotels wouldn't even remember their name let alone their preferences.
2. Rack room rates start at $200 and you can find them cheaper by doing some research. But even at $200, it's a fantastic rate for their offerings and location.
3. The hotel has a genuinely friendly staff. They remember guests' names and are eager to please, either by making local recommendations or reservations.
4. The rooms are cozy. They have clean bathrooms that are beautifully designed and toilets with full and half flushes, just like Europe. The bedroom has a comfortable bed, working desk and flat screen TV and iPod/iPhone charger.
5. There's free Wi-Fi. Gotta love a hotel that has free Wi-Fi, especially when your fiancée has three devices (iPhone, iPad and laptop) and she's not happy until they are all connected.
6. In June 2011, a stylish new restaurant called, The Churchill by the owners behind the popular West Hollywood bar and eatery, The Hudson,opened on the ground floor of the hotel. The place is hopping Thursday through Sunday … so much so that some people book a room at the hotel just so they can get in to the restaurant.  The restaurant also offers 24-hour room service.
7. Location: The Orlando is in West L.A. but just one block from Beverly Hills and one block from West Hollywood. It's surrounded by trendy boutiques and restaurants and the huge Beverly Center mall is a three blockwalk away.
8. Magnolia Bakery is directly across the street from The Orlando. It's a popular bakery from New York City and boasts decor that will make any woman melt (Natalie did!) and has tasty treats that aren't over-priced ($1 cookies, $2.75 cupcakes …)
9. Two doors down is Izaka-Ya by Katsu-Ya. It's one of Master Sushi Chef Katsuya Uechi's restaurants. It's very reasonably priced, which is probably why the restaurant is so popular.
10. Joan's on Third: For breakfast, the hotel recommended we try Joan's on Third. It's like New York's Dean & Deluca but better because of the amazing atmosphere and not as expensive. They even have homemade poptarts! Get there early or be prepared to wait in a long line.
11. Bonus! There's an independent travel bookstore across the street called Traveler's Bookcase. You gotta love a neighborhood that has one of these.
A few other things to note: The windows in the bedrooms aren't soundproof so you can hear the traffic outside. The pillows were a little too bulky for my liking but that just comes down to personal preference. Valet parking is $29 and the water in the shower seemed to take quite a few minutes to warm up.