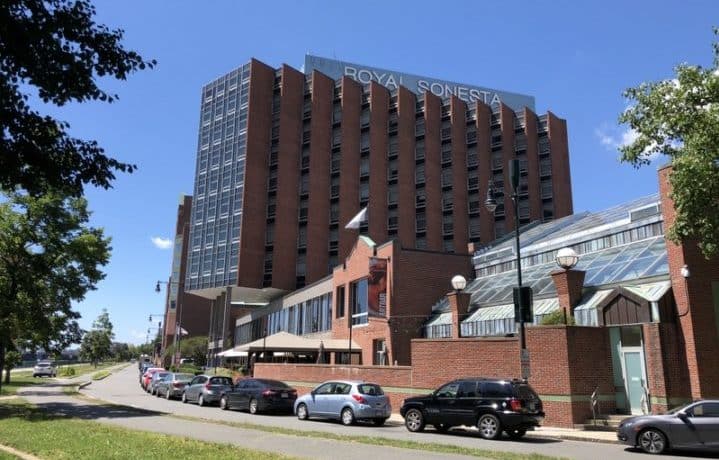 When I rolled into the Royal Sonesta Boston in Cambridge, MA, it was around 12:30am on a Thursday morning. The lobby was eerily quiet and I was quickly checked into my room. The hotel has 400 rooms and suites divided between two towers, and they'd assigned me to one of their suites in the West Tower (room 653).
When I was growing up, my family stayed at the Sonesta in Key Biscayne, Florida, a couple of times, but in the decades following I didn't hear much about the Sonesta brand. On this stay, I was eager to learn more about them. It turns out that Sonesta is family-owned—and in its heyday, the original couple that owned it (named Sonny and Ester, making it "Son-esta") had over 350 hotels. The hotels went downhill until they were sold to another Massachusetts family that's slowly bringing them back. There are now around 80 Sonesta hotels in seven countries, including the newly purchased Clift Hotel in San Francisco. There are also now an assortment of hotel styles, which you can learn about on this page.
Here are my 10 reasons to stay at the Royal Sonesta Boston:
1. Location
It was my first time staying in Cambridge and I loved it. It's much quieter than the city of Boston and it has way better views (see #2). You also have to love that it's just four miles from BOS airport (13 minutes without traffic).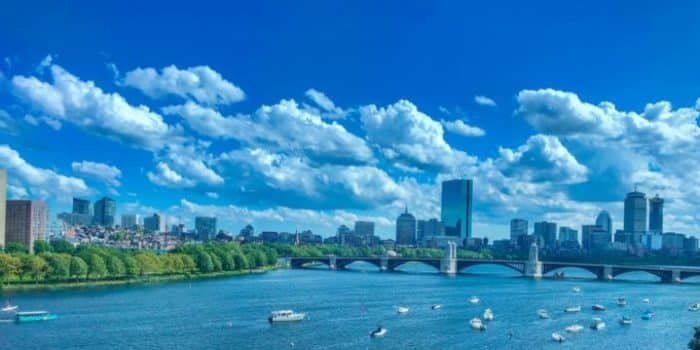 2. Views
I arrived late at night and my curtains were shut from the turndown service. When I opened the curtains in the morning I almost spit the plum out of my mouth when I saw the view. Wow! The Charles River and the city together are really jaw-dropping, to the extent that the hotel has a popular live webcam mounted on its roof thanks to EarthCam.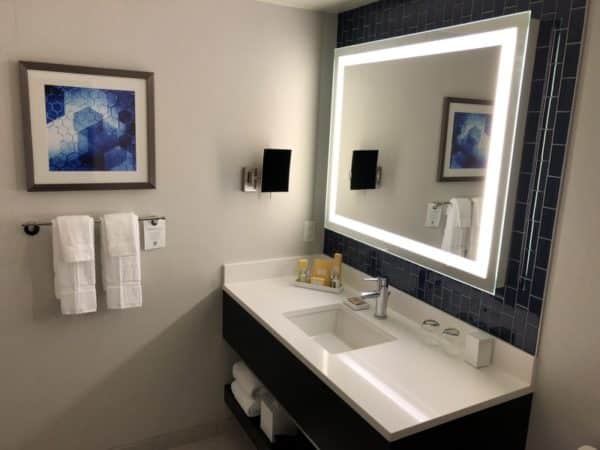 3. Newly renovated rooms
The hotel just underwent an extensive renovation so everything feels new even though the building is old. The motif was a little dark for my taste but everything was clean and functioned well. They even have motion nightlights, which I don't like, but I know I'm in the minority here. Basically, if you get up to use the loo in the middle of the night, you can see where you're going. They weren't those obnoxious nightlights placed underneath end tables that are difficult for people sensitive to light (like me) to cover. They're located on the floor. I found that a hand towel from the bathroom placed in front covers them nicely.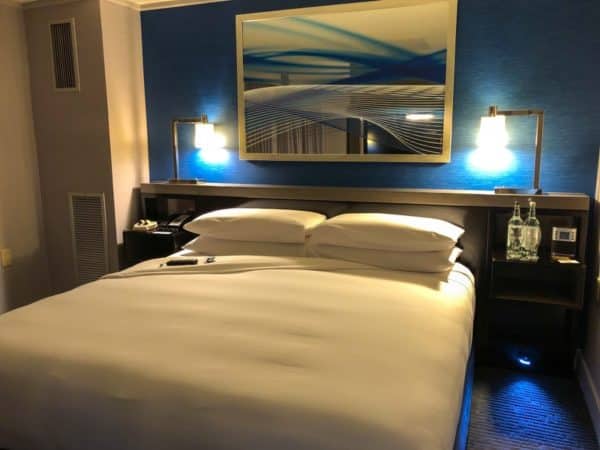 4. Comfortable beds
Obviously, one of the most important parts of a hotel is a comfortable bed and the Royal Sonesta didn't disappoint on that front. My bed had crisp, clean, soft sheets as well as pillow sizes that were just right.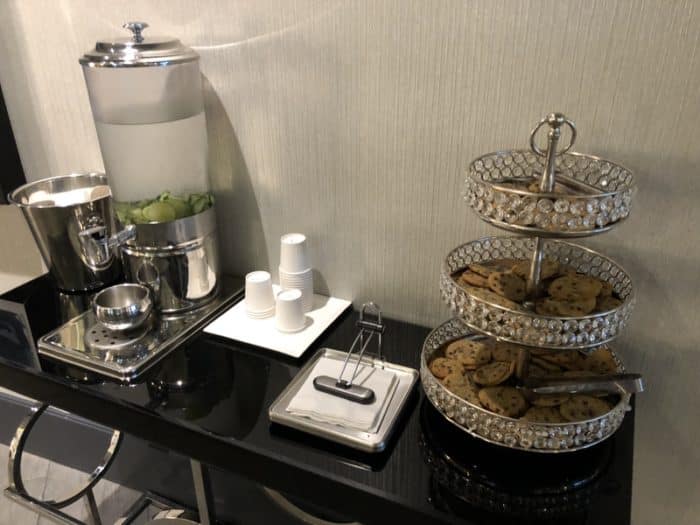 5. Free cookies
You have to love a hotel that offers its guests free chocolate chip cookies. They place them in the lobby in a three-tier tray in the late afternoons and the cookies are there until they're gone. They are thin, homemade and a great touch.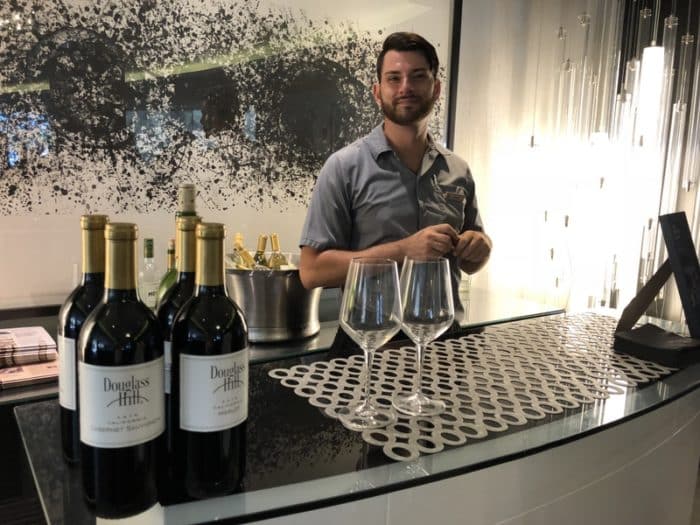 6. Wine receptions each weeknight
Another nice lobby touch: Sonesta offers all Travel Pass members (to be one, all you have to do is give them your email when you check in) a free wine reception between 5pm and 6pm every weeknight.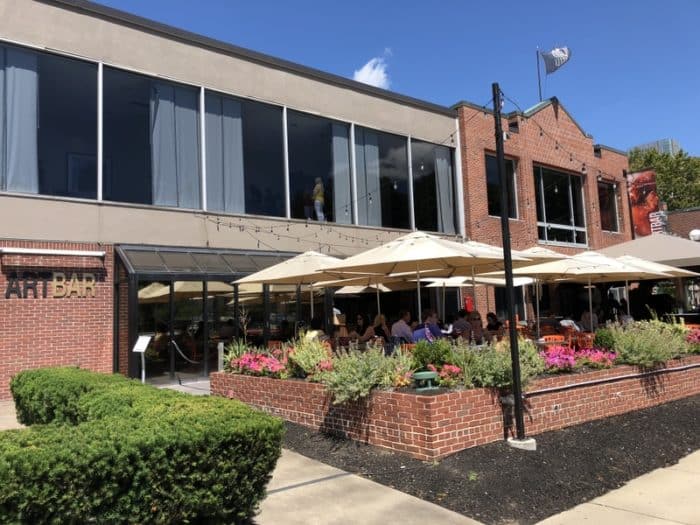 7. Art Bar
Speaking of drinks, the hotel's Art Bar is a popular restaurant/bar that even locals go to. There's indoor and outdoor seating, and the latter especially is a great place to meet friends on a warm summer day and take in the lovely river views.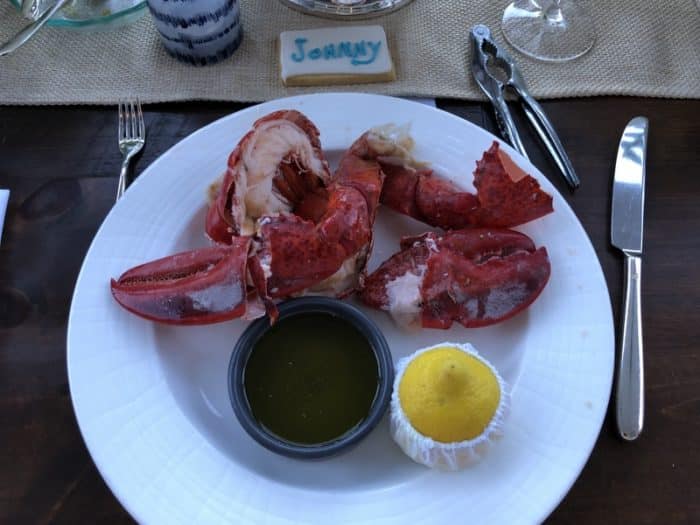 8. "New England Clam Bakes"
My group ate next to Art Bar on a nearby patio to try the catered "New England Clam Bake," which the hotel offers to groups (corporate parties and weddings). It was done really well and the food was so good. Below in the gallery is a photo of the menu.
9. Room service
One of the hotel's unique offerings is room service with a twist during breakfast and lunch. Each menu has five offerings including hot and cold items, with everything made on the hotel premises. (As part of my visit, the hotel gave my group a cooking class to see how talented their pastry chefs are.) Well, when you order off either room service menu, the hotel promises to bring it to your room within 15 minutes—otherwise it's free. They achieve this by putting the food in a bag and allowing employees to ride in the guest elevators. I tested them out with a breakfast sandwich and it arrived in 13 minutes.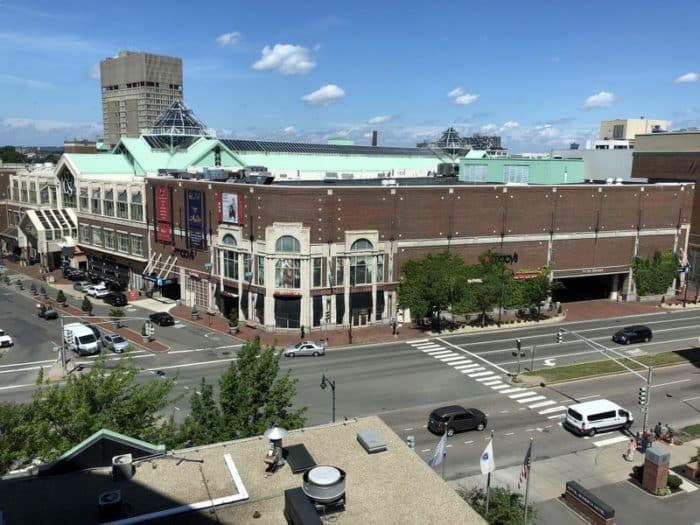 10. It's across the street from a mall
As a business (and leisure) traveler, it's comforting to know that if you forget something from home or something rips, breaks or runs out, you don't have to travel far to find a replacement. Directly across the street from the Royal Sonesta Boston is the CambridgeSide Galleria, which has over 100 stores including a TJ Maxx and CVS. There are also three restaurants and a food court.
---
Rates at the Royal Sonesta Boston begin at $169/night (weekends in January) or $400/night in the summer. For more on the hotel, visit this page.