Learning about American history through the lens of ancestral connections can make the experience all-the-more interesting, especially for kids— including jaded teens. My 15-year-old son, Ames, is named after a branch in our family rooted in early Massachusetts history and I'd wanted to go on this trip with him for years.
According to The General Society of Mayflower Descendants, there are 35 million offspring from the Mayflower's 102 passengers. Our connection is to Mary Chilton, the youngest passenger and first to step foot onto Plymouth Rock, as depicted in Henry Bacon's painting, The Landing of the Pilgrims. My cousin Carol, our family's genealogist, put together a hefty notebook of her decades-long ancestry work and gifted me a copy of the book years ago.
You can research your own family lineage to discover if you're a Mayflower descendant by visiting the Mayflower Society here. DNA testing kits and ancestral websites like ancestry.com have made genealogy work easier than ever.
We flew into Boston Logan, hopped a cab, and rented a car in downtown Boston, saving us hundreds in airport taxes and added fees. Costco's travel site is the cheapest place I've found to rent cars in recent years. A Toyota Corolla was just $225/week from Boston's Government Center at Avis.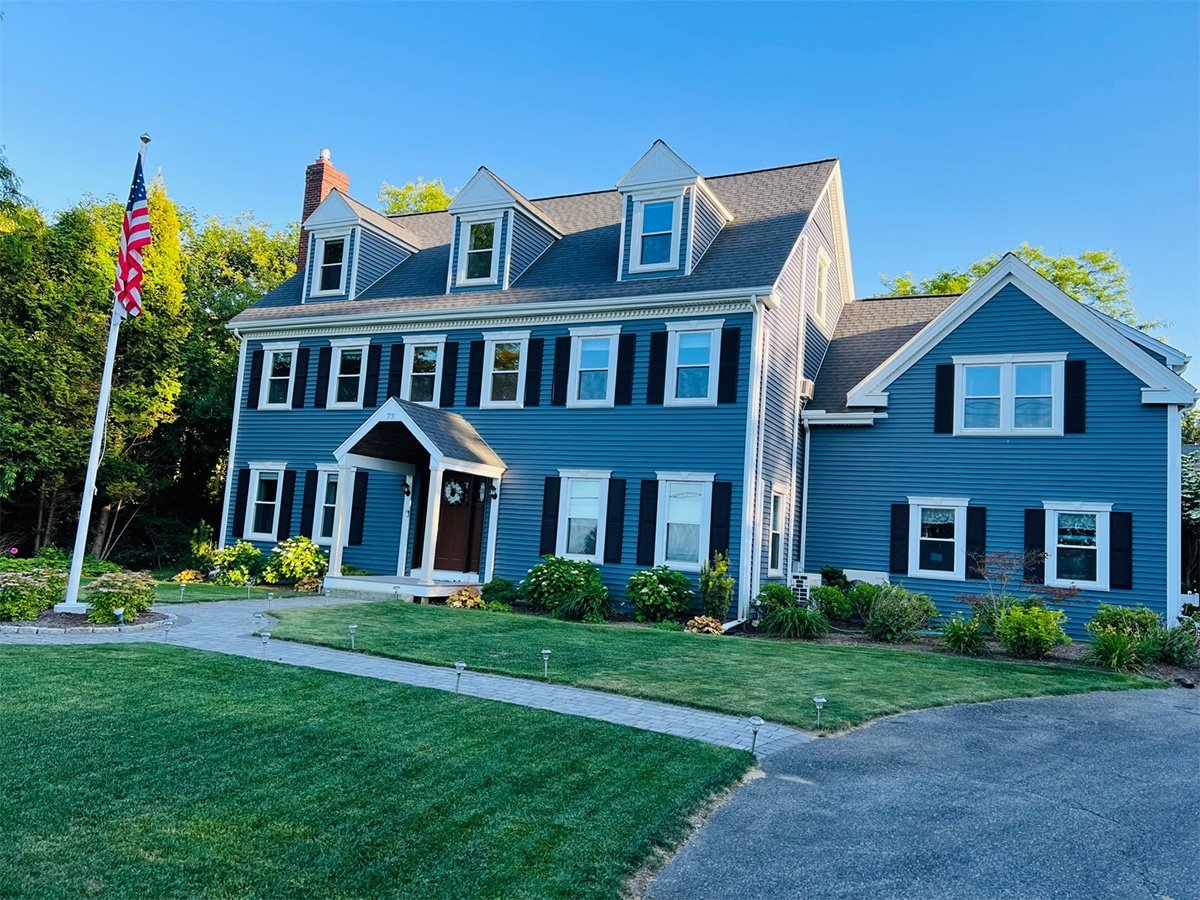 Plymouth Rocks
In Plymouth, we checked into 3 Waves Bed & Breakfast, a wellness-oriented Inn featuring  beds with dual-zoned temperature pads, and lots of room-suite touches to remind you that rest and relaxation are important, like the eye masks and stress-free chocolates on the bedside table as well a smart speaker playing ocean waves.  Owners Shawn and Julie Talbott are two of the most hospitable Innkeepers you'll ever meet. Shawn is a nutritional biochemist and author of several wellness books. The basement of the Inn serves as the wellness center with massage chairs, a dry float bed, and VR meditation lenses.
Ames settled into one of the massage chairs while I submerged myself in the dry float bed and donned some meditation headphones, allowing the stress of our early morning flight and bustling through airports and traffic to get there melt away. We indeed slept well and were greeted each morning of our stay with breakfasts as delicious as they were nutritious, in keeping with the wellness theme.
There are plenty of good restaurant options in Plymouth, but the most noteworthy one we enjoyed was Woods Fish Market and Restaurant, featuring fresh-caught fish and a view of the historic harbor. The menu doesn't aim to get fancy and it doesn't have to. It's simply whatever's fresh off the dock— fried, broiled or in the case of lobster and shrimp, boiled. I got the fried seafood platter and Ames ordered his usual fish n' chips with a cup of clam chowder. It did not disappoint.
Howdy Pilgrim
The Plimoth Patuxet Museums consist of The Mayflower II (a replica of the original and recently restored), a 17th-century English village and Patuxet area (showcasing the historic way of life of the indigenous Wampanoag), The Plimoth Gristmill and Craft Center. You could easily spend an entire day here.
We started at the Mayflower ship, located in downtown Plymouth Harbor, just like our great (+8) grandmother, Mary Chilton did fifteen generations prior. While it's a life-size replica, it was smaller than we expected, at only 25-feet wide and 106-feet long—tight quarters for those 102 passengers to live 6-9 months (depending on when they boarded the ship). Below deck you can see how they slept, learn what they ate and ask any questions you might have.
A five-minute walk from the dock you'll find what's dubbed the "actual Plymouth rock" where a historian there explained its symbolic significance, then we drove (8 min away) to the Plimoth (spelled the old way) Village and Pataxut museums. A great place to start there is in the theater to watch a film offering some historic narrative for your visit.
From there we perused the indoor exhibits which include artifacts from both the original Plymouth Plantation and those from the Wampanoag. Walking through the recreated Old English village, we encountered historic reenactors dressed in 17th century clothing and speaking in the present as if it was the 1620s. They interacted with visitors fielding questions about life in the village.
Thatched buildings along the village path reflect interior furnishings of the early pilgrims too.  We came upon a pilgrim sawing a log to throw on a brick oven, while over in the Wampanoag section of the museum grounds, we saw a Native American young man who was cooking soup over an open fire and stirring in spices and ingredients his indigenous forefathers did centuries earlier. Nearby sheets of bark dried in the sun near an arched frame they would soon be covering. Adding to the realism of the village, were livestock and crops growing in large garden plots planted the way the Wampanoag and pilgrims would have farmed centuries earlier.
My son Ames and I imagined what it must have been like for Mary Chilton (who was just 13 then) to have arrived here after such an arduous journey. Her father, James Chilton would die just after they dropped anchor off nearby Cape Cod before he could step foot on soil in The New World and Mary's mother, Susanna would die the first winter in Plymouth. Mary would wed John Winslow at age 17 and they would go on to have ten children.

Two tree branches cross
One of Mary Chilton's descendants would marry into the Ames family five generations later. My maternal great grandmother was Rosa Lee Ames and that branch of our family tree is who my son, Ames, is named after. Mary Chilton's 5th generation granddaughter (Abigail Johnson) married Silvanus Ames, the nephew of Captain John Ames, aka "The Ace of Spades" and founder of the Ames Shovel company. (I'm a 6th generation granddaughter of Silvanus.)  We hopped in the car and headed to the town of North Easton (about 40 minutes away) where we explored this interesting intersecting branch of our family tree with the Ames family.
Arriving in Easton, everywhere we turned something was named after Ames. The Ames Free library, town hall, the high school, parks, the Unity church features two of John La Farge's most important stained glass works honoring Helen Angier Ames, and the former Ames Shovel Works company, which has now been converted to high-end apartments including some offered as affordable housing.
A peek inside the leasing office showcased some of the historic shovels through the years. Ames has always taken pride knowing he's related to the people whose shovels quite literally built America. There's a terrific interactive website that showcases the history of Ames shovels (and tools) building of America from the Railroad and roads that connect our country, the Statue of Liberty and Empire state building to Mount Rushmore, The Hoover Dam, to the Golden Gate Bridge. Lincoln personally called on Oakes Ames to supply shovels for the Union Army during the Civil War and then later to lead the Union Pacific Railroad.
Nice Digs
The jewel of trip to North Easton was a visit to Borderland State Park and a tour of the Ames mansion, the former home of Oakes and Blanche Ames. You don't have to be related to be impressed by the beauty of the 1800-acre park and especially the estate (designed by Blanche), as all of its contents—masterful works of art, a robust library, furnishings, etc.— were donated to the state.
Booking a tour of the mansion with Paul Clifford, Department of Conservation and Recreation Visitor Service Supervisor, is an absolute must! Paul is a masterful storyteller and wealth of knowledge on the importance of this power couple, Oakes and Blanche Ames, to American history. He will leave you covered in goosebumps when he regales the story of how Blanche, Leader of the Massachusetts Suffrage Movement, played a pivotal role in the passing of 19th amendment with a particular meeting with fellow suffragettes who trudged through an epic snowstorm to meet in the library of the mansion. Her political cartoons rattled President Taft and helped sway public opinion in favor of women's right to vote and making birth control legal.
Her husband, Oakes Ames, a botanist and professor at Harvard, is famous for his study of orchids, species of which he collected on his expeditions around the world. His published books are beautifully illustrated with Blanche's drawings, and his library is filled with 9000 volumes.
Upstairs on the third floor of the home is Blanche's art studio which includes her sewing machine table, perched beneath a window overlooking the front lawn. Paul shared another tale of when Blanche was there sewing one day, a needle broke when it hit a knotted piece of thread. She was marveling over how a tiny piece of thread could render an entire sewing machine useless, when an idea struck her to invent something to take down planes in WWII.
A prototype was made and set up on the lawn outside her window. A meeting with someone in the US military almost put it to use, but before that could happen, the war was over. This was just one of many of her patented inventions.
Blanche's paintings line the walls of the mansion on each floor and include many other noteworthy Ames family members who played an integral role in the founding and shaping of America, including a former Governor of Massachusetts, Congressmen, a Civil War General, and head of the Union Pacific Railroad. What really struck me was how much of a feminist Oakes was in supporting Blanche's causes and aspirations, not particularly common in that era.  A wonderful documentary was just made about Blanche Ames's life. What makes me most proud about this branch of our family is their philanthropic thread in how they've endeavored to promote education, the arts and of course women's rights.
Winthrop Ames (born in 1870), a playwright and theater director, wrote in his book, the Ames Family of Easton, Massachusetts, "We have grown old enough to learn that our forebears still live on in us; that we owe most of our qualities, aptitudes and weaknesses to them as truly as we do the color of our eyes or the shapes of our noses. They molded our characters by tradition and example. They speak to us daily from the fields they tilled, the shops, homes and memorials they built and the trees they planted."
I know our visit to the area most definitely helped shape my son, Ames. It offered him a close-up and personal view of his namesake relatives who played a pivotal role in building our country.