In a week, I did a five-city whirlwind tour of northwest Germany with Historic Highlights of Germany. It was thrilling—from the train travel aboard the DB trains to sleeping in different types of hotels to exploring the old towns with informative guides supplied by the group. I brought a friend along to experience the culture, the people, the cuisine, and the wonderful beer and wine of the Mosel and Rhine regions. We visited Mainz, Koblenz (also significant for WW2 battles), Trier (with its ancient Roman wall), and Osnabrück (home of the famed peace treaty and witch trials), and finally, Münster.
Here are our highlights of the university and beer town of Münster:
1. Pubs
Pinkus Müller brewery in the university area called the Kuhviertel Quarter is the only surviving brewery in Münster. In the 16th century, Münster was the brewing center of Europe with over 50 breweries. The tradition of drinking beer continues, however, at a lively pace. According to the Münster Pub Guide, there are 1000 pubs for the 250,000 residents of Münster.
Pinkus Müller is run by the fifth and sixth generations of the Müller family and is the world's first brewery to brew only with organic hops and barley. Since we had not made a reservation at Pinkus and the line to sit down was long, Jenny and I left to peruse the other pubs.
We happened upon Münster's first "Academic Beer Establishment" and the coolest looking pub called Cavete. The intimate, small-roomed pub was like a hobbit's home and very crowded. We shared a table with three young students. Cavete has an excellent vegetarian menu, and Jenny and I both had salads with mushrooms and cheese and dark beer. It was a fun and educational evening!
Altes Gasthaus Leve restaurant is so authentically German; sitting in it you just have the feeling that you're eating in one of the locals' favorite places. Well, it has been one since 1607! We met the owners, the brother-and-sister Horstmøller team who took over from their grandfather Joseph. The food is more traditional (limited vegetarian options), the beer is great and you'll make new friends if you sit at the bar!
2. LWL Museum
The LWL-Museum für Kunst und Kultur is a stark modern building—an art piece in itself, and the place for art and culture. The white space and openness symbolize leaving the past behind, yet this museum houses art dating back to the Middle Ages. We had a wonderful young guide who gave us the rundown of the installation called "Bare Life." The show featured some of my favorite artists such as David Hockney and Francis Bacon and their take on life after the war in England. This is a highlight of Münster and it deserves at least two hours of your time. Our English-speaking guide was so knowledgeable and friendly that she joined us for coffee after the tour!
3. St. Lambert's Church
In Prinzipalmarkt, three strange cages hanging above St. Lambert's Church. It turns out that in 1534 the Anabaptists took over the town, burned all the books and required the people of Münster to be naked in preparation for the second coming of Christ. (Germany is cold during at least two seasons!) Well, the Anabaptists were eventually captured and tortured to death, and the leader's remains were hung above the street in metal baskets as a warning to anyone who ever tried to do such a thing again! Of course there's nothing left of them, especially after WWII, but cages remain at the top near the steeple that was reconstructed in the 19th century. It's a gorgeously erie cathedral, and if you're there in the evening you can hear the tower guard blowing her horn.
4. Café Kleimann
This bakery, café, and chocolate shop is located on the main shopping street of Prinzipalmarkt. The street is known for its antique, gable-styled buildings, restored after WWII. The original café building was built in 1627. The tradition of making gingerbread houses started in Germany in the early 1800s and Lebkuchen is still popular all over Germany. Café Kleimann's authentic gingerbread houses have witches and all the trimmings (the reason we have gingerbread houses is the Grimm fairy tale "Hansel and Gretel"). The cookies and chocolates are even better than they look. Their dark bread—the size of a beach ball—can be bought by the quarter! We enjoyed lunch upstairs in the old style café.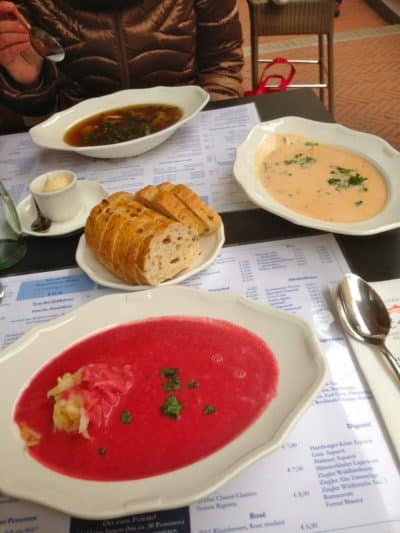 5. Sylt am Bült
Sylt am Bült is a fish and wine restaurant. Jenny and I happily sat outside with our guide from Historic Highlights to eat here in December. This is a common occurrence in northern Europe as the cold weather doesn't stop anyone from enjoying the outdoors. I loved that all of the chairs had lap blankets. We each had a different hot soup—borscht for me, cream of seafood for our guide, and onion for Jenny—as well as the whole-grain bread Germany is famous for and, oh, glasses of riesling, of course!
6. Christmas markets
If you happen to be in Münster in late November or December, you won't be sorry. The entire town of Münster celebrates Christmas with five outdoor Christmas markets with 300 outdoor stalls for eating, drinking Glüweihn and shopping for German and international crafts.
It's a magical time set amidst ancient buildings. The five different markets are all within walking distance (Münster is a wonderful, safe walking or biking town). If you're lucky, you'll hear musicians playing in the many open public spaces.
7. Farmers Market at Dom Park, Platz
The market at St. Paul's Cathedral (German: St. Paulus Dom) is open every Wednesday and Saturday. Authentic German food, home-grown produce, bunches of freshly dried lavender, leather goods, and a chance to see how the people of Münster shop. The ladies' bathroom is listed as one of the many sculptures of Münster and is done by artist Hans Peter Feldman.
8. Erbdrostenhof
Walk by the Erbdrostenhof at night to see this Baroque masterpiece lit up. Once a mansion, it's now a government building open to the public occasionally. It's worth the walk to see the exterior—especially with all the bicycles lined up in front. It's also close to our favorite restaurant: Altes Gasthaus Leve.
9. World-famous sculpture
Muenster is known internationally for its outdoor sculpture exhibit, going on since 1971 with a 100-day exhibit every decade. Many sculptures remain from the last 50 years and have become part of the modernity of old Münster. The next one is June of 2017 through October of 2017. Münster's charm in combining modernity with antiquity and the fact that it has so many public spaces is one of the reasons people love this city.
10. H4 Hotel Münster City Centre
Stay close to the action at H4 Hotel Münster City Centre. This modern hotel is situated in the center of the historic city. German-style down duvets and pillows. As in most German Hotels, breakfast was abundant and prepared with great care. You can load up on all your calories in one day! Smoked salmon, meats, cheeses galore, eggs, bakery goods of every type, homemade jams, honey, cappuccinos, tea, juices, cereals, European yogurts—need I say more? H4 Hotel is also within walking distance from the train station if you're in moderately good health and the wheelies on your bag can get along with the cobblestone.
Muenster—in English—or Münster (german) is a fascinating and fun city!
For more on Münster, visit muenster.de. For even more on Historic Highlights of Germany, visit their site here or on ToEurope.com.