This story was authored by Laura Pedrick with help from Carol Calicchio, who joined Laura aboard.
---
What better place for two childhood friends to spend time together than on a cruise to the Bahamas—or better yet, the inaugural sailing of Norwegian Cruise Line's newest ship, the Norwegian Encore, to the islands from Miami? Together, in four days, my friend Carol and I experienced everything we possibly could on the ship, which is brand-spanking-new out of the shipyard in Germany.
At 1,100 feet long and 169,000 gross tons, with a guest capacity of almost 4,000 and 1,735 crew, Encore is the largest and arguably most impressive ship in NCL's fleet. There's something onboard for cruisers of all stripes, from the budget-minded to the upscale types booked into the luxurious Haven suite complex. Thrill-seekers have plenty to choose from, while folks needing tranquility and great views will find a peaceful spot at nearly every turn on the ship. And if you're hungry? Well, you might just think you've died and gone to heaven, because there are over 20 restaurants at which to eat.
Norwegian Encore is elegant, yet understated. Museum-quality art is generously displayed on every deck. Its interior design is open, light and airy, with natural light pouring in through floor-to-ceiling windows. There are way more than 10 things to like on Norwegian Encore, but from our own experience, here are 10 standouts from our time being hosted onboard:
Our itinerary: "4-Day Bahamas from Miami" (from $440/person). See more Norwegian Encore itineraries here.
1. The food & drink
Dining options begin with the Garden Cafe, an enormous buffet with a full array of foods. The many food stations throughout are constantly replenished and serve hundreds of guests with ease (and no crowding). Seating is ample along both sides and on the front of the ship, and the space is bright and open with lots of windows.
More formal, complimentary (no additional cost) dining choices include the main dining room, The Manhattan Room, and restaurants Savor and Taste. Like the rest of the NCL fleet, Norwegian Encore employs "freestyle dining" wherein there's no dress code and there are no assigned seating times. Guests drop in as they please.
Specialty restaurants include the much-talked-about but impossible-to-get-a-reservation-at Onda by Scarpetta. Some say that this Italian restaurant, with its elegant atmosphere and al fresco dining, is the best restaurant in the entire NCL fleet. We'll have to take their word for it as we were among the many who couldn't get in. We strongly suggest that you make an Onda reservation early, maybe even before embarkation, if you hope to get a seating.
We were, however, able and happy to dine at Teppanyaki, home of a great Japanese hibachi experience. Our delightful chef showed off his fancy chopping skills while singing and telling corny jokes. Our other favorite was Food Republic, an Asian fusion and sushi speciality restaurant at which we ordered dishes directly from our table-top iPads. It was easy, but courteous staff were happy to help us with our choices. Almost all of the specialty restaurants—including Ocean Blue for seafood, Cagney's steakhouse, Los Lobos for Mexican fare, Q Texas smokehouse—offer outdoor seating on the promenade deck.
And there's a bar for nearly every preference. Among the choices are Sugarcane Mojito Bar, Maltings Whiskey Bar (with attached Humidor Cigar Lounge), District Brewhouse, and Cellars Wine Bar, where Carol and I attended an exclusive wine tasting and presentation from Michael Mondavi of Mondavi wines, who's well-known for helping establish and build the Napa Valley wine industry. The event offered a taste of Norwegian's 2019/2020 Meet the Winemaker cruise series, which includes a variety of seminars, meet-and-greets, tastings, and demonstrations from top winemakers and industry experts.
2.

Mandara Spa (and Pulse Fitness Center)
After working out on Pulse Fitness Center's state-of-the-art exercise equipment, or taking a cycling, pilates or yoga class, you should make time visit the adjacent Mandara Spa. Whether with a day pass or a full-cruise access package, you'll find your bliss in Mandara's thermal suite. There are heated stone loungers with unobstructed views of the ocean, a salt room, therapy pools, steam rooms, saunas, a sanarium, and the Snow Paradise Room where a 14ºF chill will boost your blood circulation and strengthen your immune system.
3. Great Stirrup Cay island and off-ship excursions
Great Stirrup Cay is a 268-acre private island in the Bahamas owned by Norwegian Cruise Line and exclusive to Norwegian guests. This tidy, exclusive port of call is well-staffed, with workers eager to cater to all guest needs. It's got all the iconic island elements: turquoise blue water, white sand beaches and coconut palms planted throughout. There are also lots of food options included with the cost of your cruise.
Off-ship excursions (extra cost) in the Bahamas, meanwhile, include snorkeling, interacting with Stingrays, swimming with pigs, kayaking, paddleboarding, zip-lining, and my favorite, the wave runner tour for two. As a passenger on a wave runner, my life was in my BFF's hands as she gunned it up to 40mph during the hour-long tour of neighboring Berry Islands.
If you want something more exclusive than lounging on one of the many crowded beachside chairs, you can also choose to reserve a posh villa at Silver Cay. This luxury retreat houses up to six guests and has a private beach, access to the upscale Silver Cove buffet, A/C, and complimentary movies, making it a great option for families with young children who might need some quiet nap time.
4. Encore Speedway
Encore Speedway's 1,100 feet of go-kart track hang 13 feet over the side of the ship. The Speedway is currently the largest at sea. And these aren't pansy-powered toys driving on it; they're regular-sized go karts that go fast! Spectators not only can watch races on a screen to see who's in the lead but also can actively participate in the outcome of a race by picking up trackside laser guns and shooting the lights atop passing cars to give them a speed boost.
5. The Atlantis-themed laser tag arena
Aboard Norwegian Encore, you can take laser tag to a whole new level. Battle it out under a serpentine monster and seek refuge from enemy fire behind columns in an arena themed after the lost city of Atlantis. Though open during the day, we recommend that you play at night to fully experience the multi-sensory magic.
6. Aqua Park
In addition to two main pools, four hot tubs, and a kid's splash area with water cannons and tube slide, Norwegian Encore's Aqua Park has two multi-story waterslides. The more daring of the two is Ocean Loops. At the highest point of the Ocean Loops tube, the floor drops beneath a standing victim, firing them through two transparent loops which hang over the side of the ship. The less brave can watch more-daring souls from below (they sometimes don't generate enough momentum to make it over the top of the loops and have to be rescued).
7. Galaxy Pavilion
This is a VR-enthusiast's paradise. Inside Galaxy Pavilion, there are reality simulator rides, full-immersion interactive gaming, an escape room, and a virtual maze. Our favorite was an experience called Jurassic Escape. While sitting in a shaking and tilting jeep, we encountered through our headsets a terrifying gauntlet of menacing dinosaurs. Watching other participants react while under the spell of their VR experience was just as entertaining.
8. The entertainment
There are many entertainment options on the ship. Two from our time aboard that come to mind are the Cavern Club, a replica of the famous Liverpool club that hosts Beatles music and tribute bands, and Social, a comedy and night club that features comedy acts and dancing. But the main entertainment events are the shows featured in the Encore Theater. Currently showing are "Choir of Man" and the Broadway hit and six-time Tony-winning production "Kinky Boots." Get those reservations early because these shows often sell out.
9. The Haven
Often referred to as a "ship within a ship," the Haven is a private sanctuary only accessible to platinum-keycard-holding members. It houses Norwegian Encore's most-first-class accommodations: lavish staterooms offering 24-hour butler and concierge service and other exclusive features. The design aesthetic in the seating areas recalls a luxurious living room, and the Horizon Lounge offers an insane, two-story panoramic view from the front of the ship. The Haven courtyard, meanwhile, has an adults-only pool and a retractible glass ceiling.
There are elegant details throughout, but for us, the most enviable aspect of the Haven was the space at the front and highest level of the ship designated to sun-lounging. With unobstructed views, you can soak in one of two oversized hot tubs while taking in the serenity of the moment.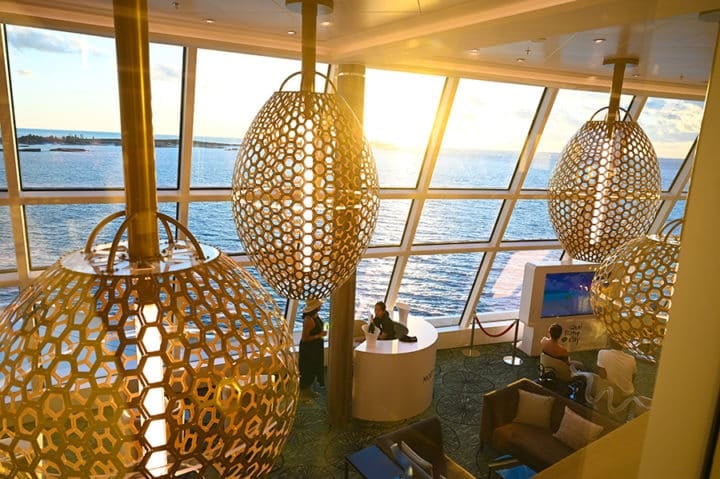 10. The best place to view a sunset
From outside in the hot tub to inside from any of the floor-to-ceiling windowed decks, there are countless places on Norwegian Encore from which to enjoy breathtaking views on your voyage. Because our stateroom didn't have a balcony, we made a point to search the ship for the ideal spot from which we could watch the sun go down on the day we left Great Stirrup Cay. The best view that we found was hands-down from the Observation Lounge, on deck 15. First of all, it's massive. The lounge runs along both sides of the ship, with lots and lots of seating throughout and joining at the front of the ship where the windows are huge. And there's a circular bar at which you can grab a cocktail before settling into a comfortable lounge chair to take in that spectacular view.
And #11, the crew…
Straying from our list of ten, we have to in this roundup of highlights call out the Norwegian Encore crew. From our lovely housekeeper, who always cheerfully greeted us and kept us well-stocked with our favorite lemongrass soap, to each and every server we had, the crew (representing many nationalities) took great care of us. They were tirelessly courteous and very professional. Service can make or break a trip, and the folks on Norwegian Encore helped make ours an exceptional experience.
---
For more on the Norwegian Encore, visit ncl.com/cruise-ship/encore.