Both the air and the Riesling are crisp on this June day in Germany, and the sun is bouncing off my wine glass with reckless summer abandon. Big blue sky above, the Rhine River below, a 700-year-old castle on all sides—it's an uplifting scene.
Rheinstein Castle (German: Burg Rheinstein), where I'm eating lunch, is one of the more iconic features in Germany's Upper Middle Rhine Valley, a UNESCO World Heritage Site that is at this moment introducing itself to me in a big way. Until this trip, the valley, and the greater Frankfurt Rhine-Main region in which it sits, has been overshadowed in the Germany portion of my brain by an experience at Munich's Oktoberfest, a second experience at Munich's Oktoberfest and in the humid depths of Berlin's underworld. That is changing on this day, glass by local glass.
What is Frankfurt Rhine-Main?
Frankfurt (German: Frankfurt am Main), of course, is the booming financial capital of Germany. The 5,000-square-mile metropolis that bubbles out around the city, within the narrows of the Rhine and Main rivers, make up Frankfurt Rhine-Main. It's in the central west of the country, and comprises parts of three states: Hesse, Rhineland-Palatinate and Bavaria.
Outside of shimmering Frankfurt, the region runs green and fertile, up into cascading valleys around the banks of its rushing waterways. It is granted sun and cool summers by its geography, and shelter from undesired winds by its modest peaks. It is by all accounts a land divinely suited for the cultivation of white Riesling grapes, a skill for which it has been famous in wine circles for at least 500 years.
For even longer, Frankfurt Rhine-Main's lands—in the heart of Europe—have fed life into some of history's most influential societies, and the proof remains etched across the landscape today. Stones laid during the times of the Holy Roman Empire and even the regular Roman Empire (including the only intact Roman encampment in the world) are still walkable. Castles still wait around every river bend, lit aglow by the fire and fireworks of tradition (like during Rhine in Flames). The medieval tones that inspired the Brothers Grimm (born in Hanau) are as bright as ever, less than an hour from Frankfurt by car (or train).
This is the world that awaited my group just outside one of Earth's most trafficked cities and busiest airports (FRA, with more than 58 million travelers in 2013)—a world of unencumbered green inlaid with fairy tale castles and world-class vineyards. Pre-June I'd had a few layovers in Frankfurt to my passport, but I'd never before ventured to step outside and drink the area up. I wrote it off, dreamt of Oktoberfest or my final destination. Now, I know better. Here's what awaits in Frankfurt Rhine-Main for your next layover, stayover or full-on visit, starting with Frankfurt itself and then traveling out from there to the incredible Frankfurt Rhine-Main beyond:
Stop 1: Frankfurt — 11 minutes from FRA by subway (S9 or U80)
In a snapshot, Frankfurt boasts the fourth-largest stock market in the world, the headquarters of a number of powerful banks (the European Central Bank among them), and the skyscraping buildings you'd expect from a nexus of global commerce. On the ground, with the chance to go more in-depth, I saw something of a heartbeat emerge, and an international one at that.
Among its most flattering characteristics for me: the claim that there is a celebration to drink at/for every day of the year, the mandate requiring that all office buildings receive x-amount of natural light, the smartphone app through which you can request delivery of a blanket and a Hugo cocktail (Prosecco, elderflower syrup, mint leaves, lime) to you as you relax by the river, and the golden "stumbling stones" honoring Jewish Holocaust victims.
Tip: There's a train station at FRA airport, across from the terminal, in the event that you'd rather head straight for the smaller towns of Frankfurt Rhine-Main.
My visits to the smaller towns and cities of Frankfurt Rhine-Main (below) held more for me than did my time in Frankfurt, but there's nonetheless a good deal to see in this city—and a truly phenomenal hotel to stay at should you need one.
Frankfurt basics
-~700,000 people
-1/3 of the population was not born in Germany
-80 countries represented in the population
-250+ bank headquarters
-Home to largest US consulate in the world
-Handles more internet data day-to-day than anywhere else in the world
What to see and do
The Main Tower, Frankfurt's fourth-tallest building, was completed in 1999 to much acclaim, in part because it became the "first high-rise building in Europe to have a façade completely made of glass." Fifteen years later, its touristic appeal lies in the views from its 656-foot viewing terrace, the only one of its kind in the city.
Though its timber-framed houses are merely restorations after a 1944 bombing, Town Hall Square (German: Römerberg) wears centuries of history as the site of book burnings, wine-soaked coronations and much more. And there are true relics; the Wertheim House (German: Haus Wertheim), for example, warrants a look as the only of the city's timber-framed houses to survive the war.
While not architecturally exceptional, St. Paul's Church (German: Paulskirche) is something like Germany's Independence Hall, standing as a national symbol of democratic achievement. It was here, within its red sandstone walls, that the German constitution was drafted, and then the first German National Assembly held in 1848.
Perched high on the northwest corner of Frankfurt, the PalmenGarten takes the shape of a sprawling botanical garden and biological education center. Neither pillar is particularly German (though fascinating), but the on-site miniature golf course was in comical and hilarious disrepair.
Where to eat
In one of Frankfurt's oldest districts, Sachsenhausen, there is a traditional thirst for apple wine (taken by Bembel) like nowhere else in the city. The apple wine didn't do it for me, but a meal at Apfelwein Wagner is worth it for the environment alone. Slide up to a long table amid maß and Bembels for a cheap sausage and enjoy.
Where to stay the night
The 218-room Jumeirah Frankfurt is a gem. Since opening its doors in 2011 the property has stood tall as another resounding achievement for the Jumeirah luxury hotel group, a group whose previous acts include the "7-star" Burj Al Arab. With an excellent location, state-of-the-art responsive climate control, gorgeous and spacious rooms (and suites), two restaurants including the signature Max on One, free Wi-Fi, and even its own honey-supplying beehive on the roof, the Jumeirah Frankfurt earns the best marks I can give. It could very well be the best hotel in all of Frankfurt Rhine-Main. Unfortunately, the room rate (€370/$459 a night) seems to reflect that (though an "Advanced Purchase Rate," booked 21+ days in advance, starts at slightly better €333/$412 a night).
20 minutes from Frankfurt
Stop 2: Bad Homburg vor der Höhe — 20 minutes from Frankfurt by car OR 20 minutes by subway (S5) (Google Maps)
Just 20 minutes from Frankfurt, Bad Homburg (for short) has been a place of decompression for several German generations—or at least the most privileged among them. It was the German elite (including Kaiser Wilhelm II) that grew this city (of about 50,000 today) into an internationally famous spa town over the centuries, and today, the "champagne air" still lingers. Europe's oldest casino and spa and a former imperial residence highlight this side of Bad Homburg. A UNESCO-recognized Roman encampment and available Riesling round it out as a full-on Frankfurt Rhine-Main gem.
What to see and do
It's slightly outside of Bad Homburg, but Saalburg is TripAdvisor's #1 rated Bad Homburg attraction, and for good reason: it's absolutely one-of-a-kind. Grab a window into the day-to-day life of Roman day soldiers by taking a tour of the world's only complete Roman encampment, whose stones and stories date back to the 2nd century A.D.
Bad Homburg is often referred to as the "Mother of Monte Carlo," so the casino (German: Spielbank Bad Homburg) is another crowning glory. Inside, time stands still on a tour (they offer them if you're dressed the part; see below) through what look to be scenes from Boardwalk Empire: ornate, intimate high-ceilinged rooms full of orderly men with mustaches tucked spiffily into suits, some with hats, betting quietly and puffing smoke. Opened in 1841 by brothers Louis and François Blanc (later of Casino Monte-Carlo), frequented by Dostoyevsky (whose experiences here inspired The Gambler), inventor of the modern roulette wheel—what a place! Actually, it's pretty mellow, but still a cool visit and a unique atmosphere to watch the World Cup and drink beer (or Riesling) in.
Tip: Wear nice shoes and pants to the casino, and bring a jacket, to ensure entrance. We borrowed jackets from the concierge, but I would stop short of promising that as an option.
The adjacent
Kur-Royal Day Spa
 offers comprehensive therapeutic experiences sharpened over time with high-profile guests from all over the world. Still—and despite being carved into what was once Kaiser Wilhelm II's impressive summer residence—
prices
are very reasonable. For an early castle experience (just setting the stage for later castles), 
Landgraves' Castle
 remains impressive to behold, as do the historical artifacts within its museum. The symbol of all Bad Homburg, the White Tower (German: 
der Weiße Turm
), is also here.
Castle terms
There are two words in German that could be translated as castle in English, but they carry different connotations:

Schloss — palace/castle
Burg — stronghold/castle

Landgraves' Castle (above), for example, is a schloss. Rhienstein Castle (top and below) is a burg.
30 minutes from Frankfurt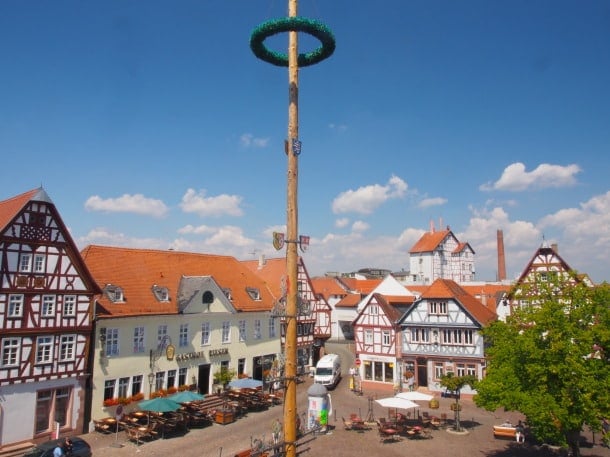 Stop 3: Seligenstadt — 30 minutes from Frankfurt by car OR 45 minutes by subway (S1) and taxi (Google Maps)
One of Germany's oldest towns, and of the map I colored on this trip, my favorite place in Frankfurt Rhine-Main. Timber-frame houses dating as far back as the 15th century still line the colorful streets, at times squeezing the cobblestones into tight corners. The effect is a warming one, a charm that pervades your entire hour, half-day or however long you spend there, and no matter what you do with your time. It's all part of the UNESCO World Heritage Site of Limes, and when you throw in modern accents like great ice cream and public greens full of art, to me, you have one of the best locales in Europe just 30 minutes from Frankfurt.
What to see and do
Walk around. Like the rest of this list, Seligenstadt is an amazing place to walk around trying Rieslings and soaking up the atmosphere, which in this case may as well have been the inspiration for the medieval town archetype we see so often in movies. Walk through the Marketplace (German: Marktplatz) for the full medieval Europe experience, and then on to the Einhard-Basilika, a wondrous, sprawling religious complex that you just wouldn't see in America. There's the basilica itself, bestowed the title of minor basilica by Pope Pius XI, a monastery and a flowing and yet precise sweep of gardens, which deserve your full attention on a sunny day.
After some number of Rieslings, switch to beer at Glaabsbräu, a local point of pride (it's basically a left right off the Marketplace) brewing since 1744—30+ years before the US became a country. Apparently a two-hour tour is available, which seems too long, but up to an hour will fill you to satisfaction with good beer knowledge and good Reinheitsgebot-abiding beer.
Where to eat
Right in the heart of it all, in the Seligenstadt Marketplace, Alte Schmiede powered a big day of walking with some nice fish beside beautiful half-timber houses.
Where to stay
Hotel MainChateau wedges a slice of modern hospitality into this bedrock of historical Germany, right on the Main.
Stop 4: Aschaffenburg — 30 minutes from Frankfurt by car OR 40 minutes by train (Google Maps)
The most wonderful and regionally appropriate event—a castle's 400th birthday celebration—drew my group to Aschaffenburg, a regionally balmy city in the Bavarian corner of Frankfurt Rhine-Main. The "tail of the [Frankfurt Rhine-Main] lion" was perhaps the anchor of the whole trip: basically, a pop-up amusement park with German beer tents and incredible fireworks, across the river from the castle of the moment. Notably, the other attendees struck me as mostly locals, thereby cementing in my head the notion that Frankfurt Rhine-Main is the kind of place I like.
Aschaffenburg itself felt tiny and ancient and walkable on the gorgeous day we were granted to see it. King Ludwig I's "Bavarian Nice," complete with an incredible, unusual castle-palace, was great.
What to see and do
Johannisburg Castle (German: Schloss Johannisburg) is breathtaking, by night and day. Against the banks of the Main it sits, a mountain of gorgeous red sandstone (from the nearby hills of Spessart) completed in 1614 as a residence of the Prince Bishop of Mainz (of the Holy Roman Empire). In the 400 years since, it has collected German history like a magnet, precious art—including that of Lucas Cranach the Elder—and WWII fire (here's a German-narrated video clip of the aftermath) most notably. Admiring it glowing red by night, beneath elaborate German fireworks on the night of the 400th anniversary celebration (the same night we watched Germany beat Algeria in a 2,000-person beer hall), I was nothing if not happy to be Aschaffenburg.
More views of Johannisburg Castle are available from the Pompejanum, an unexpected Roman-inspired villa commissioned by King Ludwig I on a nearby bluff. Back the other way into town, which is easy and happily navigated, is the millennium-old Stiftsbasilica (German:  Stiftsbasilika St. Peter und Alexander), full of its own timeless treasures.
Where to eat
Every eatery has amazing Riesling, but Schlappeseppel also boasts an amazing name, amazing house-brewed beer and the best potato soup I've ever had.
50 minutes from Frankfurt
Stop 5: Rüdesheim am Rhein — 50 minutes from Frankfurt by car OR 1 hour 30 minutes by train plus taxi (Google Maps)
Around an hour by car beyond Frankfurt city limits, on the east bank of the Rhine, is Rüdesheim am Rhein (Rüdesheim for short). Rüdesheim draws the region's biggest numbers largely on the reputation of its wines, but its natural grandeur is also as accessible as anywhere in Frankfurt Rhine-Main. Grape-covered, riverside slopes unfold into endless hiking trails from this town of about 10,000, and fairy-tale castles are formidable on both sides against the natural walls of the Rhine. It's also across the river from Bingen.
What to see and do
Take a cable car up to Niederwald Monument (German: Niederwalddenkmal) for €7/$9 roundtrip. At the crest of the bank, the 125-foot statue commemorates the emergence of the German Empire out of victory in the Franco-Prussian War in 1871—but more engagingly looks out onto the stunning scenery that earned the region UNESCO status. The views are phenomenal, and continue along some large number of hiking trails that wind with varying pace through this land of grapes and castles.
In the latter category, Rheinstein Castle stands out as one worth a full afternoon. It's a castle in all the most exciting and photogenic ways, steeped in fermenting stone and ghost stories and cared for privately by one very gracious German family. Back down at water level, it is imperative that you drink and walk around, a Rüdesheim specialty. Winery Allendorf ("Save water; drink Riesling") has good wines (including a red Riesling) and grants front-row access to the sun-soaked streets of what is truly a walker's town.
Where to eat
Lunch at Rheinstein Castle was among the highlights of the trip, and so shouldn't be missed. High above the Rhine, with views impossible to forget, we dined on creative flammkuchen and sipped on limited-release Rieslings.
Where to stay the night
Don't choose Hotel Lindewirt for its Wi-Fi, which came with a page of setup instructions that led only to still no Wi-Fi in the very spooky "Wi-Fi room." Do choose it as a place that could be haunted, as an intimate, authentic and German-feeling jumping-off point in the very heart of a wonderfully charming European town. Even cooler is the option to book one of their refitted old wine barrels as a room for the full wine country experience. It also offers "Packed Lunches" service. Rates start at $109/night for a double room.
Stop 6: Bingen am Rhein — 50 minutes from Frankfurt by car OR 1 hour 30 minutes by train plus taxi (Google Maps)
Just across the Rhine from Rüdesheim, Bingen am Rhein (Bingen for short) is quietly building a reputation as "the secret capital of German wines." Apparently, the small town—it is something of a smaller, quirkier Rüdesheim—reaps the yields of grapelands at the confluence of four different wine regions (the wine is excellent, though to my undiscerning wine palate not noticeably better than Rüdesheim's). Of note, Bingen's own take on the regional variety of scenery includes a high number of gardens—perhaps an extension of its still independent, creative spirit.
What to see and do
To start, a Rhine-crossing from Rüdesheim is worthwhile simply as a means of getting on the water, from which this part of the world is perhaps most flattered. The Bingen-Rüdesheimer ferry will shuttle you across or up and down the river, depending on what you want to see. I say see as much as possible, with a glass of Riesling from the ferry bar in hand.
From most ferries you'll catch a glimpse of the famous Mouse Tower (German: Mäuseturm), stockpiling folkloric intrigue on its own mid-river island. Bingen is also a place of artistic celebration, championed during our visit by the jazz musicians of Bingen Swingt jazz festival and by its charismatic mayor.
Where to eat
It suited us particularly well as patrons of Bingen Swingt, which played on below us as we ate, but Alte Wache's top-floor balcony was a great place to eat chicken schnitzel.
More photos!