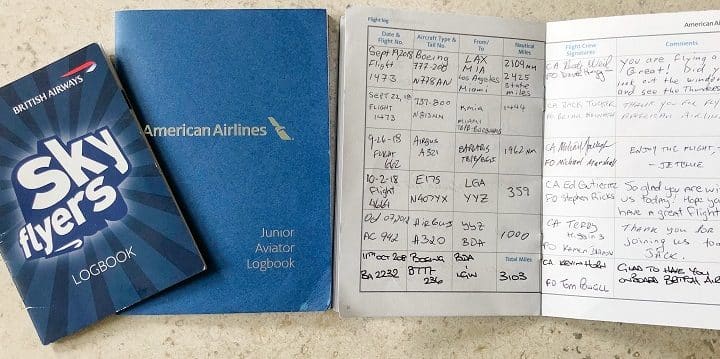 Since I travel for a living, I was really worried about how my newborn son would react to being on a plane. Would his ears bother him? Would he cry the whole time or be a crazy maniac running up and down the aisle when he started walking? Fortunately, none of that has happened on his 50+ flights to date (except for the running up and down the aisle occasionally). It's been a huge sigh of relief.
Natalie and I are so lucky that Jack's a great little traveler, that he loves planes, and that on our very first flight with him the American Airlines flight attendant gave him a Junior Aviator Logbook with all kinds of info about our flight and signed by the pilots. I loved it, especially since I've kept a travel journal for myself since the mid-90s. The book has all kinds of info about the flight (date, flight number, aircraft type, tail number, to/from destinations, nautical miles traveled, flight crew signatures, and space for comments).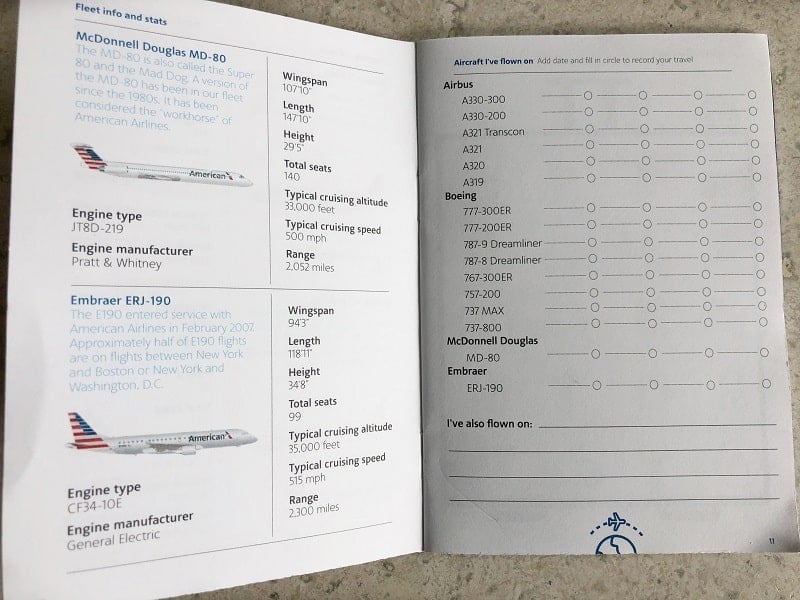 I've since found out that pretty much every American Airlines flight offers Junior Aviator Logbooks onboard, as we've been offered one on multiple flights. The original book had space for 18 flights, but the last one we received had room for 30 flights, so it looks like the airline has updated them. In addition to the flight info, the new one has colorful plane diagrams and interesting and detailed aircraft facts, as seen in the photo above.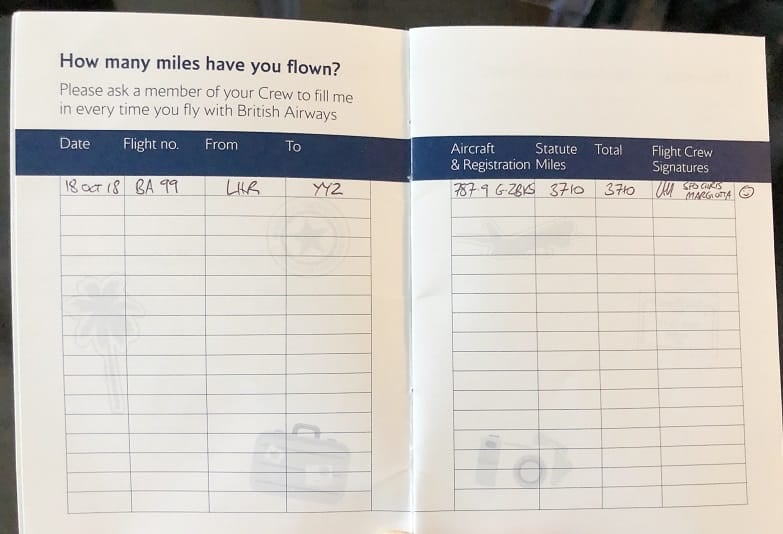 Jack's now on his fourth logbook, and in fact is currently using a British Airways (BA) Skyflyers book that it too hands out to young flyers. The BA book is a lot smaller and more basic, but it has room for 51 flights. See the photo above.
So if you're traveling with a little one and want a lasting memento, ask the flight attendants if they have a logbook for kids onboard. Not all airlines will, which I think is a mistake. These logbooks offer a great way to get kids excited about flying. But many, including AA and BA for sure, will.
Have you seen or been given a junior logbook on American Airlines, British Airways or another airline? What other airlines do this? Let us know in the comments!
____________________________________________________________
Have your own tip? Email it to whitney@johnnyjet.com!
Want to see more tips? Click here for all 1,312!
Want even more travel tips? Sign up here for the Daily Travel Tip newsletter! Just fill in your email address and check the Daily Travel Tip box—and you'll have Johnny's best tips, straight to your inbox each day!
If you already subscribe to our weekly newsletter, you can sign up on the same page. Just fill in your email and check the Daily Travel Tip box on the same page and you'll receive an email with a link to update your JohnnyJet.com preferences. On that page, just click the Daily Travel Tip box and Update Profile.