I spend a lot of time in Canada since that's where my beautiful wife Natalie was born and raised. She grew up just outside of Toronto, which is 90 minutes due north of Buffalo, New York. It's just an hour flight from New York City and a 4.5-hour flight from Los Angeles, which is usually where we're coming from.
A quick bit of history: Natalie and I met on a press trip in Delray Beach, Florida in November of 2006 while she was the digital editor for Style at Home Magazine (a large Canadian lifestyle publication). We dated for five years before we got engaged in Clearwater, Florida and got married in Toronto.
To give you an idea how much Natalie loves Canada … it took me eight years to talk her into moving to Southern California and that was well before President Trump started ragging on our northern neighbors. BTW: Despite being married to an American citizen, it still took her a long time to get a Green Card while President Obama was in office so I suppose it's more difficult now. Not long after she moved to the US, she got pregnant and we now have the most amazing boy in the world.
Now that Jack is a frequent flier, we travel often to Toronto so he can spend time with his relatives. Because we're there to visit family, we don't go out exploring that much, other than going into downtown Toronto for dinner or to meet up with friends. But when Ontario Travel, the province's tourism board, hired us to explore the York Durham Headwaters, a region that I'd never heard of before, I realized just how much I'd been missing out on!
I had no idea there are so many fun and unique things to do that are less than hour from Toronto Pearson International Airport (YYZ).
For instance, within York Durham Headwaters, there is a clever self-guided free audio tour called Temperance and Temptation. Travelers can take a guided journey back in time during the prohibition era, listen to a downloadable audio guide and experience music, food, drink and history along the way.
Visitors learn not just about the tours but live them and experience first-hand what it was like to be tempted by "tasty giggle water, ​copacetic music and so much more."
Since a two-year old can't be hanging out at bars and distilleries, we tweaked the tour by going to only  family-friendly distilleries within close proximity of each other and adding in some fun stuff for both adults and children.
There are many reasons to visit Ontario, Canada. Here are a few!
1. It's cheap because the Canadian dollar is so low. At press time (October 5, 2018) $1 CAD = $0.77 USD. That means if you're shopping with US dollars, everything is 23% off. So if you spend $100 on something, it's really only $77.
2. Canadians are very friendly and polite people.
3. It's safe. You don't have to be looking over your shoulder for some deranged madman with a gun like I find myself doing oh-too-often in my beloved U.S.A.
4. It's within driving distance for tens of millions of Americans. Here's how far it is from where everywhere.
5. It's truly beautiful. Check out the photos below.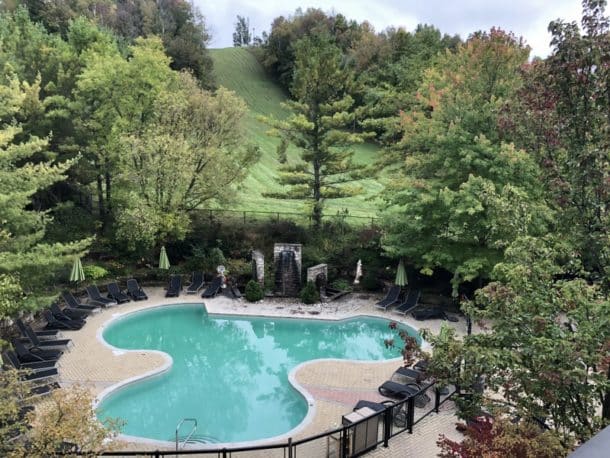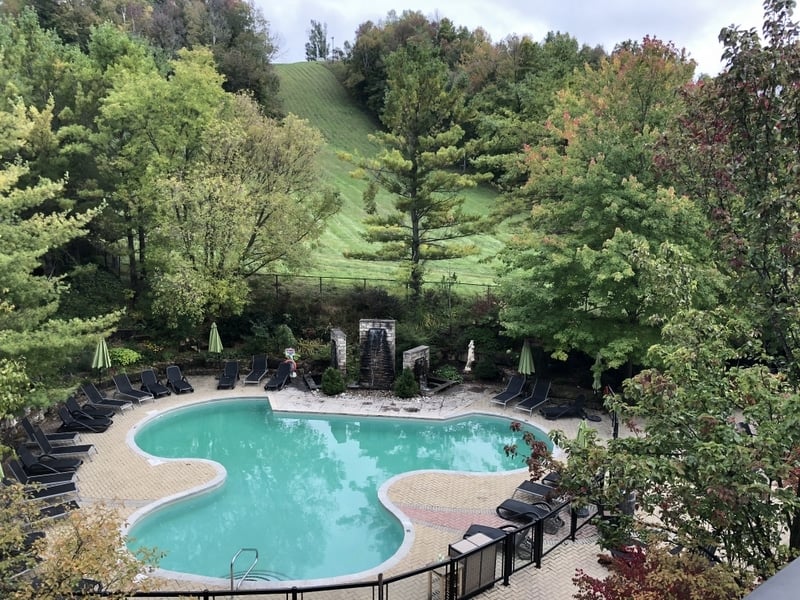 Although everything we did in York Durham Headwaters made for an easy day trip from Toronto, we decided to spend the night and check into a hotel. We stayed at the fantastic Hockley Valley Resort, which is next to the Adamo Estate Winery (they have the same Italian-Canadian owner). You can read about both places here.
Here's a map of how our tour of York Durham Headwaters (YDH) went. If you want driving directions, just see this map.
(Note: scroll down to see image gallery). 
Rosemont General Store
From the Hockley Valley Resort, it was a 15-minute drive to the Rosemont General Store. What I love about being out in the country is there's no traffic and beautiful vistas. The Rosemont General Store looks like it has a lot of history and it does. There's a replica red bench out front that depicts its opening in 1846! The kitchen is open for breakfast and lunch daily and serve some classic breakfast dishes like buttermilk pancakes with local maple syrup ($14) and for lunch they even have a pizza menu that includes the Canadian: pepperoni, bacon, mushroom, and green peppers.
Museum of Dufferin
A five-minute drive up the road is the Museum of Dufferin, which is an ambitious and eclectic mix of exhibits. Their archives are filled with stories of the community and the people who helped build and shape it, all available to the local history buffs and researchers. Here, you will discover the busy hub of a friendly community complete with travel info, spectacular grounds, gift shop, clean bathrooms and interesting stuff to look at. They currently have a guided tour of the Temperance and Temptation exhibit but don't miss the views from the silo. Admission: Adult $5.00, Senior (65+) $4.00, Youth (6 to 18) $2.00.
Landman Gardens & Bakery
A smooth 30-minute country drive away, you will find a hidden gem of a bakery. Landman Gardens and Bakery is owned and run by Rebecca Landman, who is also a baker and farmer. She lives on the property with her family and her brother takes care of the animals. They have over 300 goats, which provide thousands of liters of goat milk a week. They're milked twice a day using machines that take just 2-3 minutes. They also have chickens and pigs but the real reason to come here is to sample the baked goods from the small bakery. It's popular among locals who either pick the goods up in person or meet them at the two famers markets. The blueberry pie is amazing as well as their butter tarts, which are very Canadian and a treat I sampled for the first time. For special dinners, book their traditional Scottish Black House.
Grand Spirits Distillery
Five minutes down the road in Grand Valley is Grand Spirits Distillery. The distillery building as well as the town's Main Street look and feel like a movie set. The dilapidated former schoolhouse was transformed into an Instagram-worthy distillery that has a bar and restaurant inside.
Here, you can learn how they make smooth vodka with barley and gin and taste their concoctions. The drinks and food are memorable and they have the nicest high chair ever for toddlers. See photo gallery below.
Spirit Tree Estate Cidery
About 35 minutes down the road, heading back towards the airport, is the Spirit Tree Estate Cidery. They have an apple orchard, cidery and farm shop. We visited at the perfect time since the apples were in season and their cider (hard and non-alcoholic) is delicious.
They create some awesome seasonal ciders like pumpkin cider, which is light and deliciously spiced. Locals eat in their bistro or grab something quick like their Sicilian-style pizza. I really wanted to try their pumpkin soup since they were roasting them in the brick oven.
Downey's Farm
If you ask Jack what his favorite stops along the way were he would no doubt say Landman's Bakery because he was able to get up close to the farm animals or Downey's Farm for all the fun kids activities. Downey's Farm is an 11-minute drive from Spirit Tree and this time of year they have hundreds, if not thousands, of pumpkins.
Between September 22 and October 31, they host their annual PumpkinFest, which is a little kid's Disneyland. They have wagon rides, farm animals, live entertainment, slides, trampolines, sandboxes and an 8-acre corn maze! Across the street, they have apple picking. If the line for the shop isn't too long, grab one of their famous pumpkin donuts for the ride home.
From Downey's, it was just a 22-minute drive to YYZ and we were amazed at how close we were to Natalie's mom's house. We did so much in 24 hours that we felt like we were away for a week. One thing is for sure: The next time we're back in town we will go out and explore more of Ontario, including some of the places we visited this week.