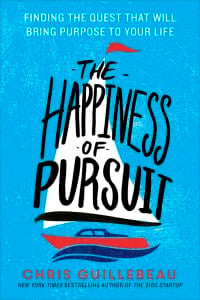 This contest has ended.
Chris Guillebeau is a big name in travel. He's still on the move after time in every country in the world (or at least the 193 that he counts), blogging, speaking and tweeting along the way, and his "non-conformist" approach to travel has won him a considerable following among travelers of all shades. He's also a bestselling author, and to this point, it is of note that he has just released his third book, The Happiness of Pursuit.
The book gravitates around Chris' quest to visit all 193 of the world's countries before the age of 35, but its pages reach far beyond that. What The Happiness of Pursuit is really about is the very idea of a quest. It is a collection of stories that spans the globe, both in setting and in scale, and from it Chris attempts to guide readers toward fulfillment through their own quests using his very unique, very traveled perspective.
Sound interesting? Enter in the form below to win a copy—and keep scrolling down for a note on a quest I aspire to complete, which Chris' team have asked me to write.
How to enter
Like in our Hawaii contest, use the form below to sign up for the Johnny Jet newsletter, and follow Johnny on Twitter, Instagram and Facebook for additional entries. If you're already a subscriber/follower, just check the appropriate boxes. Deadline to enter is Wednesday, October 15.
[promosimple id="593b"]
My quest for Svalbard
Svalbard, for the unfamiliar, is a 23,000-sq-mile spattering of ice, rock and isolation located about halfway between Norway and the North Pole. On a map, you'll find it well into the Arctic Circle, at 73º-81ºN latitude, which wins it claim to not only the Earth's northernmost city—Longyearbyen, it of the ~2000 residents—but church, post office, university, museum, and commercial airport as well.
Winters are quite simply "vulnerable" in Svalbard, and throughout the year, full-time residents are subject to the draconian impositions of the Midnight Sun. It is a place of extremes, something of a last outpost in humankind's push for global habitation—and that, I think, is what has so captivated my travel attention.
By the Svalbard Treaty of 1920, Svalbard is Norwegian. I have spent time in Norway (Christiansen), as I have in 49 other countries, but in this context that matters only to tell me I will probably like the people of Svalbard. Svalbard is a different sort of destination. As the home of the Svalbard Global Seed Vault, it must be.
My quest to get there is not simply about the destination, just as the quests in Chris' book are also not. I have spoken many times and over many years about Svalbard with my friend Nick, and to this day, it remains much more than a potential future trip for us. Touching down in Longyearbyen, whenever we finally do it, will see manifested an entire approach to traveling, to lifelong friendship, to life—and a reminder that for every far, there is always a further.
After Svalbard, there will be new Svalbards—maybe Socotra or Pitcairn Island in travel—and I will have been reminded, in grand, epic, mountainous, Lenin-statued fashion, why I'm seeking a life on the frontiers of travel, a plane of human existence on which I think I can contribute to the northward push. Until then, I'm on a quest to get there, with Nick, to a place where you need a gun to leave a settlement because of the polar bears. Svalbard!