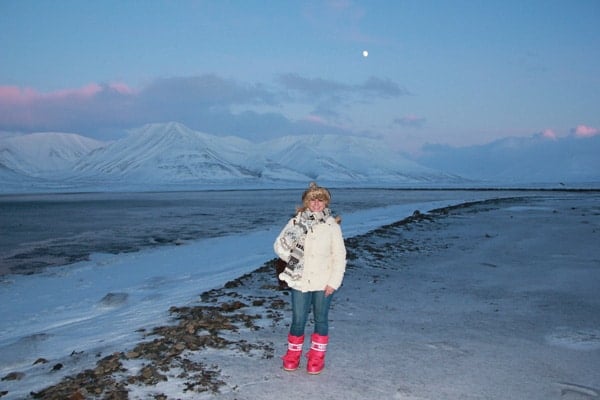 The world's northernmost city  – and Svalbard's only town with more than a handful of inhabitants – Longyearbyen is the base for tourism in Svalbard. While you might get "island fever" (as the locals call it) and want to spend all of your time snow scootering across the glaciers and frozen fjords, spend some time exploring this quirky town! We took a Maxi Taxi guided tour and learned these fun facts about Longyearbyen:
1. Longyearbyen was founded by an American.
An American, John Longyear, started the Arctic Coal Company and set up a mining operation for around 500 people in 1906. The settlement was known as Longyear City. Today it is Longyearbyen, meaning Longyear City in Norwegian.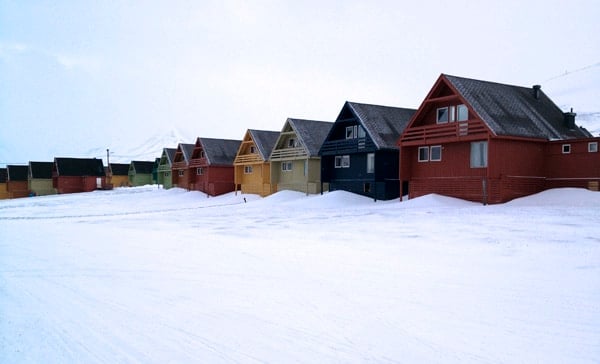 2. Longyearbyen is built on stilts.
The ground in Svalbard is permafrost, which means the soil is permanently frozen year-round. In Longyearbyen, the permafrost ranges from 10 to 40 meters deep, with an active layer that melts each summer as the temperatures rise above freezing. The slilts, or piles, keep the building away from the active layer to prevent flooding and sinking!
3. It's customary to take your shoes off.
It's a local custom to take your shoes off indoors and you'll see a sign kindly asking you to do so in many establishments. This extends to hotels, the Svalbard Museum, the church, and the tourist information office. But don't worry, slippers are often provided to keep your feet from getting cold!
4. Check your gun at the door!
More than 3,000 polar bears live around Svalbard; they are curious and sometimes hungry after not eating for months at a time. It is required to carry and know how to use a high-powered rifle anytime you leave the settlement. While it became a usual sight to see everyone casually walking about town with a rifle slung over their shoulder, guns are not allowed inside any building.
Clever signs remind you, "All the polar bears in this shop are already dead, please leave your weapon with the staff."
5. Snow scooters are the preferred mode of transportation.
There are no roads outside of the settlements of Longyearbyen, Barentsburg, and Ny-Ålesund and the roads do not connect the settlements with each other. Snowmobiles, called snow scooters in Svalbard, are crucial for transportation in the long winter months. They are so crucial, in fact, that there are 4,000 snow scooters for Longyearbyen's 2,000 residents.
6. The sun does not rise for 4 months!
The sun sets each year for the very last time on October 25th and it will not rise above the horizon again for four months. The sun officially returns to Longyearbyen on March 8th, when it is finally high enough above the horizon to illuminate the steps of the old hospital.
Solfestuka is a week-long celebration to welcome the return of the sun and the entire town gathers on the steps of the old hospital at precisely 12:15 to await its arrival.
7. Home to the world's northernmost gourmet restaurant.

The historic Huset is the world's northernmost gourmet restaurant and boasts one of Europe's largest wine cellars with more than 20,000 bottles. The tasting menu is a great way to indulge in Arctic fare.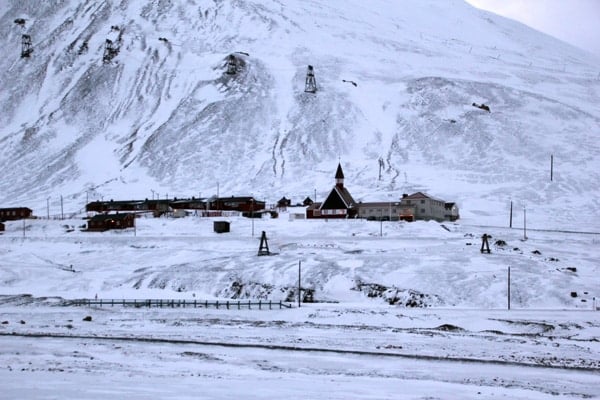 8. Speaking of northernmosts…
The world's northernmost church, ATM, Post Office, museum, commercial airport, and university are all located in Longyearbyen!
9. The streets have no names.
The streets of Longyearbyen do not have names; they simply go by numbers. As Peter Adams said, "Grown men do not build houses on streets that are named Blueberry Road or Teddy Bear Yard!"
10. You can't have a cat as a pet.
You won't find cat food at the local co-op. Svalbard is home to abundant Arctic bird populations and cats pose a problem for the birdlife. So Svalbard has prohibited them.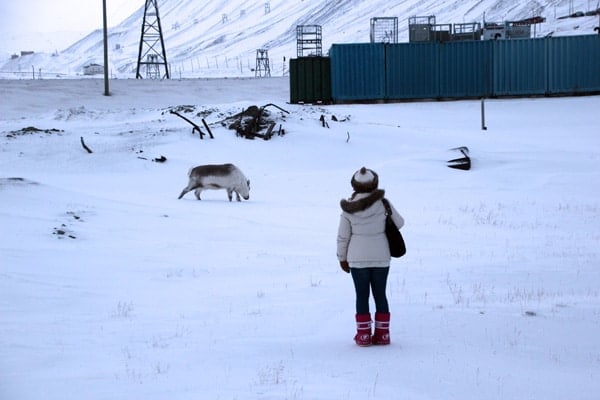 11. Reindeer wander through town.
The Svalbard reindeer have no natural predators so they are very docile animals. They wander right through town and aren't generally bothered by people being nearby.
12. It's illegal to die.
Yes, you read the right! Death is forbidden. Longyearbyen only has a small graveyard that stopped accepting new burials over 70 years ago. Why? Because the bodies never decompose. Scientists found that bodies are perfectly preserved because of the permafrost.
So if you're going to die, go do it somewhere else. It's the law!
Svalbard Maxi Taxi 275 NOK per person; includes transport from/to accommodations.
About The Author
Jennifer Dombrowski is a training specialist and social media strategist in the field of higher education. Based in Italy with her husband, Tim, they have a passion for travel and love discovering the world. Follow her on twitter @jdomb or on Facebook.
NOTE: This trip was sponsored in part by Northern Norway and Visit Norway USA.