The most memorable dining experience I have ever had in my life occurred at El Cielo in Medellin, Colombia. Literally, the night was a sensual feast for all senses. We had what they call 11 moments.  One can have up to 20 moments.
The chef Juan Manuel Barrientos, winner of several awards, has created a gastronomic journey using various cooking techniques, such as vacuum, mummies, osmosis, cooling to below zero, and more.  His ingenious concepts include a two hour ceremony of an aparatif drink, soup, praises, seafood entree, sherbert, entree choice, dessert, and aromatic.
To start the meal a tiny button that looked like candy was placed in front of us, which we used giant tweezers to place in a bowl filled with water and flowers. Poof! The mini button grew into a wet towel so we could wash our hands to start the tasting menu. A delicious sweet bubbly came next with a little red gelatin piece at the bottom. Then, large bowls were brought to the table with squishy feeling beads in them. Chocolate was dripped over our hands, then dashed with sugar, where we were told to rub our hands together with the gelatinous beads. Later, water was poured over our child-like finger-painted hands.  The effect was silky and smooth hands.  Next, came the the coconut milk soup with lemongrass and spices, which tasted so healthy I felt like I could eat this every day.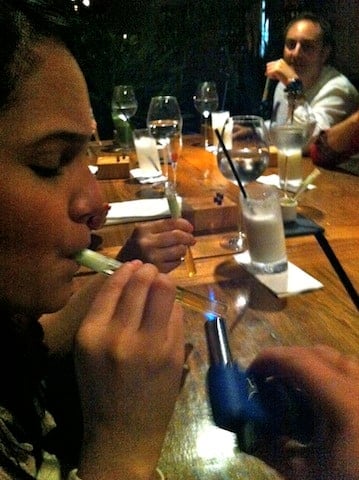 A shot concoction is propelled into our mouths with a torch.
My main dish was a delectable steak. Other incredible experiences came from not only the food but the "moments," like an interesting shot concoction in a test tube that was lit on fire by a mini torch so that the liquid propelled into your mouth. Another moment included five giant circular type ceramics that smoked up the whole table like a fog machine producing an aromatic effect.
A small sherbert ball that tasted like butter dipped in sugar was brought out to clean our palettes. I laughed so hard when the second dessert appeared because this one included adding some water to your mouth, followed by unwrapping a hard frozen glob to be popped in your mouth. The popping and fizzing began and smoke came out of my nose and mouth. Literally everyone looked like they were smoking. The end of the meal included signature rose petals with the name El Cielo on them placed in our hands with cream. We cleaned our hands with this natural rub.
I have never in my life experienced such a divine feast for all senses. This dining extravaganza in Medellin, Colombia is something I hope comes to LA soon.
El Cielo
(57-4) 2683002
Carrera 40 – N 10a – 22
Note: My Colombian friend in LA said I must try the following:
*Juice called maracuya con lulo! I drank this just about everyday as well as strawberry juice, papaya juice, mango juice, and my favorite coconut lemonade.
*Soup called Ajiaco (reminded my of my great grandmother's chicken soup, but this had potatoes and a chunk of corn) or Sancocho
*For a snack, she said to have Oblea con arequipe sold everywhere on the streets.
*Churros from the churro stands. I loved the hot fried ringlets and balls.
I also tried the traditional Medellin meal which consisted of sausage, eggs, rice, plantain, avocado, a pork product called chicharron, and beans.
Other incredible dining locations you may wish to try our In Situ  situated in the "Joaquin Antonio Uribe" Botanical Gardens, Bijao surrounded by a small area of over 20 restaurants and bars, Bonuar next to the Modern Art museum (MAMM), the 770 Restaurante with breathtaking twinkling nighttime city views, or Restaurant La Montanita which specializes in Colombian food, located in Santa Elena in a fancy hotel on the water.
RELATED POSTS: The Artist Botero in Colombia
Save