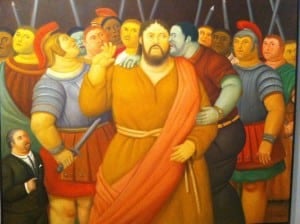 The Botero Collection is the main exhibit at the Museo de Antioquia containing 108 paintings in different media by Medellin's own Fernando Botero. Twenty-three monumental sculptures surround the Plaza Botero, a wide open expanse facing the museum's main entrance. The Museum of Antioquia is considered the second most important museum in Colombia. This art deco building was once the City Hall, but since 2000 it has been a museum.
Botero was influenced by the Renaissance painters and copied the Spanish and Italian masters. He chose to paint people and objects as rotund or voluminous, which he states he did because of the sensual aspect, not because he has any interest in fat people for the sake of fat people.  The facial features are often painted quite small pronouncing the large scale.
At age 12 Botero was enrolled in bullfighting school. His parents designed and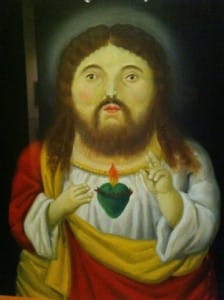 manufactured clothes. Botero learned loose brushstrokes in NYC from the Abstract Expressionists. During the 1960's several major museums showcased his exhibits. Most of his pieces are large scale oil paintings and often show full body portraits, such as the artists Cezanne or Velazquez.  Often you see people painted that are peeping in through a window in the background. He painted his mother in his king and queen portrait popping out of a window/door since she was not able to see them in real life. In one painting we see Botero himself in the left corner. I often wonder if his style is a reflection of his own body type.
Since Colombians are very attached to the church, his Passion of the Christ exhibit on one whole floor is very important. The same topic and themes of the great Renaissance masters are the same themes displayed here. The crucifix and Catholic religion use to be a popular theme. Botero wants to continue to do things that nobody does.
The exhibit will tour and become more well known as other countries, like Italy and Spain, have asked to showcase the collection. Botero today is in his 80s and lives in Monte Carlo, although he has homes in Paris, Italy, and Medellin.  He has three sons and one daughter.
Another museum you may want to visit in Medellin, Colombia is the Museum of Modern Art (Museo de Arte Moderno) founded in 1978 which showcases different artistic and cultural manifestations.  It is also a space for meetings and a gallery for contemporary practices for renowned national and foreign artists.  I enjoyed an exhibit showing what blind people felt is beauty written in their own words in French. Another interesting exhibit included a break-up in photographs each day as a couple parted ways due to the girl moving to Japan to study. The girls documents the time lapse until she moves. Head next door to this fantastic lunch spot called Bonuar that overlooks some incredible street art.
Part of experiencing a culture is learning about their art.
"An artist is attracted to certain kinds of form without knowing why. You adopt a position intuitively; only later do you attempt to rationalize or even justify it." – Fernando Botero
RELATED POSTS: Where to Eat in Medellin, Colombia