A string of small suburban Pacific Northwest outposts merges farm country with hip havens.
What lies beyond fabled Portland, Oregon? To the west, a gorgeous, thriving agricultural county called Washington—aka the Tualatin Valley—and its dozens of trendy and eclectic settlements where techies shake hands with the entrenched old-timers. Portland gets most of Oregon's tourism love, but this is where you can get away from it all in true bearded Beaver State style. A short ride in a train, bus or car (which, out there means Zipcar) presents a canvas of swaying douglas fir evergreens, we've-been-at-this-for-a-while-now craft breweries, a sake factory, a Grateful Dead-encouraged family resort, beguiling international and local cuisine options, and ultra-polite drivers…all merging to form a far-fetched underdog vacation destination that still keeps Portland's airport close. Not everyone is on vacation here, however, as Nike and Intel have firm footings. You'll chat with that set at happy hour.
At the center of this pastoral universe is Forest Grove's historic McMenamins Grand Lodge, where the absence of TVs and psychedelic paraphernalia turns your focus toward an unending tide of American-style bacchanalia including sculptures, displays, fanciful art, and photos. This former Masonic rest home—converted into a sprawling one-stop-shop down-to-Earth resort—has rooms named after esoteric musicians, artists, writers, and books. The Grateful Dead-inspired McMenamin brothers are legends in Oregon, with trippy hotels, festive pubs and busy music venues. The family might be what the Rockefellers are to New York, except McMenamin mode is chiefly about hedonistic purity—namely booze, food and hospitality. Thousands of Dead concert posters and ephemera charm their locations. Co-founder Mike McMenamin talks about the impact the band has had on him and his family-owned businesses with stars in his eyes. There's a Jerry Garcia guest room at Grand Lodge.
The inviting Bites Restaurant is emblematic of Forest Grove's laid-back atmosphere. Their Asian fusion menu humbly unfolds the category with options like kimchi fries and ahi guacamole. Add magic potions from neighborhood breweries and wineries and you've got a hit. Nearby, stripped-down-to-the-basics Waltz Brewing, a resurrected auto shop cum 21-tap taproom showcases a diversity of craft brews ranging from 12% porters to—you got it—zesty IPAs. Whether imbibing via flights or pints, enjoy—and make requests of—their kaleidoscopic record collection, from crooners to metal. Although a rarity these days, it's always telling when a bar happily pairs Millennials with old-timers; mission accomplished at this fabulous joint. Maggie's Buns (hey, get your mind out of the gutter!) is a homey baked-goods café that's a popular hangout for students and faculty of down-the-block Pacific University (a Mecca for optometry that's always been popular with Hawaiians).
Further on down the road, Banks Bicycles (in Banks, OR) is more than a repair and rental place. The owners, a married couple who were golden before their golden years, will make you rethink the single life. Family-owned businesses like this, where rushing is not an option, also might make you reconsider the coastal hustle lifestyle. The shop is also the trailhead of the 21-mile tree-lined Banks-Vernonia State Trail, a former railway passage that includes towering pines, fields of wildflowers, and stream and river crossings.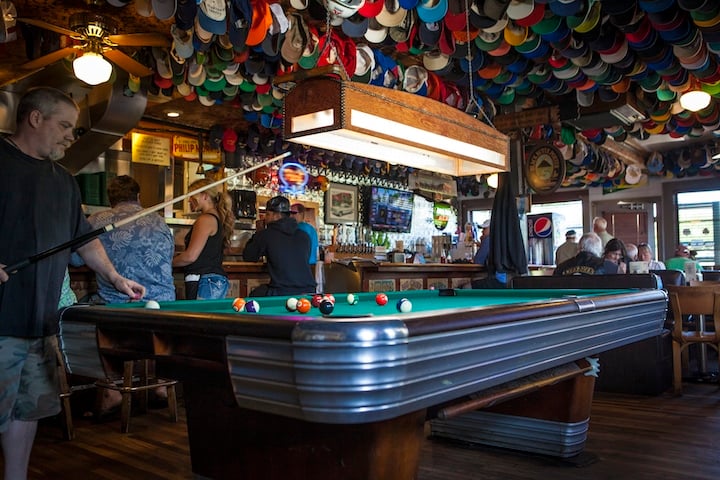 One of Oregon's culinary examples of tough love is the Tualatin Valley's Helvetia Tavern, a friendly dive bar/burger joint consumed by universe of overhead baseball caps and a sign above the kitchen door reading: THIS IS NOT BURGER KING. You don't get it your way. You take it MY WAY or you don't get the SON OF A B—H! Great, quirky joint where farmers and techies mingle.
Back in Forest Grove, the multicultural odyssey in Washington County continues with a visit to SakéOne for an intriguing tour and tasting of the world's first American-owned and -operated brewer of craft saké. Their four brands of rice wine never tasted so good. A blink of the eye and suddenly you're at Peru-inspired Yellow Llama, where the fabulous staff (the Peruvian-born co-owner is also a competitive bartender), pisco sours, and home cooking transcend the blah of franchise food. Need one more crafty brew? Head down the block to the clean and well-lit Ridgewalker Brewing Company.
A Tualatin Valley visit doesn't have to be all calories. Rice Northwest Museum of Rocks & Minerals in Hillsboro is the otherworldly rocks hall of fame. A 1953 ranch-style house cum private museum (and Smithsonian affiliate on the National Registry of Historic Places) has one of the world's finest collections of rock art: crystals, fossils, meteorites, petrified woods, fluorescents, and picture jaspers. Go. Also in Hillsboro is Salam Restaurant, a tempting stop for Lebanese and Persian cuisine; hello Middle Eastern pizza.
On your way back to Portland, the World of Speed Museum is, simply put, a mood enhancer—especially for those with a need for speed. Rotating exhibits include ballsy cars (duh), with Corvettes soon giving way to Porches. A timeline of speed record-holder tributes starts with 39.24mph (France) and ends with 763mph, the latter accomplished by a jet on wheels. The motorsports museum's fabulous Wall of Sound celebrates Hollywood's connection to motor sports where movie posters, album covers and a relic juke box arouse memories and smiles. Historic racecars and motorcycles also tell the story of America's love affair with speeding in style.
(PS: Move over Colorado: Oregon also has dandy cannabis dispensaries.)
If you stop in Portland…
On the way to Tualatin Valley, you might as well also hang your hat in Portland for a night or two. Here are some great options:
---
For more on Oregon's Tualatin Valley, visit tualatinvalley.org. Several of its towns are commuter friendly to Portland with between 15- and 45-minute commutes. All of these towns stand on their own as cool places.