Greetings! Today's a great day. It's my sister's birthday and more importantly, my 92-year-old dad is getting his first dose of the vaccine in Florida. He was so excited to tell me and I'm even more excited than him since he's been pretty much alone for the last nine months and the worst part is that he can't see or hear well. Before the pandemic hit, I was visiting him, on average, every three weeks but I haven't seen him since February (the last time I was on a plane). Let's hope my wife and I get our vaccines soon so we can go give him a big hug.
Here's a roundup of all the travel news from the week:
Federal Aviation Administration Adopts Stricter Unruly Passenger Policy
Effective immediately: The FAA will pursue legal enforcement action against any passenger who assaults, threatens, intimidates, or interferes with airline crew members. This policy will be in effect through March 30, 2021. Passengers who interfere with, physically assault, or threaten to physically assault aircraft crew or anyone else on an aircraft face stiff penalties, including fines of up to $35,000 and imprisonment. This dangerous behavior can distract, disrupt, and threaten crewmembers' safety functions.
Air Travelers to US Must Show Negative Coronavirus Test
CDC says that "air passengers will be required to get a viral test within three days before their flight to the United States departs, and to provide written documentation of their lab results, or documentation of having recovered from Covid-19." This is going to make trips more of a hassle and expensive but it's the right thing to do. Here's more.
Airbnb to Block and Cancel D.C. Reservations During Inauguration
In response to various local, state and federal officials asking people not to travel to Washington, D.C., Airbnb is announcing that they will cancel reservations in the Washington, D.C. metro area during the Inauguration week. Additionally, they say they will prevent any new reservations in the Washington, D.C. area from being booked during that time by blocking such reservations. Guests whose reservations are canceled will be refunded in full. Airbnb will reimburse hosts, at Airbnb's expense, the money they would have earned from these cancelled reservations. HotelTonight reservations also will be canceled. Here's the full press release.
AA & Delta to ban checked firearms, increase security on flights to DC
Starting this weekend, Delta Air Lines CEO Ed Bastian said the airline will ban passengers traveling to Washington, D.C., from checking firearms as part of increased security measures ahead of the inauguration. (USA Today)
AmericanAir also adding restrictions ahead of the Presidential Inauguration.  AA will not allow the transport of firearms in checked bags on flights into D.C. area airports (BWI, DCA and IAD) from Jan. 16 through Jan. 23, 2021. (@Krrisvancleave)
Delta Bans Passengers That Harassed Mitt Romney
Delta Air Lines has placed the customers who harassed GOP Sen. Mitt Romney on its no-fly list, a Delta spokesperson confirmed. Delta has banned 880 since June for violating the airline's mandatory mask policies. -@MinaKajiABC @GioBenitez
US borders with Canada, Mexico to remain closed through Feb. 21
America's borders with Canada and Mexico will remain closed for another month. The Department of Homeland Security announced via tweet Tuesday that the U.S., Canada and Mexico have agreed to keep the borders closed through at least Feb. 21 as the COVID-19 pandemic continues to worsen. (USA Today)
New Testing Requirement Forces Hundreds To Miss Flights
Canada's new COVID-19 testing requirement for international travellers has caused hundreds of people to miss flights in just the first week of the program's rollout. Under the new restrictions, all passengers flying to Canada from another country must show proof of a negative COVID-19 test taken at most 72 hours prior to departure. (Travel Industry Today)
Norwegian Air to stop long-haul flights
Norwegian Air plans to close its long-haul operation and focus instead on a scaled-down European business as it seeks to contend with the coronavirus crisis and complete its debt restructuring, the budget carrier said today. The plan is subject to approval by an Irish bankruptcy court. It would cut Norwegian's fleet to about 50 aircraft from the existing 140, the company said. (Airlive.net)

United Delays Return to New York's John F Kennedy airport
"Due to new travel restrictions and the continued impact of Covid-19 on customer demand, we are delaying the start of our service between New York's JFK Airport and our hubs in San Francisco and Los Angeles until February 28, 2021," the airline says. (Flight Global)
Disney World Will No Longer Offer Free Airport Shuttles to and From Park Hotels as of 2022
Walt Disney World will no longer offer its hotel and resort guests free shuttle services to and from Orlando International Airport as of Jan. 1, 2022. The announcement, made on Disney Parks Blog, shares that the Disney Magical Express coaches will run through 2021 for both new and existing resort customers before the option is retired on New Year's Day. (MSN)
Best Credit Cards For Dining, Restaurants, Takeout & More 2021
One of the easiest ways to earn rewards is to use a credit card that has bonus points for restaurant purchases. As we move into 2021, some restaurants may be open at a limited capacity but still offer curbside pickup, takeout, and delivery, depending on where you are. Whether you're eating in a restaurant or are ordering food delivery more regularly, this post is about the best credit cards for earning dining rewards.
How To Virtually Meet Your Favorite Celebrity
Here's an idea that you'll wish you had come up with since it's a win-win for everyone. And it's especially welcome during the COVID-19 pandemic, since not many people are traveling and too many people are lonely. It's a great way to make someone's day – whether it's a special occasion or just a way to make someone smile. The site and app lets fans book personalized video shout-outs from their favorite celebrities – from actors, musicians, sports stars to even content creators (they even invited me to be on there too, which was an honor). Here's how to give your loved ones the most memorable present ever!
Dr. Fauci on How to Survive This Pandemic
How do we put this pandemic behind us? Follow Fauci's fundamentals and help end this surge, no matter where you live—wear a face mask, social distance, avoid large crowds, don't go indoors with people you're not sheltering with (especially in bars), practice good hand hygiene and get vaccinated when it becomes available to you, to protect your life and the lives of others. (MSN)
The Tourists Who Believe Travel Restrictions Don't Apply to Them
The past month has seen a slew of high-profile cases of tourists getting in trouble for breaking the rules while on a sun-and-sand vacation. (CNN)
WTTC Says Unvaccinated Travellers Should Not Be Discriminated Against
Gloria Guevara, WTTC President & CEO, said: "WTTC wholeheartedly supports the testing on departure of all travellers to ensure passengers can prove they are COVID-19 free and thus avoid the spread.  "It will take a significant amount of time to vaccinate the global population, particularly those in less advanced countries, or in different age groups, therefore we should not discriminate against those who wish to travel but have not been vaccinated."
TripIt Pro Extends Subscriptions
I just received this email: "We have extended your TripIt Pro subscription for an additional 6 months at no cost to you."
Jeff Zucker Shutters CNN Airport Network, Cites COVID-19
CNN boss Jeff Zucker on Tuesday said that the cable giant is shuttering its CNN Airport Network, which plays exclusively on TVs in airport lounges across the US. The network, launched 30 years ago, will close up shop on March 31, Zucker wrote in a memo to staff, citing a "steep decline" in usage due to the COVID-19 pandemic, as well as the fact that more travelers now get news from their smartphones. (NY Post)
Flight Attendant Union Wants Pro-Trump Rioters Barred From Flights
"The mob mentality behavior that took place on several flights to the D.C. area yesterday was unacceptable and threatened the safety and security of every single person onboard," said Sara Nelson, president of the Association of Flight Attendants-CWA, which represents some 50,000 cabin crew members at United, Alaska and more than a dozen other carriers. (CNBC)
From "Nazi" to Pro-Trump Chants: Airline Crews Harassed Over Mask Rules
Flight crews are on the front lines of America's latest culture war: wearing masks. But even as some travelers are increasingly belligerent — even hostile — to these rules, leaders are optimistic that the new Biden administration will set the example from the top and shut down opposition. (Skift)
United and JetBlue joins American Airlines, Alaska Airlines, and Delta Air Lines
The change comes after the Department of Transportation revised the Air Carrier Access Act to narrow the definition of what a service animal is. It now makes it clear that untrained emotional support animals don't qualify. (Travelmole)
WestJet Lays Off 1,000 Workers. Blames 'incoherent' policy
The CEO of WestJet Airlines Ltd. is laying the blame squarely on "incoherent" policy from Ottawa as his carrier cuts staff and flights in response to new COVID-19 testing requirements for passengers returning to Canada. (Travel Industry Today)
Will the Tokyo Olympics Actually Take Place This Year?
Now, with Tokyo's rising coronavirus infection numbers pushing it into a new state of emergency, and public support staunchly against holding the games, it's reasonable to wonder if they will actually take place even in 2021. (Quartz)
Woman Killed in New Zealand shark attack
Kaelah Marlow, 19, was attacked by a great white shark off the shore at Waihi Beach on New Zealand's North Island. (Travelmole)
Pope's Personal Doctor Dies from COVID-19 Complications
Pope Francis' personal doctor, Fabrizio Soccorsi, has died as a result of "complications due to Covid," the Vatican's newspaper L'Osservatore Romano announced on Saturday. (CNN)
Ryanair Boss Michael O'Leary Says Airline's Flights Have Collapsed
The airline's boss said the company would operate 'around ten or 20 flights a day' compared to the 'normal 2,000' from January 21 amid the country's new travel restrictions. (Daily Mail)
First Qatar to Saudi Flight Takes Off After Thaw in Relations
Saudi Arabia, the United Arab Emirates, Bahrain and Egypt cut diplomatic and trade ties with Doha, and imposed a sea, land and air blockade on June 5, 2017. Air travel between Qatar and Saudi Arabia resumed on Monday, according to the countries' airlines, a major step as the former rivals normalize ties under a landmark agreement signed in the first week of January. (Al Jazeera)
This Week's Travel Contests
Who doesn't love the chance to win a contest … especially when it has to do with travel? I've rounded up the best travel contests that are currently running. Check them out here.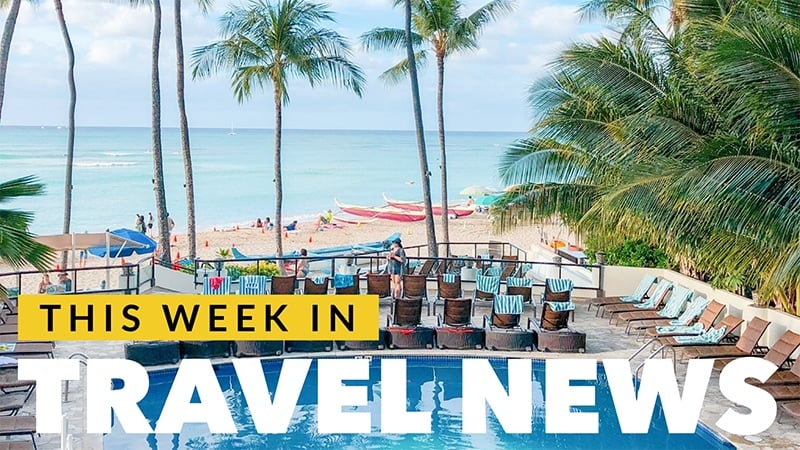 Airline and Airport News:
Cruise News:
Domestic News:
International Travel News:
Hotel and Lodging Travel News:
Miscellaneous Travel News: