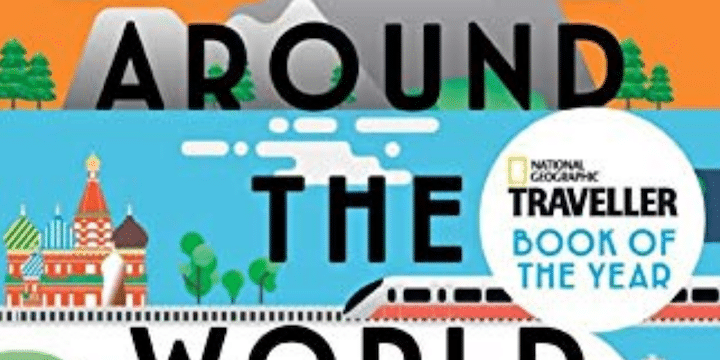 There's no doubt that train travel is on the rise and will continue to get popular as people commit to the climate movement. I've been fortunate to travel on trains all around the world, including on some really plush ones like the Eastern Oriental Express from Bangkok to Singapore, The Ghan from Darwin to Alice Springs in Australia, and The Pullman from Chicago to New Orleans. Another of my most memorable train trips (which wasn't plush) was the ride from Delhi to Agra on the Shatabadi Express.
Of course, there are many more cool trains than just those, many of which are featured in an interesting train book published last month. In "Around the World in 80 Trains: A 45,000-Mile Adventure," author Monisha Rajesh writes about—believe it or not—a 45,000-mile journey around the world on which she rode 80 different trains. The book has been praised by National Geographic, among others.
"Around the World in 80 Trains: A 45,000-Mile Adventure" by Monisha Rajesh by  ($14.18 on Amazon)
Here's the book's description direct from Amazon:
"When Monisha Rajesh announced plans to circumnavigate the globe in eighty train journeys, she was met with wide-eyed disbelief. But it wasn't long before she was carefully plotting a route that would cover 45,000 miles – almost twice the circumference of the earth – coasting along the world's most remarkable railways; from the cloud-skimming heights of Tibet's Qinghai railway to silk-sheeted splendour on the Venice Simplon-Orient-Express.
"Packing up her rucksack – and her fiancé, Jem – Monisha embarks on an unforgettable adventure that will take her from London's St Pancras station to the vast expanses of Russia and Mongolia, North Korea, Canada, Kazakhstan, and beyond. The ensuing journey is one of constant movement and mayhem, as the pair strike up friendships and swap stories with the hilarious, irksome and ultimately endearing travellers they meet on board, all while taking in some of the earth's most breathtaking views.
"From the author of Around India in 80 Trains comes another witty and irreverent look at the world and a celebration of the glory of train travel. Rajesh offers a wonderfully vivid account of life, history and culture in a book that will make you laugh out loud – and reflect on what it means to be a global citizen – as you whirl around the world in its pages."