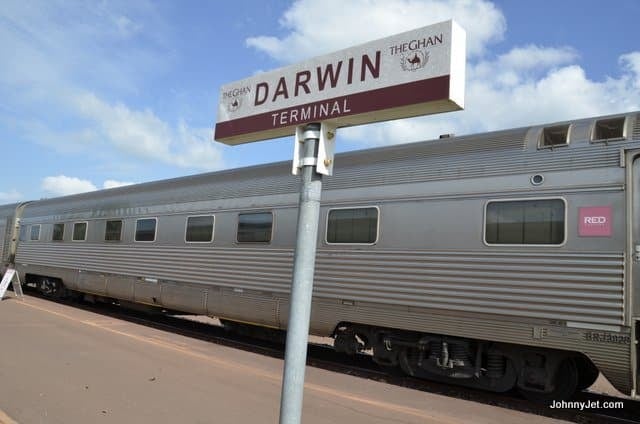 I wanted to ride Australia's The Ghan the moment I learned it's one of the world's great train rides. And, last October, I had my chance and it was an experience I will never forget.
The inaugural journey was in 1929 but the route back then only went from Adelaide to Alice Springs. It wasn't until 2004 that the track was extended all the way to Darwin. That's where I picked it up. The length of the whole journey is 1,846 miles (2,979 km) and it takes two nights and three days. Along the way there are 'Whistle Stop' Tours in Katherine and Alice Springs of approximately four hours each. It allows guests to explore the destinations and stretch their legs.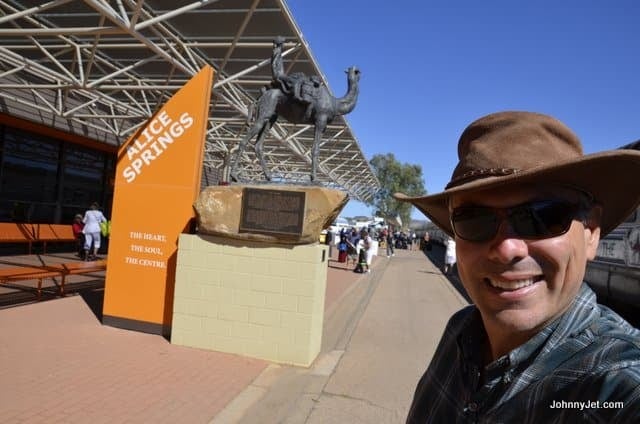 Some travelers end their journey after only one night in Alice Springs so they can explore The Outback (like Uluru which is 270 miles away) then jump back on the train a few days later or a week. Or they can rent a car and drive or fly to another destination. I did the latter since I was pressed for time. Good to know: There's two trains a week except during the wet season (September – March) then there's only one train a week.
The length of the train varies. Sometimes it's a single train with 16 carriages (1,545 feet or 471 meters) or a double train with 26 carriages (2,329 or 710 meters) plus the locomotive and motorail. The speed of the train generally goes 52.8 mph (85 km/ph) but can travel up to 71.5 mph (115 km/ph).
Note: Most services operate as double trains and during peak season (April-November) and there sometimes even triple trains like on my October trip. We had 33 carriages including the two locomotives.
A private company owns The Ghan (It's the same company that own all the country's prisons). The Ghan is modeled after Canada's famous Rocky Mountaineer and it has the same classes. There are three types to choose from:
Red Service: The most economical which has two-abreast reclining chairs.  There's overhead luggage racks for carry-ons, a bathroom with shower are available at the end of your carriage and travel pillows and blankets available for purchase. Guests are allowed to check in a maximum of 40kg (80lbs) of luggage free of charge (two items not exceeding 20kg each). Checked in luggage cannot be accessed during the journey.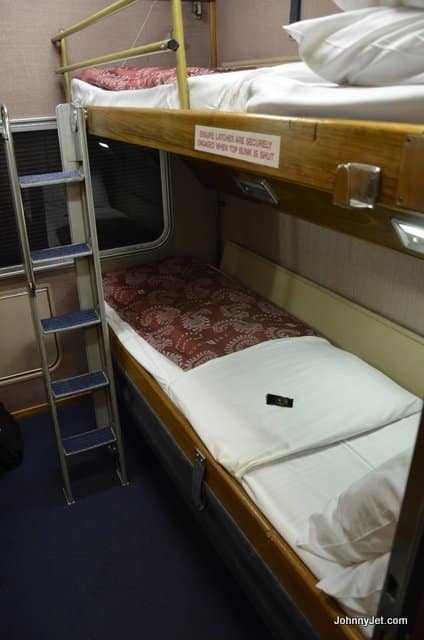 Gold Service: During the day, the compact Twin Berth Sleeper Cabins offer a comfortable three-seat lounge, converting to bunk beds at night. There's a hide-away compact toilet, sink and small shower. It includes all meals in the dining room and guests are allowed 50kg (100lbs) of checked baggage.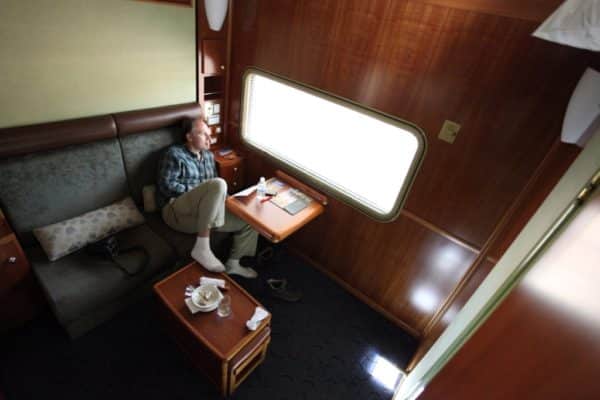 Platinum service: There's only 25 Platinum cabins and they come with a large cabin which converts at night to a double or twin beds, have a separate bathroom and shower, and an oversized panoramic window to see the ever-changing Australian landscape. What's nice is in this cabin you can enjoy views from both sides of the train, as it features an additional interior window. Platinum Service also includes all meals, a cabin steward, complimentary nightcap and turn down service provided nightly. Guests are allowed to check-in a maximum of 75kg (165lbs) of luggage free of charge (three items not exceeding 25kg each).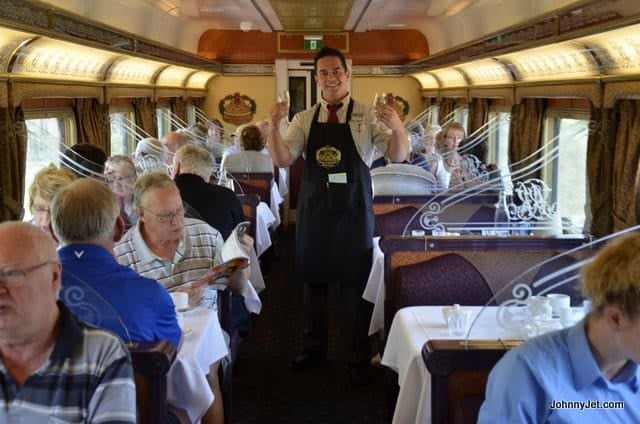 Platinum and Gold Service guests dine in their classically styled Queen Adelaide Restaurant Car. Each meal offers a choice of fine food, prepared by on-board chefs. Their seasonal menu features dishes such as saltwater barramundi and grilled kangaroo fillet.
I got lucky since I was friends with the PR person and got upgraded from Gold to Platinum. It was introduced in 2008 and it made me not want to get off the train after one night. I didn't sleep much even though the bed was comfortable and sheets soft, but I was took excited about traveling through the Australian Outback. I slept with shades open so I could try and see stars (surprisingly there weren't that many). Tip: Put the hangars on floor so they don't rattle.
Here's my The Ghan video.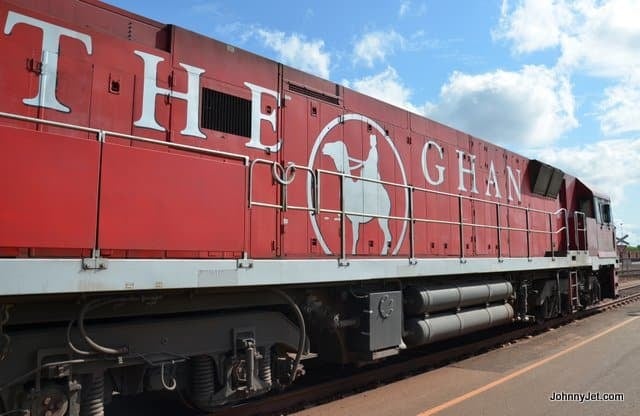 Good To Know:
The Ghan's symbol is a camel and its handler in recognition of the pioneering Afghan cameleers the train is named after.
Around 60,000 people travel on The Ghan each year.
In Katherine I chose the tour to the gorge which was a 30 minute bus drive and a 1.5 hour tour.
There's not a lot of storage space and you can't access checked bags
The service isn't that great as we had to wait for breakfast 50 minutes and coffee wasn't offered.
There's no internet and cell service doesn't work except in whistle stops.
Saw young people playing cards. When was the last time you saw that?
You can hire a private carriage to yourself.
There are approximately 25 staff working on the average service of The Ghan (we had 33). This includes two chefs in each restaurant.
Some food fast facts; 70,288 dinner rolls, 3,645 gallons (13,800 litres) of milk, 69,000 eggs, 1,579 gallons (5,980 litres) of soup and 6,900 spears of asparagus are consumed on The Ghan each year.
RELATED: The Ghan experience wasn't nearly as plush as my trip on the Eastern Oriental Express (story | video), but it was a lot smoother.