I've been fortunate to ride trains all around the world, from Amtrak's Acela along the eastern corridor of the United States to the Eastern Oriental Express in Southeast Asia to The Ghan in Australia, and many trains in-between (including all throughout Europe). So when Pullman Rail Journeys invited my wife and I to experience a rail journey that is uniquely American, we jumped at the chance. Pullman Rail Journeys began in November of 2011 after years of planning, research, and acquisition of historic rail equipment. They advertise that their cars take passengers back to the golden age of train travel when the journey was as important as the destination. Sounds too good to pass up, right?
Pullman offers a once-weekly roundtrip itinerary between Chicago and New Orleans and seven roundtrip departures between Chicago and Denver. We took the Chicago to New Orleans route. Here's more about our 19.5-hour journey: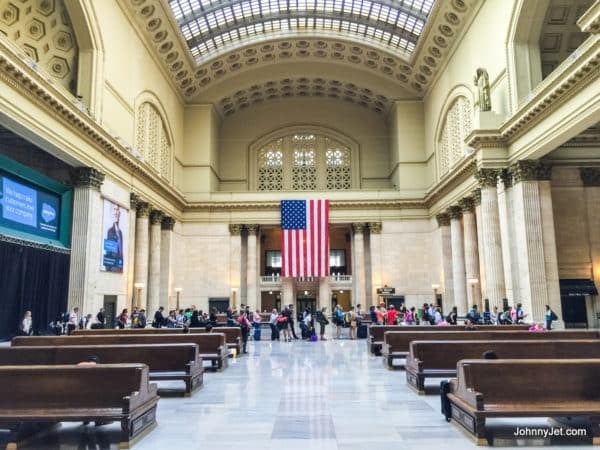 Chicago's Union Station
The train leaves from Chicago's Union Station, which is located right smack in the middle of the city. Natalie and I walked from the new Hyatt Centric and it took just 10 minutes.
Tip: Download the free app Rome2Rio for directions.
Pullman lounge at Union Station 
Union Station opened in 1925 and today is still beautiful. We showed up about an hour before our 8:05 pm departure. There weren't any signs for Pullman but after asking a couple of Amtrak employees, we were directed to the back of the station to Amtrak's business class and sleeper car passenger lounge. In there, you'll find a sign for Pullman Rail Journeys, their porter, and a small section of the lounge warded off. The lounge is pretty basic (see above) but they do have coffee, tea, and a soda machine along with some potato chips. There's also free Wi-Fi and a few electrical outlets.
Tip: Don't eat the chips because you'll be served a meal right after boarding the train.
Amtrak and Pullman Rail Journeys
I learned that on our ride down from Chicago, there would be 16 passengers and two Pullman cars. One car was for sleeping and the other was for dining. Pullman trains are pulled by Amtrak's regular service to New Orleans and on our trip, Amtrak had seven cars (the number of cars depends on the number of passengers). Amtrak backs into the stations so Pullman passengers have the shortest walk to and from the station in Chicago and New Orleans.
Tip: There is no walking between Amtrak and Pullman's cars during the journey as the doors don't match up.
Luggage
When you check in at the station, Pullman employees will tag your bags and have them delivered to your cabin so they're waiting for you when you arrive. The cabins are small, and our two small bags barely fit. There's not a lot of storage—just a little space under the bottom bunk (our cases wouldn't fit) and the shelf on the top, which was too small (plus the train is bumpy so it's probably not that safe to have your suitcase up there; you don't want it crashing down on you). If you have large bags, Pullman will store them for you. I recommend packing just a small overnight bag for your cabin and having them store your bigger bags.
Dinner
The train departed just a few minutes late and pretty much everyone went right to the dining car to get a drink. The tables on the right side of the train were all beautifully set for four people each. The left side didn't have tablecloths, so that's where everyone sat before dinner. Unless you have four people in your party, you can expect to sit with another couple, group, or singles. And I'd choose wisely, because once you choose your table and seatmates you pretty much stick with them the rest of the way (at least that was the case on our trip). We sat next to a cool Belgian couple whose company we really enjoyed, but everyone on the train was friendly so there wouldn't have been a bad choice on our trip.
Food and beverage, including alcoholic beverages, are included in the price of your ticket and on the way to New Orleans, you get three meals. The food is decent and in the tradition of Illinois Central Railroad's "Kings Dinner," a select cut of beef is prepared for all guests as the featured entrée in this three-course dinner, with provisions available for those with dietary restrictions. I had the roast filet of beef tenderloin and Natalie had the butternut squash ravioli. Everyone had a small salad to start, with or without shrimp. Dessert was either cheesecake or a cheese plate. Oh, and on the table to begin with were celery sticks, queen olives stuffed with pimento, gherkins, colossal ripe black olives, and spiced watermelon cubes. Pictures of the food are in the photo gallery below, along with a scan of our menu. The food pics aren't great since the ride was bumpy and the dining car was dark. Not a good combo.
Tip: The train went forward for about five minutes and then backwards. It does this to get on another track before going forward again. Once it goes forward, passengers are treated to a beautiful view of the Chicago skyline.
Dress code
Recommended attire on board is upscale casual. According to their website:
"Dress for Women: Skirts, dresses, dress slacks and pantsuits or dress jeans with a casual yet elegant top are appropriate. Dress for Men: Suits or sport coat with dressy trousers worn with a collared shirt is recommended for dinner (tie optional). At other times, slacks or dress jeans worn with a collared shirt would be appropriate."
The staff
Pullman has four staff members working the Chicago-New Orleans route—a conductor, two waiters and a chef—and all are friendly. I only saw the chef for a minute but he was nice and the other three were very personable.
Bedrooms
Pullman trains have two styles of bedroom and they can't guarantee which one you get. Ours was described as having "a large sofa oriented across the room that comfortably seats two passengers, folds down to reveal the lower berth. The upper berth then folds up above that. The guest choosing to sleep in the upper berth will be required to climb a small ladder." It's a small ladder indeed, and it's not easy climbing—especially if you're a senior or have mobility issues as the train is bumpy and the beds are too narrow to sleep two on the bottom comfortably. The upper berth has a net to prevent anyone from falling out in the middle of the night. At one point we were going so fast (and it was bumpy) I thought Natalie was going to wake up and find me stuck in the net above her like a bunker fish. Here's what the other style of cabin looks like.
Tip: The sleeper car has 11 cabins (crew sleep there, too) and during dinner, the conductor pulls the beds out for guests.
Bathrooms
Each style of bedroom, whether accommodating one or two guests, has a private toilet in an annex located inside the room. Depending on the car, some rooms have the sink inside the annex and some sinks are just outside, but still within the room. These bathrooms are small and they don't have a shower. However, if you're looking for something a little bigger, the dining car has a men's and women's bathroom that are each a tad larger. The only shower is located in the sleeper car at the far end but I was warned by the conductor that it's small. I think only one passenger took a shower and it wasn't me.
Good to know:

Each car has a window that can't be opened except for in an emergency.
There's air conditioning and a small fan located near the top bunk. The switches, just like the car's interior, have an Art Deco design (including for the lights), which is cool. Our car was built in 1947.
There are plenty of electrical outlets (I counted at least seven in our cabin).
Cabins don't lock and if they do, we never locked ours.
Pillows are way too bulky for my taste. Next time I'd bring my own.
Each guest gets a paper bag of toiletries. Inside you;ll find a bar of soap, shampoo, conditioner, body lotion, shoe mitt, mouthwash, and vanity kit.
The train is loud and it's not that smooth so if you want to get some sleep I recommend ear plugs.
Stops
The train follows the Mississippi River but never crosses it, and it makes 17 stops along the way (see list below or Amtrak's timetable) in total. All are just for a minute or two except in Memphis, Tennessee (6:27 am) and Jackson, Mississippi (11:20 am), where stops can be for up to 40 minutes. In those cities, it's up to the porter to let the Pullman passengers out since the cars don't always match up with the platform and some porters are nervous about passengers twisting an ankle. Our porter was cool and he let us out.
Tip: Amtrak pads the schedule by about 30 minutes to allow for delays as cargo trains get the right of way on the US rails.
Stops:
Chicago, IL – Union Station (CHI)
Homewood, IL (HMW)
Kankakee, IL (KKI)
Champaign, IL – Urbana (CHM)
Mattoon, IL (MAT)
Effingham, IL (EFG)
Centralia, IL (CEN)
Carbondale, IL (CDL)
Fulton, KY (FTN)
Newbern, TN – Dyersburg (NBN)
Memphis, TN – Central Station (MEM)
Greenwood, MS (GWD)
Yazoo City, MS (YAZ)
Jackson, MS (JAN)
Hazlehurst, MS (HAZ)
Brookhaven, MS (BRH)
McComb, MS (MCB)
Hammond, LA (HMD)
New Orleans, LA (NOL)
Breakfast
Breakfast is served between 7 am and 9:30 am. Only a few passengers got up and walked around when we arrived in Memphis (6:27 am). Then everyone slowly made their way to the dining car for breakfast. That's where I learned that half of the passengers had slept the night before and the other half hadn't. Natalie didn't sleep a wink while I slept for almost three hours. I only got some shuteye after putting earplugs in around 3 am.  Why I didn't do that earlier, I don't know.
Again the dining car was beautifully set and the sunlight made it even more attractive. Here's the menu on Pullman's website (different than ours). I had the French toast with bacon while Natalie had eggs sunny-side-up and sausage. There were multiple choices, which you can see in the photo gallery below. Everyone gets a small bowl of fruit.
Wi-Fi and cell service
Most passengers stayed in the dining car since it has views on both sides and is much more spacious than the cabins. I had work to do so I tried unsuccessfully to log on to their Wi-Fi—as did the other six passengers that were interested in it. The signal was there, but we just couldn't log on. Fortunately, cell service is available most of the way (it cuts in and out) and I was able to tether my iPhone to my laptop to download emails.
Scenic car
The views from the scenic car really started getting interesting when we reached Mississippi, and even better once we crossed over to Louisiana. Everything was so green and it was pretty darn cool to see all of the small towns and get a flavor of life down there. Once you get to Louisiana and go along the Bayou, start looking for alligators in the swamps. I didn't see one but a passenger next to me did and the conductor says he usually does each time.
Outdoor platform
Thanks to our Belgian friends for alerting us that the very back of the scenic car has an open-air outdoor platform that's perfect for getting some fresh air and taking in the incredible views. If you ride with Pullman, don't miss it.
Tip: Even on the open-air platform, there's no smoking allowed anywhere on train.
Lunch
Lunch is served around 12 pm and the menu Pullman has on their website is the same menu we we offered. I chose the grilled cheese while Natalie had the Caesar salad. For dessert, I had a bowl of berries and one of their homemade macadamia and white chocolate chip cookies.
Nap time
After lunch we had just a few hours before arriving in the city of New Orleans. I did some more work, soaked in the views and took a quick nap on my bed (I asked the conductor not to fold up our beds, which he usually does during breakfast).
Tipping
Inside the bag with the toiletries is a little envelope, which provides information about Pullman's tipping policy—which matches the advice provided on the website: "Tipping is a personal decision and should be rewarded for quality service. Our Porters and Waiters greatly appreciate your generosity. You may give your tips to the Pullman Conductor at the end of your trip or choose to tip individually during your journey as you are inclined. Following are some guidelines to help you understand customary tipping practices while on your Pullman Rail Journey:
Pullman Porter—A tip of $15-$20 per traveler, per night depending on the attention received and the quality of the services rendered.
Dining Car Waiter—A tip of $3-$5 per traveler, per meal. (The retail value of the food and beverage service provided on an overnight Pullman train averages $120.)
Lounge Car Attendant—A tip of $3-$5 for each day or evening of beverage service.
New Orleans arrival
When we arrived in New Orleans, the conductor warned us that the taxi line could be long (around 90 minutes). But luckily our train car was the closest to the station so no one had to wait long for a taxi. I ordered an Uber to go the mile to the Ritz-Carlton, New Orleans since it was really hot and threatening to rain. I'm glad I did because we had the coolest driver ever. He was an actor and went to school at USC. When I find his card, I will scan it to give him some love. UberX is so cheap! Our ride cost $8 total. Here's more on my love for Uber and my code to get $20 off your first ride.
Pullman experience
Natalie and I really loved our Pullman experience even though we didn't sleep much and aren't train fanatics. However, we were happy that we only went one-way because it's not easy to sleep. Next time I'll come better prepared by bringing a softer pillow and putting my earplugs in right when I go to bed.
Pullman Rail Journeys prices vary but start at $589 one-way and are per passenger, double occupancy. More information can be found at TravelPullman.com or you can email one of my travel agent partners, Royal Travel, specializing in luxury travel at kthornton@royal-travel.com.
My previous train travel posts:
Johnny Jet contributor posts on train travel
More photos: