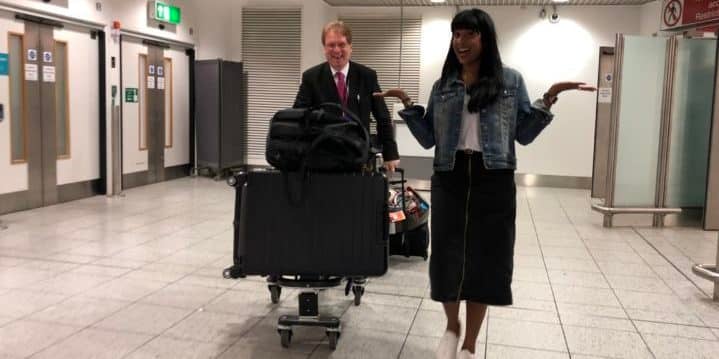 Have you ever seen a celebrity get whisked through airport security or escorted effortlessly off the plane and through immigration? I see it all the time because I travel through LAX often and for the most part I'm pretty observant.
Most of time, no one even notices the celebrities because they usually get on the plane last and get off first. That's why many of them sit in this seat. It turns out that the celebrities use a service like Blacklane PASS, which I tried out twice this past week. (Full disclosure: They gave me a promo code to experience the service for free but my third-party escorts didn't know.) I also set my mother-in-law up with it because she was flying separately to meet us in London and she doesn't travel internationally that often so understandably gets a little nervous about getting from point A to point B.
You'll want to use Blacklane PASS if you don't like waiting in lines and want to be treated like a VIP. It's great for business travelers, families who need an extra helper, single parents, the elderly or people who don't travel very often and are nervous travelers. To use it, just go to pass.blacklane.com. Choose the services you want: Departures, Connections and/or Arrivals. The service is available in over 500 airports worldwide so chances are it's available where you're going.
Here's how Blacklane PASS works and why you want to use it:
Departures
The Blacklane PASS Concierge will be waiting for you curbside to help you with your bags. Then they will escort you to check-in. Even if you're flying in coach, they can usually check you in at First Class or a special counter and help you select your seat. Then they will fast-track you through security, immigration and customs clearance so you don't have to wait in any long lines. They will even help you with duty-free shopping and get you any available discounts. If you don't have lounge access with your credit card or frequent flyer status, there's also an option to buy access (usually $50 per person). Finally, they will escort you to your gate and make sure you board on time and with a minimal wait.
FYI: The Blacklane PASS Concierge will liaise with your driver or you to arrange the meeting point so they can be ready when you arrive at the airport. For a more seamless handoff, book a Blacklane car. Here are more details.
Connections
Blacklane PASS is great when making connections as some airports can be daunting and confusing—even for seasoned travelers (ahem, Paris's Charles de Gaulle). Their connection service can handle all types of connecting flights within the same airport: domestic-to-international, international-to-domestic and international-to-international. Just like when you arrive, your Blacklane PASS Concierge will be waiting at your arriving gate, ready to help find your connecting gate, whisk you through security, immigration, customs, and baggage recheck as needed. If time allows, they will escort you to a lounge (entry fee not included) and then to your gate.
Arrivals
If you want to get out of the airport before anyone else, then this is how you get it done, and it doesn't matter if it's your home airport or Timbuktu. Actually, I just checked and Timbuktu (TOM) in Mali isn't one of the 500 airports where this service is available, but of course, not many people are going there…but you get my point. A concierge will be waiting at the gate or right when you step off the plane, then grab your carry-on bags and escort you to immigration where they will fast track you so you avoid any long lines. (Some airports, including those in America, can make travelers wait over an hour.) Then they will take you to baggage claim to get your bags, customs (they can advise you on any tax minimization strategies), and arrange safe ground transportation options that fit your budget and group size.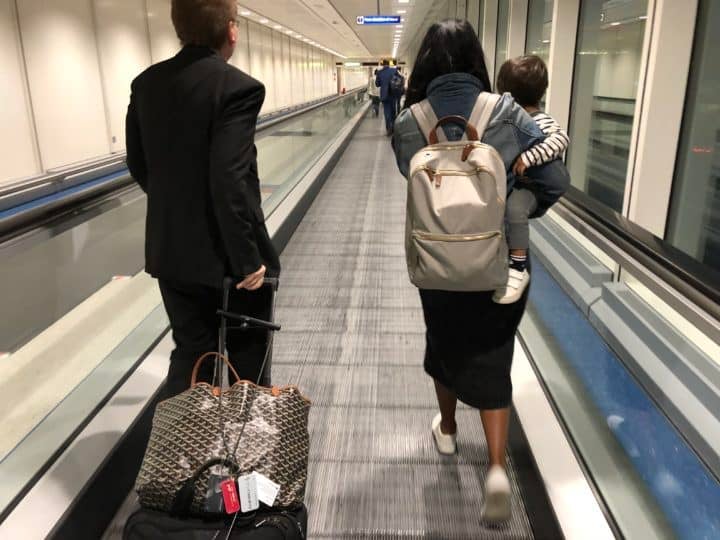 My family and I experienced Blacklane PASS this week in both Bermuda and London Gatwick airports. In Bermuda, our Blacklane PASS Concierge was waiting for us plane side with a sign with our name on it. He went and retrieved our gate checked carseat/stroller (we use this game-changer) and then escorted us past the line and into a private immigration room. We felt like celebrities. He then helped us get our bags off the carrousel. While we were going through customs, he arranged for a taxi that took credit cards, which was waiting for us when we made it outside. It was great, though I wouldn't advise using the service in Bermuda because it's a small and easy airport to navigate and the locals are so friendly.
However, I do recommend it for large airports like London's Gatwick (GTW) and Heathrow (LHR). When we landed at Gatwick, our Concierge was standing in the jetway where all the wheelchairs were, with a sign. So the moment I took two steps off the plane, he grabbed our bags and whisked us through immigration, to baggage claim, customs and out the exit, where our Blacklane driver was waiting. The two of them took our bags to the waiting van so that all we had to do was walk. It felt weird not having to think about what my next move was or where to go.
Prices depend on the airport but $100 per person seems to be the going rate for Departures, Connections and Arrivals services. It's $100 per person for arrival service at LGW and LHR.
The best part was that when we arrived to the apartment we had rented in London, my mother-in-law was there waiting for us (our flight was delayed by 12 hours so she arrived first). When I opened the door, she had this loving smile on her face and said, "Thank you, thank you, thank you!" Blacklane (PASS and chauffeurs) enabled her to make the trip all by herself without a worry. She said that she felt like she had been "celebritized"!
Talk about brownie points, eh?