I visited Catalina Island for the first time with my family last summer and it was an eye-opening getaway for several reasons. First, I couldn't believe how close it was to mainland California. To get there, travelers must take the Catalina Express. The ferry ride covers 26 miles and takes about 70 minutes. It's a fast and easy trip you can make for a weekend getaway or even just a day trip. Plus, the ferry ride got our adventure off on the right foot; the kids loved the excitement of a boat ride and even got to do some dolphin-spotting along the way. So, the ferry ride turned out to be much more than just a mode of transportation – it's an exciting activity in and of itself! RELATED: Destination Guide: Catalina Island

A big thanks to Catalina Express, Visit Catalina and all the businesses that hosted our stay so we could provide this detailed review of our experience.
This year, we traveled to the island on Wednesday, September 28 which turned out to be perfect, weatherwise. Temperatures were in the 70s and the winds were calm. We took the ferry from San Pedro and sat outside on the upper deck of Catalina Express.
FYI: In the off-season, ferries don't run as regularly, just twice a day, so we took the early one which wasn't crowded, except for the outdoor deck.

It's safe to say that we will be making this trip an annual family tradition. Everything about this little island feels just right and like a world away from home. It gives off Mediterranean-meets-Maritime-meets-Caribbean vibes and from the moment you step off the ferry, you're whisked away to somewhere with a totally different sense of place than mainland California. If you haven't been to Catalina Island before, I urge you to add it to your travel bucket list and if you've been, it might be time to return.
Read the Catalina Island Destination Guide we wrote last year with all the details about where we stayed and what we did on the island. Check out other Catalina Island hotels here.

Where to Stay on Catalina Island
This time, we checked into the Bellanca Hotel, which has one of the best locations on the island, just steps from the beach and Avalon Bay. The hotel is newly renovated and has 40 rooms and suites. It's a family-friendly option that was perfect for our stay.
Bellanca re-opened in July 2020 after undergoing a nearly $4 million transformation. The name Bellanca translates to 'beautiful' and 'hip' and was inspired by the location's natural beauty, which you'll see as you walk through the property. Shades of blue, seafoam and rich greens exude nautical ocean vibes and is done to great effect; the overall feeling is calm and tranquil.
The best part of the Bellanca hotel is its location and we were fortunate to be staying in a suite that was in the front of the building, with a great view of the harbor and the beach, directly out front. Our room was plenty large for a family of four, with lots of room for the kids to spread out and these days, that's one of our top priorities when we travel. It's hard to be in a cramped room with two kids who have lots of energy.

In addition to the king size bed and arguably the most comfortable (and quietest!) pullout couch I've ever slept on, our room had a fireplace that could be lit by the flip of a switch, a really nice touch for cool evenings.
The large marble bathroom had a deep soaking tub and a separate shower outfitted with Lather soaps. The room had a microwave and a mini-fridge (both of which are essential with kids!) and a Keurig coffee/tea maker. The room came stocked with four bottles of water but if you need to stock up on more like we did, there's a Vons grocery store within walking distance.

Or, if you like, you can bike to the grocery store … and around the island. The Bellanca Hotel offers guests the use of their signature beach cruisers, subject to availability.
Even if you're not staying at the hotel, Bellanca is a popular stop for visitors and residents because it's home to The Naughty Fox, a modern beach bar serving coastal cuisine, which you can read more about below. Book your stay at Bellanca Hotel here.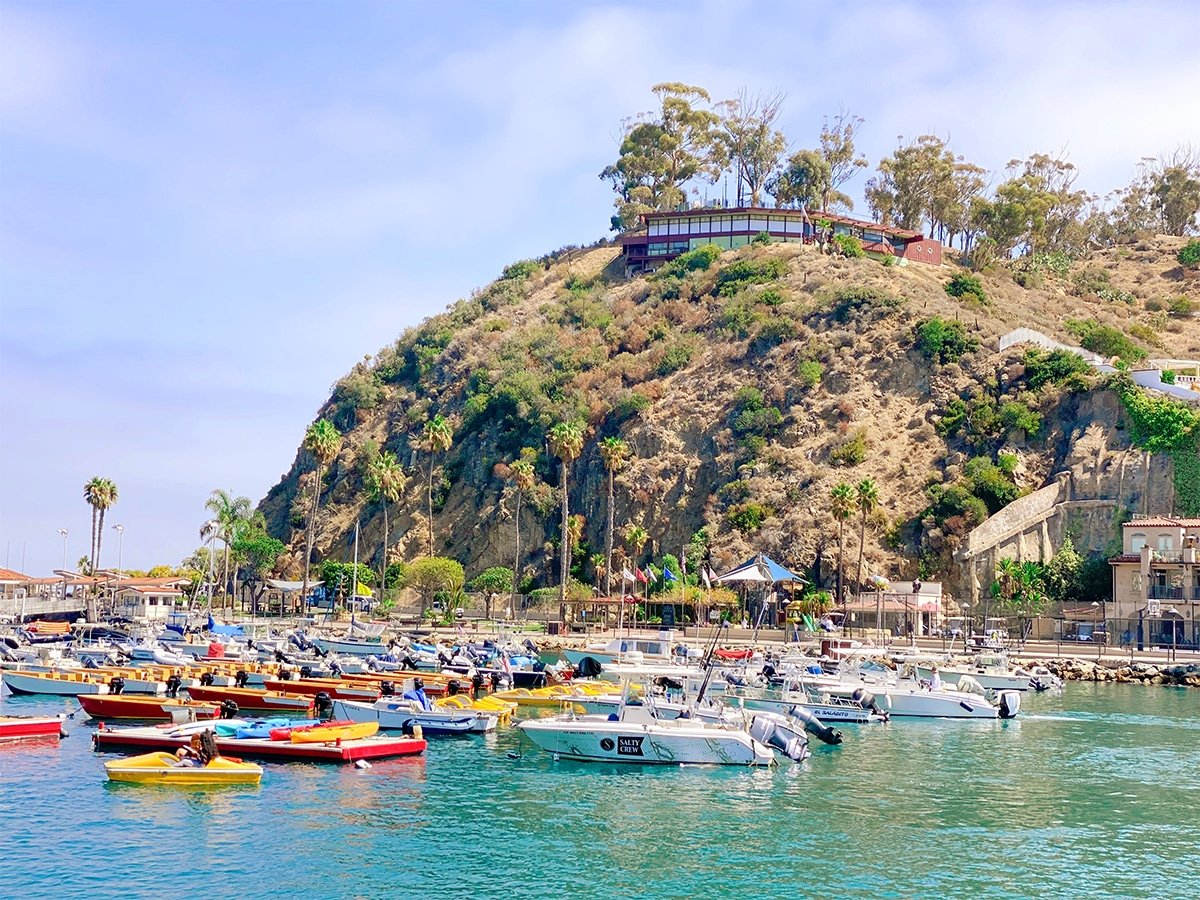 Things to Do on Catalina Island
For such a small island (it's only about one square mile), there's a lot to do to keep busy everyone happy and busy. Here are our favorite things to do on Catalina Island:
Explore
The moment you step off the boat you magically feel relaxed. The island's vibe is slow-paced and laidback so it's difficult not to. Once you disembark the ferry, you'll be just steps from the heart of Avalon. If you're staying at a hotel or in a house rental, you may be able to walk and drop your bags off, which is what we did; it's only about a seven-minute walk from the ferry terminal to Bellanca Hotel. Some hotels have porters waiting to help with your bags but we didn't need any assistance for the short jaunt. The kids were excited to run and stretch their legs after the hour-long ferry ride. Catalina Golf Cart Rentals is right nearby so if you prefer, you can rent a golf cart right away and start exploring.

After dropping our bags off at Bellanca Hotel, we walked back to Catalina Golf Cart Rentals and picked up a golf cart to explore the island. The service was quick, easy and friendly. You can rent a four-person or six-person golf cart and car seats for the little ones are included at no extra cost, which is a huge bonus, so you don't have to worry about bringing your own. Our kids loved driving around the island in a golf cart, that warm ocean breeze in their hair, it was such a novelty. Prepare for epic views as you drive along the rugged coastline and up the scenic hillsides of Avalon where you will be able to stop along the way for breathtakingly beautiful views of Avalon Bay down below. There's really nothing else like it in California.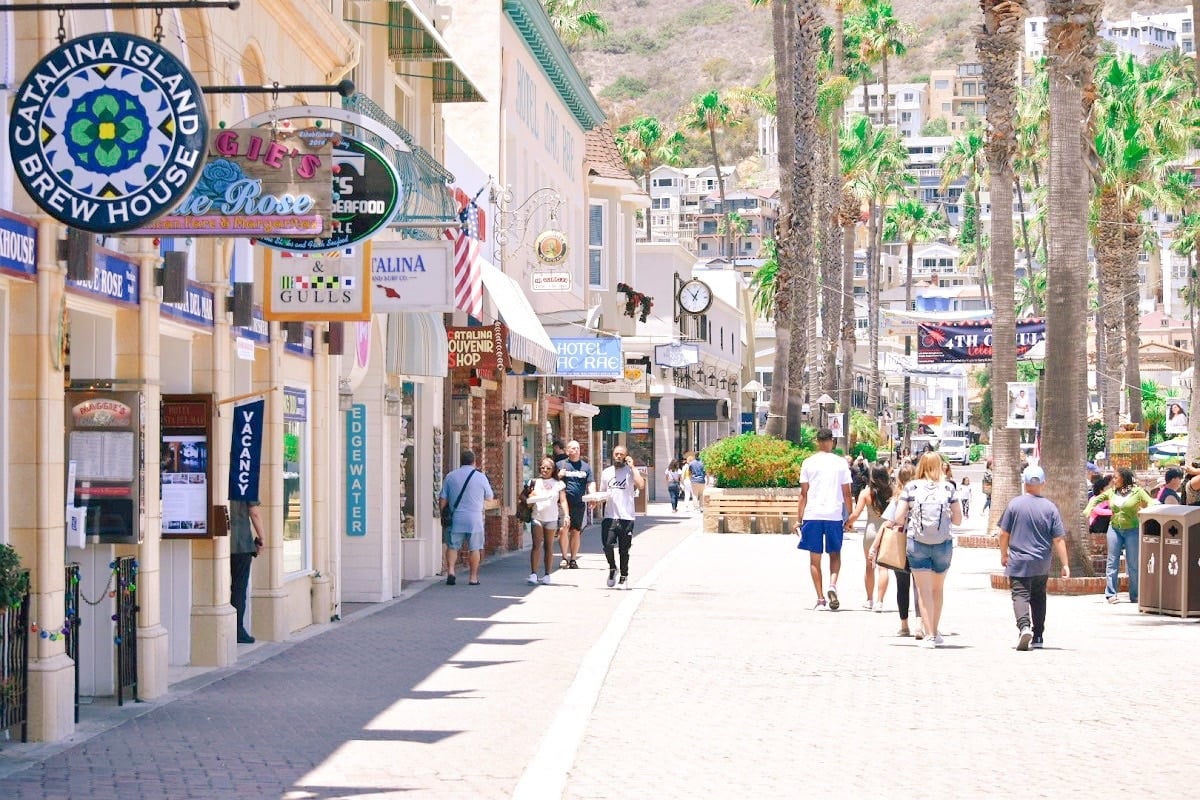 Once you return your golf cart, you're in exactly the right spot to explore on foot. Avalon itself is only about one square mile in size and the main street along the beach is pedestrian-only so it's easily walkable and perfect if you've got kids, as you won't have to worry about traffic. That's one of my favorite things about that area. Travel can be stressful with kids, trying to keep them safe at every turn but in Avalon, it's nice to be able to let them walk along the pedestrian areas. Our kids felt so independent and happy.

Catalina Island has more than 165 miles of trails for you to explore, including the 37.2-mile Trans Catalina Trail, a long-distance trail that will take you from one side of the island to the other. It goes from The Trailhead in Avalon on the east side to Parson's Landing on the west side, then loops back to Two Harbors.
GOOD TO KNOW: If hiking outside of Avalon, you'll need a hiking permit. You can get your permit, free of charge, online at the Catalina Island Conservancy, at the Conservancy House in Avalon, the Nature Center at Avalon Canyon, the Hermit Gulch campground office, Airport in the Sky, and Two Harbors Visitor Services.

Catalina Island Mini Golf Gardens
If you're looking for some family fun, Catalina Island Mini Golf is a great place to go. It's located right up the street from the beach in the center of town so it's super easy to get to. It's a picturesque spot and the leisurely, 18-hole course is perfect if you've got little ones. More information: https://www.visitcatalinaisland.com/things-to-do/golf/mini-golf/

Glass Bottom Boat Voyage
Catalina Island's glass bottom boat voyage was a big hit, not just with our kids but with me and my wife as well. The boat takes guests into Lover's Cove Marine Preserve, where you'll see a variety of colorful fish from a truly unique perspective. Floating above a stunning kelp forest is an incredible thing to experience. Our kids, who absolutely love the show Octonauts, got such a thrill seeing a real live kelp forest for themselves.
TIP: Advance reservations are required for groups and recommended for individuals. Night trips are also available for charter with advance reservations. Find more information here.

Descanso Beach Club
Ask my wife and she'll tell you that the Descanso Beach Club is her favorite place to spend an afternoon on the island. Catalina Island feels a world away from California and once you're settled on the beach at the Descanso Beach Club, you'll feel even farther away. This private club gives off an interesting mix of tropical and European vibes. Here, you'll find the only beachside restaurant and bar on the island and it's one of the few places where, legally, you can have a drink in your hand and your feet in the sand at the same time.

Our kids love the beach and Descanso Beach Club is the perfect spot for them to run around and play, looking for seashells and dipping their toes in the water. There are many ways to enjoy your time on this beach. You can rent a private cabana, enjoy a chaise lounge, throw a beach towel down on the soft, imported sand or take it all in while having lunch at an ocean view table, which is what we did. The staff and service were impeccable and the best part really is the views. Looking out at the cliffs and the ocean, it feels like you're in the Mediterranean somewhere.
Where to Eat on Catalina Island

The Naughty Fox
The Naughty Fox is located inside the Bellanca Hotel, where we were staying so if you're staying at the hotel, it's a convenient choice for breakfast, lunch and dinner. We had plans to dine there for dinner one night (there's a great bar area and outdoor seating with ocean views) but by the time we got back to the hotel after a day of exploring, our kids were zonked and ready to pass out. So after getting them to bed, I called the restaurant and placed an order and ran downstairs to pick it up. Our hotel room had a large table by a large window overlooking the ocean so even though we couldn't eat at the restaurant, we were able to enjoy the food with great views. My wife had the ahi poke nachos and I had the lobster BLT – both were delicious.

Descanso Beach Club
As I mentioned above, the Descanso Beach Club is a must-visit on your trip to Catalina for the laidback beach vibes and good eats. To kick things off, my wife ordered a virgin pina colada, which our daughter was happy to help her finish …

… and for lunch we all enjoyed casual fare like tacos, burgers and fries. The food was great and the views are even better.

M Restaurant
Our trip to Catalina Island coincided with my wife's birthday and for her birthday dinner, we dined waterside at M Restaurant, part of the Metropole Hotel, where we stayed on our last trip to Catalina. The location can't be beat thanks to being right downtown and the ocean views.

The dishes here are focused on fresh, seasonal ingredients, grass-fed, natural and organic meats and fish from sustainable sources. The menu didn't disappoint and this upscale restaurant was the perfect place to celebrate a special occasion.
California is filled with incredible things to do but whether you're a local or a visitor to the state, adding a trip to Catalina Island should top your list. Make it a day trip or spend a few nights – either way, you'll feel truly transported and like me and my family, you'll likely leave making plans to return again.