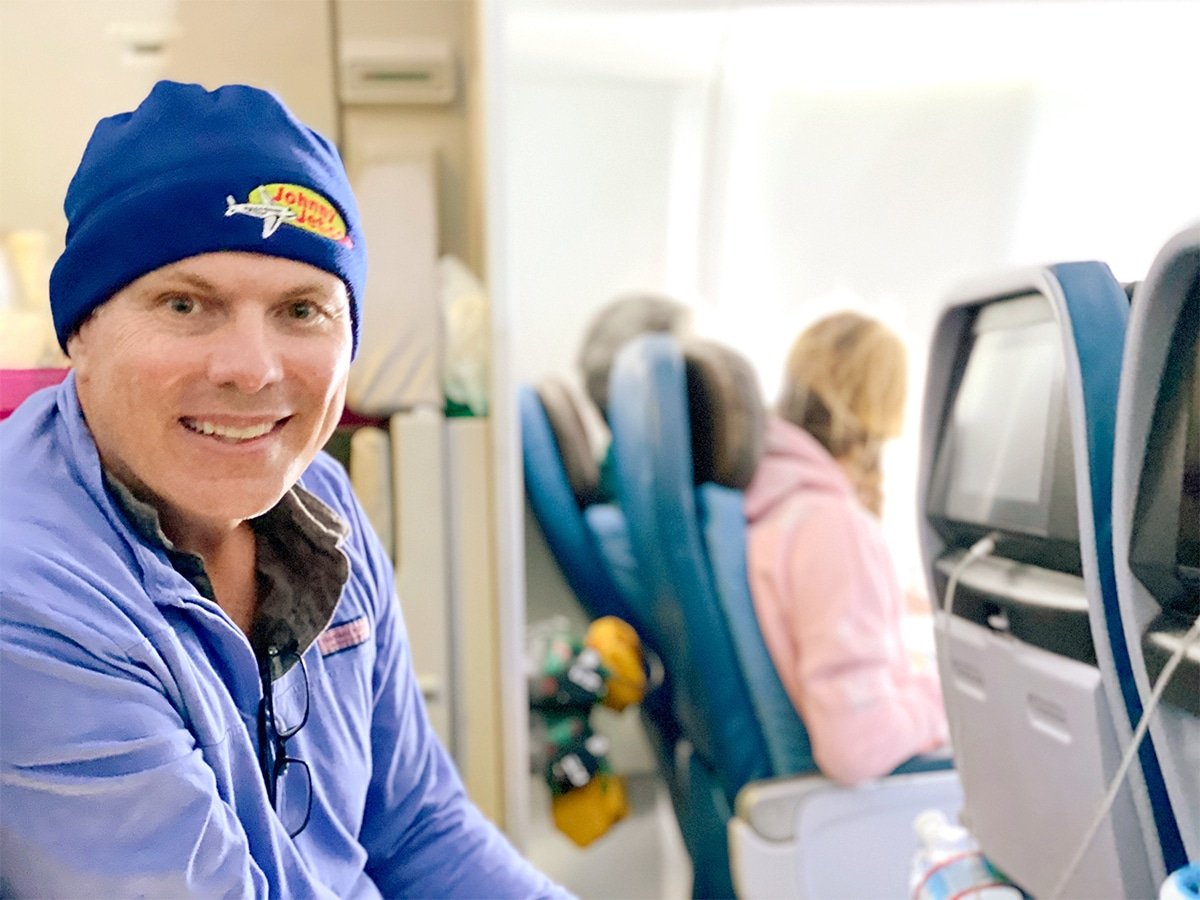 This post contains references to products from one or more of our advertisers. We may receive compensation when you click on links to those products. For an explanation of our Advertising Disclosure, visit this page.
If you've been following along on our most recent family adventure, then you know that we just returned home from a much-anticipated trip to Hawaii. Of course, we packed all the usual stuff you'd bring to Hawaii, but there's something that's always in my travel bag that you wouldn't think of bringing when traveling to a tropical destination.
When we left our hotel to head to the airport in Honolulu for our return flight home, we all dressed in our cool, summer clothes because it was so hot. But we had warm clothes at the ready for the airplane and before we boarded, we changed into them. I knew it was going to be cold and boy, was I right!
But first: Why is it so cold on airplanes? Airlines aren't just trying to freeze you out for no good reason. In fact, there's a medical reason, they do it. According to research by ASTM International, formerly known as American Society for Testing and Materials, an international standards organization that develops and publishes voluntary consensus technical standards for a wide range of materials, products, systems, and services, there is a correlation between fainting passengers and airplane cabin environment.
According to the abstract, "Reported percentages of in-flight medical incidents caused by syncope, the medical term for fainting, vary between 15 % and 22 %. Syncope is usually a benign medical event, but it may cause fear and distress among passengers and the individual involved. Incorrectly diagnosed benign syncope may lead to unnecessary flight diversions."
The report goes on to say, "There is evidence that cabin pressure and temperature may contribute to the occurrence of syncope. The syncope risk appears to be higher aboard an aircraft than on the ground. Hypoxia is a sufficient cause for syncope in a sub-set of healthy airline passengers. Airline passengers may become considerably hypoxic due to reduced pulmonary ventilation caused by immobility, drowsiness, and gastro-intestinal distension. In-flight hypoxia may reach levels sufficient to cause syncope. High cabin temperature may further trigger this reaction."
So, the reason airplanes are so cold is because hypoxia, a medical condition that occurs when the body tissue does not receive enough oxygen and fainting incidents are much more likely in the air in an overheated cabin, so the airplane cabins are kept on the colder side.
All of this is to say that no matter where you're traveling, you should always be prepared for a cold cabin by packing a warm sweater, some socks and a hat. Yes, I always travel with a beanie in my bag and on our flight home from Hawaii, I had to bust it out because the cabin was extremely cold. My wife, who was freezing, took one look at me and burst out laughing. I offered her the hat but she didn't want to wear it and look foolish. So, guess who was cold and who was cozy warm? Once your head is warm, the rest of your body follows suit.
I like these beanies from Amazon so if you want to throw a warm hat in your carry-on bag, you won't regret it. It won't take up any room and you'll be grateful you've got it the next time you board a cold aircraft.
When it comes to sweaters, I always travel with two Vineyard Vines quarter-zip options, one lightweight one (what I'm wearing in the photo above) and one heavier one. They're high-quality, comfy and warm. My son has a matching Vineyard Vines Kids' Shep Shirt, too, which is perfect for keeping him warm on the plane.