My wife recently spoke at a travel conference in Bangkok and since Thailand is one of my countries, naturally I tagged along! When it was time to fly back to L.A., many of the flights stopped in Tokyo so instead of just making a connection, I figured we should spend a couple nights.
Fortunately, I've been to Tokyo numerous times but Natalie hadn't and I knew she would fall in love with it. Tokyo is just like New York, but cleaner, safer, friendlier and … well, Japanese.
Narita Airport
We landed at Narita Airport (NRT), which is Tokyo's big international airport, but it's way out in the boondocks. If you have the option to fly to Haneda, take it as it's so much closer to the city. But what I do like about Narita are that the men's room in Narita airport has those expensive, fancy Toto toilets and the baggage carousel is like no other I've ever seen. Each bag that comes out is standing upright and is evenly spaced out one from the next by about a yard. If you don't grab your bag on the first go around, then you will find it on the ground near the carousel.
Narita to Tokyo
To get from NRT to Tokyo, your best bet is either the train or the bus. Even business travelers take public transportation since a taxi costs hundreds of dollars. Natalie and I opted for the bus as it dropped us off right in front of the Ritz-Carlton and there was a bus leaving in 30 minutes. The train would have been quicker (especially during rush hour), but we would have had to take a taxi from the station. Overall, this was easier. To buy a bus ticket, I jumped in the fast moving line and paid 3,100 yen each ($25) with my credit card. It took just under two hours but that's because we stopped at another terminal and we were the last hotel stop. FYI: There's WiFi on the bus but it's not free.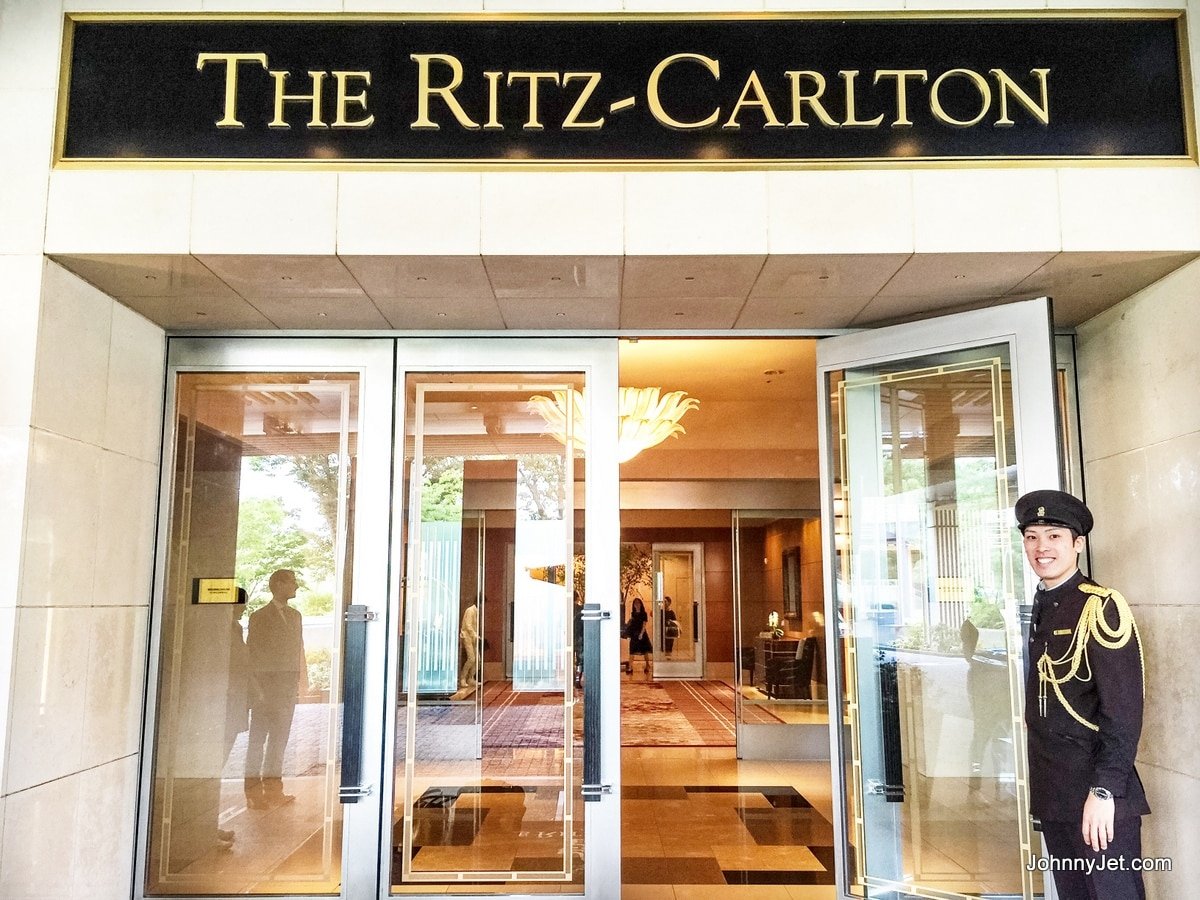 The Ritz-Carlton Tokyo
Ritz-Carlton hotels, for the most part, are amazing hotels but The Ritz-Carlton Tokyo is probably the top hotel in their portfolio and it should be ranked as one of the best hotels in the world. Seriously, this hotel incredible – from the service to the accommodations to the food to the view.
First of all, the hotel lobby is located on the 45th floor of the Midtown Tower, which is Tokyo's tallest building. The hotel occupies the top nine floors and the first three levels of the 53-story Midtown Tower, which is located in the Roppongi District.
I'm not a big fan of heights and after Tokyo's earthquakes, I wasn't too keen on being so high up. Our room was on the 52nd floor. But there wasn't even a moment when I felt nervous – even in the elevator, which was super quick, large, and smooth. And it wasn't until the night before we checked out that I learned that this eight-year-old building is one of only five buildings in Tokyo with state-of-art earthquake technology. I'm not the one to fully explain the mechanics of this technology, but I do know that there are weights on the entire 44th floor. One of the hotel executives said that his wife only worries about him when there's an earthquake and he's not in the building.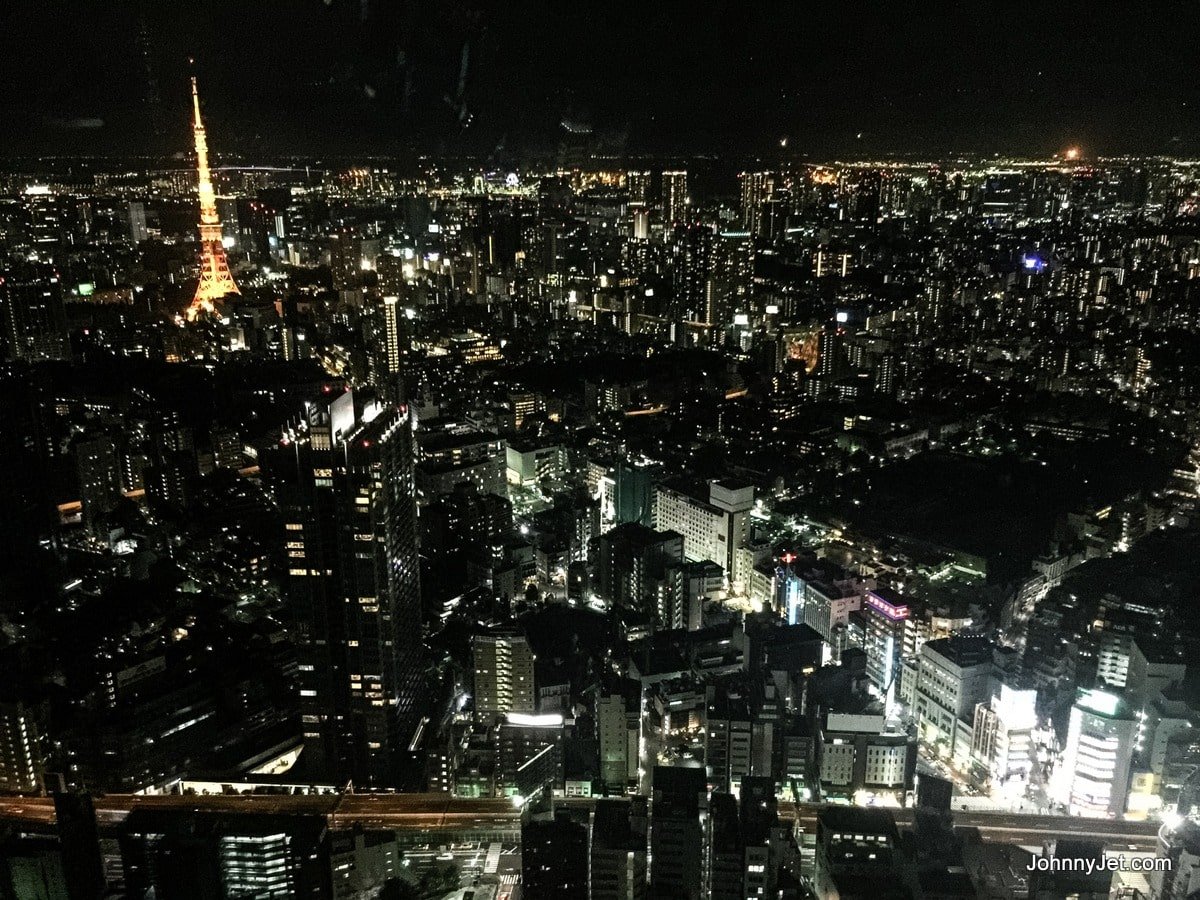 Hotel views
There's 248 elegantly appointed guest rooms all with stunning skyline views of Tokyo. Ours had a view of the famous Tokyo Tower which was surreal especially at night and sunrise. They weren't kidding when they said Japan is known as the land of the rising sun.
Rooms
All standard rooms are 559 square feet (52 square meters), have spacious contemporary interiors with a huge flat screen TV, electrical outlets that fit US plugs, a master switch by the bed so one button turns all the lights off, and my favorite aspect – a Toto toilet that does stuff you've only dreamt about. I mean, this thing does everything, including auto flushing. Oh – and there's a TV in the bathroom and there's no extra charge for high-speed internet access.
The Ritz-Carlton Club Level
If you can upgrade to the The Ritz-Carlton Club Level, do it because their Club Lounge on the 53rd floor (open 7am – 10pm) is off the charts. They have five food presentations a day and the service is impeccable. The staff remember each guest's name and what they like to drink. During our stay, the Club Manager planned out the perfect sightseeing day for Natalie and me, which included a stop at Meiji Jingu, a traditional Japanese shrine, a walk through the Harujuku and a final stop at the famed Shibuya intersection. FYI: It was a 2,000 yen ($16) taxi back to the hotel from Shibuya.
Spa and Gym
Regrettably, we didn't make time to work out but we did get a couples massage in the spa suite. The spa and gym are situated on the 46th floor and is the place to go if you want to get pampered. There are nine treatment rooms, one spa suite, an indoor lap pool, a dry sauna, a steam sauna, and a fitness studio. Here's the spa menu.
Hinokizaka
One place you shouldn't miss no matter if you're staying in the Ritz-Carlton or not, is the Hinokizaka restaurant. It's a unique place since it offers four types of Japanese cuisine in one place: Kaiseki, sushi, tempura and teppanyaki. Seating is limited, so be sure to make reservations. We ate in the Kaiseki section so we could order off any of the four menus. Reservations: Tel.: +81-3-6434-8711 or e-mail: rc.tyorz.restaurant.sales@ritzcarlton.com.
The Ritz-Carlton, Tokyo: Tokyo Midtown 9-7-1 Akasaka Minato-ku. Tokyo 107-6245 Japan; Tel. 81-3-3423-8000. Rates begin at $334.
Good to know:
The Ritz-Carlton Tokyo has all kinds of shops and restaurants (including a Starbucks) on the bottom floor of the building and all around. If you need money, the best exchange will be from the ATM machine in the 7/11. There's one located next to the hotel.
For inexpensive ramen (around $9), go to Ipodu which is down a side street, just five minutes from the hotel. Try the gyoza, too! FYI: they only accept cash.
Tip: Don't leave Japan without buying Potato Farm's Jaga Pokkuru snacks! You can get them at the duty free shop in the airport and I suggest you buy the maximum amount (5-10 boxes) – they're that good!